Play Joker's Jewels Demo Slot Game Online
Pragmatic Play released Joker's Jewels back in 2018, and ever since, this exciting and enjoyable slot has been featured on some of the best online casinos. If you want to learn more about this game, you can try playing it for free on this page.
In this Joker's Jewels review, we'll go into all of the details to see what payouts and bonuses this game has to offer, its RTP and volatility, and many other essential aspects.
Play Joker's Jewels Slot Demo For Free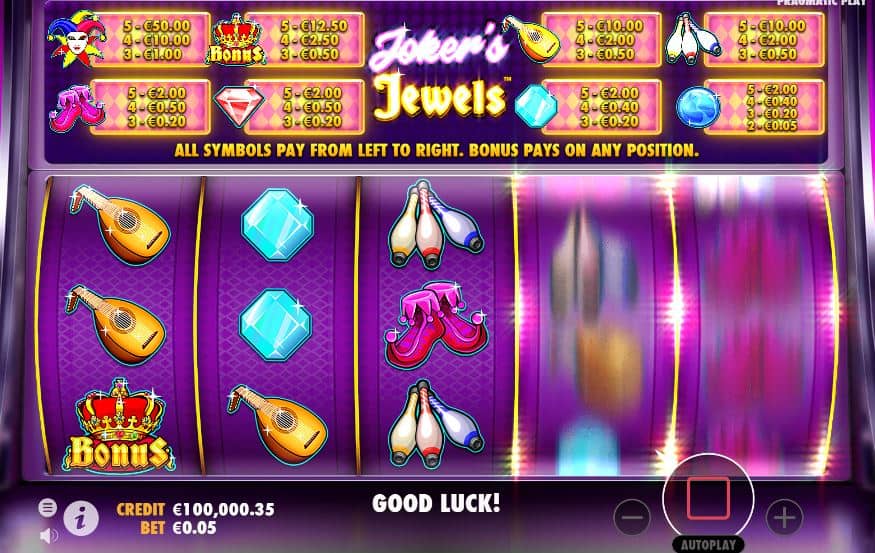 Joker's Jewels follows a theme we've seen in many online slots before. It has a classic design that aims to provide you with a feeling like you're playing a traditional Vegas slot machine.
In this sense, it looks good, but it doesn't really bring anything to the table. There aren't any memorable design details that would help it stand apart from other similarly-themed games.
As the game features a close-up look with everything being packed within the screen, there's no backdrop like you can find in most modern slots. It's just a simple purple background with various shades of purple.
Of course, there's no way to talk about Joker's Jewels without mentioning its soundtrack.
And, when it comes to this, we've got mixed feelings. The cheerful carnival music is undoubtedly very energizing and amusing when you first start playing the game.
But, if you play for prolonged periods, you'll feel trapped in a haunted carnival with the same repeated music trying to drive you slowly insane. It's not a soundtrack you want to hear on repeat when trying to relax and enjoy an online game.
Luckily, Pragmatic Play enables you to adjust the volume or even turn off the soundtrack altogether. You can also turn off the sound effects if you want to play your music selections while betting on the Joker's Jewels slot.
Joker's Jewels Symbols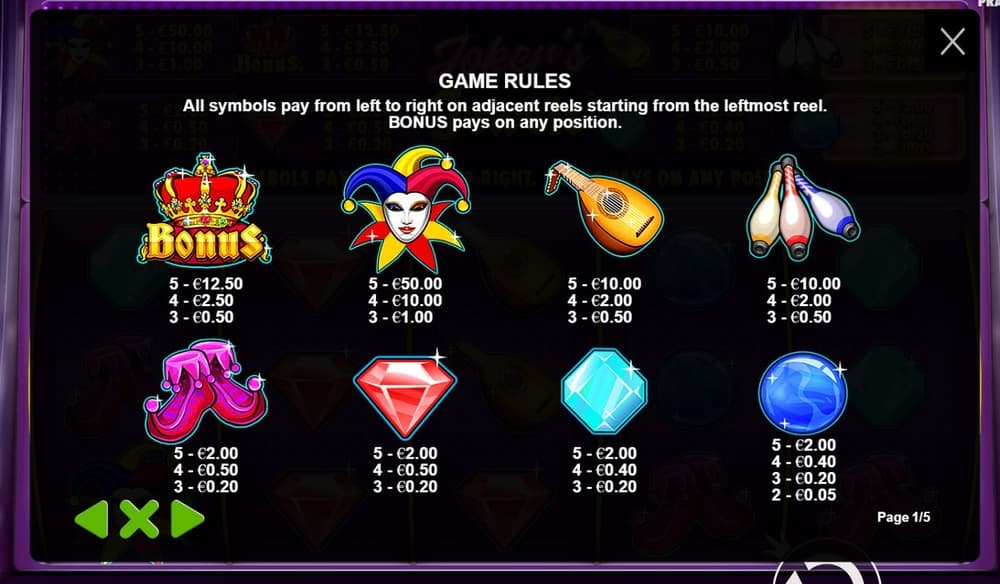 Joker's Jewels has fewer symbols than you can expect from a modern online slot game. Still, as it is a retro slot with a simplistic theme and the featured symbols still pay pretty well, we don't consider this a particularly negative aspect.
This Pragmatic Play slot provides a wide wagering range, but more on that later.
While testing the game, we used $1 bet sizes for every wager. With that in mind, here's what each Joker's Jewels symbol pays out on a $1 bet:
| | | | | |
| --- | --- | --- | --- | --- |
| Symbol | 2 Matches | 3 Matches | 4 Matches | 5 Matches |
| Joker Symbol | N/A | $20 | $200 | $1000 |
| Bonus Symbol | N/A | $10 | $50 | $250 |
| Mandolin | N/A | $10 | $40 | $200 |
| Juggling Clubs | N/A | $10 | $40 | $200 |
| Joker's Boots | N/A | $4 | $10 | $40 |
| Red Diamond | N/A | $4 | $10 | $40 |
| Blue Jewel | N/A | $4 | $8 | $40 |
| Blue Sphere | $1 | $4 | $8 | $40 |
As you can see in the table, the lowest-paying Blue Sphere symbol is also the only one that pays for a combination of two symbols. It pays back your initial wager, making it a nice consolation prize if you don't manage to line up any of the more valuable variations.
We also want to highlight that you won't find any scatter or wild symbols in this game.
The only symbol that has a special feature is the Bonus Symbol. It will pay anywhere on the reels if you have at least three of such symbols. All other symbols payout in a standard left to right order.
Joker's Jewels Bonus Features
Joker's Jewels is a classic casino slot game with pretty basic gameplay and no special features. Unfortunately, this also means that it doesn't have any bonus or mini-game features that provide extra value when you're playing it.
This Pragmatic Play slot doesn't have free spins rewards, free cash bonuses, or any bonus multiplier features. Moreover, it doesn't have a progressive jackpot. What you saw in the table illustration above is what you can expect to win.
Considering all of this, Joker's Jewels isn't the best choice for bonus chasers and players who like having added gameplay elements in their slot game.
On the other hand, it's a great pick for online gamblers that want a simple and straightforward game.
Joker's Jewels Bet Size Options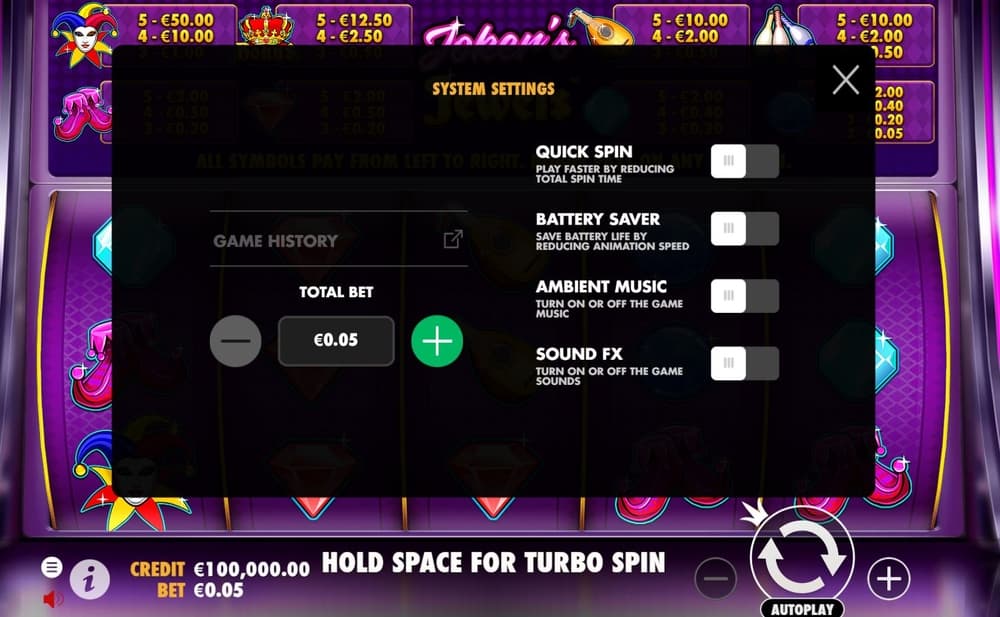 Staying true to its simplistic nature, Joker's Jewels uses a plan layout of 3 rows and 5 reels, and 5 paylines. The best sizes aren't very customizable, as you can only choose between a handful of predetermined options.
That said, Joker's Jewels allows you to adjust both the coin value and how many coins you can bet per line. When it comes to the latter, you can bet anywhere from one to ten coins per payline.
The offered coin values include $0.01, $0.03, $0.05, $0.10, $0.20, and $0.50.
So, depending on how many coins you select per line and what coin value you choose, the scope of available bet sizes ranges from $0.05 to $25.
It's important to mention that you can't change the number of paylines you want to have active. Unlike some other online slots that allow you to tailor this option, with Joker's Jewels, you're always betting on all five paylines.
Joker's Jewels RTP and Volatility
Joker's Jewels has a listed RTP of 96.5%, meaning that this slot's house edge is just 3.5%. This is just above the industry average of 96%.
Pragmatic Play also transparently lists the volatility of Joker's Jewels in the game's information tab. And, looking at the provided information, Joker's Jewels has a volatility of 3.5 out of 5.
This means that this online slot generally produces fewer smaller wins. On the other hand, it has an increased chance of providing a big win.
With that in mind, if you like playing for constant small wins, this slot is probably not for you. However, if you don't mind going through some dry spells when playing in hopes of a big win, Joker's Jewels is an excellent pick.
How to Play Joker's Jewels Online
With this slot being so simple, there are really not that many things to pay attention to, as everything is fairly one-dimensional. That said, there are always some slot secrets you can refer to when playing.
We'll walk you through the process to help you get started on Joker's Jewels. Here's how to play the Joker's Jewels slot online:
Sign up with your favorite online casino and make a deposit
Find Joker's Jewels in the casino's library and launch it
Once Joker's Jewels loads, you can set your bet sizes
When you've decided how much you want to bet, click on the spin button marked by the two arrows going around in a circle.
Wait for the reels to stop spinning to see your payout
Joker's Jewels also has an autoplay feature. You can utilize this option if you just want to sit back and watch the reels spin automatically without your input.
The game allows you to set a predetermined amount of auto spins, setting the number anywhere from 10 to 1000 autoplay spins.
Don't worry, if you set too many autoplay spins and change your mind, you can stop it at any time and start playing manually again.
Alternatively, you can enable the Quick Spin feature in System Settings. Doing so will allow you to play slightly faster without using autoplay, as this feature speeds up the game by reducing the overall spin time of each spin.
Check out this guide if you want to learn a few more tricks on how to win at slots.
Can You Play Joker's Jewels For Free Online?
Yes, you can play the Joker's Jewels slot online completely for free on this page. On top of that, you can do so by launching Joker's Jewels in demo mode. This option is available to all online gamblers in most online casinos or directly on Pragmatic Play's website.
You can play Joker's Jewels in demo mode for as long as you like without risking your money and just using the virtual in-game money.
Keep in mind that any wins you land won't be real, as you can't win any real money when playing Joker's Jewels for free.
That said, we still think that the Joker's Jewels demo mode is a great option to practice the game and familiarize yourself with it before you start playing for real money.
Joker's Jewels Mobile Slot
If you mainly like playing online slots on your tablet or smartphone, you can enjoy Joker's Jewels without any limitations. If your device is powerful enough to run a browser-based casino and you have a stable Internet connection, you can play Joker's Jewels anywhere and anytime.
As this game works directly through the mobile browser, you don't need to download any extra apps and burden your device's memory. That said, some online casinos primarily work through native apps, so this also depends on the gambling site you pick.
The game looks nearly identical on mobile devices as it does on desktop computers. If anything, adjusting bet sizes and spinning the wheel feels even more intuitive, as you have everything in the palm of your hand.
Like most newer Pragmatic Play slot games, Joker's Jewels comes with a convenient Battery Saver feature. You can turn on this option in System Settings if you're playing on a mobile device and want to conserve your battery to prolong your session. This setting saves your battery by reducing animation speed.
Pragmatic Play – Company Behind Joker's Jewels

Pragmatic Play was founded in 2015, and while it certainly isn't among the industry's oldest online casino software providers, it is already one of the best-known ones. The company is licensed by all of the biggest online gambling authorities, including the UK Gambling Commission, the Malta Gaming Authority, and the Government of Gibraltar.
Besides the Joker's Jewels slot, Pragmatic Play also has a game library numbering well over 200 titles.
Most of their games are online slots, although you can also find other RNG games like roulette and blackjack. Pragmatic Play even offers a live casino platform.
Overall, Pragmatic Play is a well-respected software provider, and you can be certain that all of their games are tested, proven fair, and licensed. So, if you like Joker's Jewels, we wholeheartedly recommend trying one of Pragmatic Play's many other intriguing and exciting slots.
Joker's Jewels Online Slot – Our Verdict
After thoroughly reviewing Joker's Jewels, we were pleased with the overall gameplay experience. However, it didn't come without its downsides.
For starters, the lack of any bonus features, multipliers, or rewarding jackpots was disappointing. The theme also doesn't set Joker's Jewels apart from many similar free games in its genre.
Still, to be fair to Joker's Jewels, it doesn't promise to deliver any of this.
This online slot aims to take you back to the retro gambling era with its flashy colors, amusing soundtrack, and super-simple gameplay.
As such, it certainly appeals to a specific target audience. So, if you like playing classic casino games with straightforward betting features, Joker's Jewels has a lot to offer and can be very exciting.
Joker's Jewels Slot FAQs