Play Sweet Bonanza Demo Slot For Free
Sweet Bonanza is an interesting and colorful slot made by the renowned online casino software provider Pragmatic Play.
It comes loaded with features, including massive multipliers. However, it can also cost a pretty penny to play maxed out and is certainly not for everyone's pocket.
So, is Sweet Bonanza worth your time and money? We've reviewed this increasingly popular online slot in great detail to bring you everything you need to know.
Play Sweet Bonanza Demo Slot For Free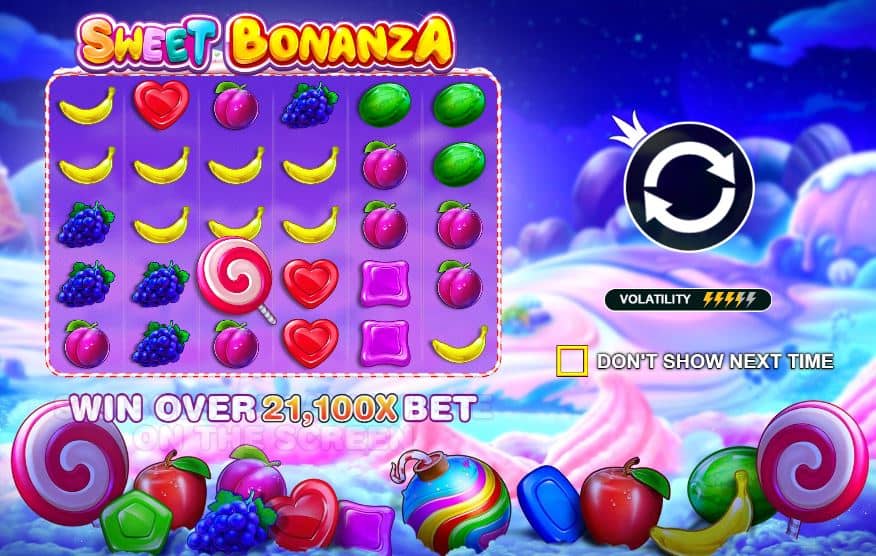 The delicious-sounding Sweet Bonanza name doesn't disappoint, as this online casino game features a very colorful and sweet theme. The game's layout isn't anything to write about, as Sweet Bonanza uses a fairly standard layout consisting of 6 reels and 5 rows.
That said, here's when the unique features start appearing right away.
Sweet Bonanza uses an all-ways-pay layout, meaning that you don't actually have to line up the symbols as you do in classic online slots.
All you need to do is have enough symbols anywhere on the reels. So, you've guessed it, it's even possible to have winning combinations made up of more than one symbol.
These types of online slots are also known as cluster slots. And, you can imagine how rewarding the payouts can be in such a layout. But more on this later on in the review.
Back to the visual design of this Sweet Bonanza slot, some people might even say that it has sort of a Candy Crush feel to it, with all of the delicious candy-themed symbols. The slot's background stays true to the theme with a sugary and multicolored design.
Even the bottom part of the slot that's just under the reels is decorated with great thought. It includes various sweet delights and fruits seemingly floating on the clouds. You can really tell that Pragmatic Play designers went all out to make this online slot as immersive and unique as possible.
The Sweet Bonanza game also has a relaxing and slow-tempo soundtrack that perfectly fits the overall theme. It's sweet, slightly upbeat, but still chill enough that you'll sometimes find yourself humming it without even noticing it. Overall, Pragmatic completely nailed this aspect of the Sweet Bonanza slot.
Sweet Bonanza Slot Symbols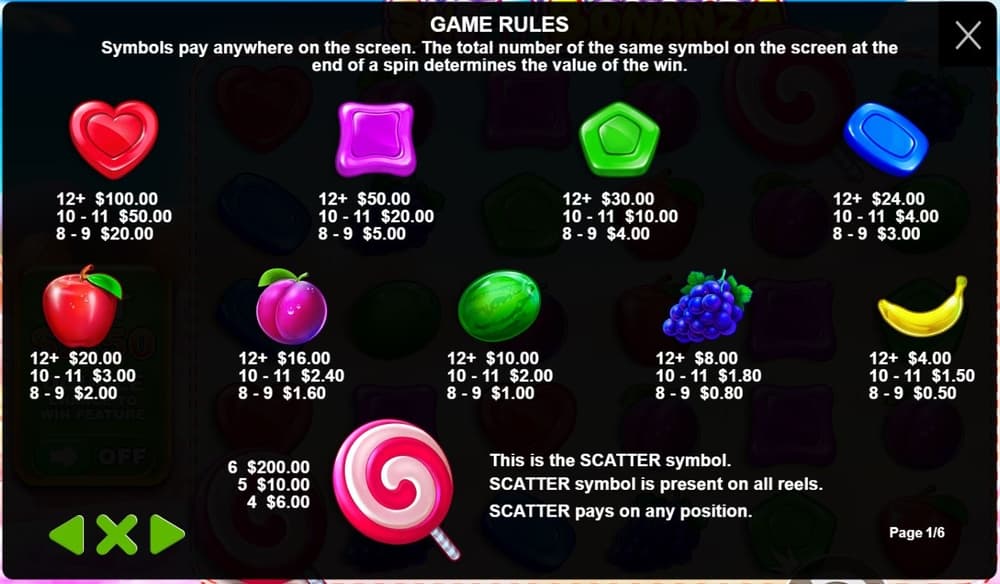 We were glad to see that Pragmatic Play put equally as much effort into designing the slot symbols as it did crafting the game's entire theme. Every symbol seems to fit perfectly into the overall look.
You will find nearly a dozen different symbols, providing more than enough diversity.
Sweet Bonanza has an "Info" section that includes all of the payouts you can expect depending on the number of matching symbols on the reels. What's more, the information is adjustable, so you can see exactly how much you can win based on how much you bet.
To give you a point of reference, here's a detailed table illustrating how much you can win with each Sweet Bonanza symbol by placing a $1 bet per spin:
| | | | |
| --- | --- | --- | --- |
| Symbol | 8-9 Matches | 10-11 Matches | 12+ Matches |
| Red Heart Jewel | $50 | $125 | $250 |
| Purple Square Jewel | $12.50 | $50 | $125 |
| Green Polygon Jewel | $10 | $25 | $75 |
| Blue Rectangle Jewel | $7.50 | $10 | $60 |
| Red Apple | $5 | $7.50 | $50 |
| Purple Plum | $4 | $6 | $40 |
| Watermelon | $2.50 | $5 | $25 |
| Blueberries | $2 | $4.50 | $20 |
| Banana | $1.25 | $3.75 | $10 |
Besides the regular symbols, there's also a lollipop symbol. It pays $500, $25, and $15 for 6, 5, and 4 symbols on the reels.
Apart from being the most valuable symbol in the game, the lollipop symbol is also a scatter symbol. It's present on all reels and pays on any position.
The lollipop scatters symbol also activates the free spins bonus, which we'll get to in the next section.
But, this isn't everything that Sweet Bonanza has to offer. In addition to the symbols above, there's also a Rainbow Bomb multiplier feature. This symbol only appears during free spins. It's a random multiplier that multiplies the value of your spin by anywhere from 2x to 100x.
Sweet Bonanza Bonus Features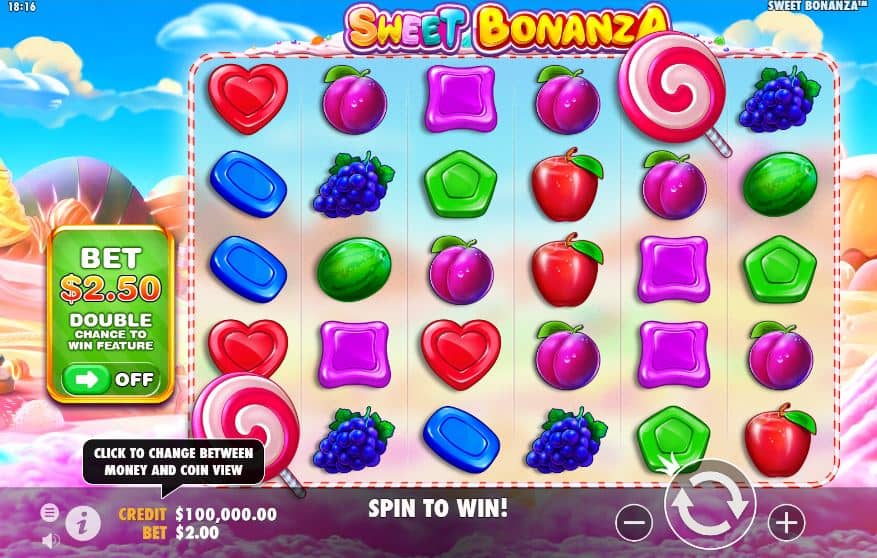 This is arguably the most exciting part for many online slot players. And, you'll be glad to hear that Sweet Bonanza isn't short on in-game features and bonuses. So, here's a complete rundown of the bonus features you can expect in Sweet Bonanza:
Free Spins
As we've mentioned above, the special lollipop scatter symbol is the one that activates the free spins feature. You can trigger the free spins feature when you land at least four scatter symbols anywhere on the reels.
When activated, the free spins round awards you with ten free spins you can play without spending any additional money.
If you manage to land three or more lollipop scatter symbols during the free spins round, you'll receive an additional five spins every time you do so.
Tumbling Reels
The Tumble feature is unique and brings an extra twist to the Sweet Bonanza slot. After every spin, the slot pays out the winning combinations, and all symbols that were a part of this disappear.
However, all of the remaining non-winning symbols fall to the bottom of the screen. After that, all remaining empty positions are replaced with new symbols from above. This tumbling process continues as long as you keep lining up winning combinations and the symbols keep disappearing from the screen.
There's no limit to how many tumbles the slot can have, so you can rack up massive wins if you're lucky. When the tumbling ends, all wins are immediately added to your balance.
Ante Bet
Before you spin the reels, you can select your bet multiplier option. What's particularly interesting about this feature is that the Sweet Bonanza slot will actually behave differently depending on which option you go for.
You can choose between two provided values:
20x Bet Multiplier – This option allows you to purchase free spins round if you pay a value equalling a hundred times the total bet.
25x Bet Multiplier – This choice gives you double the chance to win free spins naturally, but you can't buy the free spins. Also, more scatter symbols are present on the reels.
Sweet Bonanza Bet Sizes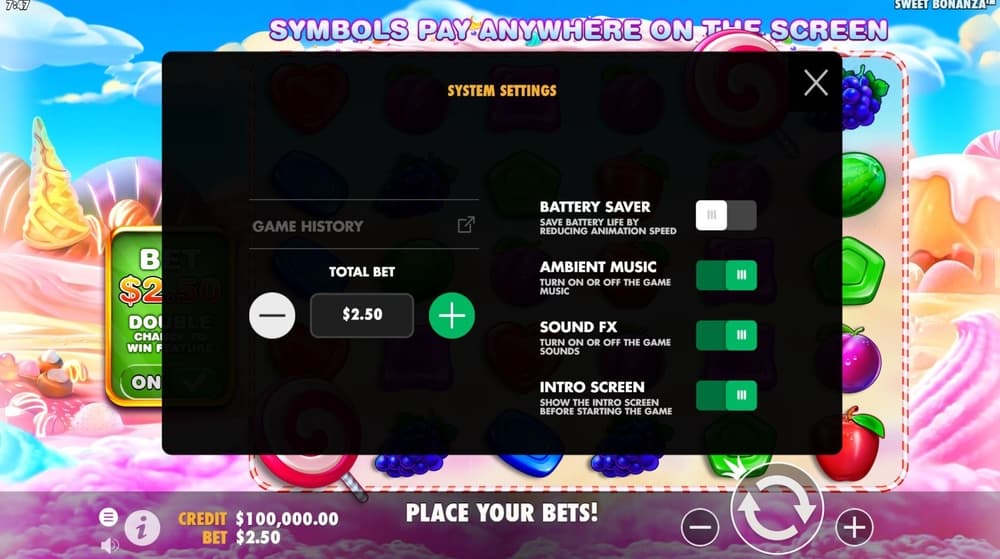 The minimum coin value you can bet is set at $0.01, with a minimum of one coin per line. If you play with a 20x bet multiplier, this equals a total bet of just $0.20 per spin, which is the lowest possible amount you can bet per spin in Sweet Bonanza.
Of course, you can always play the Sweet Bonanza demo version on this page for free if you just want to test the game.
For those who want to bet the maximum allowed amount, the largest coin value is set at $0.50, with a maximum of ten coins per line. With a 20x multiplier, this totals $100 per bet. But, if you activate the 25x bet multiplier, the total bet per spin will be $125.
So, the minimum bet you can place per spin is just $0.20, and the maximum allowed bet per spin is a whopping $125.
Such a large range makes Sweet Bonanza approachable to every online casino player's bankroll.
Sweet Bonanza RTP and Volatility
Pragmatic Play is very transparent about the payout percentage of the Sweet Bonanza slot. So much so that they list both the maximum and the minimum return to player percentage you'll experience playing this slot.
Sweet Bonanza's maximum RTP is listed at 96.51%, while the minimum RTP is 96.48%.
As you can see, there's only a minute difference between the two. Also, looking at it from a general standpoint, as this slot has an RTP of over 96%, it's one of the more favorable online slots you can play.
According to Pragmatic Play, Sweet Bonanza is a medium volatility slot. This is another good thing to know because it means that this slot pays out steadily, and the wins can range from very low to very high.
How to Play Sweet Bonanza Online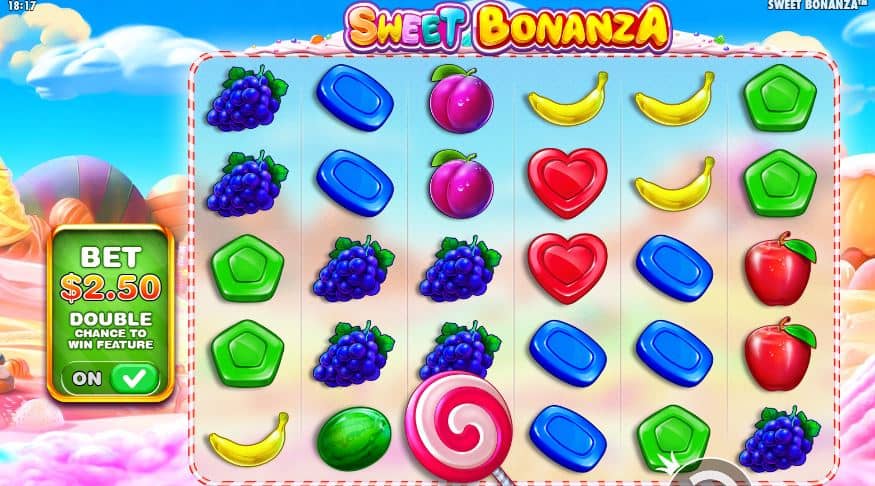 This Sweet Bonanza review wouldn't be complete if we didn't also go over how you play this game. With that in mind, here's a quick step-by-step overview of how to play Sweet Bonanza online:
Visit the online casino of your choice
Sign up and make a deposit
Find Sweet Bonanza in the casino's slot library
Once you're in the game, adjust how much you want to bet per spin
When you set all the denominations, spin and enjoy!
If you get bored of spinning the reels after some time, you can always take advantage of the autoplay option this slot comes with. You can set Sweet Bonanza to spin for a predetermined number of spins, sit back, and enjoy just observing the action.
There's also a quick spin option in case you want to speed up the game but don't want to use autoplay. The quick spin setting makes every spin slightly faster by reducing the total spin time of the reels.
There's really nothing you can do to increase your winning chances in terms of specific strategies you can use for Sweet Bonanza. As this is a typical luck-based online slot, it uses RNG software to determine the outcome of every spin.
Of course, there are always some slot tips to have better expectations, like creating a bankroll you can afford and making sure to stick to it while playing this slot. Additionally, you should remember all of the available bonuses and try to maximize them to increase your winnings over time
Playing Sweet Bonanza for Free
If you're interested in playing Sweet Bonanza but aren't sure whether this game would be right for you, the good news is that you can try it out for as long as you want, absolutely for free.
You can try Sweet Bonanza for free in a demo mode directly on this page, or hit our free games page and find other variations. Of course, you can't win any money when you play for free.
That said, trying the slot for free is an excellent way to familiarize yourself with all of the Sweet Bonanza features and bonuses. Then, when you're ready, just deposit into the online casino and start playing.
Conclusion – Is Sweet Bonanza Worth Playing?
So, with everything we've covered about the Sweet Bonanza slot in this review, is this Pragmatic Play slot worth playing? Moreover, who is it best for?
To answer the first question, yes, Sweet Bonanza is absolutely worth a try!
Although the sugary and cartoonish design might make you think that this slot shouldn't be taken seriously, the features it comes with would argue differently. It's a well-designed, unique, and exciting online slot game.
When it comes to who this slot is best for, we'd again give an overwhelmingly positive grade and say that Sweet Bonanza is an excellent choice for any online slot player.
As it's a medium volatility game, it's equally suited for both beginners and more experienced online gamblers. What's more, it promises massive payouts that will keep any player engaged and interested.
So, knowing all of this, the only thing left is to try out the game for yourself! Play Sweet Bonanza for free right away or create a real money online casino account and start betting on it for real money.
Sweet Bonanza Slot FAQs