Innovative Casino Games: Something Fresh in the Industry
The online casino and gaming industry is constantly evolving and undergoing many innovations.
A couple of decades ago, there was a limited number of online casinos available on the Internet.
Nowadays, real money online casino in Australia offers their customers many casino games. In addition, new features such as improved graphics and live streaming have been added to most online casinos, giving players a more engaging gambling experience.
Let's pour through five of the freshest and most impressive games in the casino industry in 2022. To further enhance the user's experience, online casinos have recently begun to provide unique technological innovations like cryptocurrency gambling and 3D gaming.
This article discusses a few new, exciting casino games and other fresh technological advancements in the online casino industry. So, let's dive right in!
Magician's Secret
This game features a magical theme and impressive visuals. It has 6×4 reels, and there are 4,096 ways to win.
Furthermore, it packs several free spins and jackpots that can go as high as 5,000X. The theme is thoroughly executed, with a magician, an orb, and even a magic elixir available on the reels. Peculiar features of the Magician's Secret slot game are:
Expanding Wild: When a punter lands this in-game symbol, there is a chance it will expand and cover all the reels. If it does this, the player instantly receives a multiplier ranging from 2X to 10X.
Free Spins: Landing three scatter symbols or more at once earns you a free spins feature. Players who win free spins are given the option to choose between Free Spins with Expanding Wilds or Free Spins with Sticky Wilds.
Tombstone RIP
This game is a unique one with unusual graphics and unsettling features. Although it is remarkably designed, it is not for everyone.
It contains grisly images of splattered blood and dead people, set against a monochromatic modern background.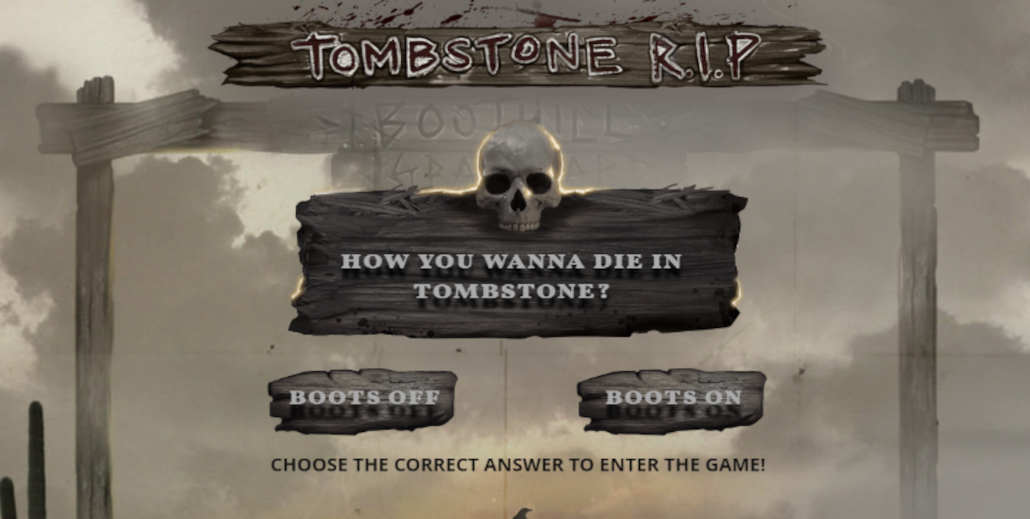 The game, created by Nolimit City, has five columns and 2-3-3-3-1 rows. It also has 108 pay lines and a few unique gameplay features.
Features of Tombstone RIP casino game:
xNudge Wild: This symbol gives a +1 multiplier for every 'nudge.'
Split Wilds: They split all surrounding symbols into two, doubling the multiplier of an xNudge.
xSplit Wilds: They give the symbols on the left a 4-way split.
Hang 'Em High Free Spins: Players can get this by landing three Hang 'Em High scatters. It awards eight free spins.
Boot Hill Free Spins: This gives ten free spins if the player lands three scatters with a boot hill
Cash Truck
The theme of this game is an interesting and unique one indeed. The game takes place on a desert highway in a post-apocalyptic world, and the player is part of a group of bandits chasing after a truck full of cash.
Quickspin created the game, and it has 5×4 reels. However, after some wins, the reels mechanic expanded the reels to 5×7. The name suggests that they boast massive cash returns with 20 pay lines and can pay out as much as 25,000x the initial stake.
The special features of the Cash Truck online casino game are:
Tumbling Reels: After a win has been secured, all the symbols involved in creating the winning combination are cleared from the screen. New symbols then tumble down to replace them.
Truck Raider Bonus: In this bonus round, three free spins are awarded. Three new Cash Stack symbols with modifying abilities are also dropped in random positions on the grid. To get this bonus, players have to get three scatter symbols.
Gordon Ramsay: Hell's Kitchen
This excellently designed casino game created by NetEnt is based on the popular TV series hosted by Gordon Ramsay.
Most of the major symbols are entirely believable food images, with Gordon Ramsay as the wild symbol. The game has 5 x 3 reels and 20 pay lines.
Gordon Ramsay's voice features throughout the game, and the game has a special bonus round that mimics the TV show.
This bonus round, called the Team Challenge round, splits the reel into two 5×3 grids, one being the blue team and the other the red team. You get a chance to root for the team of your choice before the game begins.
Gigantoonz
Play'n GO created this game as the third game in the Toonz game series. The earlier games in the series are Dr Toonz and Reactoonz.
The theme of this game series involves a group of different colored aliens against a bright background. The game has 8×8 reels and innovative features such as cascading reels and enlarged symbols.
Like Reactoonz, Gigantoonz has high volatility, with 96.25 RTP. Listed below are some of this game's special features:
Mega symbols: These symbols occupy space on the reels from 2×2 to 7×7. After a spin, they change into a Quantum Wild symbol through the cascading reels feature. They also give a cluster value of a random number between 1 and 13.
Quantumeter: The Quantumeter on the right-side counts charges. Each winning symbol adds one charge to the meter, but mega symbols add their cluster value. When the charges are up to 100, the player is awarded four-game modifiers.
Other Innovations in the Casino iGaming Industry
The continued increase in technological advancement has brought about specific innovations in casino game features, making them more enjoyable for the players. Some of these emerging features in the online casino industry include:
3D Games: Many online casinos are beginning to add 3D casino games to their library. Games designed in 3D style are more detailed and interactive, giving viewers an immersive experience.
Virtual Reality: VR casinos are a technological step up from 3D games. Although it isn't available yet in most casinos, this technological innovation significantly improves gamblers' experience playing casino games.
Cryptocurrency payments: Cryptocurrency allows for flexible yet secure payment and is now being accepted in many online casinos.
Conclusion
Technology has made way for various innovations and developments in the casino games industry. As a result, the casino games designed today are incredibly well-built, with stunning graphics, beautiful color schemes, immersive game themes, and enjoyable game mechanics.
Casino game innovators such as Play'n GO, Quickspin, Microgaming, and Playtech continuously release new games for casino enthusiasts to enjoy.
All the games listed above are created using these innovative features to ensure the maximum satisfaction of the player.