Poker Players With The Highest Net Worth – This List Will Surprise You
Did you ever wonder who has the highest net worth among poker players? While you can find plenty of lists with the biggest winners in this game, it doesn't necessarily portray a particular person's real net worth.
We thought it would be fun to make a list of the most "valuable" players.
It is clear that it is possible to make a living with professional poker. In fact, it is also possible to make millions out of it, and many players did exactly that.
While most of the wealth for these guys came from playing poker, it would be fair to say that many successful players have additional income as well.
If you already tried some casino poker games and played at Vulkanbet casino online or other online destinations, you may want to try real poker games and give it a serious shot.
What it means is that instead of playing with machines, you play with real people. You can do so in person, or you can do it online, and as you see from this list of richest poker players, all of this can end very well.
1. Phil Ivey Net Worth – $100 million
Source: cardplayer.com
We can almost agree that every player knows who Phil Ivey is. He is valued at $100 million, and many experts consider him one of the best poker players of all time.
His achievement? 10 WSOP bracelets.
So, this makes him a superstar. Winning the WSOP poker bracelet is a feat on its own, so much more if you have 10 of it.
As Phil keeps on winning, he also keeps on earning, and he accumulated a big part of his money in tournaments. In 2014 alone, he raked $4 million AUD in one MTT.
He also likes to play cash games if tournaments are not available. There was a time when he won $16 million after three days of playing against a billionaire Andy Beal, and you can often see him featured in TV shows where he battles it out with the best.
2. Sam Farha Net Worth – $100 million
Image from pokernews.com
Like Phil, Sam is valued at $100 million. He is Lebanese, and he has three WSOP bracelets. Despite winning in tournaments, Sam prefers high-stakes cash games.
However, his biggest score was in the 2003 WSOP main event, where he bagged $1.3 million after finishing second after losing to Chris Moneymaker.
This legendary tournament is widely remembered throughout poker history and is considered one of the main catalysts for the poker boom that followed after.
Today, he has several businesses. He also gets paid to appear on TV and selling his books, so it looks like poker career turned out quite well for Sam.
3. Chris Ferguson Net Worth – $80 million
Valued at $80 million, Chris is not exactly known for his good behavior. He was accused of orchestrating a massive Ponzi scheme in the Full Tilt Poker scandal, which cost players hundreds of millions of dollars.
It was in 2011 when he and his cohorts got accused of the Ponzi scheme, which dated back to 2004. The case was dismissed, but players never let Chris go of the hook, even after his delayed apology, which happened years later.
The $80 million, however, came from legit ways.
Back in the year 2000, he won the main event of WSOP, from which he took home a prize of $1.5 million.
This tells us that he is a good player, and he also knows how to keep his winnings. According to live poker databases, he won around $10 million in live MTTs, and he probably added quite a bit on top of that from cash games.
4. Doyle Brunson Net Worth – $75 million
Source: pokercentral.com
The fourth on our list is Doyle Brunson, who is valued at $75 million. Like Phil, he has 10 WSOP bracelets under his belt.
He also won the WSOP Main Event two times in a row in 1976 and 1977.
Doyle is now retired, but he still frequents cash games. If you want to see him, you may find him at the Bellagio. Specifically, at Bobby's Room.
He also loves playing limit mixed poker, and if you want to play some poker hands with him, you should be ready to sit down at games with $4,000/$8,000 blinds.
As far as his earnings are concerned, he won more than $6 million in the tournaments that he joined. No one really knows how much money he won in cash games, but it is most likely the source of his massive wealth.
5. Brian Kenney Net Worth – $55 million
Standing tall in the 1st place of the all-time money list, Bryn Kenney ranks 5th with a total net worth of around $55 million.
Unlike with most other players, all of this comes from live tournament winnings.
While a huge chunk of his winnings came from one event where he scored over $20 million for the first place, it is still an amazing achievement.
Dan Bilzerian Net Worth $200 million – Is He A Poker Player?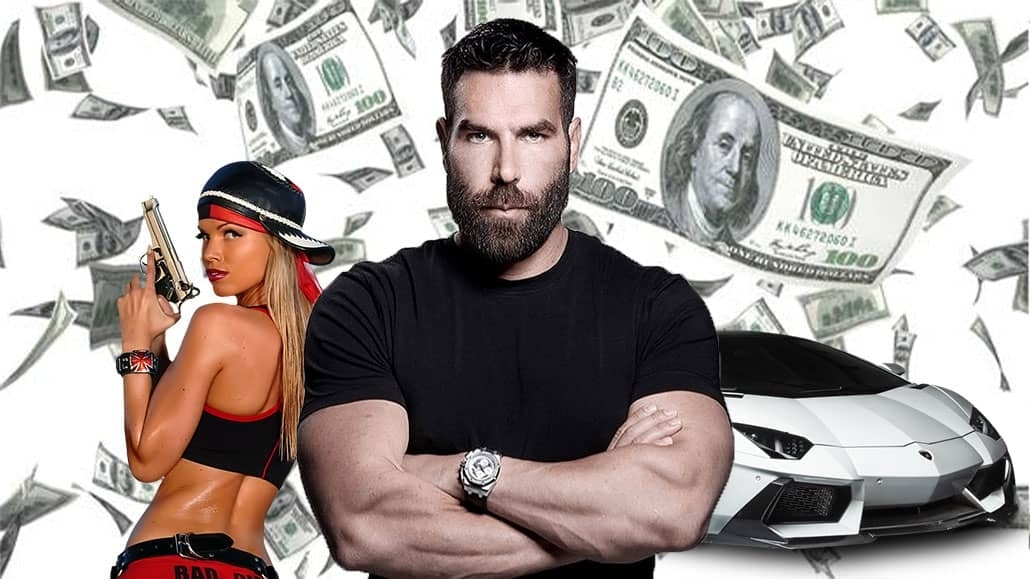 This guy is an Instagram star, and word has it that his net worth is around $200 million. Some people cast doubt about Dan Bilzerian poker winnings, but there is no doubt that this guy loves lavish parties and women.
Dain claims that in 2014, he won $50 million in one poker game.
Many players doubts that could be the case since his skills don't look too solid, and Dan does not have any tournaments results to back up his claims.
Instead, he says that he makes his money from cash games, playing high-stakes poker against other rich players.
Summary: Start Building Your Net Worth As A Poker Player
If you want to reach results that come even close to this, you have to work pretty seriously, and devote yourself to studying all ins and outs of poker.
If you have not played poker before, you should start online.
With this approach, you can play against other real players without showing your face. You will have the time to learn how to control your emotions and prepare for live games.
Of course, you can practice playing with your friend to develop your skills, but don't jump into serious games without prior experience.