All Upswing Courses 25% Off – Get Your Poker Career on the Right Path Today
The number one site providing poker training, Upswing Poker is going all out with its Black Friday and Cyber Monday sales.
Between today, November 25, and Monday, November 29, all Upswing courses will be available at a discounted rate, with 25% of the normal price slashed. Check awailable discounts here!
This means that for most courses, you'll be able to save $250, which is nothing to sneeze at.
You've probably heard about Upswing before, but in case you haven't, this is probably the best training platform available today.
In addition to Doug Polk, the founder and the heads-up master, the site gathers some of the best poker players in their respective areas, including the likes of Ryan Fee, Nick Petrangelo, and Alex 'Kanu7' Millar.
On top of extensive courses on cash games, tournaments, and more, Upswing Poker also offers The Upswing Lab, an all-encompassing program geared towards beginners and mid-stakes players. The Lab will be available at a discount during the promotional period as well.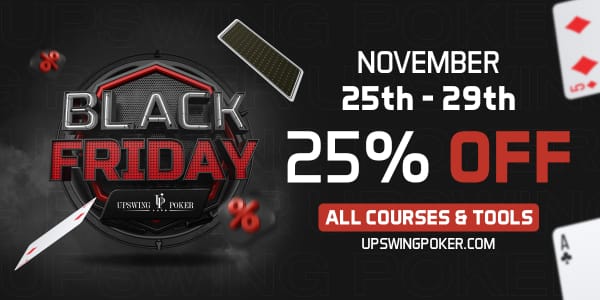 Cheaper Poker Training for Everyone
The best thing about Upswing Poker is that it offers training courses for everyone, regardless of what your particular game preference might be. From tournaments, over cash games, to PLO and mixed games, you can find a resource to help skyrocket your play.
Most of these courses are regularly priced at $999, but between November 25 and 29, you'll be able to get full access to them while saving $250. Some of the discounted products include:
There is a small window of opportunity before prices go back up, so if you're thinking of buying one of these courses, the time to act is now. If you're serious about upping your poker game, we can guarantee you won't be disappointed.
Save up to $175 on the Upswing Lab Access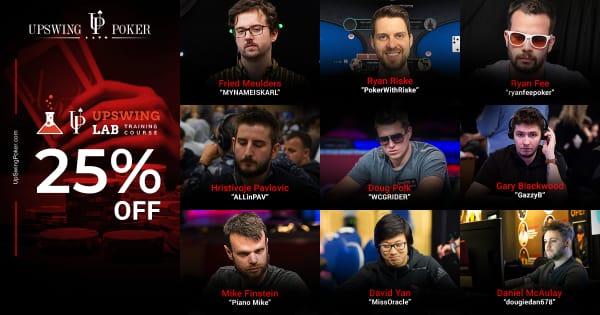 As mentioned, you can also gain access to the Upswing Lab cheaper during the Black Friday sale. Depending on the subscription model you pick, you can save anywhere between $25 and $175.
You can subscribe for a single month, six months, or the full year, and the full-year sub will save you the most money.
You will get access to training materials covering everything you need to know to go from an absolute beginner to a winner. Learn about preflop hand ranges, differences between cash game and MTT strategy, various postflop scenarios, and much more.
As a bonus, you'll also get advanced, GTO-based preflop charts for MTTs and cash games, as well as access to private training groups.
It's no secret that Upswing courses are on the higher side of the price range, so they might not fit everyone's budget, even with these discounts.
That said, if you're new to the game and want some quality content that's guaranteed to help you improve quickly and significantly, joining the Upswing Lab is a great investment.