888poker Launches ChampionChip Games Series: Low Buy-ins & Big Guarantees
2 minutes
Last Updated: February 2, 2023
888poker is back with another exciting online series, this time around targeting players with smaller bankrolls. The ChampionChip Games series returns for a week full of poker action and big guaranteed prizes up for grabs.
The series runs Sunday, Aug 28, – Tuesday, Sep 6, with over $500,000 in guarantees and loads of affordable events on the schedule.
Players can get in the mix for as little as $2, and there will be many special promotions and giveaways to spice things up.
The $60 Main Event is the pinnacle of this year's ChampionChip games, boasting a generous guarantee of $200,000. For those who can't afford to buy in directly, the operator has prepared numerous satellites to get in on the cheap.
Multiple Day 1 Main Event Tiers Available
Looking to generate as much action as possible and give players enough time and opportunities to take a shot at the big Main Event prize pool, 888poker is running numerous Day 1 flights.
These will kick off on Sep 1 and will be available until Sep 5, which is when Day 2 is scheduled to take place.
It is worth noting that the room plans to give away many free tickets for the tournament as well. If you'd like to have a shot at these, make sure to keep up with 888poker live streams, which will be very active during the entire ChampionChip series.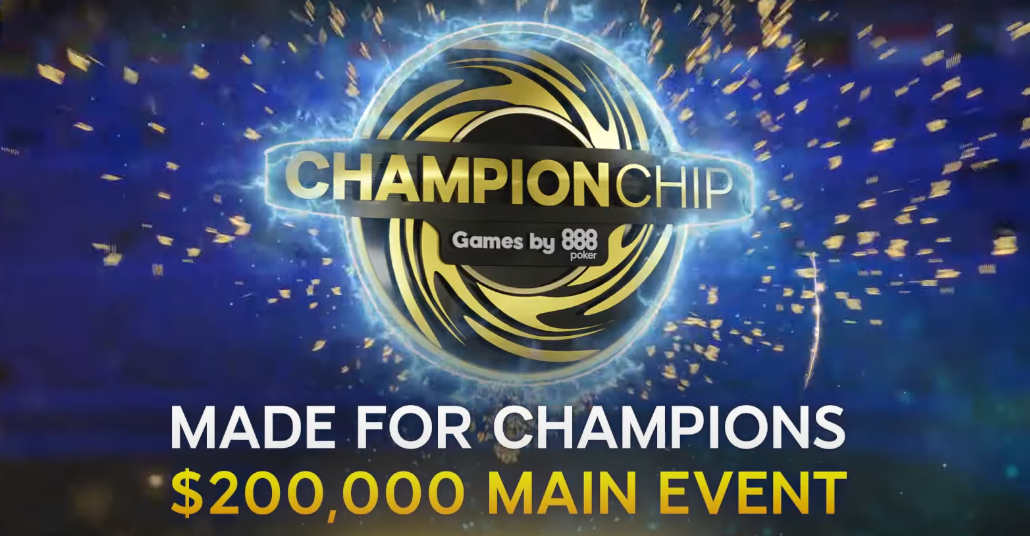 Once the final table is reached, the event will be paused, and all remaining players will come back on September 6 to play down to the winner. The final table will be streamed live as well, adding to the excitement.
There are also various satellites available on the platform, where you can win your Main Event ticket for a fraction of the price.
Tons of Affordable Action
The Main Event may be the most attractive tournament of the ChampionChip Games series, but it's just one of many events on offer over the course of the next few days. A majority of tournaments feature low (sub $30) buy-ins, catering to a wide player pool.
In terms of guarantees, there are quite a few five-figure ones that you don't want to miss out on, and we are bringing you our top picks to look out for:
August 28 – $33 Opening Ceremony ($30,000 GTD)
August 29 – $22 PKO 6-max Boxing event ($20,000 GTD)
September 1 – $22 Marathon (Deep stack, $12,000 GTD)
September 4 – $11 Triple Threat 11 & $22 Triple Threat 22 ($15K and $20K GTD)
September 4 – $16.50 Mini Main Event ($20,000 GTD)
As you've probably noticed, the tournaments in the series are named after different sporting disciplines, so you'll find swimming, mountain biking, skateboarding, and much more.
While the name of the tournament is probably the least important factor for serious players, this is a nice twist that makes the ChampionChip games unique and more appealing to casual players.
After all, adding some fun twists to poker events can only ever be a good thing!
There are 25 tournaments in total, so the action will be fast and furious. Make sure to check it out, and if you don't have an account with 888poker yet, create one just in time for the ChampionChip Games and claim your welcome bonus package in the process!