WPT Global Poker Review – Brand New Poker Room for International Players
WPT Global is a very fresh online poker site backed by the World Poker Tour, one of the biggest and best-known organizations in the poker world.
While WPT has had an online presence in the USA for some time now, the launch of WPT Global represents an opportunity for players from the rest of the world to join the action.
On top of being owned by a massive company, the room is also licensed by Curacao, and the software has been independently tested by Gaming Laboratories International (GLI).
In this detailed WPT Global Poker review, we bring you all the details about the welcome bonus, promotions, real money play, software quality, banking options, and everything else you need to know about before signing up!

WPT Global Poker Review – Big Welcome Bonus Package
It probably comes as no surprise that WPT Global offers a generous welcome bonus for all new players. This is one of the best tools poker sites have at their disposal to create some interest.
Before we proceed to discuss the main welcome offer, though, we need to mention the operator offers free $110 tickets for everyone who signs up before May 29, 2022.

These tickets will let you play in a $100K guaranteed tournament, and you can claim them without making a deposit. You just need to register for an account.
If you want to find out more about the tickets and the tournament itself, check out this article, where we explain all the details.
100% up to $1,200 on Your First WPT Global Deposit
The WPT Global welcome bonus is quite generous when compared to the competition. Namely, you can get a 100% match on your first deposit all the way up to $1,200.
The minimum deposit required to trigger the offer is just $20, though, so whether you're a small stakes player or a serious grinder, this is a very solid offer.
As is usually the case with poker bonuses, this one is also released in increments. Every time you generate $20 in rake, $5 will be transferred to your real money account. This means the bonus clearance rate is 25%.
You'll have a total of 90 days to clear the bonus, which should be plenty of time. Any money remaining in the bonus balance after this period will be removed, but you will still keep anything you manage to clear up to that point.
For example, if you take a $100 bonus, you will need to pay a total of $4,000 in rake to clear the bonus. If you manage to release only $80 during the 90-day period, only the remaining $20 will be forfeited.
WPT Global Promotions
The generous $1,200 WPT Global welcome bonus is probably the best in the industry, but it is far from the only thing offered to loyal players.
While the operator does not offer a player club that would award regular play, a variety of promotions are available for both cash game and tournament players that give back a portion of everything WPT Global makes from the players.
The promotions are always subject to change, and you would be well advised to regularly check out the promotions on the site, but there are a few of them that run regularly and that you can count on each and every month.
$14k Weekly Tournament Leaderboards
WPT Global features some of the softest tournaments you will find anywhere, but the weekly $14k tournament leaderboards make these tournaments even more appealing.
Each week, WPT Global gives away $14k to its best tournament players, with the prize pool split between the Main and the High Roller Leaderboard.
All tournaments with buy-ins up to $27 count for the Main, while all higher buy-ins count towards the High Roller Leaderboard.

The points for both leaderboards are based on a formula that takes into account the tournament buy-in, total entries, and of course, your finishing position.
Top 100 players in the Main Leaderboard and top 5 players in the High Roller Leaderboard share in the prize pools, with both cash prizes and tournament tickets given away as part of the promotion.
The best thing about it is that you can come back every single week and compete for both Leaderboards, giving you plenty of reason to grind even before the weekend, and set up a big point lead before the big days of the week.
To make things even juicier, WPT Global is giving away free $1,500 WPT Prime Passports to the top ranked players from both leaderboards every few weeks, which is another great reason to compete at this site.
Finally, an extra $100,000 jackpot is in store for any player who can win the $11 Mini Slam, $110 Sunday Slam, and the $330 Grand Slam in a 22 day period.
While this is a hard feat to accomplish, the incredible jackpot certainly means all tournament grinders should be giving it a shot on a regular basis.
Calling All Content Champs
Ever since its launch, WPT Global has been employing some interesting marketing strategies, many of them heavily related to social media.
Now, the operator is offering everyone a chance to benefit from promoting it via social platforms, with free tournament tickets up for grabs for all players and streamers.
You can win the following prizes up to two times a month:
$22 satellite ticket – Share WPT Global gameplay image
$55 satellite ticket – Share WPT Global gameplay video
$220 satellite ticket – Share WPT Global live stream
You will have a chance to win the lower tier tickets just for sharing images and videos of your gameplay on social media platforms like Instagram and Twitter and tagging the operator in the process.
For the $220 tickets, you will need to launch a live stream and promote the operator that way, but a short gameplay session on there will get you a free $220 ticket, which certainly sounds like a good deal for any poker streamers.
Are you going to be the first-ever @WPT_Global Content Champion?! 🏆🎉

Post your play or live stream and win prizes ranging from satellite tickets to $12.4k passports to play in the @WPT World Championship in Las Vegas this December ✈️

Details: https://t.co/RgLtzjD5x4 pic.twitter.com/WgbaYwLjGn

— WPT Global Poker (@wpt_global) September 20, 2023
What's even more, the best content producers will be invited into the monthly freerolls, awarding valuable WPT live packages to the winners, along with plenty of consolation prizes.
WPT Global is also giving everyone a chance to promote the site and earn up to $10,000 per player who signs up through their invitation link, which can be easily shared via popular streaming platforms.
Indeed, WPT Global seems to be the best place for all poker streamers to get in on some action and capitalize on their channel's popularity to the max.
WPT Global Poker App & Software
There's been a major shift in the online poker world towards mobile poker apps. More and more players are choosing to enjoy their poker experience on their phones.
Keeping up with the trends, WPT Global offers a quality mobile app available for Android and iPhone devices alike.
You can download the app straight from the page, and if you're an Android user, you'll need to manually allow the installation. After that, it's just like installing any other app.
At this point in time, the app itself is somewhat basic, but it does the job. In the 'Settings' section, you can choose your language, toggle sounds on and off, and set up some security settings.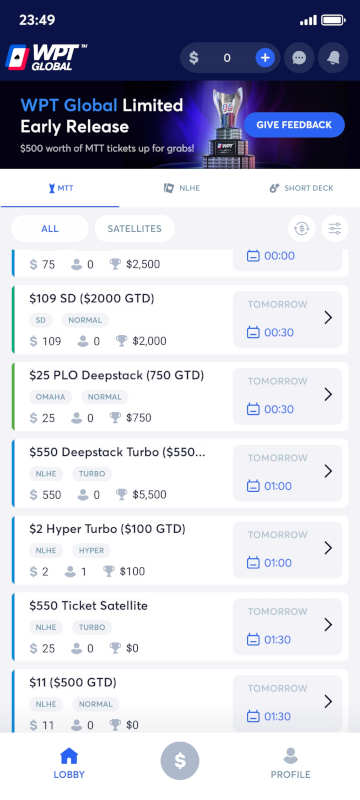 The 'Backpack' section of the app gives you an overview of all rewards (such as tournament tickets) you have available, while the 'Bonus Center' is where you'll see the progress of any active bonuses.
The main lobby of the WPT Global poker app is divided into three major sections, namely:
Underneath these three main sections, you'll find quick filters to pick out games by stakes, and there are even filters you can use to fine-tune your search and only show the types of games you're interested in playing based on buy-in, game type, speed, registration status, etc.
The tables themselves feature the new portrait view, so you can easily play with one hand and toggle between different tables when multi-tabling.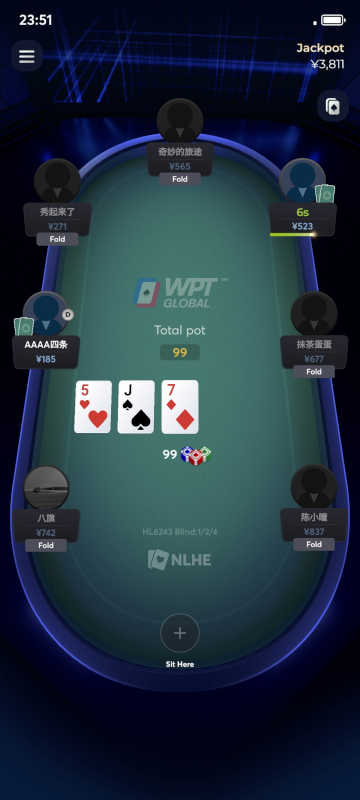 Once you join the table, you'll also find some more options to customize your experience, such as turning on the four-color deck and customizing your bet buttons based on the size of the pot.
If you prefer to play on your home computer or laptop, WPT Global also offers desktop software. The software is decent, but it can be a bit slow at times, and there are some glitches.
It is quite clear that WPT Global was built with mobile players in mind and the desktop software, at least for the time being, is a convenience, but it still needs some work.
WPT Global Poker Review – Player Traffic & Game Options
Fresh poker rooms often suffer from the lack of traffic as they try to build their player pool. This doesn't seem to be the problem with WPT Global, though, as the room offers very good traffic across the stakes.
You will find cash game tables and tournaments in USD and CN¥, and CN¥ games seem to be more populated for the time being.
For tournament players, there is a solid daily schedule, and you can find MTTs of all buy-in levels, from freerolls and micros to $109+.
At the time of writing this WPT Global review, guarantees on the tournaments are somewhat modest, but this is to be expected. The operator is probably testing the pulse of the market to see what they can offer in terms of guarantees.
That said, there are some special events in the mix already with big guarantees, and these are the ones you'll want to get involved with. As time progresses, we'll likely see more big guarantees and major series added to the mix.
After all, this is the World Poker Tour room, and if there is one thing they know how to do, that's organizing big tournaments.
Cash Games at WPT Global
If there was only one good reason to join WPT Global, it would probably be for the cash games, as the operator offers some of the softest cash games around.
With a massive player pool made up greatly of recreational players, WPT Global gives players a real chance to compete in cash games that resemble live poker in a big way.
You will find No Limit Hold'em tables at WPT Global cash games ranging from as low as $0.02/0.05 to as high as $100/200, with PLO and Short Deck games also running up to mid-stakes, with tons of action at micro and low stakes.
The low stakes games in particular are very good compared to other sites, as it is becoming increasingly difficult to find $1/2 or $2/5 games with reasonable competition these days.
WPT Global offers exactly that, with hundreds of tables running around the clock, and plenty of action being given by players who enjoy playing the game but don't all play it exactly the same way.
Whether you are looking for an exciting and fun poker experience, or a new place to grind it out and win big in cash games, WPT Global is certainly one of your best options these days.
Tournaments at WPT Global
Much like cash games, WPT Global tournaments are extremely appealing, much thanks to the number of recreational players simply playing the game they love and enjoy.
The operator offers a variety of tournaments throughout the day, with buy-ins as low as just $1.10 and as high as $500, with occasional events with even higher buy-ins.
WPT Global is in the habit of throwing special tournament series or standalone events with massive guarantees, which are often not met, giving all entrants extra value through overlay.

Each Sunday, players are given a chance to compete in special Sunday majors, with the following three tournaments offering the best value:
$330 Grand Slam – $20k Guaranteed
$110 Sunday Slam – $50k Guaranteed
$11 Mini Slam – $8,888 Guaranteed
Even WPT Global tournaments that do reach their guarantee usually present great value, as the level of play you will meet here is easily a few steps below what you will find at comparable competing sites.
Tournament action at WPT Global is frequent, soft, and versatile, with many different tournament formats offered, making this site a great place for tournament players as much as cash game aficionados.
WPT Global Satellite Tournaments
Being a partner site to World Poker Tour (WPT), one of the world's biggest live poker tours, WPT Global is the place to be if you are looking to qualify for one of the WPT live stops around the world.
The site offers plenty of satellite action from the lowest levels, with WPT packages and passports regularly given out to dozens of players.
WPT Global is the only place in the world where you can qualify for major WPT and WPT Prime tournaments for as low as $22, making it a site you must sign up for if you regularly play live events like this.
On top of the satellites to live events, WPT Global also offers a variety of qualifiers for its online tournament series, which are frequent, and which often have Main Events in the $1,000 buyin region.
You will be able to compete for entry tickets to all such events via the online platform and win your seats for just a small percentage of the buy-in price by playing against other would-be qualifiers and demonstrating your skills on the green felt.
WPT Global Features
WPT Global is the most recent of the big online poker operators to launch, and its unique platform is quite a bit different from what we have seen in the past.
While all the basic features you would expect from an online poker site in this day and age are available, WPT Global also offers a handful of features that are not available everywhere and that many players will greatly enjoy.
Some of these features were certainly introduced to cater to recreational players, but both pros and recs will learn to enjoy the fun and lighthearted nature of these unique options.
Rabbit Hunting
Rabbit hunting is a feature that used to be available in quite a few poker rooms back in the early days of online poker, but was later removed by most serious operators.
Now, rabbit hunting is making a return! For those who don't know what it means, rabbit hunting is the act of dealing out the remaining cards in hands that end before river.
At WPT Global, if you fold your cards on the flop or turn, and the hand is over, you will be able to see the turn and river for a tiny fee paid to the operator.
The rabbit hunt button will become available once all the action is settled, and you will have a chance to calm your curiosity and find out if you would have gotten there or not.
Insurance
If you have ever watched Phil Hellmuth play cash games on TV, you have probably seen what poker insurance is all about, and now you have the option to use it at WPT Global.
In WPT Global cash games, you will be able to insure your hand when you move all in and are a favorite.
Before the remaining cards are dealt, you will get a chance to insure your hand for a 5% fee on your current equity.
This way, if you end up getting outdrawn, you will still win, and if you win, you will simply need to pay the small fee that helped ensure you sleep better after the session.
Reveal Hands
A somewhat controversial feature offered at WPT Global, the reveal hands feature lets you see everyone's cards at the end of a hand for a small fee.
Quite literally, you will be able to push a button, pay a fraction of a big blind, and see what everyone had in a hand you folded in.
With this feature, you will be able to buy a lot of information on other players at the table, including what poker hands they are 3-betting or 4-betting, whether they were pulling a big bluff or had a monster hand, and more.
While this feature may seem dangerous at first, you will get to use it to get as much information on others as they will on you, so just make sure you use it at the right time, and you should do just fine.
Hole Card Betting
A unique feature that is not offered at any other major poker platforms, Hole Card Betting quite literally lets you wager on the next hand you will be dealt.
Many different options are available, with Pocket Aces priced at 200/1, any Ace priced at 6.5/1, Ace or King priced at 3.3/1, and much more.
If you are feeling like you are running particularly well or particularly bad, you can use Hole Card Betting to capitalize on your run and earn some cash in the process.
Time Extension
Are you running out of time in your time bank and you have a big decision to make? Don't worry, WPT Global has you covered, as extra time extensions are now for sale.
Each time your time bank is running low, you will be offered a chance to buy a time extension, giving you an extra few seconds to make up your mind.
While buying too many of these would probably be a waste of money, paying the very small fee when you have a big decision to make is certainly well worth it.
Poker Flips
Along with a variety of poker games and formats you can play at WPT Global, the Poker Flips mini game is also available, offering perfect entertainment for your downtime.
Poker Flips is a simple game that is based on Texas Hold'em Poker, but requires no skill or actual strategy to play.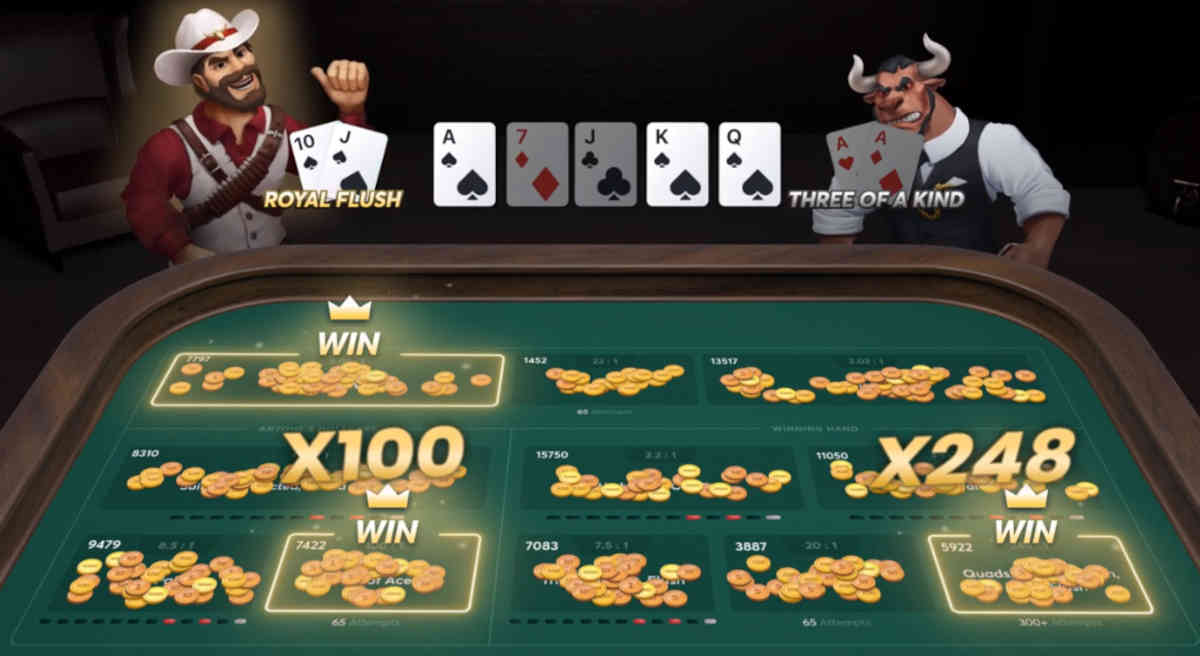 At the start of each hand of Poker Flips, a random poker hand is dealt to both the Cowboy and the Bull, face down. After this, the five community cards are also dealt.
At this point, you have a chance to make a variety of bets, with some of the following options possible:
Pocket Aces: 100:1
Split Pot: 22:1
Full House: 20:1
Suited Connectors: 12.5:1
A Pair: 8.5:1
Trips, Straight, Flush: 4.7:1
A variety of other bets are also possible, making Poker Flips a super fun game you can play for any stakes you choose and at any time.
Do keep in mind, Poker Flips is a strictly gambling game, so make sure not to bet too much on this with your poker bankroll, as you want to bet most of your money when you know you have an edge.
WPT Global Poker Deposits & Withdrawals
WPT Global offers a solid range of banking options, although it's not as colorful as what you'll find with some of the other more established rooms.
Another thing you should be aware of is that not all deposit methods are supported across the board, so your choice may be limited by what country you play from.
Overall, WPT Global supports the following methods:
Visa
MasterCard
NETELLER
Skrill
Luxon Pay
Bank transfers
Popular cryptocurrencies (Bitcoin, Ethereum, Litecoin, etc.)
When it comes to withdrawals, you can usually use the same method you deposited with, which makes things easier.
WPT Global doesn't charge any fees regardless of what option you go for, and all cashout requests are processed in one to five days.
Overall, it's fair to say the room still has some work to do in the banking department, but that's not surprising, given its recent launch date.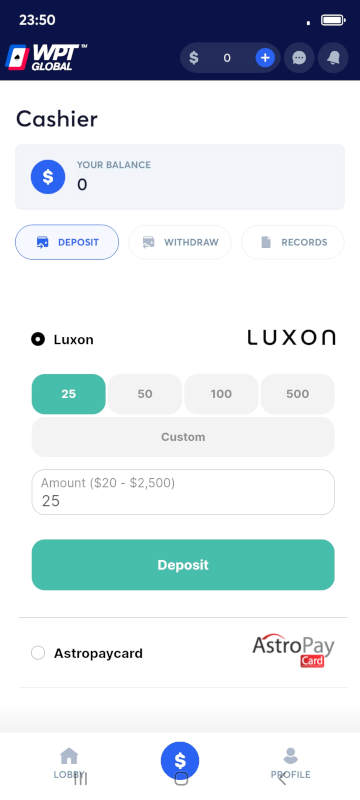 We can only assume that the operator will strive to expand the range of deposit and withdrawal methods moving forward to make it easier for the players.
As of right now, cryptocurrencies are available across the board for deposits and withdrawals alike. Beyond this, the only way to know the full range of supported options in your country is to actually create a free account and visit the Cashier section.
WPT Global Poker Review Summary: Why Choose WPT Global
When all things are considered, should you give WPT Global Poker a chance, and is this new room worth your time?
Well, the operator has a few things going for it, and perhaps the biggest one is that it's available in many countries where other major rooms don't have a presence.
Secondly, WPT Global is backed by one of the biggest brands in poker, so you can be pretty sure this is a serious business endeavor that won't just disappear with your money. Given everything that's happened over the years, this is very reassuring.
For the time being, the quality of play on the app is also quite a bit lower than what you'll find elsewhere, which makes it easier to make a profit. If you're looking for soft games, WPT Global is most certainly worth checking out.
The welcome bonus is quite generous, too, especially if you factor in the free $110 ticket, albeit this is only available until May 29.
That said, we wouldn't be surprised if the operator came up with a different no-deposit offer once their welcome tournament is over.
Of course, there are some downsides to consider as well.
The desktop software is certainly not up to par, especially if you want to play multiple tables, and deposit options are still somewhat lacking in certain countries.
All in all, WPT Global is an interesting poker room with what could be a very bright future, and getting involved early on could be a very +EV decision.
If you're quick to sign up, you'll get to enjoy the action while it's still really good. It's not easy to find soft tables online these days, so you shouldn't miss out on this opportunity!