Best Free Poker Apps – Enjoy Online Games on Your Phone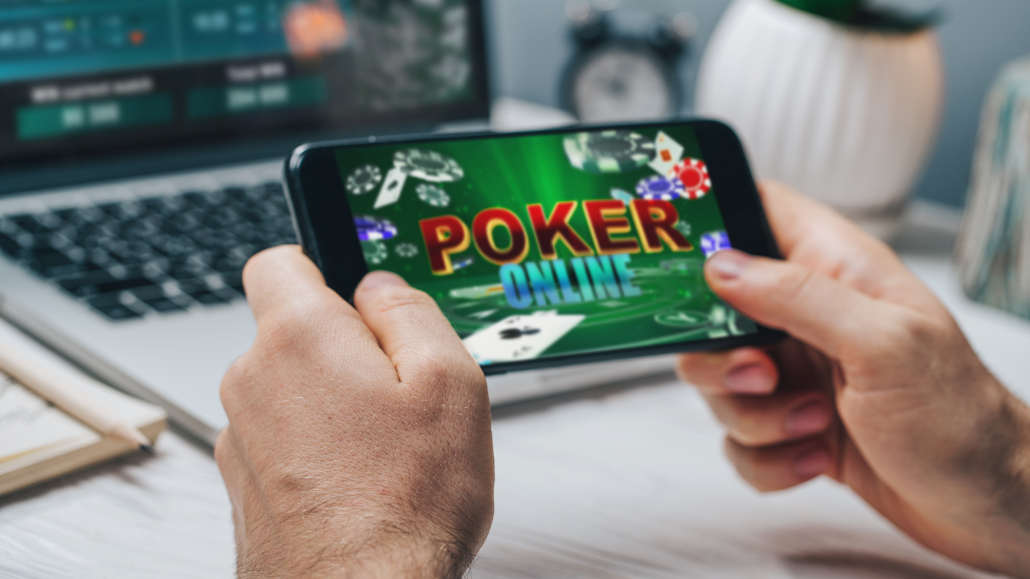 If you enjoy playing poker but aren't interested in spending real money just yet or want to play in a relaxed environment, free poker apps represent the best solution. You can find hundreds of these in app stores, and they all take just a couple of minutes to download and set up.
Of course, with poker being so popular, there are many developers trying to make a quick buck with subpar products. This makes it hard to know what's the best poker app out there and which ones are actually worth your time.
In this article, I'll give you a list of some of the top poker apps out there, whether you want to play the game or are looking to learn some strategies and become a better player.
Keep in mind that the focus is on the actual free poker apps, not the ones created by real money rooms like 888poker or PokerStars.
1. WSOP Poker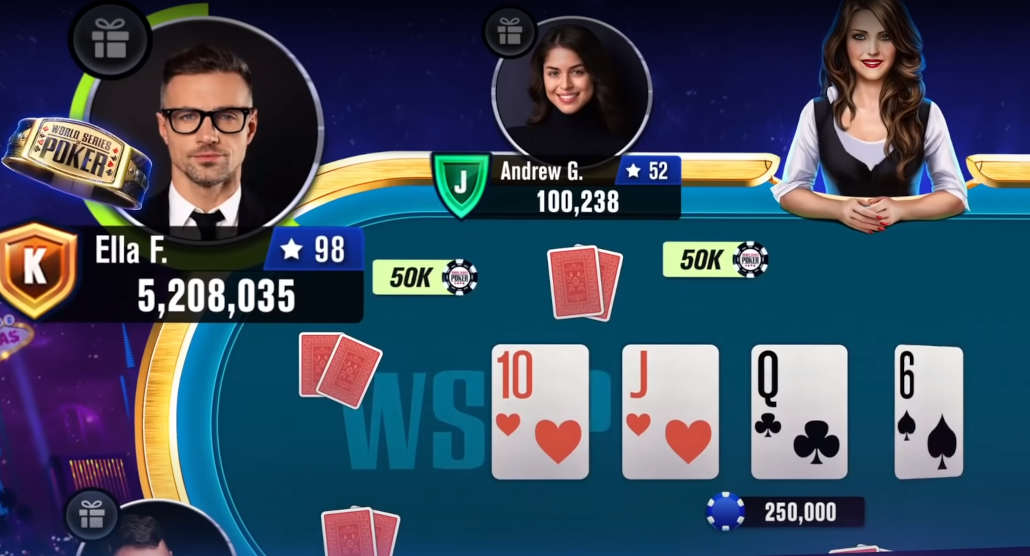 It's hard to say which is absolutely the best poker app out there, but WSOP Poker certainly deserves one of the top spots on this list. Created by the most recognized name in poker, this app lets you play against other players for free and enjoy the experience on all sorts of mobile devices.
As far as free poker apps go, WSOP has really done a great job. Smooth graphics, a modern interface, and easy gameplay are just some of the features you're going to love about this app.
While most apps focus solely on Texas Hold'em, you can actually play Pot Limit Omaha here as well, which is a nice breath of fresh air.
There is also the WSOP Academy, featuring training videos designed to help you become a better player. You'll gain access to new materials as you make progress at the tables, adding a nice competitive element to the mix and making it a must-have for any poker beginner who'd like to get better without the risk involved.
2. Governor of Poker 3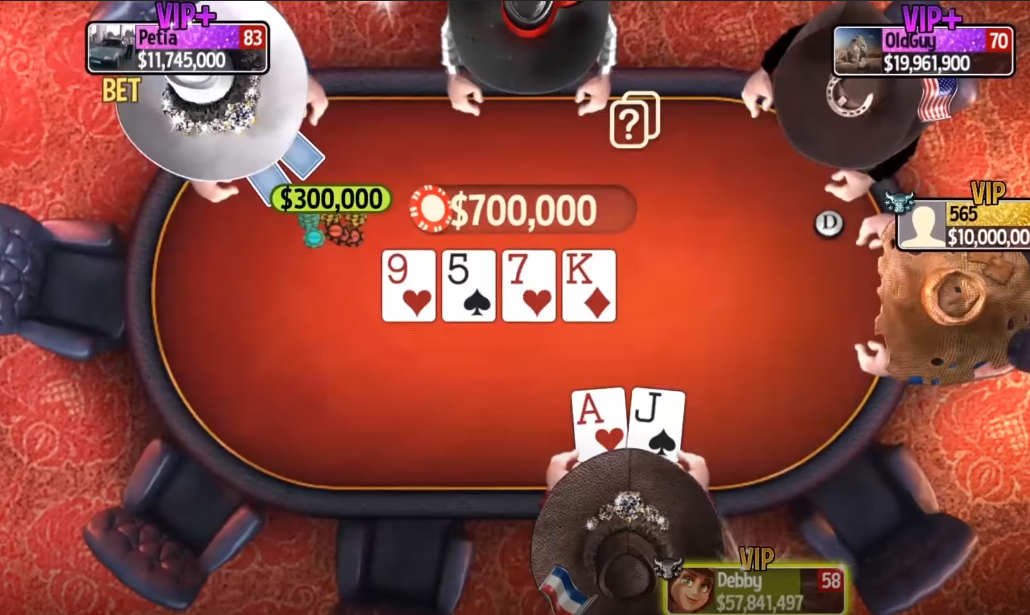 One of the biggest poker app names, Governor of Poker, has been around for some time, and the third edition of the popular online poker free game is just as good and as popular as the previous two.
This is a single-player game, where you start as a lowly cowboy with a dream of becoming the greatest poker player of all time. This journey will take you across different venues and set before you many interesting missions.
This poker app does suffer from some problems that all single-player poker games seem to have. The biggest one is that your virtual opponents don't always make decisions that make sense.
But, if you're a beginner, this doesn't matter all that much. And, if you're an experienced player, just take this game for what it is and have fun with it.
What's more, the Governor of Poker 3 poker app finally lets you play with friends as well, adding a whole new dimension. You can challenge your friends in different ways, trying your skills against actual human opponents.
Governor of Poker 3 is RNG-certified, which means that all cards dealt out of the deck are really random, and the app isn't rigged in any way.
As for the available options, you can try your hand at classic cash games, tournaments, sit and goes, Spin & Play, and several other special formats.
3. Pokerist Texas Hold'em Poker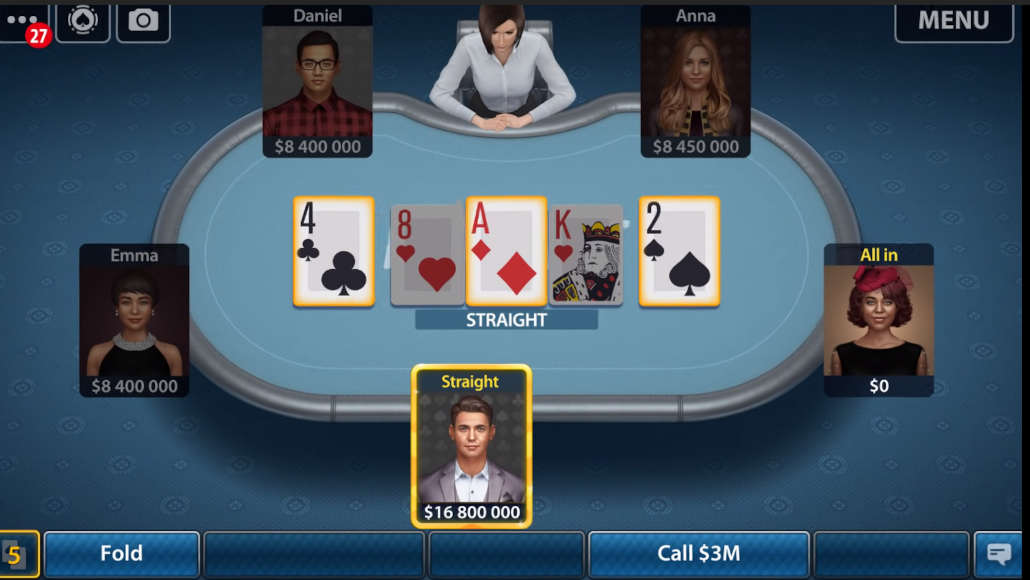 Developed by KamaGames, Pokerist is another hugely popular poker app that allows you to play for free against real-life opponents. You can download and install the app on your device to get started and get some free chips every day you log in to play.
The app developers also claim they use RNG software to generate random results for every hand, so don't be disheartened by the comments claiming the game is rigged. It's just a common complaint people have about poker, free or otherwise.
The interface is pretty simple, and it won't impress you at first glance, but this design helps ensure the app runs smoothly and without annoying glitches.
Plus, if you like to try your luck with some casino games such as blackjack, roulette, baccarat, or some house-banked poker variations, you'll find them inside this online poker free app.
Overall, it's a decent product that lets you play the game and make progress along the way, hopefully becoming a better player in the process.
4. PlayWPT Texas Hold'em Poker
The official app of the World Poker Tour, PlayWPT, isn't the most downloaded of all Texas Hold'em apps, but I believe it deserves the name on this list. Created with the help of the team behind one of the largest poker tours on the planet, it simply can't be bad.
You can choose to play against your friends or compete against players from all over the world in open tournaments. Win, collect Gold, and gain access to new avatars to showcase your skills for the whole world to see.
One nice feature worth mentioning is that there are different tournaments for novice and experienced players. So, if you're new to the game, you can start at your own pace and don't have to compete against the sharks.
5. Zynga Poker
It may not be the best poker app out there, but it's impossible to have an article such as this without giving a proper shout to Zynga Poker. After all, this was the original go-to place for some online poker free action before all these other poker apps appeared.
Zynga Poker has come a long way since its fairly modest beginnings in 2007. The app design is very solid, although there is a lot of clutter still, which can be quite annoying if you're trying to actually focus on poker.
You'll find a nice variety of stakes and game types, including cash games and sit-and-go tournaments that you can play with friends or strangers from all over the world.
It's true that this poker app doesn't take itself too seriously, but if you want to relax and have a blast playing some poker hands while sending virtual gifts across the table and chatting away with other players, Zynga Poker doesn't disappoint.
The level of play is quite poor at lower stakes, but as you move up, you'll find that players start to take the game more seriously.
To have a big enough bankroll to join high-stakes tables, you either have to put in a lot of time or spend actual money to buy chips, so most players aren't in that big of a rush to part with them.
That said, the quality of play is nowhere near what you'd find on real money sites, but it can still be a decent learning experience before making the transition.
6. Velo Poker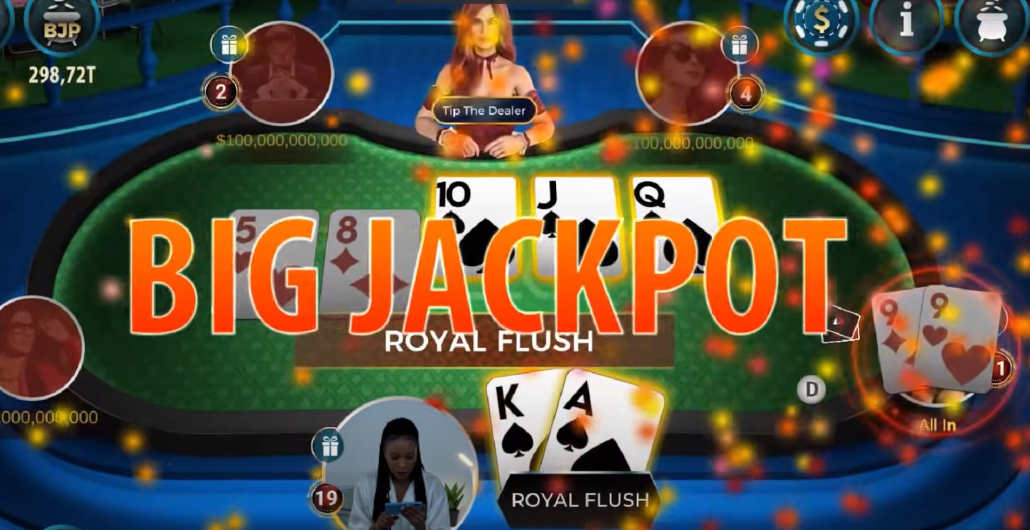 Velo Poker seems to be a relatively fresh poker app that hasn't been around for that long, but it has already gathered a decent number of positive reviews. It seems people like what this app has to offer, although it's nothing revolutionary.
The best part about this free poker app is the software itself. The gameplay is really smooth and fast, which those who came up playing Zynga probably appreciate quite a bit. For all its good aspects, Zynga Poker can sometimes be a real nightmare in this regard.
Some of the outstanding features of Velo Poker include special jackpots for making big poker hands (quads or better) and a fairly high level of customization, which isn't common for free poker apps.
There is also the level system, which means the more you play, the better rewards you unlock, giving you access to even higher games. All in all, it's a solid product that's worth trying out if you want to play some free online poker without much hassle.
7. Poker Face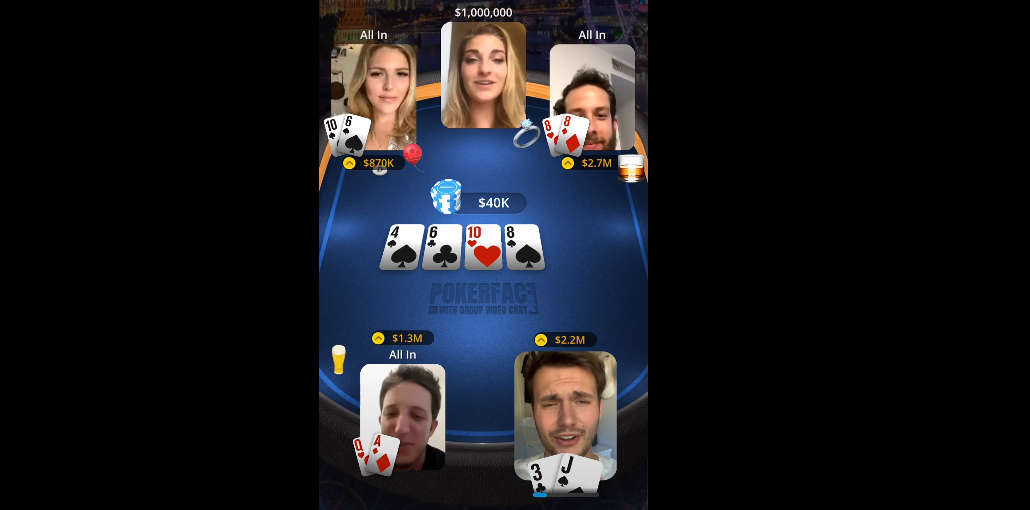 This might be the best poker app if you're looking for a product that will let you set up games with friends where you can actually see each other. That's exactly what Poker Face is all about.
The app tries to mimic the actual poker-playing experience you'd get in a casino, allowing you to stare your opponent in the eyes and try to get a read off of them. It may not be for everyone, but if the idea of a video poker session appeals to you, look no further.
Of course, like the rest of the best poker apps on this list, Poker Face also has a variety of other features, such as daily missions, surprise bonuses, and other ways to boost your virtual bankroll.
The app promises a truly random experience governed by the Random Number Generator as well. Of course, these operators don't have to be licensed like real money providers, so it's up to you if you're going to take their word for it, but there is hardly much incentive to rig play money games.
8. Poker Calculator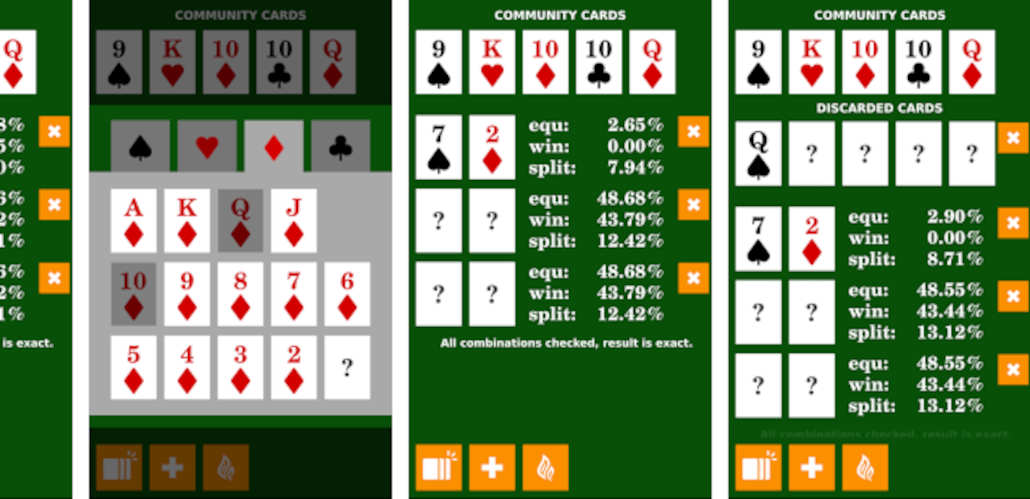 For the final three products on this list, let's take a look at some free poker apps that focus on things other than playing the game. The first one in this category is Poker Calculator, which might be the best poker app for any beginner out there.
This is actually a free version of a paid app, so it's a great solution for those who don't want to pay money but still want to have a tool to help them learn the math behind the game.
This cool little app will let you set up different Texas Hold'em scenarios with opponent's hole cards and flops, turns, and rivers. It will calculate winning odds for every hand and display them clearly on the screen.
If you want, you can even account for any discarded cards to make the calculations even more precise.
While you probably don't want to use this poker app while actually involved in a hand, it gives you a great way to check your math after the fact. It's also a great learning resource as you can play with it and set up different situations to see what the numbers look like.
If you're a visual learner, you definitely want to have this app on your phone. Use it frequently, and after a while, you'll be able to know the exact odds of any situation you find yourself in, helping you make better decisions.
9. Share My Pair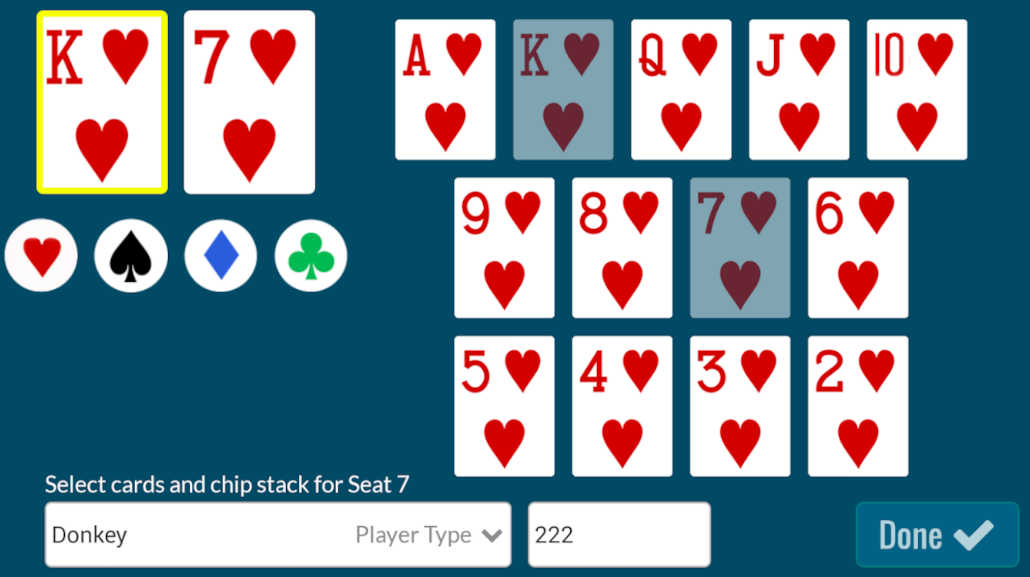 If you like to share your poker adventures on social media, Share My Pair is the best poker app to help you in your endeavors. As the name suggests, this app lets you recreate and share your poker hands with the world.
You may have seen this app in action if you follow Phil Hellmuth on Twitter, as he loves to use it to share his own tournament and cash game hands.
The app isn't the most intuitive one to use, as it takes a while to fill in all the information, but there is hardly a workaround for this. The more info you enter, the more accurate the hand will be.
Once you do go through the process, though, you end up with a link that will display the hand as a mini video featuring action from start to finish.
It saves time on having to retell that bad beat story over and over again – you can just enter it once and then share the link with everyone on your friends' list if you're so inclined.
Word to the wise, though. If you do it too much, that list can become quite a bit shorter.
10. PokerGO: Stream Poker TV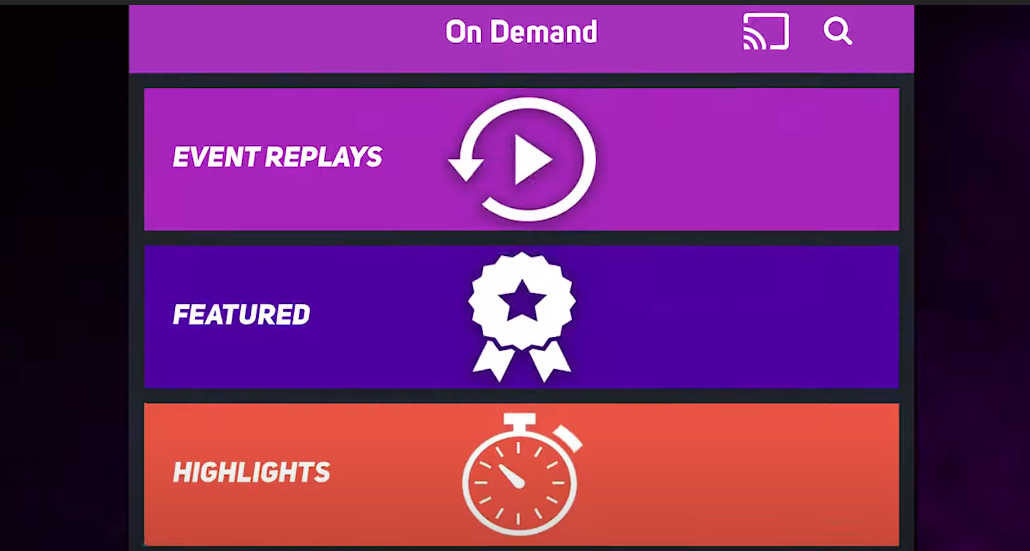 Absolutely the best poker app for every true poker fan out there, PokerGO is a must-have if you want to stay up to date with the latest action.
The app gives you access to footage of some of the best poker players like Daniel Negreanu, Tom Dwan, Phil Ivey, and many others, playing against each other for heaps of money.
Whether you enjoy cash game action or want to watch some of the biggest poker tournaments, this app won't let you down.
Unfortunately, there are still some technical bugs that need to be ironed out. You might encounter some buffering issues, which can be really annoying, and things could be better organized within the app.
Of course, all of these can be fixed, and I'm confident they will be as time goes by. The content, on the other hand, is top of the class, and if you love poker, you simply won't be able to get enough of PokerGO.
Most of the content is behind the pay-wall, but you can still find plenty of free stuff to watch if you really don't feel like spending any money (although the subscription is well worth it).