Phil Ivey Poker Journey – Hall of Fame, Lawsuit, and Famous Baccarat Story
16 minutes
Last Updated: November 6, 2021
Phil Ivey Poker Journey – Hall of Fame, Lawsuit, and Famous Baccarat Story
Phil Ivey is one of the best-known names in the poker world and, according to many of his peers, one of the best all-around poker players alive.
The member of the prestigious Poker Hall of Fame, owner of 10 WSOP bracelets, and winner of countless rewards and accolades, Ivey has pretty much achieved everything one can hope to achieve in poker.
And, he still has many good years ahead of him to further bolster his professional resume.
Phil Ivey has lived a colorful and exciting life, and he's been an inspiration for many aspiring young pros. Whether he's playing in the nosebleed Texas Hold'em cash games or betting fortunes at baccarat tables, he's a presence that's impossible to ignore.
Like many other successful players, Phil had to fight his way to the top – and fight he did. Overcoming adversities and with his eyes always fixed on the prize, he managed to build a poker career that very few people can ever hope to match.
Phil Ivey Career Highlights
Started playing poker in AC while underage using a fake ID
Won 10 World Series of Poker bracelets
One World Poker Tour title
Has more than $31,000,000 in live tournament cashes
Won over $19,000,000 in high stakes cash games on Full Tilt
Inducted into the Poker Hall of Fame in 2017, as soon as he turned 40
Phil Ivey Poker Journey: No Home Jerome's Claim to Fame
Phil Ivey was born in 1977 in California, but his family moved to Atlantic City not long after. This decision probably had a huge impact on Phil's future, as he found himself in one of the gambling centers of the US, surrounded by all the things that would later shape his life and career.
Ivey fell in love with card games at a very young age. His grandfather taught him how to play Five Card Stud, a popular game at the time, when Phil was just eight years old. The two spent countless hours playing the game, and it quickly became obvious the kid had a natural talent for poker.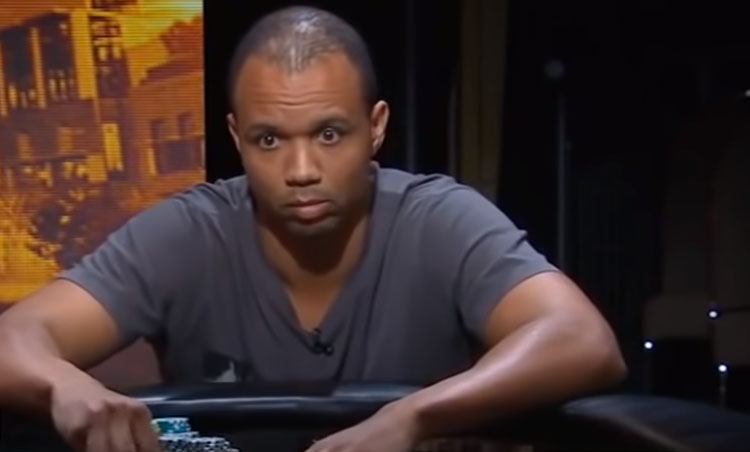 Shortly after learning how to play, Ivey started coming up with his own strategies and ideas, and his grandfather was the first to notice the boy's hidden talent.
As Ivey grew up, so did his love for poker. Being in Atlantic City, he was surrounded by casinos and card rooms, but he would have to wait until he turned 21 before he'd be legally allowed to enter these. For Phil, this was too long of a wait.
When he was 17, Ivey acquired a fake ID and started using it to enter various AC casinos to play in real money poker games. He spent most of his waking hours at the tables, earning him the first of his nicknames.
Locals and poker room managers started calling him "No Home Jerome" as he was always inside the casinos, and the name on his ID was Jerome Graham.
Whether his ID was really that good or room managers recognized the passion in Ivey and didn't want to bother him is a question that will remain unanswered. Phil was allowed access to almost all games in the city, honing his skills and gradually building his bankroll.
Although he was naturally talented, Phil had some leaks in his game during these early years of his career. He still had a lot to learn on his path to greatness, but even back then, those who knew him were certain Ivey would go on to achieve great things in poker.
Ivey's Professional Poker Career
Despite his love for poker, Phil Ivey had to wait to turn 21 to take up poker seriously. While he could play in local cash games and smaller tournaments with his fake ID, he knew that this wouldn't fly if he happened to win a major event.
When he finally became of age, Ivey was ready to spread his wings and take on the poker world.
As luck would have it, he didn't have to do it alone. He found mentors in Berry Greenstein and Daniel Negreanu, two already established players who recognized the raw potential in Ivey and took him under their wing.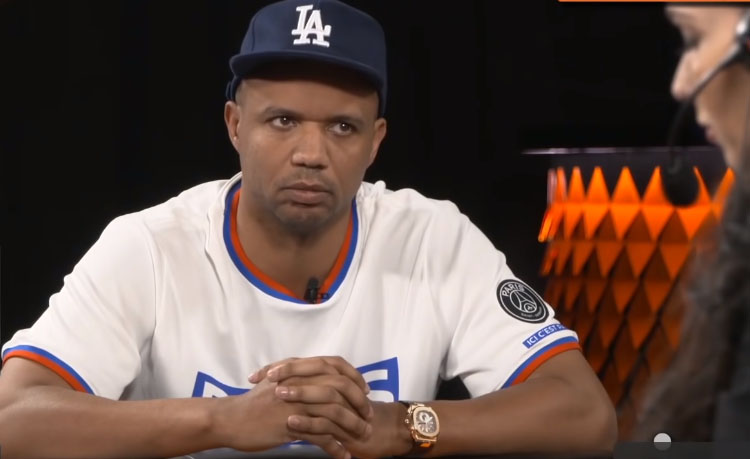 With their assistance, Phil was able to continue improving his game and fix some of his biggest leaks. The two helped him shape up his strategy and tame his aggression a little bit, paving the way for Ivey's future success.
Joining Negreanu and several other players, Ivey started his journey across the live poker circuit. The time they didn't spend grinding, they spent talking about the game and about the ways to get better, which was a tremendous help to everyone.
Ivey was hungry for knowledge and poker success, and this would soon show in his results.
The first (of many) notable scores for Phil Ivey came during the 2000 World Series of Poker. He managed to take down a Pot Limit Omaha event, earning his very first WSOP bracelets and booking his first official six-figure score.
In the years to follow, Phil continued to be very active on the circuit, putting in as many hours at the tables as humanly possible.
This helped him not just build his bankroll but also gain the much-needed experience. One tournament after another, he was learning more about the game and becoming a bigger threat for the opponents across the felt.
During this initial period, Ivey also perfected his trademark stare, which made other players very uncomfortable. Being stared down by Phil Ivey wasn't a pleasant feeling, especially as the word got out that he was the real deal.
And it didn't take long for the word to get out. Ivey's results spoke for themselves, and it wasn't long before everyone was aware that this kid was ready to take the poker world by storm.
Welcome to Ivey's World
If anyone had any doubts about Ivey's talent, these were quickly dismissed in 2002. That year, the young gun came to the annual World Series of Poker in Las Vegas ready to play his heart out and leave his mark.
By the end of the summer, Phil won three bracelets, all in non-Hold'em events. Two bracelets came from Seven Card Stud tournaments, while one was won in a mixed-games event.
It became clear that Ivey was a force to be reckoned with at the tables despite his young age. Combining his passion for the game with his natural talent and the desire to learn, Phil was making serious waves in the poker scene.
In the years to come, his old nickname "No Home Jerome" was substituted by a different, much more flattering one – "Tiger Woods of Poker," acknowledging Ivey as one of the best all-around poker players to have ever lived.
It was hard not to, given his consistency over the years.
He went on to win six more WSOP bracelets in the next decade, achieving a feat that very few poker players can boast.
But, it wasn't just the World Series where Phil was a dominant force. High roller tournaments, nosebleed cash games – you name it, Phil had won it. Regardless of what game was played and what his opponents were, Ivey was never an underdog.
He became known to the wider poker audience thanks to his TV appearances. As Ivey kept piling on titles and big wins, he caught the eye of TV producers and quickly became a regular staple on shows like High Stakes Poker and Poker After Dark.
Unlike some others, most notably his friend and mentor Daniel Negreanu, Phil has never been what you'd class as an "entertainer." Usually silent and collected, Ivey has always focused on the cards and his opponents more than anything else.
But, he was still great for TV.
Fans loved seeing No Home Jerome in action. His fearless moves, crazy bluffs, and soul reads that would often stun his opponents and viewers at home more than made up for the lack of banter.
Plus, when Ivey decided to talk, everybody usually listened intently, as you could be certain he was about to share some crazy story that he just couldn't keep to himself.
Phil Ivey was inducted into the prestigious Poker Hall of Fame in 2017, as soon as he became eligible. If there weren't for the 40-year-of-age stipulation, he'd probably enter the HoF a few years earlier, but it didn't make that much of a difference.
His official induction only confirmed what the world already knew: Ivey is one of the best players the game has ever seen, and you'll hardly find anyone to claim otherwise.
Phil Ivey Net Worth
In addition to many bracelets, trophies, and accolades, Tiger Woods of Poker accumulated impressive winnings during his poker career. Phil Ivey net worth, according to his Hendon Mob page, is over $31,000,000, and that's just counting his live tournament winnings.
Ivey has had many notable results over the years, but his two biggest cashes came from Aussie Millions Super High Roller events, featuring a staggering buy-in of $250,000.
Ivey won the tournament in 2012 and 2014, banking AU$2,000,000 and AU$6,000,000, respectively.
Phil clearly loves Australia, and Australia loves him, as his third-best career win also happened Down Under in 2015 when he took home AU$2.2 million.
Ivey has had a number of seven-figure cashes during his career, but the one from 2009 was rather bitter-sweet.
In that year, No Home Jerome made it all the way to the final table of the World Series of Poker Main Event. Ivey was just a few poker hands away from seizing the most coveted bracelet in all of poker. But it wasn't meant to be.
Phil ended up busting in seventh place for $1.4 million, and it was young Joe Cada who went on to claim the victory and the $8.5 million prize that came with it.
This was Ivey's best shot at the Main Event. He was also in the contention in 2003, but that year he was stopped by none other than Chris Moneymaker, the man who helped kick start the poker boom. That hand against Moneymaker is probably etched in Ivey's memory, as it was a really tough bad beat on the river.
But, when talking about Phil Ivey net worth, there is more to consider than just live tournaments.
First of all, he's been a regular in some of the highest stakes cash games in the world. Phil played for insane amounts in Las Vegas, Monte Carlo, Macau, London, and anywhere else where there was a game going.
No one can say for sure how much money he won over the years, but it's a pretty safe guess that he is well in the black. And, if rumors are true, in some of those games, a single pot can sometimes reach 10% or 20% of Phil Ivey net worth (or at least the official number).
Finally, it's impossible to disregard Ivey's online career. During his days as a Full Tilt Team Pro member, Phil was a regular in online high stakes matches, playing against the likes of Tom 'durrrr' Dwan, Patrik Antonius, Viktor 'Isildur1' Blom, and others.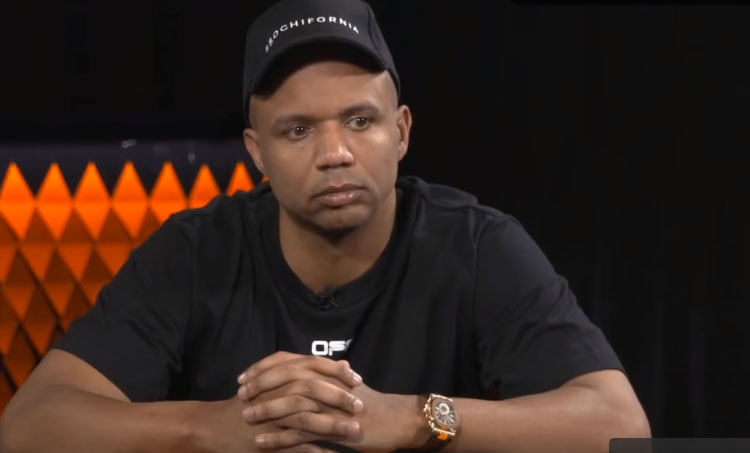 According to Hendon Mob, Ivey made over $19,000,000 million playing on Full Tilt between 2007 and 2011. So, with that number and his live tournament winnings, it seems that Phil Ivey net worth is closer to $50,000,000.
And, that's just the stuff that the general public knows about.
Despite all the interest from the public, Ivey has never been the one to share too much information about his private life. However, it's safe to assume he has certain business and investments that go beyond poker and gambling.
Phil Ivey Baccarat Story: Edge Sorting & Lawsuits
Phil Ivey poker career is what brought him fame and fortune, but he's been known to try his luck at other table games as well. Of all the different options, punto banco and baccarat seem to be Ivey's favorites.
However, being a smart and experienced gambler, Phil has always looked for an edge to turn the tables on the house, and he managed to do so in 2012. This year saw Ivey win millions at baccarat tables at London's Crockfords and Atlantic City's Borgata, creating a big controversy that ended up with lawsuits flying all over the place.
Ivey Cleans Out London's Crockfords Casino
In 2012, Ivey walked up to Crockfords Casino high limit punto banco tables accompanied by a lady friend who was later revealed as one Cheung Yin Sun. The casino staff wasn't shocked to see the high roller as he was no stranger to high-stakes gambling.
However, they most certainly weren't ready for what would transpire in the next few hours.
Ivey proceeded to beat the casino to the tune of £7.7 million (around $10,200,000 at the time) and walked away with a smile on his face. The casino promised to wire him his funds, and Phil had no reason to doubt them.
However, he soon found out that Crockfords changed their mind and decided not to pay the winnings, accusing Ivey and his partner of cheating.
Ivey wasn't going to go down without the fight, and the case ended up before UK courts. During the process, it was revealed that the high roller used the technique known as "edge sorting" to gain an advantage during the session.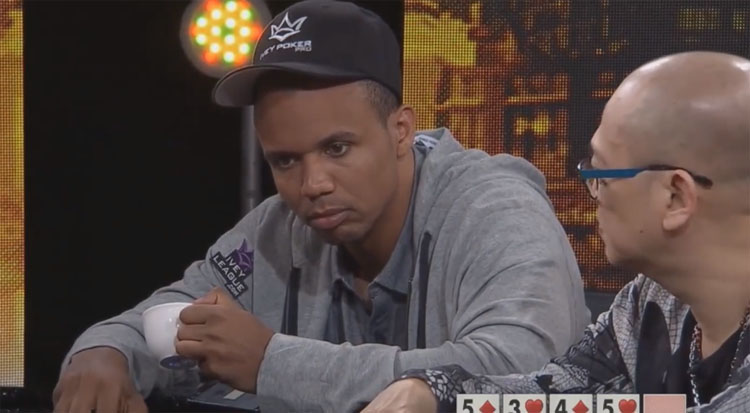 To clarify, decks used by the casino had irregular patterns on the backs. During his session, Ivey asked the dealers to rotate the cards (claiming superstition) so that he could later identify high-value cards thanks to edge sorting. He also insisted that only automatic shufflers be used, which was the only way to ensure the cards stayed in the right positions.
It appears that Cheung Yin Sun was actually the one with the keen eye and helped Ivey beat Crockfords out of millions.
Funnily enough, when push came to shove, Phil never denied he used edge sorting to win. However, he claimed that this didn't constitute cheating, as he didn't use any outside mechanisms or even touched the cards during the play.
Unfortunately for Ivey, the UK justice system didn't agree with this interpretation. Although they agreed that Ivey didn't cheat in a traditional sense, they concluded he still "broke the contract," i.e., didn't play the game in the way it was supposed to be played.
Despite all the efforts from Phil Ivey and his legal team, the high roller couldn't get his hands on the winnings, and that was $10,000,000 (and change) he had to say goodbye to. But that wasn't the end of the Ivey baccarat saga.
Borgata Sues Ivey for Almost $10,000,000
It's one thing not to be paid your winnings, but it's a different thing entirely when a casino asks you to return the money they had already paid.
When Ivey's Crockfords case hit the headlines, the news traveled fast and far – all the way to Atlantic City.
It turned out that Ivey and his partner used the same technique at Borgata Casino some months earlier and managed to get away with it. The pair were paid $9.6 million.
With the new information available, Borgata decided to sue Ivey and ask for the money back (and then some). This was an unpleasant situation for the poker icon, but at least this time around, he was the one in possession of the money. So, if the casino wanted to get it, they would have to fight for it.
And fight they did.
Borgata filed a lawsuit against Ivey, asking for a total of $15.6 million. Ivey's legal time fought back, and it was unclear where the chips would fall in the end. Eventually, though, Borgata managed to get the upper hand, and Ivey was ordered by the court to pay back a total amount of $10.1 million.
Unfortunately for the casino, Ivey's New Jersey accounts turned up empty, and they seemed out of luck on collecting the debt. Then, in 2019, Borgata was given court approval to go after Ivey's assets in Nevada.
This led to a rather uncomfortable situation during the 2019 WSOP.
After Ivey finished 8th in the $50,000 Players Championship, Borgata managed to stop the payment before he could cash it out. They seized a total of $124,200, which was a drop in the bucket but also an indicator that Phil's days of playing poker in the States were over.
He couldn't afford to play in any tournaments on the US soil as there'd always be a risk of Borgata getting wind of it and coming after his wins.
Luckily for all Ivey's fans out there, the Borgata edge-sorting scandal came to a resolution in 2020. The high roller entered an out-of-court settlement with the casino, the details of which have not been revealed.
However, Phil Ivey is once again free to play tournaments in the United States without fear of his winnings being confiscated, and he's announced his return to the circuit in the future. Suffices to say, we can't wait to see Phil back on the grind.
Phil Ivey's Private Life
Ivey has always kept his private life as far away as possible from the limelight. For someone who's been around for so long and has achieved so much, there are surprisingly few details about his life away from the felt.
He currently resides in Las Vegas, and he is a big basketball fan. Ivey also enjoys playing golf, and he even participated in the inaugural World Series of Golf.
He used to be married to his high school sweetheart Luciaetta. The two met and fell in love long before Phil became famous and got married in 2002 in Las Vegas. The marriage lasted for seven years, but in 2009, the couple filed for divorce.
According to the limited information on the topic, it wasn't the cleanest of divorces, as the entire matter took several years to wrap up and Ivey ended up paying a handsome sum. But it's all in his past now.
Luciaetta got remarried in 2014 to Chris Rich and actually has an active Twitter account as Luciaetta Rich if you care to check it out.
Phil Ivey Poker Story Is Still Untold
Although Ivey has already accomplished almost everything there is to accomplish in poker, he's not the kind of guy to give up or "retire." He has many more years ahead of him, and with his skills and talents, it's likely we'll see much more from No Home Jerome in years to come.
If you want to learn how to play poker from the best, Ivey has his own course on Masterclass, and it's definitely worth checking out.
Those who have seen the last season of High Stakes Poker know Ivey made an appearance on the set as well, although it wasn't his best showing. He seemed either preoccupied or unwell, but his presence was barely felt at the table, which is not something you can often say about Ivey.
But everyone has bad moments, event great Phil Ivey.
With live poker coming back and Phil finally putting an end to his dispute with Borgata, we'll likely see much more of him on the circuit.
Perhaps his next challenge will be to take down Phil Hellmuth as the number one WSOP bracelet winner. It's no easy task as the Poker Brat has a handsome lead over Ivey, but if anyone can take Hellmuth's place on the throne, that's Tiger Woods of Poker!