High Stakes Poker Is Back: Stroll Down the Memory Lane
11 minutes
Last Updated: September 7, 2021
High Stakes Poker Is Back: Stroll Down the Memory Lane
There is hardly a poker fan out there who hasn't watched High Stakes Poker. The iconic poker show was launched in 2006, and it ran for seven seasons.
The familiar format featured some of the game's best duking it out in a $300/$600 No Limit Texas Hold'em cash game, with huge six-figure pots making a regular appearance.
Apart from the players, the commentating duo of AJ Benza and Gabe Kaplan made High Stakes Poker into a huge success.
The show was stopped in 2011 as after the events of Black Friday, there was simply not enough interest from sponsors and TV producers, leaving countless fans sad and hoping that one day, maybe, HSP would come back.
That day finally came in October of 2020, when PokerGO launched the brand new, eight season of High Stakes Poker. There was quite a buildup leading to the release date, as new producers had big shoes to fill.
The New – Old High Stakes Poker: How Good Is It?
Countless poker fans from all over the world were anxious to see what new High Stakes Poker would be like. Considering the gap of almost ten years, could new producers really pick up where the old ones left off and meet rather high expectations?
The new season is currently ongoing, but so far, they seem to be doing things just right.
First of all, Kaplan and AJ are back where they belong: in the commentating booth. It just wouldn't be the same show without them.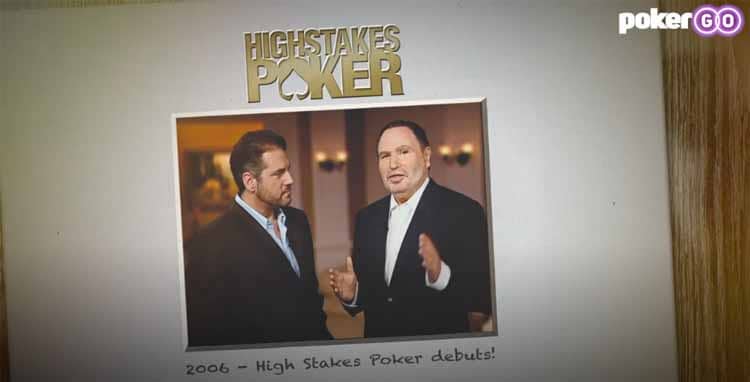 This isn't to say there aren't many quality commentators who would probably do a great job. However, for those who fell in love with the game watching those first episodes of High Stakes Poker, there is a sentimental element to it all.
In the new season, players are playing $400/$800, with optional straddles, which is slightly higher than the original show, but not really, considering how much time has passed.
So, in many ways, it's a real blast from the past but recorded in higher quality and with the help of new technology, which makes watching the show even more exciting.
But, before we come back to the new season of High Stakes Poker, let's take a stroll down the memory lane and remember how it all started. What made the show so popular that even today, almost a decade later, fans were ecstatic to hear that the new season was finally in the works?
How Did HSP Come to Be?
The first thing that comes to mind when talking about this great show is – how did it even come to be on television? Who came up with the idea, and who gave the green light?
Televised poker was already a thing prior to 2006 thanks to the introduction of the hole card cam, which made things much better for viewers at home. They could now see the players' cards and sweat the action with them.
However, before High Stakes Poker, poker shows were limited to tournament coverage.
Then, around 2006, Henry Ornestein, the man who invented the hole card cam, and Mori Eskandiari, a poker TV veteran, had an idea that people would probably enjoy watching some real cash game action.
Both of them were privy to high stakes action that often happened in private and secluded areas of Las Vegas casinos. They knew that if people loved watching tournaments, they'd go crazy about real money action where every pot could easily feature a life-changing amount for an average viewer.
They approached the group of high stakes veterans with their idea. The original group included Doyle Brunson, Eli Elezra, Chip Reese, Gus Hansen, and Sammy Farha.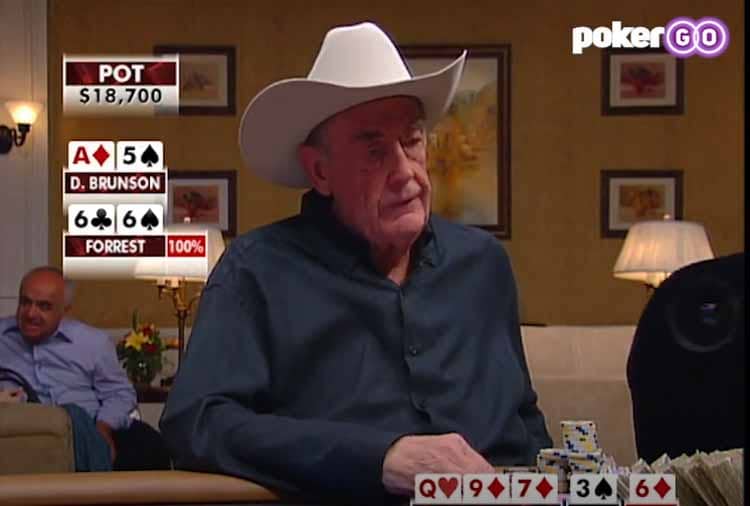 To start with, they asked them if they'd be willing to move their game to a TV studio and stick to No Limit Hold'em (instead of mixed games) for a few days. Other than that, they could run the game how they saw fit.
To further incentivize the players, they offered them $1,000 per hour, and the deal was struck. It was the start of something epic as the show would go on to surpass even the wildest expectations in terms of ratings.
Interesting Characters, Banter, and High Stakes Poker
If you think about High Stakes Poker from today's perspective, it may not seem all that fascinating. These days, you can follow all the players on their Twitter and Instagram accounts; live reports and YouTube videos are popping left and right.
The poker world looked much different back in 2006, and an average poker fan couldn't easily get access to the information about what was happening behind closed doors.
When the Season 1 of HSP came out, it didn't take long for ratings to skyrocket. Even if you weren't that much into poker, it was pretty wild to see people sitting with hundreds of thousands of real dollars in front of them, casually throwing a fistful of chips worth someone's mortgage.
Even with all the crazy action on the tables, High Stakes Poker managed mainly stay away from any big controversies that the poker world has witnessed in the recent years like the Mike Postle scandal.
While the 2003 Main Event helped put poker on the map, High Stakes Poker definitely boosted the game's popularity beyond imagination.
And, it wasn't just about the money, either. It was also about characters.
Since the show featured the cash game format, players had much more freedom to show their personalities and have fun at the table. Many of them knew each other as well, so conversations were just flowing naturally.
It was fascinating to hear some of these stories; stories about insane prop-bets, huge bad beats, and crazy games where stakes were even higher.
Again, it was a different time back then, and this was the first time the general public could get glimpses into the lives and exploits of professional poker players and gamblers.
Over the five years' span, High Stakes Poker saw a few dozen characters take their seat at the table in addition to the original bunch.
The likes of Phil Ivey, Daniel Negreanu, Phil Helmuth, Tom 'durrrr' Dwan, Phil Laak, Patrik Antonius, Jennifer Harman, Erick Lindgren, Chris Ferguson, Barry Greenstein, David Benyamine, and many others joined the action over the years, providing fans with dozens of hours of excitement and entertainment.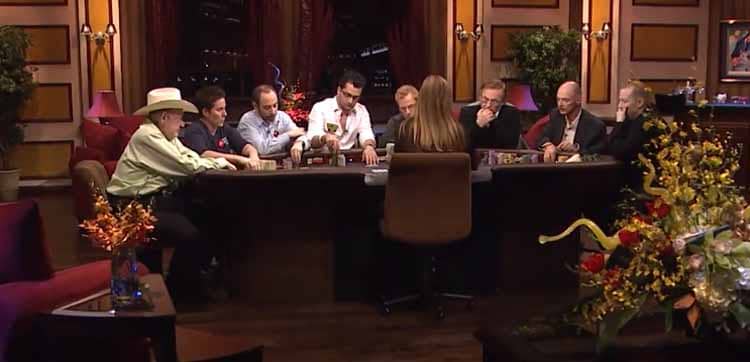 High Stakes Poker: Memorable Moments
Having featured dozens of episodes over the years, the HSP show has provided fans all over the world with countless memorable moments that live in the memory even today.
It would be impossible to recount all of them, of course, as the list is just too long. However, a few poker hands definitely helped make the show into what it is today.
Daniel Negreanu vs. Gus Hansen: Kid Poker's Bad Run Continues
Daniel Negreanu was one of the regulars at HSP. He was there for every single season and always ready for action.
However, the Canadian definitely was on the bad side of variance in many spots, and he's had quite a few bad beats over the years.
His hand against The Great Dane is one of the most vivid examples of this. Despite flopping set over set against a super-aggressive player, poker gods have found a way to flip the tables on Negreanu as Gus manages to bink his only out on the turn to make the quads.
Daniel's frustration really came through on the river, but who could blame him? Even the toughest players will crack under the pressure of a series of insane bad beats!
Sammy Farha and Patrik Antonius All in for a Million
Patrik Antonius was easily one of the most feared players on High Stakes Poker. Calm, calculated, and razor-sharp at all times, the Finn would rarely make a wrong step.
But that never prevented players like Sammy from giving him action.
In one of the most iconic hands of HSP, Antonius and Farha end up getting their chips in the middle for a pot worth just shy of a million bucks.
The conversation between the two before they turn over their hands is epic and another reason why High Stakes Poker was such a great show.
Tom Dwan Pulls One on Phil Ivey
Great poker isn't just about huge pots and showdowns. It's also about well-timed bluffs and reading your opponents.
Who better to demonstrate all of this than two of the games great: Phil Ivey and Tom Dwan.
In this hand, Ivey flops a monster draw while 'durrrr' is holding a couple of napkins, but that doesn't prevent him from going after the pot.
Ivey misses on all of his outs by the river and ends up hitting just a pair of sixes. Dwan, with his 9-high, goes for a massive $270,000 bluff.
With the second-lowest pair, does Ivey muck instantly? Nope, he sits there seriously contemplating a call while Dwan tries his best to keep a straight face and not give away anything.
Brunson Makes the Stand against Guy Laliberte
Guy Laliberte appeared on a few High Stakes Poker episodes, and there is little doubt that the sharks were thrilled to have the billionaire in their midst.
Guy has always been an action player, not afraid to put money in the pot, whether on a bluff or to make a hero call, which made him tough to play against, even if his strategy was far from GTO.
But, in this particular hand, Guy runs into a tough nut to crack, going up against the Godfather of Poker himself.
Laliberte tries to push Doyle off his hand on the turn, but Brunson doesn't hesitate to make the big call and play for the $800,000+ pot.
Dwan Wants to Play for All the Marbles
The biggest pot in the HSP history included Barry Greenstein and (surprise, surprise) Tom Dwan.
Barry wakes up with pocket rockets and goes to the flop against Dwan with King-Queen of spades and Peter Eastgate with AK.
Eastgate misses, but Dwan flops the top pair and a flush draw, and all the money goes into the middle, creating a $919,600 pot.
Dwan suggests they run it twice, but Greenstein refuses and comes up with a counteroffer to pull some money back as they are virtually flipping a coin for a million bucks.
But 'durrrr' wants to play for all the marbles, and they end up running it just once. Barry probably regretted his decision as soon as he saw the turn card.
These are just a few epic moments from the show, but there are many more, including that one instance when Brad Booth decided to come on the show with a "cool million" in front of him and wasted no time putting his chips to work.
What Can You Expect from New Episodes of High Stakes Poker?
Going back to the present time, the new season of High Stakes Poker is out, and when you look back at all these epic moments from the past, you might wonder: how can it ever live up to expectations?
The truth is, the past isn't coming back, and the poker world is much different today.
That said, the new High Stakes Poker is definitely a great show that offers plenty of action and top-quality production accompanied by the commentary by the original commentators.
There are some old and familiar faces, including Tom Dwan, who decided to grace poker fans with his presence on the show.
Then, there is good, old Jean-Robert Bellande, Brandon Steven, and even Phil Ivey, who's still to make an appearance, but he was there in the trailers for HSP Season 8.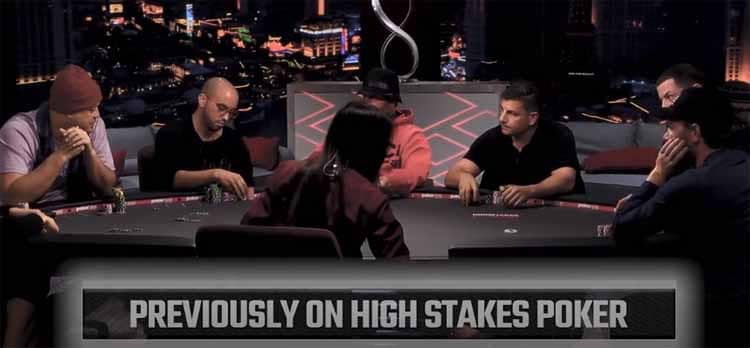 Then, there is some "fresh" blood in the likes of Rick Salomon, Bryn Kenney, Nick Petrangelo, and Lynne Ji.
Overall, it is a good mix of professional players and amateurs looking to gamble it up against the best – just like in the good old days.
Is New HSP Worth the Money?
If you want to watch the new season of High Stakes Poker, you'll have to pay some money for the pleasure.
While this didn't go over too well with some fans, most people understand that this type of production costs money, and poker isn't as big as it used to be, so it's harder to find sponsors.
The PokerGO subscription cost is hardly too big if you're a fan of the game. The monthly subscription is $14.99, but you can subscribe for a full year for just $99.99, which comes to just over $8 a month.
In addition to new High Stakes Poker, you'll also get access to other poker shows, like the new Poker After Dark episodes, coverage of various live events, etc.
So, I'd say that the subscription is easily worth it if you're looking for some new content to watch. Perhaps it would be a bit too high if all you got by paying was HSP, but there is over 100 hours' worth of content on the site.
No Spoilers: Enjoy New Episodes of High Stakes Poker
At the time of writing this, there are five new HSP episodes available on PokerGO, with a new one scheduled to go out soon.
A new episode is added every week, so you'll have something to look forward to.
I didn't go into details of any hands or big pots played so far because I don't want to spoil the experience for you.
All I can say is that the action is fast and furious, and I have the feeling that the best is yet to come on the Season 8 of High Stakes Poker!