PartyPoker Review: What's Inside?
PartyPoker is one of the oldest online poker sites. Established back in 2001, this online poker room has seen it all and managed to keep up with the fierce competition.
The name PartyPoker may not be as famous as it was back in the glory days of poker, but it still remains one of the top picks for players worldwide.
While it may not be the biggest site in terms of traffic, it is one of the safest and most trustworthy operators around.
Whether you're new to online poker or are on the lookout for a new room to play on, this PartyPoker review will provide you with answers to many questions you might have. By the end, you'll know exactly what to expect and if this is the right site for you, so make sure to check out the actual site!
PartyPoker Welcome Bonus

Like every poker room worth its salt, PartyPoker offers a nice welcome package for new players. When you first join the room, you can look forward to a package consisting of up $30 in tournament tickets and a deposit match worth up to $600.
100% up to $600 & up to $30 Worth of Tournament Tickets
Once you open an account with PartyPoker, you'll need to make a first deposit to qualify for the welcome bonus. Any amount you deposit, the operator will match in full up to $600, effectively doubling your bankroll.
On top of the deposit match, all new depositors will also receive some free tournament tickets to use on the site. There are two possible options here, depending on the deposited amount:
$10 – receive $10 worth of tournament tickets
$20 – get $30 worth of tournament tickets
Tournament tickets are issued over the course of your first six days as a mix of MTT and SPIN entries. You can use these to join any real money games with the corresponding buy-in, and anything you win is added straight to your balance.
When it comes to the 100% match, you'll need to accumulate four times the amount of Loyalty Points to release the bonus. If you get a $100 bonus, you'll need to collect 400 points to release the full bonus amount. You will earn one point for every $1 in rake paid.
Like with most poker bonuses, PartyPoker welcome bonus is released in increments. Every time you generate 10% of the required points, 10% of the bonus amount is released into your real funds without any further restrictions.
You'll have 90 days to release the bonus. Any amount remaining after the 90-day period expires will be removed from the bonus balance.
How to Claim the PartyPoker Welcome Bonus
Claiming the PartyPoker welcome offer is easy. First, you'll need to open your account by following this link and registering with your information (name, surname, date of birth, etc.).
Once your account is ready, open the software and log in. Once logged in, navigate to the cashier section, and go to the deposit area.
Here, simply pick your preferred deposit method, enter the amount you wish to deposit and complete the transaction. Your bonus will be activated automatically, and you don't need to use any special code.
Of course, if you encounter any problems along the way, you can always reach out to the PartyPoker support team to assist you.
PartyPoker Promotions
The welcome bonus package and the rewards programs that PartyPoker offers to all its players are definitely among the best in the industry, but they are only the beginning.
The operator will afford you with a variety of daily, weekly, and one-time promotions that will add extra value to your play and give you a chance at huge returns.
Limitless freeroll tournaments, massive jackpots, extra points during boosted hours, and free tournament tickets are only some of the things you stand to benefit from when playing at PartyPoker.
Here is a quick look at some of the top PartyPoker promotions you will not want to miss:
PartyPoker Round the Clock Freerolls

Initially introduced in July 2023, PartyPoker Round the Clock Freerolls is one of the best promotional offers for newcomers to online poker out there.
Every hour of every day, PartyPoker runs a freeroll tournament as part of the Round the Clock Freerolls promotion, with prize pools ranging from $50 to $200.
This means you get an infinite number of tries to build up your PartyPoker bankroll and practice your tournament poker skills with literally no risk.
Round the Clock Freerolls are open to everyone, with no deposit or gameplay requirements in place. All you need is a PartyPoker account, and you are good to go.
Keep in mind that, while there is a freeroll to play every hour, the tournaments scheduled for peak European times carry the biggest prize pools of $200, making them the most valuable to play.
However, you can keep playing all day and all night, and there will always be a freeroll tournament to play at PartyPoker, giving you a chance to play even if your bankroll is completely zeroed out.
SPINS Overdrive
Building on the previous success of "SPINS" tournaments, SPINS overdrive is a brand new three-handed jackpot SNG at PartyPoker with a number of new and exciting mechanics at play.
Unlike regular SPINS, SPINS Overdrive tournaments offer thousands of different possible multipliers, as well as dynamic chip stacks, depending on the multiplier you landed.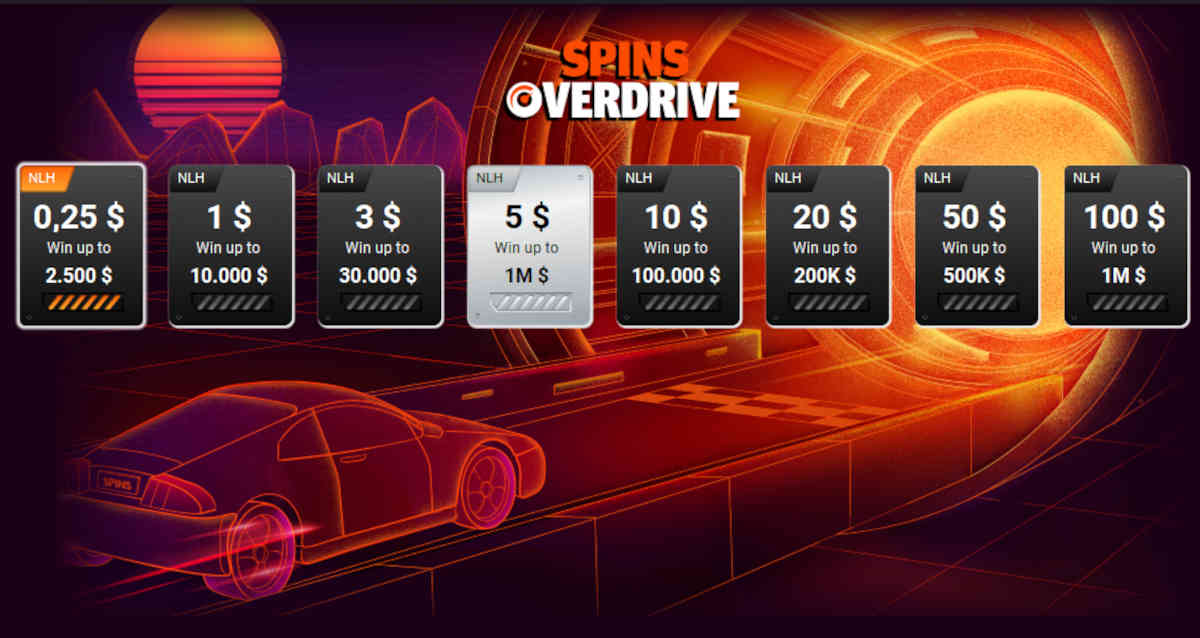 SPINS Overdrive prizes start at 2x, the same as SPINS, but a game can have uneven multipliers as well, with increments as small as 0.01x.
PartyPoker SPINS Overdrive are available with buy-ins as low as $0.25 and as high as $100, and the maximum possible multipliers go as high as 240,000x your buy-in.
If you are planning on joining some games, here is a full list of the minimum and maximum prizes you can expect at each buy-in level:
| | | | |
| --- | --- | --- | --- |
| Stake | Rake % | Min Prize Pool | Max Prize Pool |
| $0.25 | 8% | $0.50 | $3,000 |
| $1 | 8% | $2 | $12,000 |
| $3 | 8% | $6 | $36,000 |
| $5 | 8% | $10 | $1,200,000 |
| $10 | 6% | $20 | $120,000 |
| $20 | 6% | $40 | $240,000 |
| $50 | 5% | $100 | $600,000 |
| $100 | 5% | $200 | $1,200,000 |
SPINS Overdrive is the only online poker game that will let you win a $1,000,000 prize with such a low buy-in, with the 2nd and 3rd place finishers in the jackpot games winning $100k each for their efforts.
PartyPoker gives you a chance to try SPINS Overdrive for free every single day, with one $0.25 ticket up for grabs for all players who log into their mobile PartyPoker app.
Fire up the mobile app, log into your account, and get a chance to play for up to $3,000 in prize money in a free $0.25 Spins Overdrive tournament.
SPINS Overdrive Goes into 6th Gear
SPINS Overdrive got an even further boost just recently with the introduction of 6th Gear, a brand new promotion that offers extra prizes to regular SPINS Overdrive players.
Up to $1,000 in tournament tickets is up for grabs every day with 6th Gear, with the following challenges available across the 6 gears:
| | | | |
| --- | --- | --- | --- |
| Challenge | Min Buy-in | Min Reward | Max Reward |
| Play 1 Game | $0.25 | 6th Gear Freeroll Chips 1k | $20 Ticket |
| Win a Hand with Pair of 6s or Higher | $0.25 | 6th Gear Freeroll Chips 1k | $50 Ticket |
| Win 1 Game | $1 | 6th Gear Freeroll Chips 1k | $100 in Tickets |
| Play 3 Games | $1 | 6th Gear Freeroll Chips 1k | $200 in Tickets |
| Win a Hand with Pair of Jacks or Higher | $1 | $0.25 in Tickets | $500 in Tickets |
| Win 3 Games | $1 | $0.25 in Tickets | $1,000 in Tickets |
By completing the 6th Gear Challenges, you will open up new picks in your Offers section, each containing a new reward, according to the table above.
Each week, the 6th Gear Challenge Freeroll will give all qualifying players a chance to compete for a $5,000 prize pool, with no investment necessary.
By completing the 6th Gear Challenges every day, you will accumulate chips for the Weekly Freeroll, with up to 28,000 chips up for grabs.
If you happen to not get many tournament tickets over the week of completing the daily Challenges, you will be sitting on a monster starting stack in the Freeroll, giving you a better shot at winning cash prizes in the tournament.
The 6th Gear Challenge Freeroll will run every Sunday at 7pm CET, and all players who have qualified with at least 1,000 chips will get a fair shot at the $5k prize money.
Win Your Share of $5k in SPINS Overdrive Leaderboards
Another new addition to the PartyPoker platform is the daily SPINS Overdrive Leaderboard, which gives you a chance to win a share of $5,000 every single day.
All you need to do to participate in the Leaderboard is play SPINS Overdrive games at any stake, and the more you play, the more you stand to win.
A unique Daily Leaderboard is available for each SPINS Overdrive stake, with $50 and $100 games merged together into a single Leaderboard.
Leaderboard points are won by simply playing in games, and the more you play, the more points you are going to accumulate for the day.
Players can win up to 40x their initial buy-in at the lowest stakes through the Leaderboard, and up to 4x at the highest stakes, by simply playing more than their opponents.
If you love putting in the volume, join PartyPoker SPINS Overdrive games today and you will have a real chance to win extra money on top of your table winnings, with up to 35 players per Leaderboard awarded at the end of the day.
PartyPoker Review: Player Rewards

All players at PartyPoker get to take advantage of the operator's Cashback program. Through this program, players can get up to 55% of their rake back every single week, paid in real money without wagering requirements or restrictions.
Players need to opt-in for the program manually once, and that's it. After that, you can count on your rakeback to be paid regularly into your account every Monday.
The amount you get is based on the total number of points accumulated during the week.
You can get up to four points for every $1 rake generated (depending on the game type), and rewards start already at 10 points. So, you don't have to be a big grinder to take advantage of this PartyPoker program.
At the highest level, you will receive $96 for 1,200 points and an additional $16 for every 200 points accumulated thereafter.
SPINS Diamond Club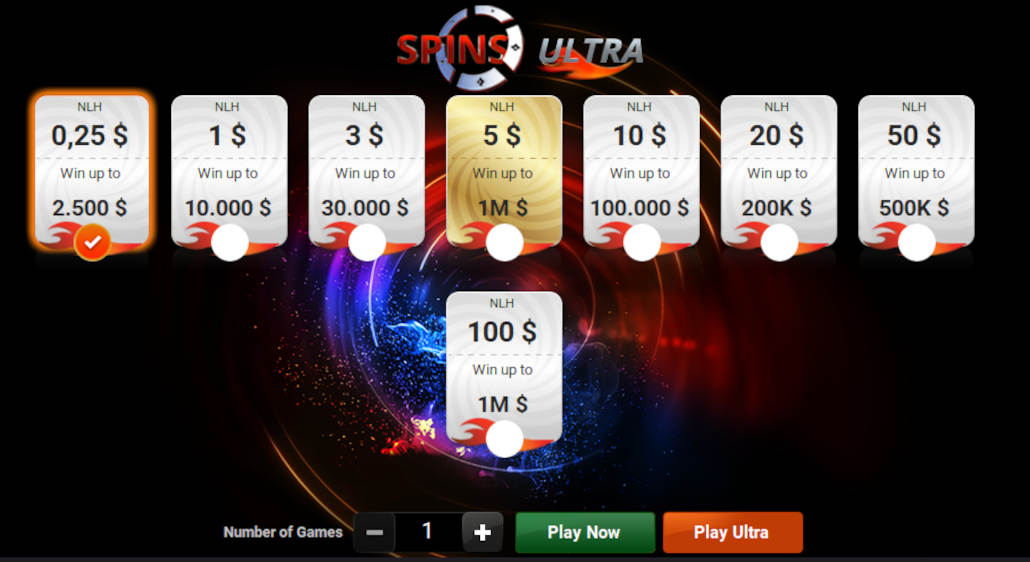 In addition to the cashback program, PartyPoker provides special benefits for players who enjoy SPINS, their jackpot sit and go format.
To become a member of the SPINS Diamond Club, you'll need to pay at least $1,000 in rake playing SPINS, and you can only opt-in manually by contacting the PartyPoker team.
After this, you'll start receiving 30% weekly cashbacks from the get-go, and you'll have your targets set for the remainder of the year, namely:
$50,000 in rake – $5,000 in cash & 40% weekly cashback
$100,000 – $10,000 in cash & 50% weekly cashback
$200,000 – ELITE milestone – $20,000 in cash & 60% cashback
PartyPoker Review: Simple & Modern Software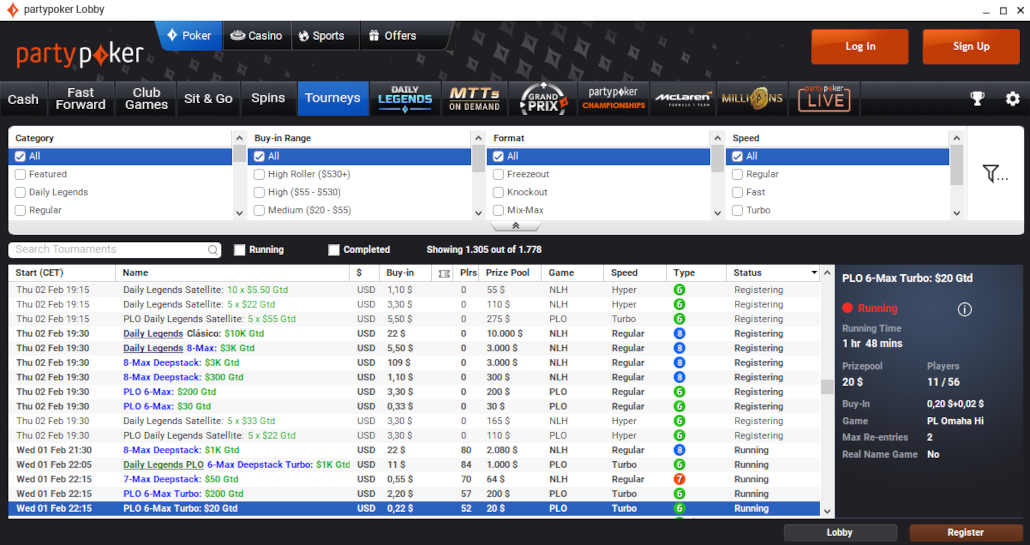 PartyPoker may not have the fanciest software out there, but it has everything you need as a poker player. The operator takes a fairly straightforward approach to its platform, focusing on what's really important, making it very easy to find the games you want to play.
Everything is neatly separated into several main lobbies: tournaments, cash games, SPINS, sit and go, etc. There are also individual lobbies for all major events and series organized by PartyPoker, such as PartyPoker MILLIONS, LIVE events, etc.
You can apply different filters to pick out the games you're interested in. These include the buy-in, number of players at the table, game type, and similar.
While the filters' system isn't too elaborate, it does the trick and will help save you time if you know exactly what you're looking to play.
One very interesting and useful feature integrated into the PartyPoker software is the MyGame Whiz. This is a reporting and training tool available on the desktop platform, designed to improve your game.
With the MyGame tool, you can analyze your hands, get tips and advice on the areas where you need to improve, and there are even missions and challenges to make your journey more enjoyable. The poker tool is completely free to use, and it is a real standout feature of the PartyPoker software.
PartyPoker Features
PartyPoker is one of the oldest and most reputable operators in the online poker industry, and its software has experienced countless updates over the years.
Staying current with the times, PartyPoker has updated its platform to compete with the very best of them in terms of design, speed, and features.
Players at PartyPoker can expect a modern online poker gameplay experience, with all the bells and whistles that a modern poker platform should have to offer.
MyGame Whizz – Your AI Poker Coach
Recently introduced to PartyPoker, MyGame Whiz is a feature designed to help new and inexperienced players get accustomed to the games.
However, MyGame Whiz can also help to rectify the mistakes of more experienced players and provide useful advice for just about anyone.
Once launched, MyGame Whiz will track your game, provide you with live commentary on your plays, and give you useful tips as you play the game.
Play 100 hands of poker, and MyGame Whiz will provide you with a MyGame Report Card, breaking down your most important statistics and providing you with useful insights into your own game.
The feature can help you quickly improve your game if you are a novice, or avoid tilting away your stack or making silly plays when off your A-game.
AI poker coaches like MyGame Whiz have been quite trendy recently, and you can expect the little robot to only become more useful and smart as time goes by, so make sure to keep him close by your side.
All In Cashout – Hedge Your Bets

Another common feature at modern poker sites is the All In Cashout feature, which allows you to hedge your bets and secure your equity in poker hands.
All In Cashout only works in cash games, and it will become an option every time you get into an all in confrontation.
Unlike the Run It Twice feature, All In Cashout doesn't make you dependent on your opponent, and allows you to get paid instantly based on the equity you have.
Whether you are a favorite or an underdog in an all in situation, you will get to lock in your equity and get paid nearly in full, as a 1% fee is charged by the operator for the service.
If you select to use the All In Cashout, you will immediately get your equity in the hand, while your opponent can choose to do the same, or continue to play the hand.
You will get paid by the operator regardless of the outcome of the hand, making it the perfect way to save yourself from bad beats and terrible river cards which used to keep you up at night.
Next time you are all in at PartyPoker, click the All In Cashout button, sit back, and watch as the annoying flush draw gets there but doesn't cost you your equity.
Club Games – Play Poker with Your Friends
Playing poker with anonymous strangers can be fun, but playing it with your friends is all the more entertaining, as it gives you a chance to enjoy the friendly banter and win the boasting rights on top of the cash.
With Club Games, PartyPoker gives you an opportunity to play in a closed club made up only of people you have invited, whether these are your friends, work colleagues, or family members.
Once you set up a PartyPoker Club, you will be able to accept and decline requests to join and fully choose who makes it into your poker game.
Currently, Club Games only allow for cash game action and they charge the same amount of rake as regular poker tables, with up to 40% of all rake paid going back to the players.
Enjoy playing poker with a small circle of friends, get a significant kickback from PartyPoker, and make use of the countless emojis and animations that will make your home game all the more fun.
PartyPoker Game Selection: A Good Mix
Whether you're a beginner or an experienced player, PartyPoker offers a great variety of games and stakes to accommodate every taste.
In terms of poker types, the room offers:
Texas Hold'em
Pot Limit Omaha
Omaha Hi-Lo
6+ Hold'em
There are no mixed games available, but that's true for almost all operators out there outside of PokerStars, so it's not something to worry about too much. After all, a majority of players are interested in NLHE and PLO.
PartyPoker Cash Games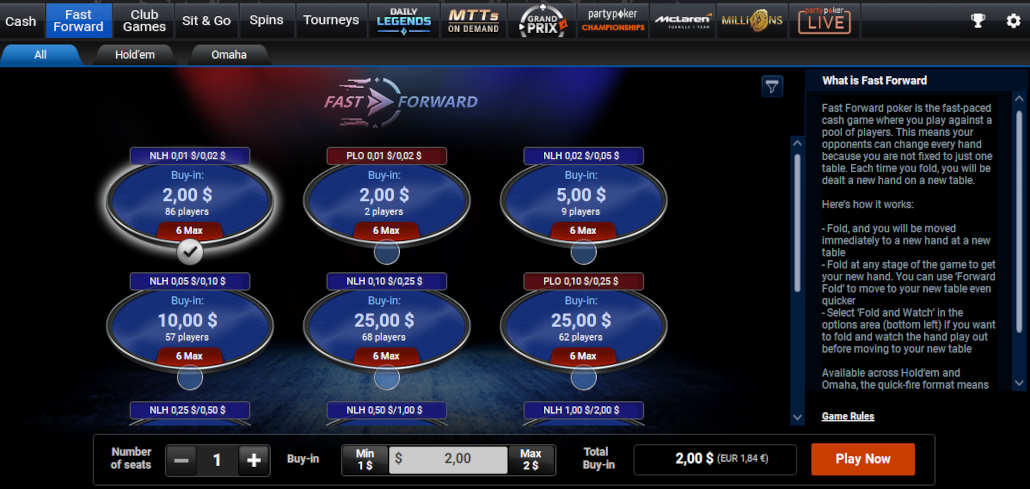 When it comes to cash game stakes, you'll find tables as low as $0.01/$0.02 and as high as $50/$100, so you'll have your pick. PartyPoker also offers games with antes for those looking for more action, and these are available as low as NL5 and PLO10.
Six-handed tables are the most popular, although there are also eight-handed ones in the mix. On top of these, you'll also find heads-up games for both No Limit Hold'em and Pot Limit Omaha.
For those who don't like waiting around, PartyPoker also offers Fast Forward games
You can fold your hand at any point and immediately move to the next table and get dealt into a new hand. These are available from NL/PLO2 up to NL/PLO200.
When it comes to player traffic, PartyPoker may not be one of the top three rooms, but the operator holds its own. You'll find plenty of action up to NL200, including Fast Forward games, which run regularly. Of course, you can expect the best traffic during European evening hours, especially on the weekends.
Multi Table Tournaments (MTTs)
Players looking for tournament action will find a very solid MTT schedule as well. PartyPoker offers decent daily and weekly events alongside frequent series that feature very reputable guarantees.
For example, their Daily Legends series comprises a number of daily tournaments featuring a combined prize pool of $3,000,000 every week. There is something for everyone, from low buy-in tourneys to high-stakes events.
To make things even more exciting and rewarding, there are three weekly Daily Legends leaderboards based on the buy-ins, offering tournament ticket packages for the top 100 finishers.
Of course, the action is at its peak on Sundays, when you'll find most big-guarantee events, such as:
$109 PKO The Sunday Party – $150,000 GTD
$22 The Sunday Carnival – $50,000 GTD
$1,050 The Grand- $75,000 GTD
There are regular satellites running around the clock, giving you every chance to win your way into these more expensive events if you don't quite have the bankroll to enter directly.
SPINS
SPINS are the PartyPoker take on ever-popular jackpot sit and goes. These games are played in a three-handed format and give players a chance to win a massive first-place prize compared to the buy-in, with the max multiplier being 10,000x.
PartyPoker offers several different levels of SPINS, catering to players of all bankrolls. You can start as low as $0.25 and play as high as $100.
While these games are already very fast-paced and shallow-stacked, there are also SPINS Ultra, where blind levels are even shorter. These are very action-packed games, perfect for quick sessions.
In 2023, PartyPoker introduced SPINS Overdrive, introducing more play and even bigger multipliers, continuing to innovate on this popular format.
PartyPoker Review: Banking Options
You'll find a very solid variety of payment options available at PartyPoker. While the room doesn't feature some of the lesser-known methods, most players should have no problems with deposits or withdrawals.
Available banking options at PartyPoker include:
Major credit and debit cards
Skrill
MuchBetter
Interac
Boleto
PayPal
NETELLER
InstaDebit
Bank transfers
Paysafecard
Available payment options will largely depend on the country you're playing from. While PartyPoker supports a great variety of methods, they can only offer them in accordance with local laws and regulations. Thus, some of the options may or may not be available to you.
When it comes to withdrawals, you can expect to receive your cashouts in a timely fashion every time. As one of the oldest and most reputable poker rooms around, PartyPoker treats its players right, and you'll experience no problems in this department as long as your account is in good standing.
PartyPoker Customer Support
Being one of the best in the business means knowing how to take care of your customers, and PartyPoker certainly knows that quite well.
The operator offers an extensive range of FAQ pages, with answers to all the most common questions you may have readily available and dissected into the finest detail.
Yet, if you still end up needing more help, you can reach out to PartyPoker's customer support agents via email, live chat, or telephone.
Email and live chat options are available around the clock, while telephone support is available between 3pm and midnight CET.
Why Choose PartyPoker?
Having gone through this PartyPoker review, the final question left to answer is: why play here? What is it that makes this particular operator a viable choice over the competition?
PartyPoker certainly has some standout features. If you're a big volume player, you'll be able to take full advantage of their cashback program, earning up to 55% in your rake back, which is quite good in this day and age. And your cashback is paid in real money without any unnecessary complications.
The tournament schedule at PartyPoker is very decent. Guarantees may not be as big as what you'll find at some other rooms, but fields tend to be very soft, especially in lower buy-in events. So, if you're an MTT player, you can expect to achieve a very good ROI here.
The MyGame feature is pretty cool, too, especially if you're new to the game. This tool can help you become a solid player in no time while having fun in the process.
Add to all this a nice welcome bonus that will give a good boost to your starting bankroll, and it's hard to come up with any reason not to sign up with PartyPoker and take it for a test ride, at the very least!
PartyPoker FAQ