Top Online Poker Payment Methods to Use in 2022
The game of poker has changed a lot over the past few decades. Game strategies have evolved, the quality of an average player has massively increased, and there are dozens of poker sites out there offering cash games and tournaments around the clock.
But, with all of these changes, one thing has remained constant throughout.
Players still need convenient ways to fund their online poker accounts and withdraw the winnings. The ease of payments remains one of the top priorities for a majority of people looking to play online poker, and this will never change.
So, with that in mind, I decided to take a look at the top payment methods available in 2022. What options are out there at the moment, and what are the pros and cons you should be aware of before you pick one over the other?
Credit / Debit Cards
Credit and debit cards like Visa, Discover, MasterCard, and other brands were some of the first methods used for online payments. When online poker sites first appeared, they naturally adopted these methods to make things convenient for the players.
In 2022, not much has changed. These cards remain one of the best options for both deposits and withdrawals. They are widely accessible and easy to use, so many players don't see a reason to search beyond this option.
That said, things have changed somewhat in recent years.
Some countries have already banned the use of credit cards for online gambling purposes (poker included), and more are likely to follow suit. Debit cards are still fine, though.
Another slight downside of using credit and debit cards is that not all of them can be used for withdrawals, so players still have to use alternatives when it's time to cash out. Plus, even when withdrawals are possible, they take longer than e-wallets and other popular alternatives.
E-wallets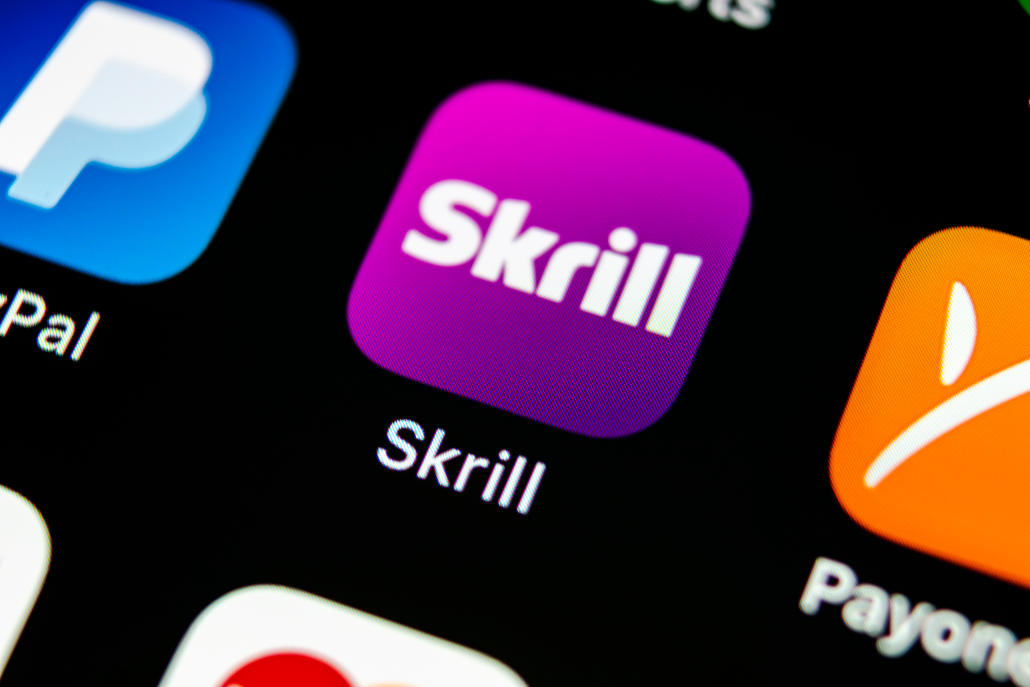 For more experienced poker players (and gamblers in general), e-wallets have been the payment option of choice for many years.
These wallets make it easy to keep your bankroll separate from your everyday funds. Additionally, you don't have to leave your credit card information with a bunch of different sites. Instead, you can link your card to the wallet like Skrill or NETELLER once and be done with it.
Looking at the situation in 2022, there are now sites even accepting PayPal, at least for the players from certain countries. This change has only happened recently, and it certainly made e-wallets an even more appealing option for online poker payments.
On top of the convenience, e-wallet withdrawals are usually quite fast. Large poker rooms often process these cashout requests within a few hours, giving players faster access to their funds.
The only downside to using this option is that the fees can be quite substantial. In recent years, there's been a hike in processing fee charges, pushing some players to look for alternatives.
Deposits via Phone Bills
While this option isn't available across the board, some sites make it possible for players from certain countries to deposit via their phone bills.
The option is exactly what it sounds like. You can make a deposit with a pay by phone bill casino or poker room, and the charge will appear on your next phone bill. It's very easy to use and a great way to get some funds online if you don't have access to other options.
One downside is that the maximum amount you'll be allowed to pay with this option is usually limited. If you want to make a substantial deposit, you'll probably need to use a different method.
It's also worth noting that this method only works for deposits. When the time comes to cash out, you'll still need to connect your account to another method (like an e-wallet) to receive your withdrawal.
Prepaid Cards
Another deposit-only option, prepaid cards are widely accepted by different poker sites out there. Unlike the previous option, you have to pay ahead of time, but there are no limits as to how much you can deposit.
Paysafecard is probably the best-known option in this group, although there are other alternatives out there.
You can find these prepaid cards at many different locations like convenience stores, gas stations, newsstands, and more.
The main principle hasn't changed in 2022. You'll go to the location, pick the card you want (or ask for the teller to add an amount), and you'll receive a voucher. You can then use the code from the voucher to transfer money to the poker site.
Bitcoin & Other Cryptocurrencies
In 2022, cryptocurrencies are no longer taboo. People worldwide have grown to understand and accept bitcoin and other cryptos as legitimate payment methods. Naturally, poker sites have followed suit.
While not all operators out there offer cryptocurrency deposits and withdrawals, there is a decent number of those that do.
The biggest advantages of these options are easy and secure deposits and very quick withdrawals. Additionally, cryptocurrency wallets add an extra layer of safety and anonymity for those who prefer to keep their Texas Hold'em playing habits to themselves.
On the flip side, keeping substantial amounts of money in crypto comes with a whole different set of risks. This is why many players are still reluctant to use this option and prefer more traditional methods that deal with fiat currencies.