McLuck Casino – Join Now and Get Up to 57,500 Gold Coins + 27.5 Free SC Today!
McLuck is a social casino with a sweepstakes element, allowing you to play your favorite slots just for fun or to compete for real cash prizes. The choice is entirely up to you, and in this McLuck Casino review, we'll cover everything you need to know before signing up.
As far as social casinos go, this one offers a lot of perks, the biggest being a very extensive gaming library filled with titles from top-tier providers followed by interesting promotions. Check it out yourself!
1

Up to 57,500 Gold Coins +

Free 27.5 SC
MyLuck Casino Overview
There is no doubt that McLuck is a very solid choice for anyone who enjoys online gaming, but this review will help you get a full picture before you even visit the site.
McLuck Casino Pros
Excellent selection of slots
Nice welcome bonus
Plenty of free coins up for grabs
Big jackpots
Quality mobile play
McLuck Casino Cons
No table games
No iOS app
Little confusing at first
McLuck Casino Summary
| | |
| --- | --- |
| McLuck Sign-up bonus | 7,500 Gold Coins + 2.5 Sweepstakes Coins |
| First purchase bonus | 50,000 GCs & free 25 SCs |
| Daily rewards | Free 2,500 GCs and 0.20 SCs |
| McLuck promo code | |
| Available games | 450+ |
| Available states | Every state except ID, NV, AL, KY, GA, and WA |
| Updated | Sep, 2023 |
McLuck Casino Welcome Bonus

While social casinos aren't nearly as generous as their real-money counterparts regarding casino bonuses, McLuck has a nice welcome package for fresh players.
As soon as you sign up, you'll receive 7,500 Gold Coins, which you can use to play all the games on the sites without restrictions. Once again, GCs have no real cash value, but it's a great way to test the site and have fun.
You'll also get 2.5 Sweepstakes Coins (SCs), which you can use in the other mode, and these coins can be redeemed for real prizes through the process explained later in this McLuck review.
On top of this, there are special perks you'll get with your very first purchase, namely:
Buy a $9.99 package containing 50,000 GC & receive 25 complimentary SCs. Buy here.
Buy a $74.99 package containing 200,000 GCs & receive 100 complimentary SCs. Buy here.
Like all social gaming sites, McLuck doesn't sell Sweepstakes Coins. Instead, you can only purchase Gold Coin packages, but with every purchase, you receive a certain amount of SCs as a "thank you" from the site.
McLuck Free Sweepstakes Coins & Promotions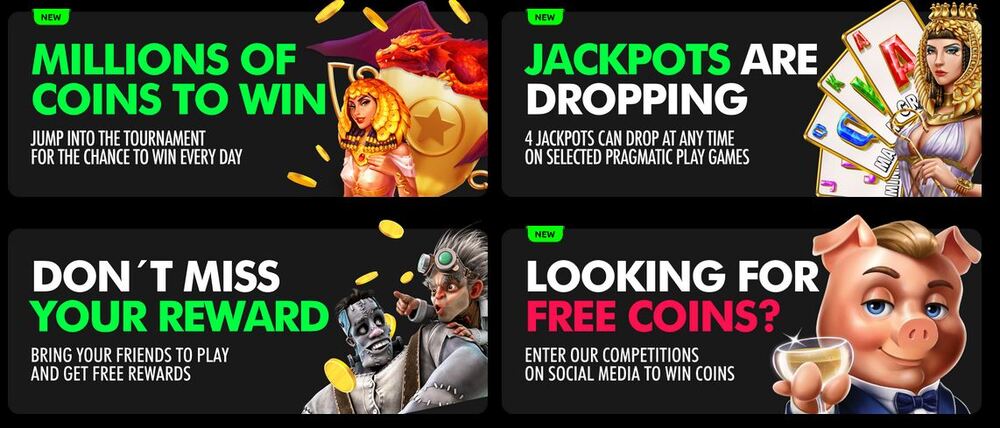 Beyond the welcome offer, there are other promotions you can take advantage of to get more value on the site. You'll find occasional sales where you get bigger packages for the same amount of money, but McLuck also has some regular promos you can count on.
Simply by logging in every day, you'll be able to claim 2,500 GCs and 0.20 SCs to top up your balances.
This way, you always start a new day with a bit of something in your account and can have some fun.
If you enjoy the site, you should also follow them on their official Twitter, Instagram, and Facebook accounts, where the operator runs regular promotions and competitions. Get involved with these, and it's an easy way to get a constant stream of coins flowing into your account.
Even if you're having no luck and don't want to purchase any Gold Coins, a select few "unlimited play" games are always available on the site. You can play these for free to top up your GC balance, but the maximum spin is limited to 1 GC.
Of course, there is no unlimited play for SCs, as these can be redeemed for cash, but if you want to have fun, you can have a blast playing these slots even when you're tapped out.
Win Big With Exclusive McJackpots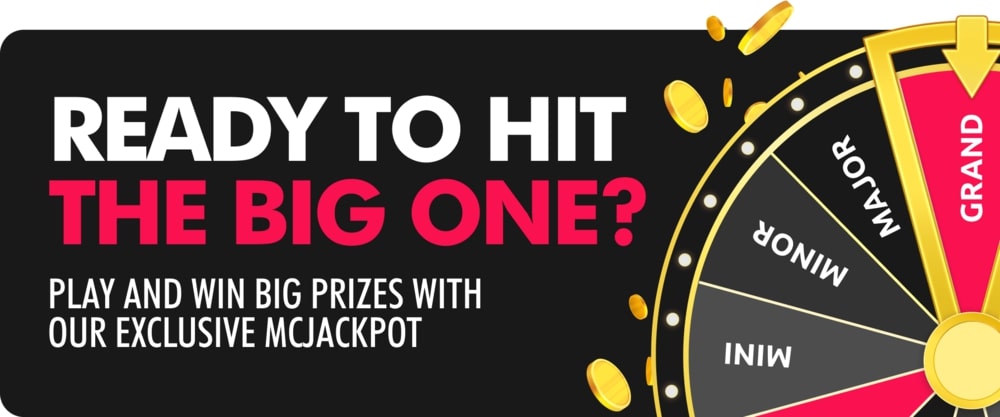 Every time you play a game on McLuck Casino, you have a shot at winning big. If you're only playing with Gold Coins, you'll automatically have a shot at one of four random jackpots on any spin, namely:
GC Grand: 200,000,000 GCs
GC Major: 2,000,000 GCs
GC Minor 200,000 GCs
GC Mini 10,000 GCs
If you also play for Sweepstakes Coins and want to have a shot at a jackpot, you can still do it on any game on the site. You just have to enter the game in the Sweepstakes Mode and manually opt-in.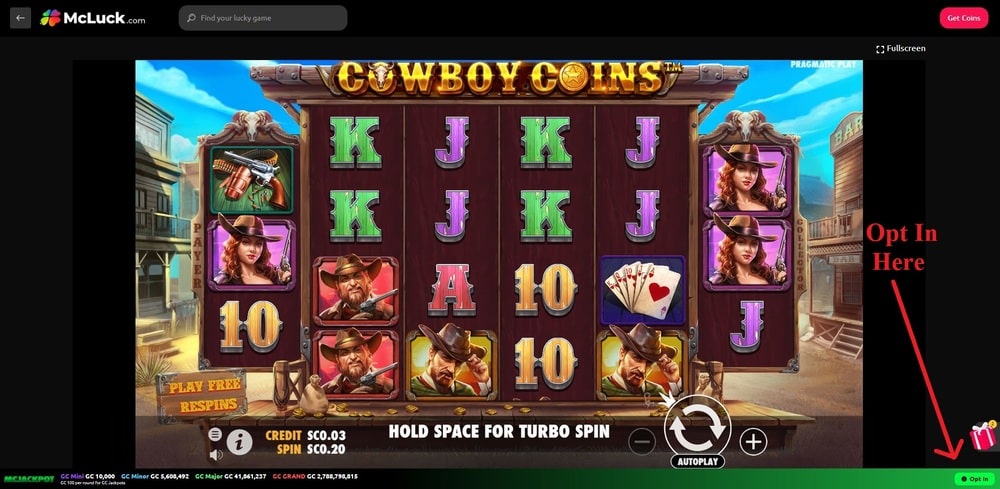 After this, you'll see a list of all the relevant rules regarding the MCJACKPOT, and you can start spinning. For as long as you are opted in, you'll have a small chance to win big on every single spin, with four jackpot levels:
SC Grand: 100,000 SCs
SC Major: 1,000 SCs
SC Minor 100 SCs
SC Mini 5 SCs
You only need to opt in for the SC jackpot once, and you'll have a shot at winning a jackpot every time you play that or another game on the site. While opted-in, with every spin you make, you'll contribute an extra SC 0.10 (regardless of the stake) towards the jackpot pool.
If you no longer want to compete for jackpots, you'll need to manually opt-out again, following the same steps. After you opt-out, you'll also stop contributing to the jackpot balance.
McLuck Sweepstakes vs. Social Casino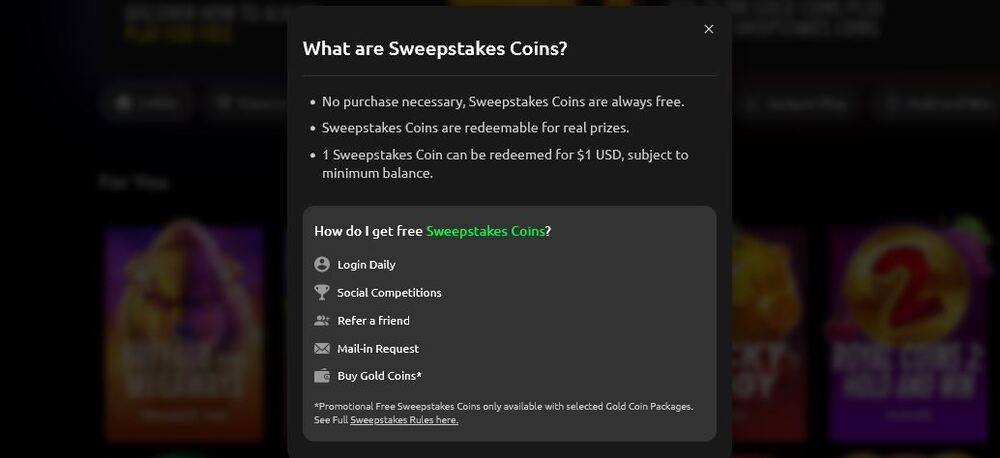 Before we move any further, let's cover the most important aspect of McLuck Casino. At its foundation, this is a social casino, meaning you won't need to make any deposits to play.
You'll receive 7,500 Gold Coins (GCs) and a free 2.5 Sweepstakes Coins (SC) as soon as you create your McLuck login.
To get the bonus, create your account here. It is also worth mentioning that there are many ways to receive additional every single day. On top of that, there is also an option to purchase Gold Coins for real money and receive additional bonuses, but more on that later.
Purchasing GCs is the easiest way to top up your virtual balance, but I must emphasize that these coins don't have any value outside the site. You can use them to play games, have fun, and try to win as much as possible, but it will always be numbers on the screen and nothing more.
This can be a lot of fun, of course, which is why social casinos have done so well over the years, but don't expect any cash to come your way.
All this said, there is a way to win cash prizes at McLuck Casino as the operator adheres to the same sweepstakes model used by other similar sites like Pulsz Casino.
What Is McLuck Sweepstakes Casino?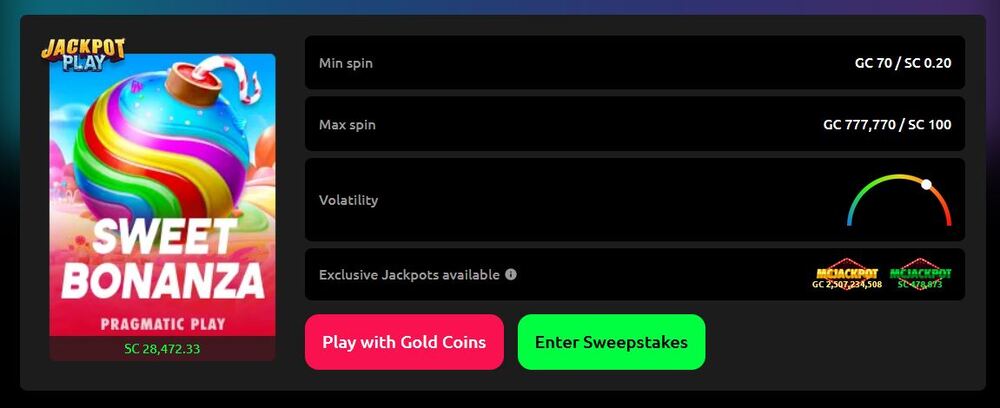 When you open your McLuck account and log in, you can pick if you want to play with Gold Coins or Sweepstakes Coins whenever you open the game.
Once here, you can use your existing McLuck login, and you'll be able to receive Sweepstakes Coins (SCs) along with your GCs, and you'll have options to redeem your SCs for cash prizes.
McLuck isn't much different from other sweepstakes casinos, so if you have some previous experience with these platforms, you should have no problems finding your way around.
It's important to note that the ability to play in the sweepstakes mode is limited only to players from the US, except for those logging in from Washington, Idaho, Nevada, Alabama, Kentucky, and Georgia.
McLuck Casino Games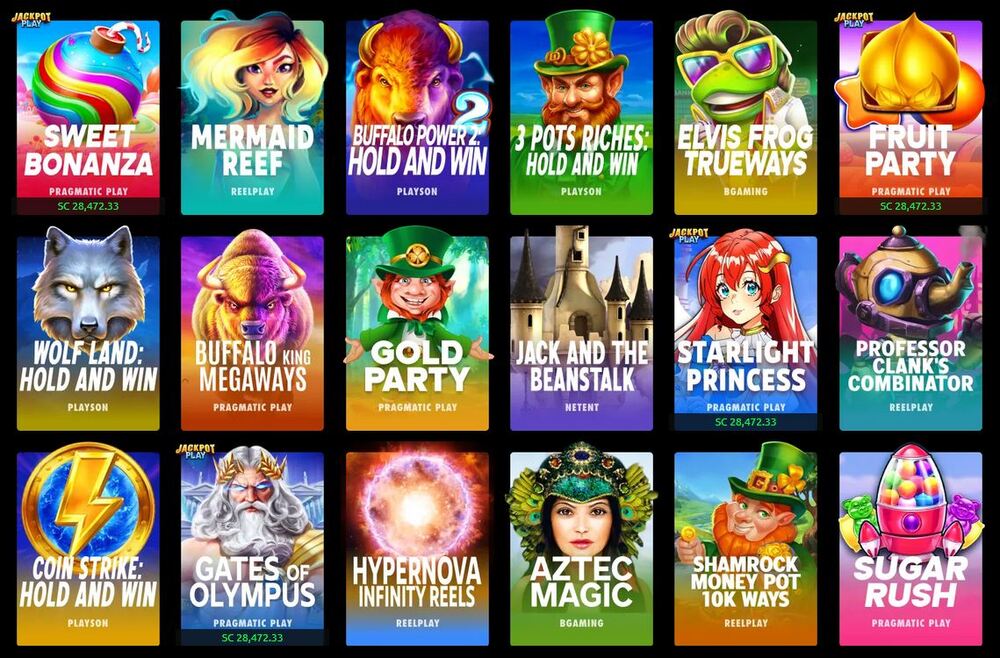 While some sweepstakes casinos suffer from a chronic lack of gaming options, McLuck certainly doesn't belong to this category. The site features several hundred video slots from the industry's best and biggest providers.
This means you'll find many titles you might be familiar with from playing on real-money casinos. McLuck offers you the same gaming experience, just for free.
The only downside is that you won't find any games beyond slots. McLuck Casino doesn't offer any table games or video poker machines, so if you're a fan of these, this isn't the right social casino for you.
McLuck Slots
You won't be disappointed if it's the slots you enjoy the most. With well over 450 popular titles to choose from, the site leaves very little to be desired.
As mentioned, the operator features titles from some of the leading gaming studios, including:
Pragmatic Play
BGaming
Playson
NetEnt
3 Oaks
Relax Gaming
The platform is very player-friendly and easy to navigate. You can search games by name (if you already know what you want to play) or filter them by criteria such as Classic, Megaways, Hold & Win, New, etc.
There are too many fun slots to pick on the site to list here, but I'll mention a few titles that all fans of online gaming will likely recognize (and get excited about) straight away:
Big Bass Bonanza
Dog House
Money Train 3
Cleopatra
Temple Tumble 2
Sugar Rush
Hellcatraz II
It seems that the casino regularly updates its gaming library with fresh releases, which is always a big positive. You'll have access to fresh titles and new games to try regularly, just in case you grow tired of your favorites and feel it's time for a change.
Jackpot Play
If you're feeling lucky and want to chase some big wins, check out the Jackpot Play section of the site. Here, you'll find a few games that have been selected for the operator's progressive jackpot, featuring both GC and SC versions.
All games in the jackpot pool are clearly marked, so you can easily recognize them in the main lobby.
Like with all other progressive slots, the top prize increases over time with every spin played on any of the machines. At McLuck, GC jackpots can go into millions, while on the Sweepstakes side of things, you can expect maximum wins in six figures.
Table Games
As already mentioned, there are no table games like roulette and blackjack at McLuck Casino. This particular site is all about video slots, and there are hundreds of them on offer, but there is nothing beyond that.
To some degree, this is one of the downsides of McLuck, as many players like to mix things up and switch between slots and table games. That said, if you're not one of those players and slots are enough, you'll have more than enough to keep you entertained for a long while.
McLuck Mobile Casino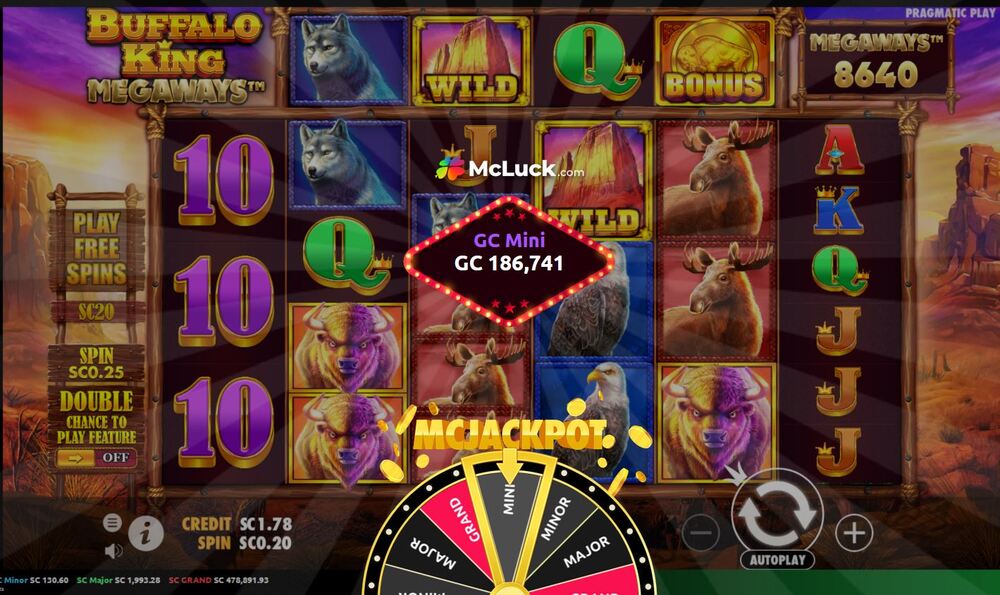 Being a fresh and modern gaming site, McLuck Casino makes it easy to enjoy your gaming experience on the go. You can use your McLuck login on your mobile phones and tablets to access everything this operator offers.
The easiest way to do so is by using your mobile browser. However, McLuck also offers standalone mobile casino apps that you can download and install on your device. These are quite convenient if you play frequently, as you can log in with a single tap and start playing in no time.
McLuck Android App
The McLuck app for Android is available via Google Play. You can download it straight from the source, and if you already have an account, you can simply log in with your existing info. If not, you can create one through the app (or simply log in with your Facebook or Google).
The app gives you access to everything available through the desktop site, i.e., the full gaming library, purchase options, customer support, and more.
In addition to our own testing, the app has a very high rating on Google Play, indicating that players are largely happy with its performance, so if you enjoy playing here, there is no reason to avoid installing it on your phone.
McLuck iPhone App
I couldn't find an official McLuck Casino iPhone app on the App Store, so it seems that the operator only offers a standalone Android app at this time.
That said, you can still access everything from your iOS device using your mobile web browser. It may not be as convenient, but there are no restrictions when playing via a mobile site, so this shouldn't greatly affect your overall gaming experience.
McLuck Casino Mobile Apps
| | |
| --- | --- |
| Sign-up | |
| Available games | 450+ |
| Android App | Yes |
| iOS App | Yes |
| Updated | Sep, 2023 |
Purchasing McLuck Casino Gold Coins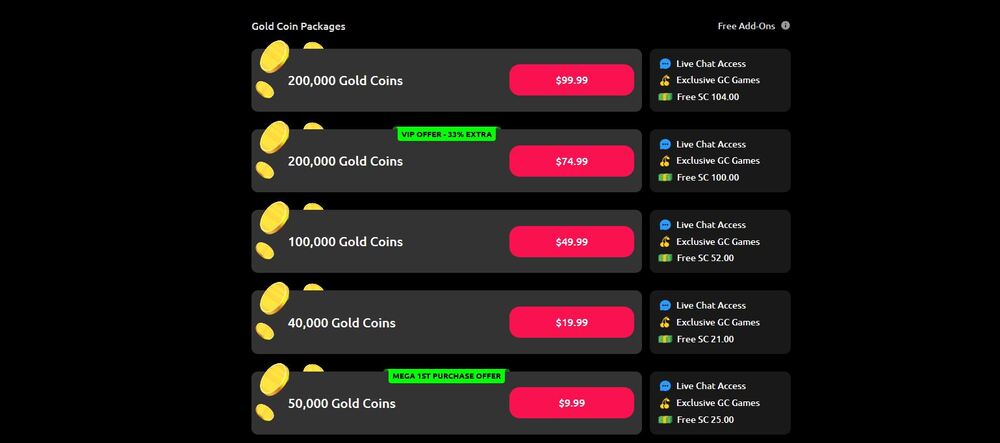 Like other social casinos, McLuck allows you to purchase Gold Coins and top up your balance at any time. Whether you want to play higher stakes or simply don't feel like waiting for the next opportunity to grab free gifts, this is a very convenient option.
The site offers several different packages, and with every purchase, as mentioned, you'll also receive complimentary Sweepstakes Coins.
To start, you need to click the red 'Get Coins' button in the top left corner. This will open a window with the list of available Gold Coin packages. The description to the right of each package informs you about other perks you'll receive, including the number of Sweepstakes Coins.
The McLuck social casino provides various options to enjoy playing on the site without spending too much. The lowest coin package is available already at $1.99, while the most expensive one is priced at $99.99.
Pick the package that's right for you and complete the purchase using one of the available payment methods. It's worth mentioning that you'll unlock access to exclusive games with every package you buy.
McLuck Casino Payment Methods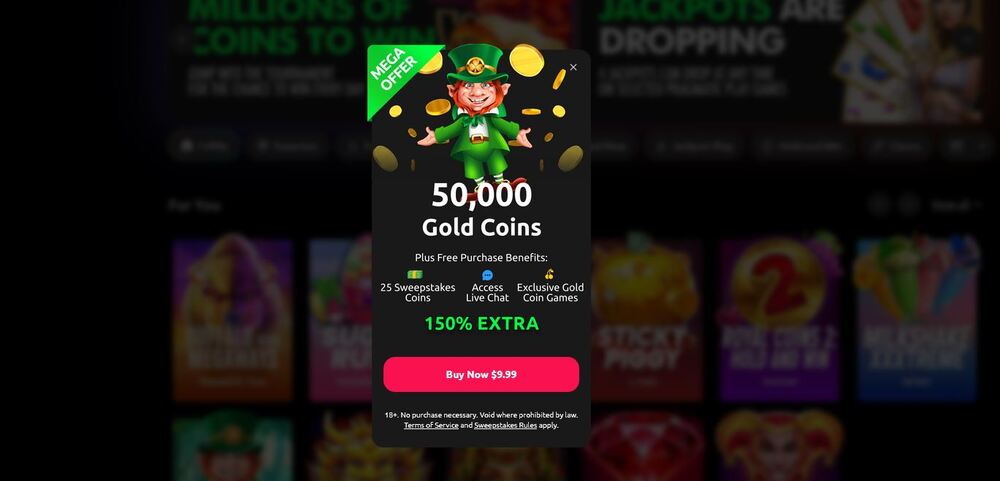 If you decide to buy one of the packages on offer, you'll pay for it just like any other service online. Once again, this isn't a deposit you would make at a traditional casino – you're just buying some coins to play with.
McLuck Casino allows players to make their purchases using a couple of popular payment options, namely:
Visa
MasterCard
Apple Pay
Google Pay
At this time, other methods, such as PayPal and Skrill, aren't supported, but it's possible the operator will add these later, and a few more options would certainly be a welcome addition to the platform.
Redeeming McLuck Sweepstakes Coins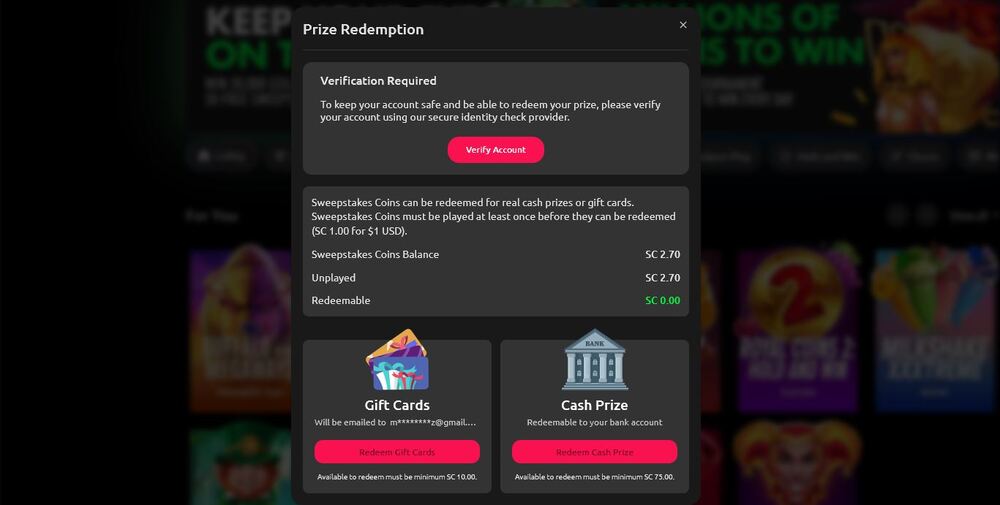 I've mentioned a few times throughout this McLuck Casino review that you can redeem Sweepstakes Coins for real cash prizes.
The process is pretty straightforward, but you should know that the minimum amount of redeemable SCs is 10 (if you're exchanging them for a gift card) or SC 75 if you want to redeem a pure cash prize.
Click on the black 'Redeem' button located next to the 'Get Coins' button
Select the option you want to use (gift card or cash)
Enter the number of SCs you wish to redeem
Confirm your request
That's pretty much it. If you select the cash option, you can expect to receive your prize within the next few days, with the caveat that larger requests may take longer to process. The maximum amount you can request in one go is either $5000 or $10,000, depending on the state.
To be able to redeem your prizes, you'll need to fully verify your account, i.e., confirm your personal details such as name, surname, DOB, address, etc. This is a straightforward process, but make sure you have relevant documents handy so you can send them to the support when the time comes.
McLuck Casino Payments Info
| | |
| --- | --- |
| McLuck login page | |
| Minimum purchase | $1.99 |
| Purchase time | Instant |
| Visa/MasterCard | Yes |
| Apple Pay | Yes |
| Google Pay | Yes |
| Updated | Sep, 2023 |
McLuck Customer Support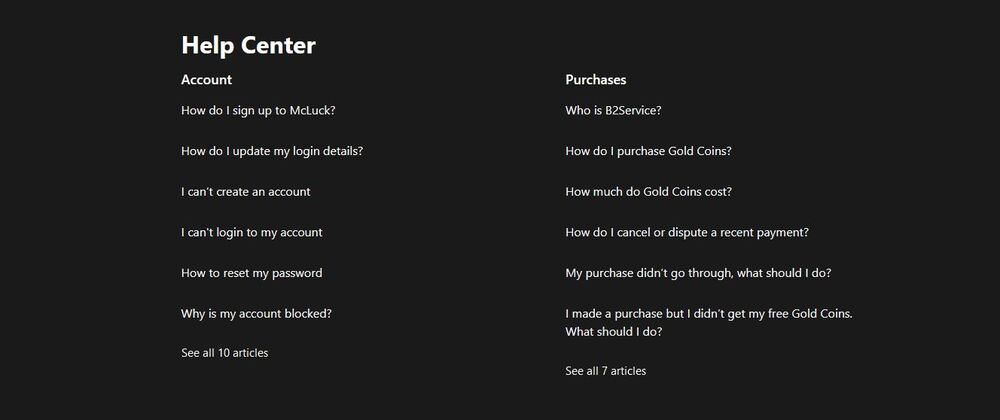 Playing on a social casino comes with its own set of challenges, especially if you're new to the whole sweepstakes setup. This is why it's important for the operator to offer assistance and help you find your way around.
The McLuck social casino features a rather extensive knowledge base in its FAQ section. You'll find a variety of topics and subtopics covered, explaining how things work. These short articles can be very helpful and save you a lot of time.
If you can't find the answer you're looking for or need additional explanations, you can reach out to customer support by submitting a request. There is no live chat option available, but you can fill in a detailed form explaining everything and send it to the casino.
This may not be the fastest way to address your issues, but McLuck support seems quite competent, and players' requests are responded to in a reasonable time. You'll still need to have a bit of patience, but they won't leave you hanging for days without any contact.
McLuck Support Info
| | |
| --- | --- |
| McLuck login page | |
| Email support | Tickets system |
| Phone support | +1 (650) 663-2778, +1 (424) 842-4264 |
| Live chat | Yes (only after purchase) |
| Updated | Sep, 2023 |
Is McLuck Casino Legit?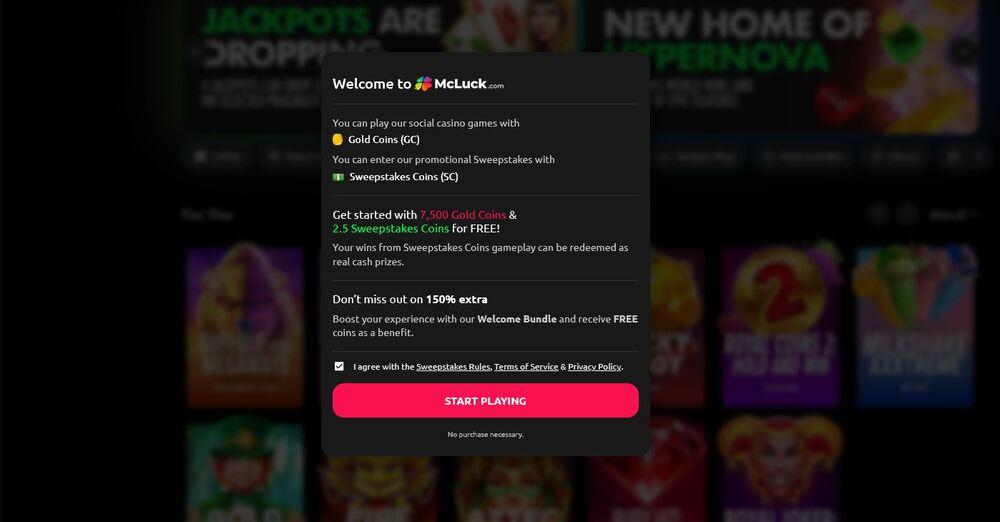 Being a social gaming site, McLuck operates under rules different from those that apply to real-money online casinos. They don't need a gaming license and are free to offer their services without too much scrutiny.
This is exactly why McLuck Casino is completely legal in the United States. The sweepstakes model the site utilizes to offer the ability to win real cash prizes is not contrary to US laws. So, you can register and play here without any fear.
When it comes to fairness and safety, some concerns always come into play with online casinos, social or otherwise. McLuck isn't licensed by any of the licensing bodies that deal with traditional casinos, and they don't have any third-party certifications.
That said, the site is owned and operated by a European company that's been in the iGaming space for a long time, and they've built a very good reputation over that period. From everything I was able to see and find myself, this seems like a very safe and trustworthy platform.
As long as you understand and stick to the rules, you should have no problems playing at McLuck Casino. Like any other business, they have zero tolerance for those who try to commit fraud, and it seems that a bulk of complaints come precisely from those players who tried to somehow get around the rules.
McLuck Casino Summary
McLuck is a modern and rich social casino, perfect for all fans of video slots. With hundreds of popular games on offer, you'll never have a dull moment here.
Promotions and bonuses are quite solid, and depending on how active a player you are, there is a lot of free value up for grabs, too.
The site has some downsides, the biggest being the lack of table games or video poker machines, so it's something to keep in mind when deciding whether to play here.
All said and done, I can definitely recommend McLuck as a safe and fun gaming site. Whether you just want to play for free or have a shot at cash prizes, you won't be disappointed.
McLuck Casino FAQ