Pulsz Casino Review – Join Now and Get 367,000 Gold Coins + up to 32.3 Free SC Today!
In the world of social gaming, very few sites enjoy the reputation of Pulsz Casino. Launched in 2020, this social casino has quickly established its position as one of the prime destinations for players who love the excitement of slots and table games but don't want to put their money on the line.
Thanks to the Promotional Sweepstakes model at the heart of this casino, players can still win real-world prizes, adding another exciting element to the whole experience. Check it out yourself!
1

Up to 367,000 Gold Coins +

Free 32.3 SC
Pulsz Casino Overview
In this comprehensive Pulsz Casino review, you'll find all the important details and answers to all the questions about what this exciting and modern gaming platform stands for, how to join the action, and what to expect from the Pulsz.com app. So, let's dive right into it!
Pulsz Casino Pros
Excellent selection of slots
Good VIP program
Free daily Sweepstakes Coins
Sleek software and mobile apps
Pulsz Casino Cons
A limited selection of table games
No live chat feature
Pulsz Casino Summary
| | |
| --- | --- |
| Pulsz Sign-up bonus | 5,000 Gold Coins + 2.3 free Sweepstakes Coins |
| First purchase bonus | 362,000 GC + free 30 SC |
| Daily rewards | GCs + up to 0.3 free SCs |
| Promo code | |
| Available games | 500+ |
| Available states | Every state except ID, NV, and WA |
| Updated | Sep, 2023 |
Pulsz Casino Welcome Offer for New Players

Now that we've explained how things work at Pulsz Casino and the difference between GC and SC, it is time to look at what new players can get when they first sign up.
Opening your account is completely free, and no purchase is required. As mentioned, you'll receive some free GC to get you started, and you can work with that balance and rely on free reloads and promotions to keep you going.
You will get 5,000 Gold Coins + 2.3 Free SC when you first join, and you can use this opportunity to try playing with Sweepstakes Coins and try out the games.
If you decide you want to further boost your GC balance by making a purchase, you will receive a big 200% boost. By purchasing any amount, you'll also receive a key to unlock access to all the games immediately and remove all the ads.
To make things sweeter, you can get up to 30 Free Pulsz SC on top of a 2.3 free Sweepstakes Coins registration bonus with your first purchase. Here are the options:
$9.99 – 172,000 Gold Coins and 15 free Sweepstakes Coins. Buy here.
$19.99 – 362,000 Gold Coins and 30 free Sweepstakes Coins. Buy here.
This is the fastest way to get Gold Coins, so make sure to take advantage of this promotion, and you will also get Pulsz free SC coins as a bonus with your first purchase.
⭐ Pulsz Casino Promotions: How to Get Pulsz Casino Free SC
As mentioned at the start of this Pulsz Casino review, there is no way to purchase Sweepstakes Coins. You can only obtain these as a gift from the casino. One way to secure these gifts is by purchasing Gold Coin packages, but there are other ways that don't involve any monetary transactions.
You can earn free SCs every single day by simply logging into your Pulsz Casino account:
Day 1 – 2,500 GC + 0.3 SC
Day 2 – 5,000 GC + 0.3 SC
Day 3 – 2,000 GC + 0.3 SC
The more often you log in, the more rewards you'll receive since you can get 0.3 SC daily for free.
If you want even more Pulsz free SC, make sure to follow the operator's social media channels: Facebook, Twitter, and Instagram. Here, you'll find various special Pulsz promo codes and competitions that are completely free to enter and award SCs.
Inviting your friends to play on the site will earn you Sweepstakes Coins, too. For every qualifying referral, you'll receive 20 SCs.
Finally, in the true Promotional Sweepstakes spirit, Pulsz Casino gives players an opportunity to obtain some SC the old-fashioned way, using snail mail. You can send the Request Card to the operator's physical address and receive 5 SC for every qualifying Request.
To sum up, here are the best ways to get free Sweepstakes Coins at Pulsz.com:
Register and get an initial SC bonus
Log in daily for extra free SC
Follow social channels for extra promotions
Send a request to a physical mail
It's important to note that Sweepstakes received using these methods need to be played through at least once before you can redeem them for prizes.
Pulsz.com VIP Program

Another area that distinguishes Pulsz from other social casinos is their VIP program. The site wants to make their regular customers happy and keep them coming back, adding value to their purchases and making them feel valued.
You'll become a member of the Pulsz.com VIP program the moment you join the site.
With every Gold Coins purchase, you'll receive a certain number of VIP points, depending on the purchase amount.
As you collect points, you'll move up the leaderboard tiers. Each new tier gives access to better perks, reflected primarily through multipliers applied to your GC purchases and VIP points awarded for each purchase.
Bronze – basic level – 1x multiplier on all
Silver – 1.25x on GC purchases and 2x on VIP points
Gold – 1.5x GC multiplier and 3x VIP points multiplier
Platinum – 1.75x on Gold Coins and 4x on VIP points
Diamond – 2x on GCs & 5x on VIP points
Royal Diamond – 2.25x on GC purchases & 6x multiplier on VIP points
On top of receiving VIP points with purchases, you can also build up your VIP level for free. All you have to do is play free games on the site. The more you play, the quicker your progression will be.
How to Register – Pulsz Casino Login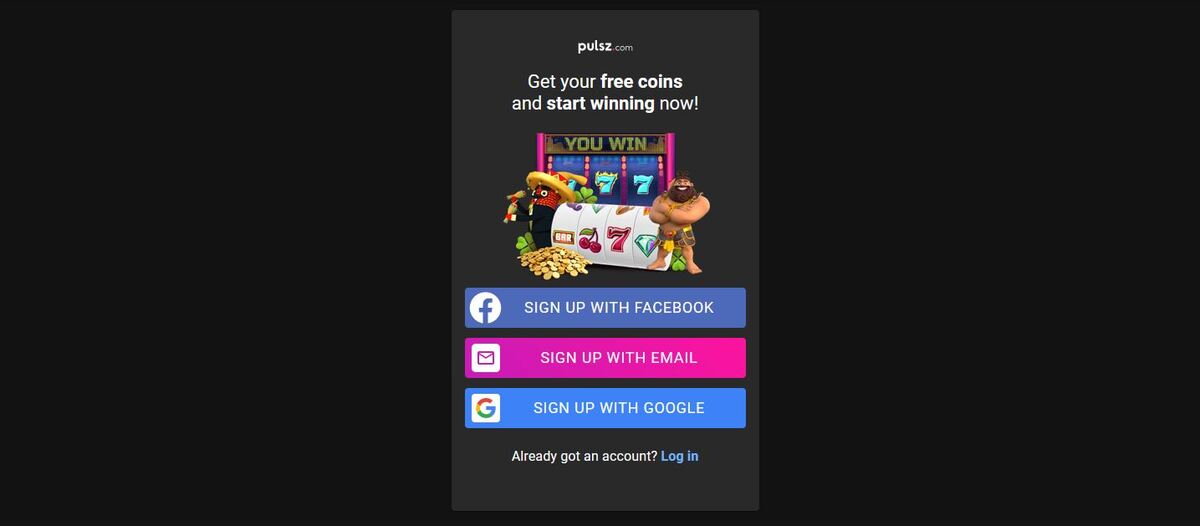 Opening a Pulsz Casino account is very easy. You can simply use your existing Facebook or Google account and log in directly, bypassing the registration procedure.
Alternatively, you can register for a new account in the old-fashioned way, which is just as easy. You just need to enter the email and password you want to use, and your Pulsz Casino login will be created. After that, just confirm your email address using the link sent to you by the operator, and you'll be good to go.
This basic account is all you need to play the games using free GCs. If you decide to make a purchase, you'll need to enter additional information, such as your name, surname, and address, as the casino needs to protect itself and its users from any potential fraudulent activities.
Pulsz.com Basic Information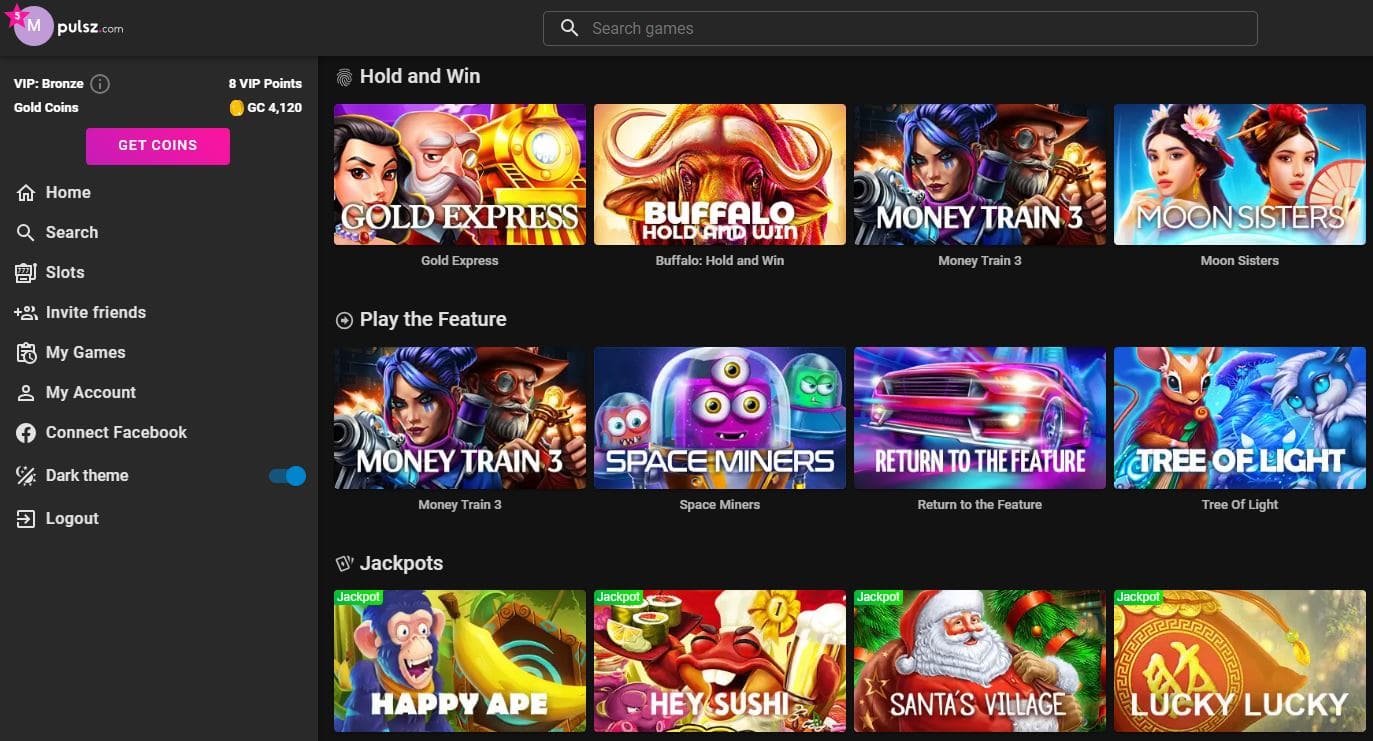 Pulsz Casino was launched in 2020 as a social casino, meaning players never have to risk any money to play here. Everyone is welcome to sign up for free and enjoy all the games without spending a dime.
All play on the site happens in Gold Coins (GC), a virtual currency used to track your progress with no real-world value. However, winning Gold Coins and seeing how far you can take your virtual bankroll is still exciting, which is why social casinos have thousands of users.
Players who want to boost their bankrolls and get to higher stakes faster can purchase Gold Coins. With every purchase, you will also receive a certain amount of free Pulsz Casino Sweepstakes Coins, which can be used to redeem cash prizes, but more on that in a minute.
Pulsz Casino welcomes players from the United States, except for those residing in Nevada, Idaho, and Washington.
Players from all other US states can join the site and enjoy everything it has to offer completely legally. This makes Pulsz a great option for all those in the states that don't have regulated online casinos and those in regulated states looking for a somewhat different experience.
⭐ Pulsz Casino Sweepstakes Coins & Gold Coins
As mentioned, Pulsz social casino features two types of coins – Gold Coins and Sweepstakes Coins. These two are different but not completely separate. If you are new to the whole concept of social casinos and Promotional Sweepstakes, keep on reading to understand how things work.
Gold Coins are the fundamental currency of Pulsz Casino. The moment you sign up, you'll receive a certain number of GC, and you can take these to casino games to start playing. Anything you win is added to your Gold Coins balance and remains there even after logging out. When you come back, your GCs will be waiting for you.
If you run out, it's no problem. You get a free fresh batch every day, and there are various other ways to get your hands on some more Gold Coins.
Once again, these have absolutely no real-world value – you cannot cash them out, exchange them for prizes, or do anything else beyond play games.
For those who don't like waiting or simply want to have plenty of GCs, Pulsz Casino also offers opportunities to purchase Gold Coin packages. This is where Sweepstakes Coins come into play.
Sweepstakes Coins (SCs) can't be purchased directly. They are given out as rewards to loyal players for their purchases and other activities on the site. Unlike GCs, SCs can be redeemed for cash prizes, or you can use them to play games to try and run up your SC balance.
It is up to any player to decide when to redeem their SCs, and Pulsz Casino makes the whole process very easy. It's important to emphasize that you can never buy Sweepstakes Coins – they can only be issued to you as free rewards, which is how the whole Promotional Sweepstakes model works and why it is completely legal in the United States.
Gaming Options at Pulsz.com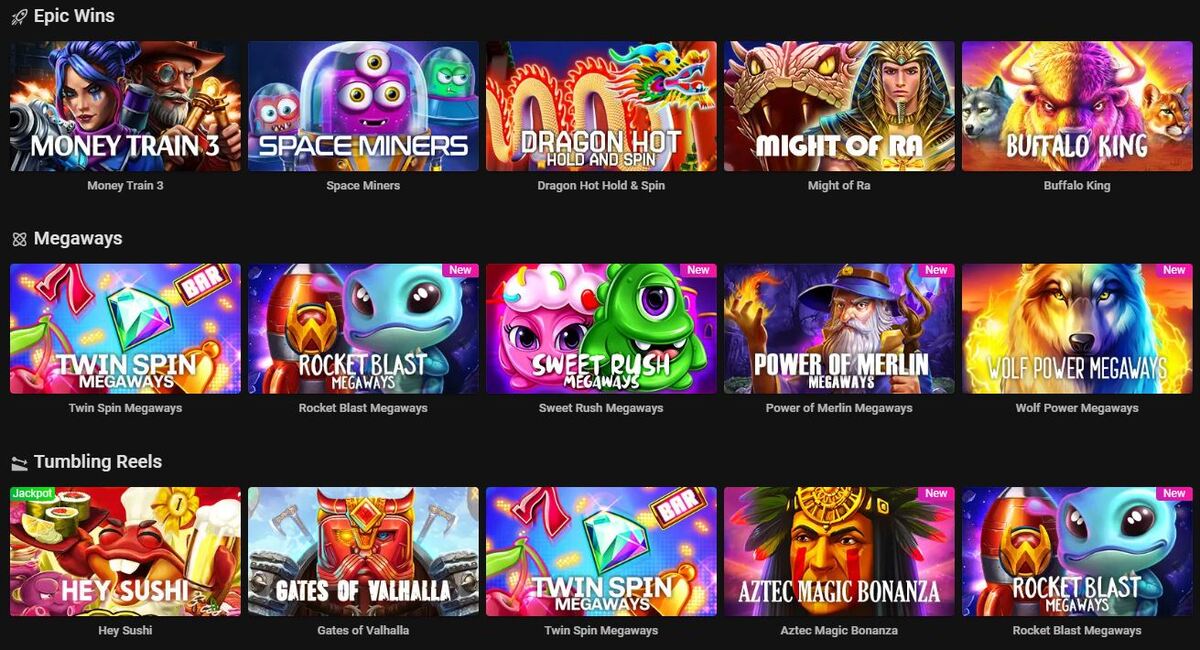 Now that we've covered some basic information about the Pulsz online casino and explained the difference between Gold Coins and Sweepstakes Coins, it's time to look at an area that most players are interested in – the gaming selection.
In the world of social casinos, Pulsz.com stands out from the crowd in this particular department. They offer the largest selection of games, with over 500 slots and various other options, and you'll find many popular titles from well-known providers.
⭐ Pulsz Slots
If you enjoy playing online slots, you'll definitely feel at home here. The Pulsz slots selection is quite impressive, and you will find different types of games, from classic titles to those with tens of thousands of pay-ways.
The operator hosts slots from well-known studios, including Pragmatic Play, Booming Games, Relax Gaming, and NetEnt. This really sets them apart from other social casinos that usually only offer a smaller number of games from lesser-known studios.
Some of the titles you'll likely recognize include:
Starburst
Money Train
Wolf Gold
Big Bass Bonanza
Space Miners
Sugar Rush
Clicking on any game will give you the basic information about the minimum and maximum spin levels and volatility, which is a nice touch. This can help you pick games based on your general preferences, even if you have no previous experience with a particular title.
Many Pulsz slots also feature additional information you can obtain by clicking on the small "I" icon in the top right corner. This will bring up the screen with a detailed slot review describing the game features, winning capabilities, and much more.
⭐ Jackpot Slots
Among hundreds of Pulsz slots featured on the site, jackpot slots take a special place. You can easily find the full list by clicking on the "Jackpots" item on the navigation menu.
Just as you'd expect, these games feature progressive prizes that increase with time, giving players a chance to try their luck chasing big jackpots. Some of the most popular picks in this category are:
Mighty Medusa
Wild Truck
5 Mariachis
Happy Ape
⭐ Pulsz Casino Table Games
While Pulsz Casino has done an excellent job in the slots department, their table games section leaves something to be desired. This isn't surprising, as most social casinos don't offer too much in terms of table games, but a few more options would be nice.
As things stand, Pulsz.com offers:
Multihand Blackjack
House-banked Texas Hold'em variation
One game notably missing from the mix is roulette. At the moment, Pulsz doesn't offer any roulette variations, so that's something to keep in mind when signing up.
⭐ Arcade Games & Scratch Cards
If you're looking for something slightly different, check out the site's Arcade Games and Scratch Cards sections.
Arcade games differ from slots and offer a unique gaming experience, so they are definitely worth checking out. Some titles we can recommend are:
Classic Mines
Book of Keno
Classic Dice
Scratch cards are exactly what you'd expect them to be, just in a digitalized format. You'll find a few different options on the site, and these are largely designed after popular slots featuring familiar symbols and surroundings.
⭐ Live Dealer Games
Live dealer games have become hugely popular at traditional online casinos, with more and more people turning to these instead of slots and other RNG options.
However, social casinos like Pulsz.com don't offer any live options. This is primarily because companies hosting these games don't offer free-to-play versions, as maintaining these studios is quite expensive.
That said, if any social casino does start to offer these games, it will be Pulsz. They have the largest and richest library in general, which shows they understand the importance of versatility. So, it's safe to assume that they'll seize the opportunity to add live dealer to their growing offering if the option presents itself.
Pulsz Online Casino Software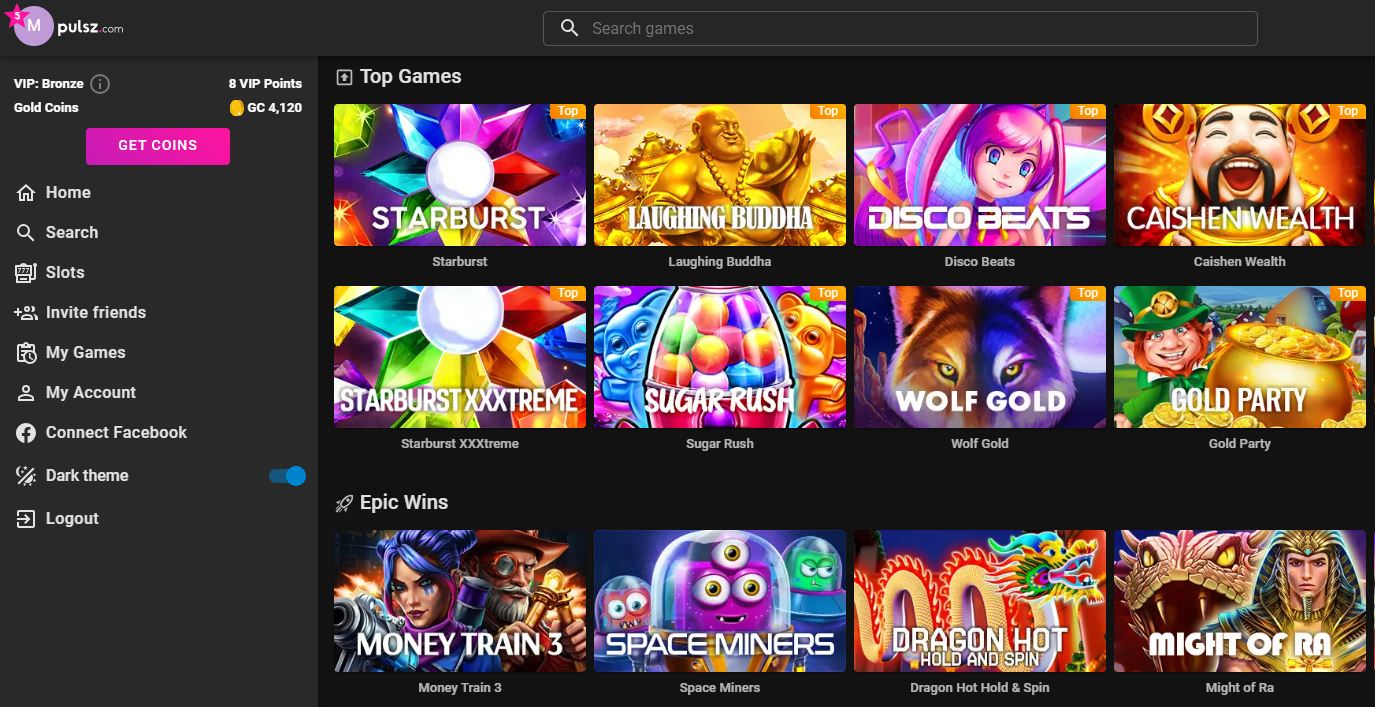 The gaming platform at Pulsz.com is quite impressive for a social casino. You don't need to download anything when playing from your computer, as you can access the casino straight from your browser.
One of the first things you'll notice is the option on the left-hand side, allowing you to switch between light and dark modes. We prefer dark, but both work very well; it's down to your preference, and we love the fact that the operator gives you the ability to choose.
The site loads quickly, and there is no annoying wait time as you scroll down. The browsing experience is very smooth and quite enjoyable.
When it comes to navigation, Pulsz.com has done a great job as well. On the home page, you'll find games listed by their particular categories, such as:
New Games
Top Games
Epic Wins
Classic Games
Hold and Win
Tumbling Reels
If there is a particular title you'd like to play, finding it is a breeze using the search function. The only thing missing is the ability to filter games by their respective providers, but other than this, Pulsz has done a great job with their platform.
Pulsz Casino App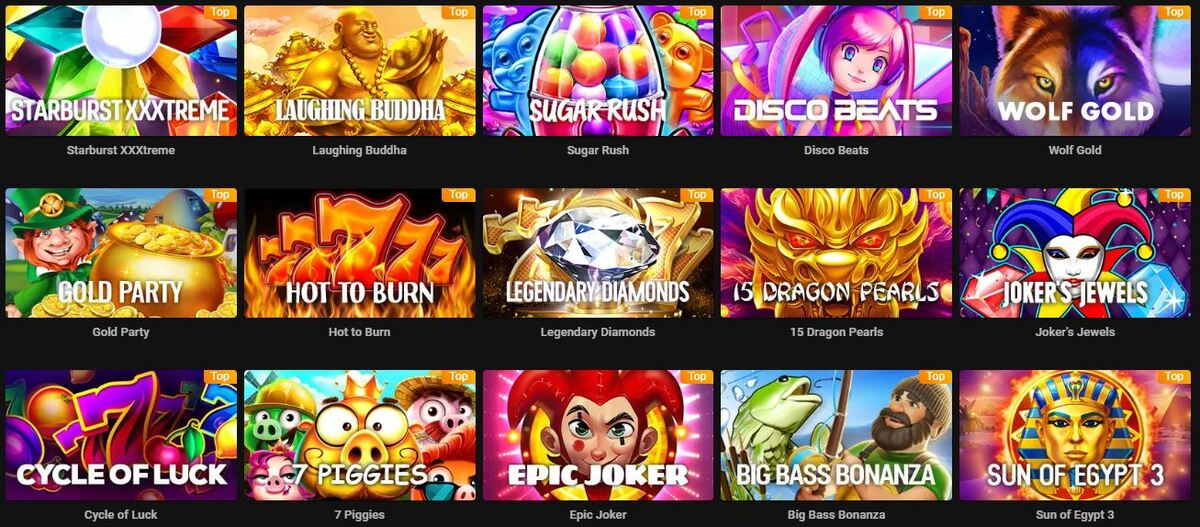 If you want to enjoy gaming on the go, you can do so easily. Pulsz Casino offers several options for those who want to play on their phones and tablets.
The first and simplest one is to navigate to the site using your mobile browser, use your Pulsz login to access your account and get started. This is quick, easy, and requires no installation.
However, there are also standalone Pulsz apps for Android and iOS users. You can download these from the relevant store, install them onto your device, and easily access your account around the clock.
Given that this is a modern operator, their apps will meet your expectations. Not only will you be able to access all the games, but apps will allow you to make purchases, reach out to customer support, and much more.
⭐ Pulsz Casino Android App
If you use an Android phone, tablet, or both, you can download the official Pulsz Casino app from Google Play. Since this is a social gaming app, there are no restrictions in place, so you can simply download and install it on your device without any additional steps.
Once downloaded, you can register for an account or use your existing Pulsz login information if you already have an account. The app gives you full access to the gaming library (including 500+ slots) and allows you to make GC purchases without visiting the website at any point.
The same goes for redeeming your SC rewards. You can do it using the mobile app interface, and the whole process is very straightforward.
⭐ Pulsz Casino iOS App
For iPhone and iPad users, Pulsz Casino offers an iOS app through the Apple Store. It will take you under one minute to download the app to your device and a few seconds to install it, and you'll be all set to log in and play your favorite games on your phone.
If you played using the browser version before, all your progress and GC and SC balances will be available in the app. You don't need to do anything to link your account, as this process is fully automated as long as you log into the same account.
In terms of usability, the Pulsz Casino app offers a modern interface and easy navigation, so you'll get the full gaming experience in the palm of your hand. You might even get access to some special promotions available only to app users, which is the added benefit of having Pulsz.com installed on your
Pulsz Casino Mobile Apps
| | |
| --- | --- |
| Sign-up | |
| Available games | 500+ |
| Android App | Yes |
| iOS App | Yes |
| Updated | Sep, 2023 |
Purchasing Gold Coin Packages at Pulsz.com

If you ever want to top up your Gold Coin balance by purchasing one of the available packages, Pulsz Casino makes the whole process very easy. It's virtually identical to making any other online purchase, so you should have no problems whatsoever.
Pulsz.com supports several convenient payment methods, including:
MasterCard
Visa
Skrill
Online banking
To complete a purchase, you'll simply select the package you're interested in, choose the preferred payment method, and then enter the required information. If there are no issues and you have available funds, the purchase will be completed, and your balance will be topped up. You'll also receive other perks connected to buying GCs, including complementary Sweepstakes Coins (SCs).
You can rest assured that Pulsz Casino will treat your sensitive personal and financial information with the utmost care. It will not be shared with any third parties, and there are security protocols on the site to ensure transactions are not intercepted or tampered with.
Pulsz Casino Payments Info
| | |
| --- | --- |
| Pulsz login page | |
| Minimum purchase | $1.99 |
| Purchase time | Instant |
| Visa/MasterCard | Yes |
| Skrill | Yes |
| Online banking | Yes |
| Updated | Sep, 2023 |
Redeeming Your Pulsz Casino Sweepstakes Coins
Unlike Gold Coins, which you can only use to play games on the site, Sweepstakes Coins can be used to both play the games and redeem cash prizes. The prize redemption process is pretty straightforward, but if you're new to social casinos, this is how it works.
Before anything else, ensure that all promotional Sweepstakes have been played through at least once and are eligible for redemption. You are only able to redeem eligible coins, but luckily, the requirements are very reasonable and easy to achieve.
To start the process, just hit the "Redeem" button in your account. You'll get to the section where you can enter the amount you wish to redeem and select the redemption method.
The minimum amount you can redeem for cash is 100 Sweepstakes Coins at the rate of $1 for every 1 SC. If you want to redeem gift cards instead, the minimum threshold is 25 SC.
Keep in mind that you can only redeem prizes using the same method that you used to purchase Gold Coins. Your account needs to be fully verified, and during the verification process, you'll need to confirm your identity, address, and any other information the operator requests from you.
This process can be a bit tedious and take some time, but it protects both the users and Pulsz.com and ensures there is no abuse.
Once you send in the request, provided there are no problems, you can expect to receive your prize within three to four days. Of course, larger prizes, especially those over $2,500, may take longer to process as there may be additional checks in place.
Pulsz Online Casino Safety & Reputation
Pulsz Casino has been around for several years, and in that time, the company has built a very good reputation with the players. While you may find some complaints online, they are not numerous, and there are many more satisfied customers.
Given that games on the site are powered by some of the best and biggest development studios, you can rest assured that their slots are truly fair and random.
You can enjoy everything on the site for free, and you won't need to provide much info if that's the route you decide to take. However, if you start making purchases or redeeming Sweepstakes, you'll need to provide relevant documents to confirm your identity.
While some players aren't thrilled about this practice, it shows that Pulsz.com takes things very seriously even though they're a social casino. In the grand scheme of things, this is a good practice, as it protects all the customers.
Customer Support at Pulsz Casino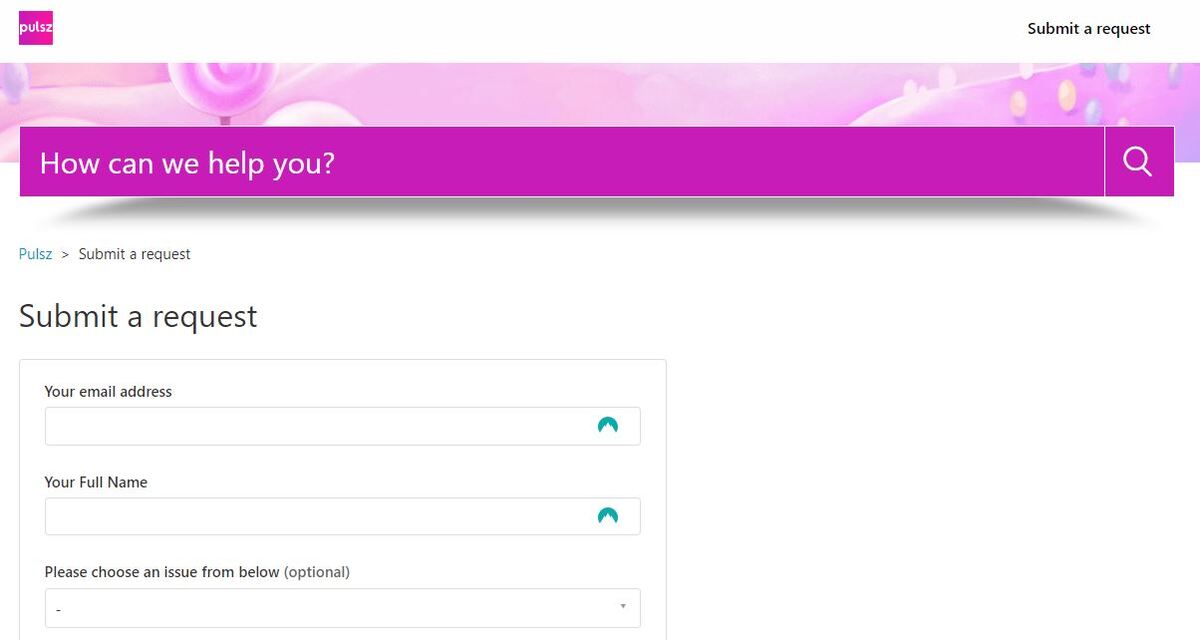 Customer support plays an important role in your overall gaming experience. Whether you're experiencing technical difficulties or need someone to help explain to you the latest bonuses and promotions, support agents are an important piece of the puzzle.
At Pulsz.com, there are two ways you can get in touch with support – via an onsite contact form and using a dedicated phone line.
When using the form, you'll need to fill in quite a few details, which complicates the process, especially if you only have a quick question. Using a phone, you'll get in touch with one of the agents immediately, but this isn't everyone's preferred way of communication.
Unfortunately, there is no live chat option now, and if there is one thing we'd love to see added, this would be it. Live chat makes it so much easier to get in touch with support when you happen to need it, and, for most people, it's much more convenient than the telephone.
All this being said Pulsz Casino support does a fine job handling all the requests, and average response times are good. If you use the contact form, you'll usually receive an answer to your query within 24 to 48 hours, and they'll do their best to address your specific problem and offer a solution.
Pulsz Casino Support Info
| | |
| --- | --- |
| Pulsz login page | |
| Email support | Tickets system |
| Phone support | +1 (424) 371-7304 |
| Live chat | Yes (only after purchase) |
| Updated | Sep, 2023 |
Pulsz Casino Summary
If you like social casino gaming, you won't be disappointed by what Pulsz.com has to offer. This is one of the best, safest, and most generous sites of this type.
A huge selection of games is at your fingertips around the clock, and you can enjoy some of the best games around as the site hosts titles from top-tier gaming studios. This isn't something you'll find at many social casinos.
Pulsz Casino is quite generous with its promotions and giveaways, giving you every chance to seize GCs and SCs without much effort and without paying any money if that's what you prefer.
They are truly a social casino where you can enjoy yourself fully for free. There is even a VIP program to keep you engaged and motivated, rewarding the time spent on the site and further enhancing your experience. Make sure to check it out!
All in all, there are very few minor things that Pulsz.com could improve, such as adding live chat and expanding their selection of table games, but the positives far outweigh these small flaws.
Pulsz Casino FAQ