Run It Once Poker Training Review – Is This Membership Site For You?
What you will learn:
Preflop ranges for various poker formats

Advanced postflop strategies from the best players

Vital exploitative adjustments to win more often

Identify most costly mistakes in your games
A Complete Run It Once Poker Training Site Review
These days, there are dozens of poker training sites out there, and players have a variety of options to choose from, but this wasn't always the case.
Back when Phil Galfond launched his Run It Once poker training site (see it yourself) in December of 2012, it was by far the most comprehensive training community around.
Even today, with all the competition, RIO still stands tall as one of the best options for those looking for top-quality poker content from established players.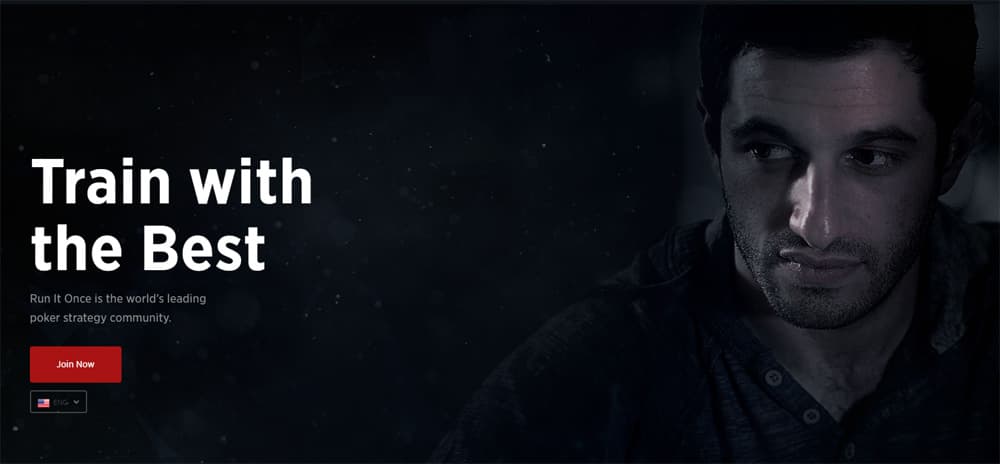 RIO is structured differently than most sites, which has its good and bad sides. Depending on your preferences and your approach to studying the game, you might prefer this more liberal approach compared to structured and rigid ones found on other sites.
In this Run It Once training site review, we'll look into all the pros and cons of the website to help you figure out if this might be the best next step to progress your poker career.
Run It Once Training in a Nutshell
As mentioned in the introduction, Run It Once poker training site is a brainchild of Phil Galfond, one of the best-known names in the world of high stakes poker. Galfond has had many appearances on numerous poker shows, and his results both live and online speak for themselves.
On top of all that, Phil is well-respected in the community not just for his results but also for his integrity and various contributions over the years.
When Galfond launched RIO back in 2012, he started with the idea of offering players the most comprehensive training site out there, gathering a large group of top-level professionals to make content for the members.
Today, there are more than 100 pros working on the site, with countless hours of quality videos on different topics, and new content uploaded every day.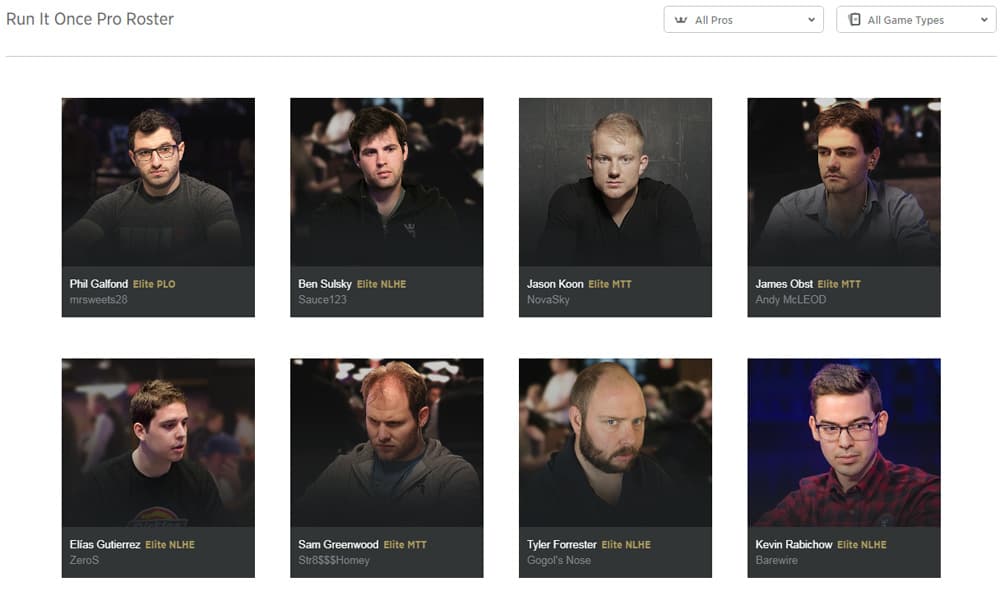 Listing all people who produce videos for Run It Once would take way too much time, and there is not much point doing that since you can find the full list over at the RIO site, in the "Meet the Pros" section. Therefore, I will just mention a couple of well-known names:
Phil Galfond
Jason Koon
James Obst
Ben Sulsky
Elliot Roe
Sam Grafton
George Danzer, and many more.
The list goes on and on, but it is quite obvious from just a few of these names that the Run It Once training site does feature some of the best in the game.
I like that every pro sticks to what he or she knows the best, be it No-Limit Hold'em cash games, MTTs, Pot-Limit Omaha games, or even Open Face Chinese.
Then, there are those like Elliot Roe who aren't focused on technical aspects of the game but rather cover the mental side of poker, so you pretty much can find everything you need on the site.
Essential vs. Elite Membership
If you decide you want to join Run It Once training, you'll be given three options. The first one, which is called Basic, is to give you a taste of what's site all about and what kind of content you can expect to find inside.
The Basic membership is completely free, but it provides very restricted access to training materials, only letting you see a couple of Elite level videos and only preview of other recordings, plus you get the full forum access. So I would say this option is not for learning, but rather for seeing what you can expect inside the paid option.
The Essential membership is priced at $24.99 per month, and this is where you can get a lot of training materials for a more than reasonable price. The membership has nearly 2,000 videos (at the moment) aimed at helping you develop your game and crush lower stakes. You'll also get at least five new videos every week.
Finally, there is the Elite membership, which will cost you $99.99 a month. While it may seem a bit costly, this is definitely the option to go for if you're looking to seriously improve your game.
You get access to all videos from the top professional poker players, covering mostly high stakes games, produced by the likes of Galfond, Koon, and many others.
Having access to the Elite section can be beneficial to lower stakes players as well. Although a majority of content relates to higher stakes, you'll get access to many advanced concepts and approaches used by some of the game's best, and you can find the way to apply many of these at lower stakes as well.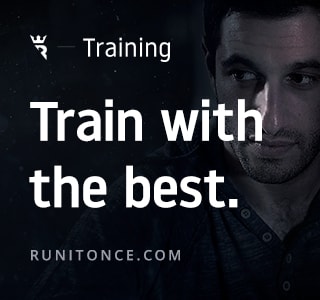 How Are RIO Pros Selected?
One of the biggest issues Galfond has talked about over the years when it comes to poker training is the fact that there is so much free content out there, but it is hard for the players to know what's good and what's not.
Someone looking to get help in a particular area of their game could actually suffer from confidently delivered bad advice.
For that reason, instructors at Run It Once training site are hand-picked, and their ability to teach is carefully analyzed before offering a contract.
Usually, the site will reach out to players they believe would be a good addition. If they're interested, they'll submit a sample video that is checked by Galfond and a few others. Only if they're happy with the quality of the content and the mode of delivery, they'll sign up a new instructor.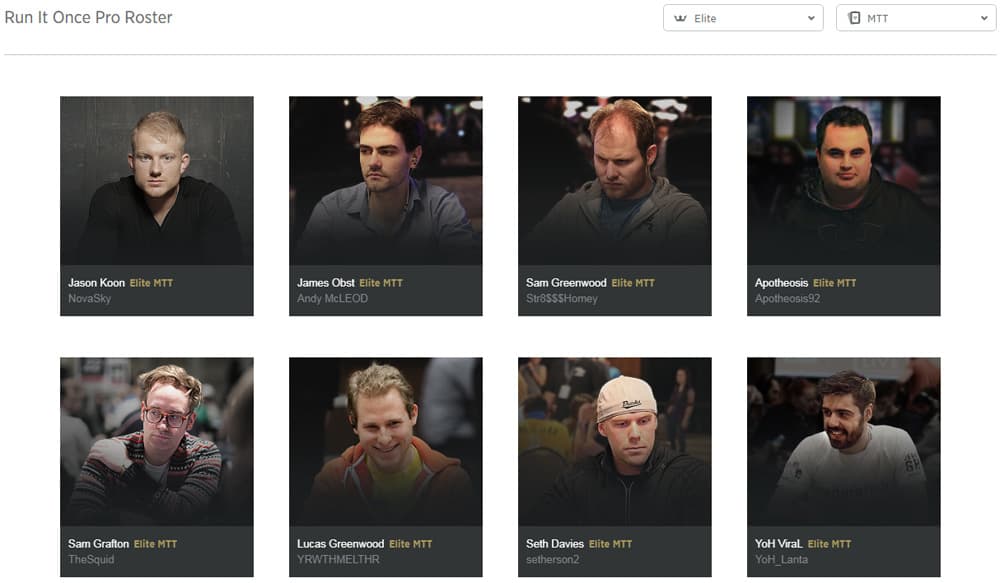 This selection process has produced very good results so far. You'll only find high-quality videos on RIO, and you can rest assured the advice contained within them is sound and useful.
So, while you're paying for the content, you're at least certain that the advice you're getting isn't going to hurt your game, which can cost you a lot more than the membership in the long run.
The Run It Once Training Structure: Start Where It Feels Right
One of the things Run It Once does differently than most sites is that it doesn't feature rigid, firmly structured courses. Instead, you'll find thousands of videos grouped by the coaches and topics they cover. So, depending on the area you're interested in, you can look into sections such as:
Getting Started
NLHE
MTT
PLO
Mixed Games
Open Face Chinese (OFC)
WSOP Prep
Every category contains a range of different subcategories, so you can pinpoint the exact area that you're looking to improve in and work from there.
For example, if you look into No-Limit Texas Holdem videos, you'll find topics such as bet sizing, 3-betting, 4-betting, check-raising, bluffing, downswings, etc. Whatever particular topic you might think of, you'll probably find a category with a few dozen videos covering it.
Similarly, in the MTT section, you'll find topics relating to c-betting, 3 & 4-betting, postflop play, hand reading, GTO, using poker software, small and big blind play, etc.
So, if there is a certain area in your game where you feel you're lacking or need advice, this is the fastest and easiest way to start working on it without having to skip through hours of material that may not be relevant to you at the moment.
The bad side of this approach may be that not all players know exactly what they're looking for and prefer structured courses that take them by hand and go step by step.
Run It Once training was clearly envisioned as a more proactive type of site where you have better control over what you're spending your time on.
It wouldn't be fair to knock down either approach. It is down to what your personal preference and experience in studying poker are at the moment.
RIO will probably work better for players who already have a bit of experience with poker and can figure out on their own what areas they need to focus on to improve their win rates, while less experienced players may like a structure that could be found in Upswing Poker Lab or similar courses.
However, for those completely new, though, the Getting Started section does offer a fair number of videos that should help you with some essentials and give you an idea of where to go next. Videos contained in this section cover topics such as:
Vibrant RIO Community to Help You Get Better
One area where Run It Once training site stands out from many other options is its Forums' section.
Being around for almost seven years now, RIO has gathered a huge number of members, from the micro stakes players just looking for their place in the world to high stakes crushers. They all meet on the site.
The forum is, of course, divided into several sections and subsections by the game type and average stakes. You'll find members are very active, and you can ask your strategy questions here and discuss poker all you want.
You can also talk about videos and any areas that you might find confusing or need some extra explanation.
The biggest difference from other Reddit poker and public forums are that you are way more likely to get quality answers from good players, or even RIO poker instructors here, than anywhere else.
I haven't seen many contradictory opinions like in 2+2, for example, and many players give their reasoning. Not just the answer, which can be a valuable tool when learning.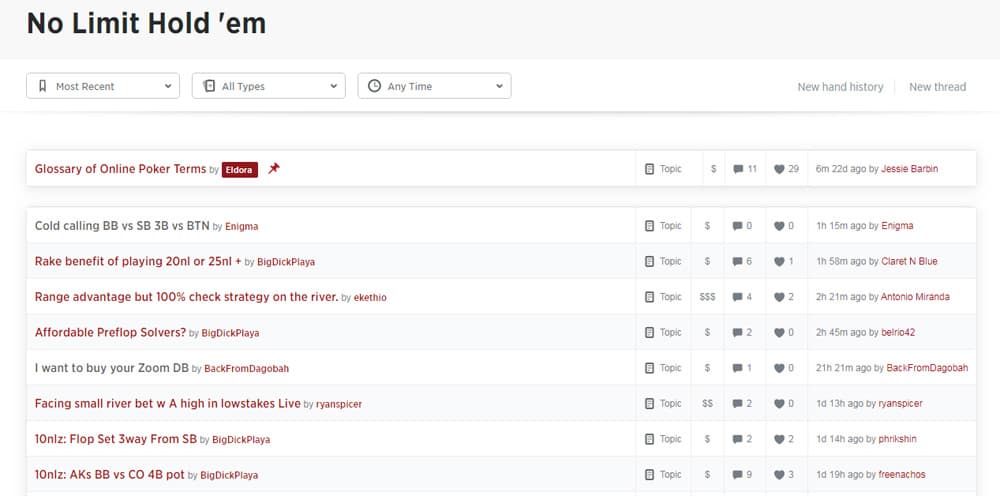 Having a living forum on a site such as this is a big plus. If you become active here, it is one of the best ways to stay sharp between your session and gather additional information.
Conclusion: Is Run It Once Training Membership Worth It?
For someone looking to get better at poker, the question is always the same: will my money be well-spent with a particular site?
With some sites, it isn't always easy to give that answer, but when it comes to Run It Once, I do think it is an investment that will dividends in the future.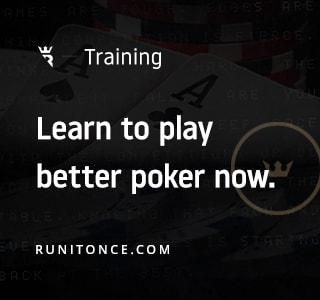 The only thing that you may not like is the structure of the lessons where they're divided by the topics rather than delivered in the form of "ready to go courses". If this is something you can't get over, then RIO may not be the right option for you.
Other than that, when all things are considered, this is definitely a worthy investment in your poker future.
Even the Essential plan gets you thousands of coaching videos on all sorts of topics, so whatever your area of interest is, you'll get heaps of knowledge for a very reasonable price. It is really hard to say $24.99 for a month is too much.
Of course, this is where you need to put in some work to make the most out of it. But even Galfond himself stated a few times that the membership isn't worth buying for the players who aren't ready to put in work and take a serious approach to study poker.
Then, we have the Elite package, which may seem a bit steep. However, the Elite membership does give you access to the top tier coaches, so the value for money is there.
Moreover, you are not risking much, because you can cancel your subscription whenever you want. In my opinion, seeing how the best players think, play and break down their strategies for a $100 is no brainer, but you decide for yourself!