Holdem Manager 3 Review – Should You Upgrade?
First of all, I have to say that Holdem Manager 2 was a huge success and the most popular poker software on the market with more than 1.000.000 users.
Just like many players, I have been using this software for almost a decade. Thus, it is not a surprise that everyone was waiting for the new edition for quite some time now, and finally, Holdem Manager 3 hit the scene.
What is worth mentioning is that the new version is not an update that you can download and install on your old product. The new HM3 app was build from scratch, so it is not a merely upgrade where you will not feel much different.
After a long period of private testing and beta versions, Holdem Manager 3 is open to the public with common bugs already fixed and ready to go.
To get a free trial and download the software just click here, and you can follow along while reading this review to get hold of all new features.

With this Holdem Manager 3 review, I will try to answer the most important question is it worth upgrading from the previous version and how you can benefit from this tool.
Holdem Manager 3 Review: New Features
The new HM3 looks the most user-friendly tracking software, and on top of that, it lets you customize everything to the details, which not only looks great but also gives a lot of power to you in your poker games.
With more than 2000 HUD stats, this apps gives you a chance to analyze everything you can think of.
However, the HUD is just one part of the whole picture, so let me mention new features and then discuss its implications in actual games.
New advanced stats
I feel that I should start the list by mentioning a great job of adding additional stats in the basic version, which means that you do not need to invest in extras and can get vital info from the getgo.
There are many more vsHero postflop stats in the new Holdem Manager, which shows how a specific player is playing against you.
I literally have brought and paid extra money for such stats for the older version, and now you are getting this advanced addition as a standard. (P.S. – which sucks to me, since now everyone will have access to more powerful information)
Also, there are a ton of new bet sizing, donk betting, and other stats. Simply put, you will get access to more data, which essentially creates a significant edge for you if used correctly.
Situational popups
Situational popups give you a very powerful way to access relevant statistics in a blink of an eye instead of searching through all of the numbers in the heat of the action.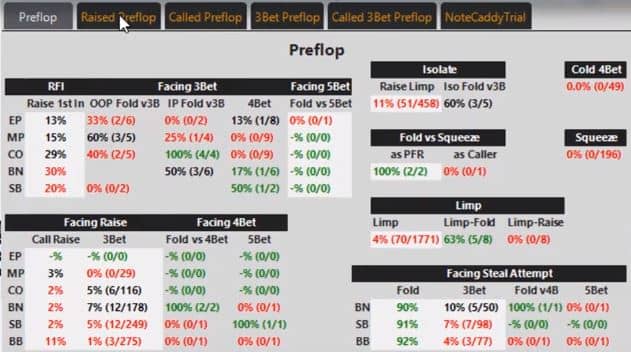 You can simply select your opponent's pre-flop play (raised/called/ 3bet and so on) by clicking on a popup and will instantly see all relevant data so that you could make better decisions.
While this sounds nice in theory, I was quite surprised how useful and easy to use it actually is.
I would say situational popups is one of the best features of the new Holdem Manager 3 release if you use a lot of poker statistics while playing.
Graphical HUD
The standard HUD hasn't changed all too much, and you can even import your old HUD from HM2 if you have it. However, the new version of Holdem Manager 3 also offers a graphical HUD.
If you ask me, that is not very useful for professional grinders since it lacks in-depth statistics, so you might want to stick with the "normal" option.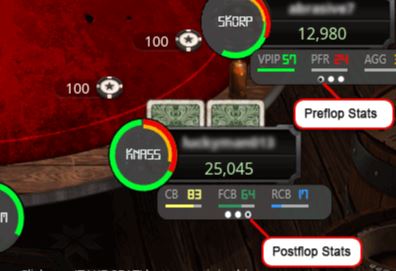 That being said, if you rarely play poker or find yourself in a game where you have no information about your opponents, the graphical HUD might be a nice alternative for you.
It shows essential information like VPIP and PFR along with aggression %, so you will get the most important numbers, which are presented in easy to follow colored circle diagram. Simple breakdown:
Outer green and red circle – this circle represents the preflop correlation between VPIP and PFR. The complete circle shows that the player is playing almost all of the hands, and the less filled it is, the fewer hands that player is playing. Also, the balance between green and red is important, since green represents VPIP and red is for PFR, so the more red you see, the more often this player is raising when entering the pot.
Inner orange circle – this represents players postflop aggression. The more orange you see withing the circle the more often that player will be betting and raising, so you can adjust your strategy accordingly.
The panel – represents key preflop and postflop stats that will help you see the broad picture of that player's strategy and how often he is folding or betting. You will find 3-bet, fold to 3bet, c-bet, fold to c-bet, and a couple more stats that will help you see the full picture.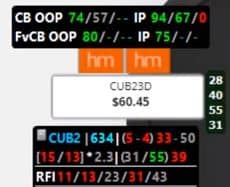 Of course, you will need some time to get hold of this feature, but it might be a good option for infrequent players because it is very clear, does not take too much place on the screen, and still does the job.
If that is not for you, sticking with standard HUD or even creating multiple panels on the screen with a new Holdem Manager 3 version will help you access all possible stats.
And you have plenty to choose from.
Add situational popups that we discussed earlier on top of it, you will be able to do access data for any imaginable situation to see how your opponents play.
Report and situational view
Reports are another part of Holdem Manager 3 that was thoughtfully updated, and since it plays a significant role in player development, I feel that it is worth discussing.
First off, reports come with already made "quick filters" that helps you access most common situations and save time by using predefined options.
Of course, you can always create your own version and then save it for later use always to have quick access to the areas that you want to work on.
While that is not a groundbreaking feature on its own, I really liked the situation view section.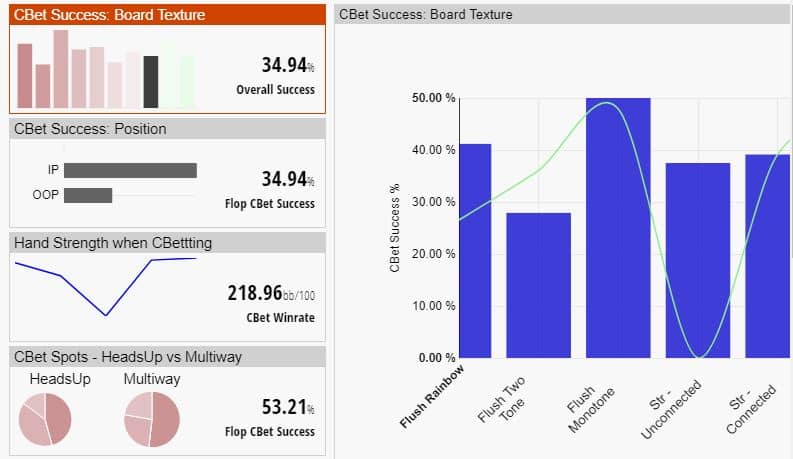 You can take a common topic like continuation betting and analyze it in all verticals, using both graphical and number information.
I always believed that it is the most efficient way for learning, and have used this method with my students to break down their play in a specific area to analyze it step by step.
Now, you do not need to create custom filters, reports, and use additional software to present it in easy to understand way, so it will surely save your time and energy.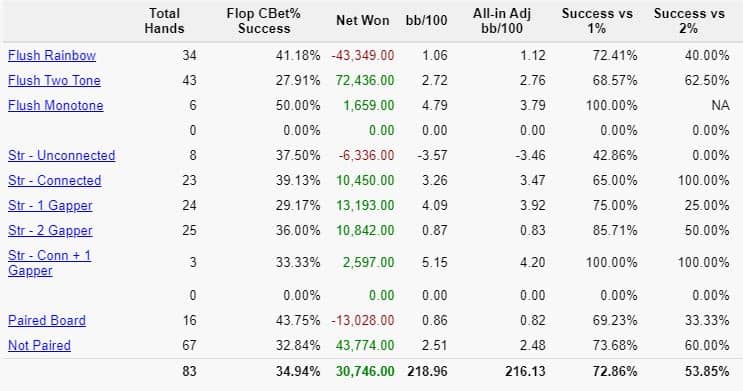 Continuing with this example, you can break the situation to the detail based on your c-bet success, how it defers on different boards, with specific hands or against a various number of opponents.
With Holdem Manager 3 software, you get everything in one place, so it makes learning much easier and lets you access this process effectively that was not so effortless before.
All of the reports are also extremely customizable so that you can nail down the specifics of each situation to your likings.
I could write a separate article about this HM3 section alone since you can continue breaking all that info down into smaller segments by clicking on any area of the report to get additional info. However, for the scope of this article, I will just say that this is an awesome feature, so make sure to use what it offers.
Simply put, it just gives more power in your hands to customize everything and identify even the smallest mistakes in your or your opponent's play.
New HM3 filters
You will find easy to use filters which you can customize to your liking with simple "AND"/"OR," "YES/NO" rules. It means that you are no longer limited to fixed combinations, and can more powerful and precise filters.

On top of that, Holdem Manager 3 also has an auto-complete function, which helps you find not only filters but also specific stats that you want to import.
Before this release, I had to waste a lot of time to find what I need by searching different stat groups, and now all of this is done intuitively with the suggestions as you type the name. I love this small change.
Updated replayer
Hand replayer is also updated and is made a bit more intuitive, but I do not think that is very important. While it looks a bit better, it still does the same job of providing stats when reviewing hands, displaying pot size, and so on.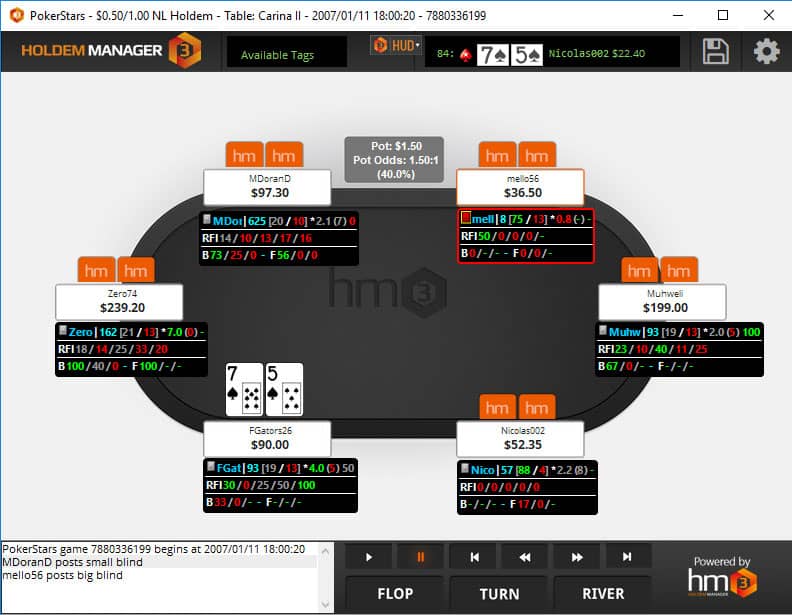 If you are playing tournaments, you probably will be happy that now you can set HM3 replayer to display everything in BB size rather than chips, which makes reviewing tournaments a bit easier.
Another thing that stands out even here is that it works much faster than Holdem Manager 2.
Since I have a huge database, I was always experiencing lag issues, and Holdem Manager 3 seems to have solved it, at least from the first look.
Holdem Manager 3 is a stand-alone solution
The requirement to install all of the ridiculous tools to run previous versions was very tilting, and thankfully Holdem Manager has fixed this once and for all.
You no longer need to set up a local PostgreSQL database, which makes the whole process painless.
In HM2 and some other software where those databases were required, players often run into numerous problems when installing and setting it up, so I am pleased to see it is no longer needed.
Now you can just download it and have a free trial without worrying about anything else or hiring someone to set it up for you.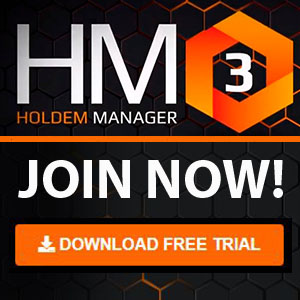 Holdem manager 3 Software: Analyzing your game
Most of these new features are dedicated to helping you on and off the table and can become a valuable tool for analyzing your game.
While you can learn a lot of advanced strategies by joining one of poker training sites, you can actually learn a lot on your own if you dedicate your time to work with Holdem Manager 3. So how could you do it?
Well, there are plenty of options.
For starters, you already have over 25 premade reports, where you can filter specific areas that you want to improve, be it by position, stack size, or any particular part of your game.
You can also analyze individual players that you often face on the tables to identify their leaks and prepare for the next battle.
Of course, you can mark hands while playing to review it later on, and even take advantage of the situation view that only Holdem Manager 3 is offering at the moment.
Even if you did not mark any hands, you can review your session or filter out a precise area that might be giving you some trouble.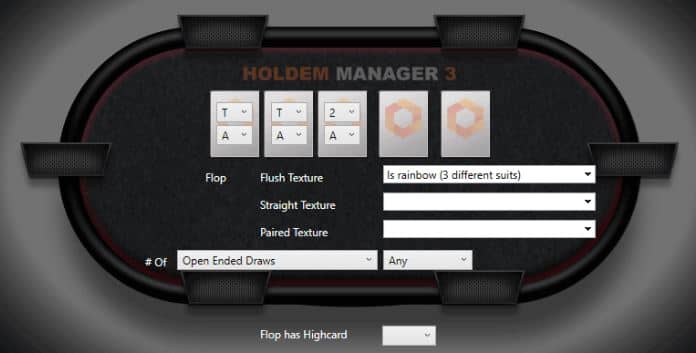 You have plenty of options to find your mistakes, and you can even go and fix most of your simple leaks by analyzing stats on Holdem Manager software without even leaving this tool.
Holdem Manager 3 App: Analyzing your opponents
Another cool feature is the ability to analyze specific opponents to see how they are playing against you, what mistakes they are making, and how you could exploit it.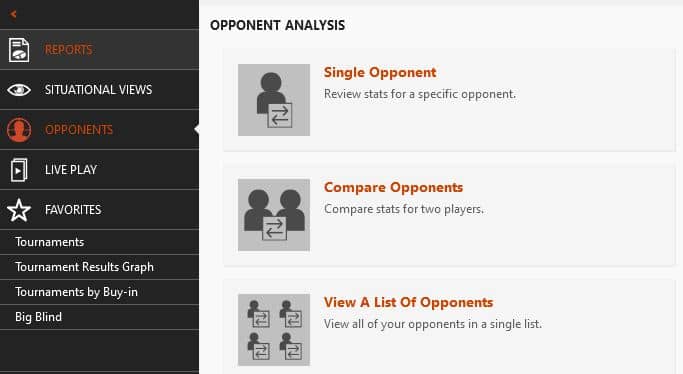 As you see, there are a couple of options where you can choose to analyze a single opponent and see all of the specifics for a particular player.
This is actually the option that looks most useful for me, and one that I am using more frequently than others. Here is a small part of how it looks.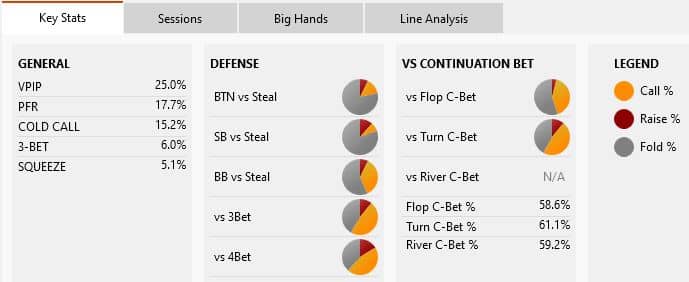 It starts with some general numbers, and like with everything else in Holdem Manager 3, you can dig deeper if needed. You can analyze critical stats, view results (and hands) by session, review the biggest pots, and so on.
You can also compare stats between two of your opponents or your own against your main villain and see how your strategies deviate.

However, a bit more useful approach that I have found is to compare two of the best players in your games and identify areas where they deviate from each other, as well as ones where they are playing almost identically.
Then, you can use this information to tackle each of these spots one by one and analyze your strategy.
It is a great tool to learn from superior opponents, so this alone can give your resources to work on for months.
New HM3 design
I already mentioned that Holdem Manager 3 is an entirely new software that was built from scratch, so it naturally features new design along with other features.
While the design is attractive, it is not only important because of the better look. Not at all, at least for me.
The main advantage over the older version is a much more intuitive configuration, which helps you find what you are looking much faster. All of those saved minutes can be used for playing or studying Texa Holdem strategy, and this can add up in the long run.
While you will find much fewer tabs and different options in this HM3 version, it actually makes it easier to use.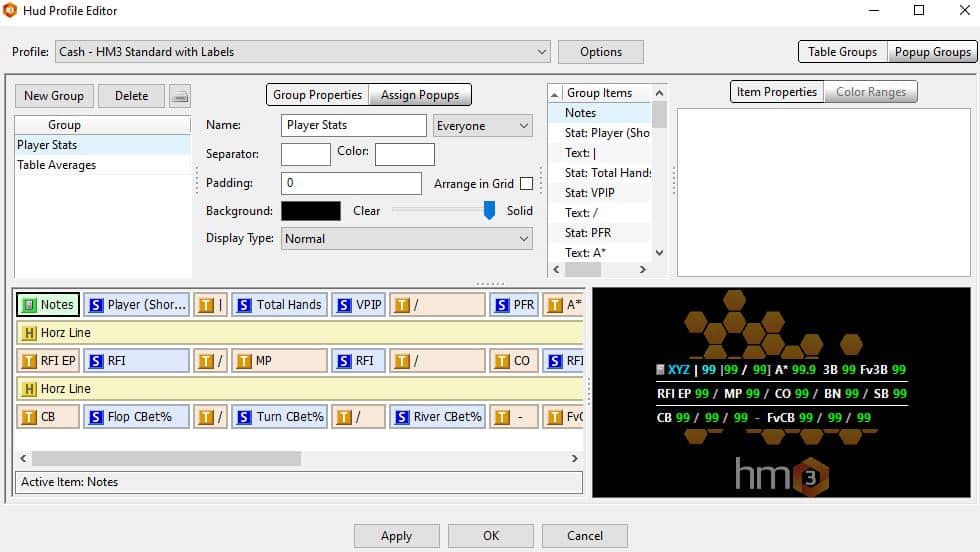 For example, the HUD editor is kind of borrowed from Poker Tracker and now features a simple drag and drop window.
While this might look nothing new if you used PT4 before, it is a huge update compared to clumsy HM2 HUD editor that required going back and forth on several tabs to make it work, which was really frustrated.
You can also customize all your popups in the same window using the same drag and drop editor, and it makes your life much easier.
Holdem Manager 3 Review: Compatibility
This is not a topic that we need to discuss in-depth, but it is not a surprise that Holdem Manager 3 is supporting all major networks. Even more will be added as the developers move forward, but now you can also play almost everywhere:
Poker Stars
Party Poker
888poker
Microgaming
iPoker
Winning Poker Network
Merge Network
Boss Network
Winamax
Bovada/Ignition/Bodog
PPPoker
Peoples Poker, and more.
On top of this, Holdem Manager 3 offers 14 different languages, so you will almost surely get an option for you if English is not your preferred choice.
Holdem Manager 3 Software Price
First of all, it is worth mentioning that you have a "small stakes" option that supports cash games up to NL50 and tournaments up to $22 buy-in.
This can help you save a few bucks if you are only playing Texas Holdem up to these stakes, and do not plan to move up anytime soon.

That being said, the price difference between unlimited version is just $40, so getting all stakes version for $100 or looks like a better option to me.
You can also choose a pricier option if you are also playing PLO, since that required different configuration and comes as an extra option.
After all, this is not a subscription-based service, and you only need to buy it once to receive a lifetime license, so it surely seems like a no brainer investment.
Holdem Manager 3 Review – Is It Worth It?
Hell, YES! You should already have it.
I am rarely too excited about new products, but using Holdem Manager 3 just for a couple of days lets me see what potential it has.
The sooner you buy it, the sooner you can start taking advantage of ones who do not own it yet.
Transitioning from HM2 is also painless, you can import your database and HUDs with ease. Also, you don't need to use an external database and install PostgreSQL as before, which is very handy.
All of the new features along with updated performance, makes it an easy investment. Whether you are a professional or recreational player, this tool will surely make your life easier and add more money into your pocket.
You are not even risking much, just grab a 14-days free trial, and I am sure you will be convinced!