PokerStars Review – Get Exclusive PokerStars Bonus and More!
24 minutes
Last Updated: September 14, 2023
PokerStars is one of the longest-standing online poker sites with a reputation that precedes it. It is by far the best-known poker room on the global scale that operated almost without real competition for a number of years.
Featuring a top-quality platform, great mobile apps, and still the best MTT schedule you'll find anywhere, it continues to dominate the global market, even with some serious competitors like GGPoker entering the scene.
In this PokerStars review, I'll try to answer all the questions you may have about this operator, including the most important ones, like: is PokerStars legit, and can you still make money playing on the site. Without any further ado, let's get straight into it.
PokerStars Pros:
Two welcome bonuses: 100% up to $600 or $30 in free play
Loyalty program offering up to 65% rakeback
Great selection of poker variations
Rich MTT schedule with big guarantees
Cash games ranging from $0.01/0.02 to $200/400
Exclusive PokerStars Bonus & Player Rewards
PokerStars offers a couple of interesting options for new players in terms of the welcome bonus offer. You can take your pick, but you can't get both, so this is worth some time and consideration when signing up.
100% up to $600 on First Deposit
The first bonus is your standard 100% up to $600 offer, which you'll unlock as you play cash games and participate in real money tournaments and pay the rake. Like most poker bonuses, this one is released in increments.
Every time you collect 75 redemption points, $5 of the bonus is released into your real money account. Points are collected at the rate of five points for every $1 paid in rake, which means you get 30% effective rakeback while the bonus is active.
To take advantage of this PokerStars welcome bonus, use the bonus code 'STARS600' when depositing.
$30 Welcome Bundle
The other option is geared more towards recreational players and those looking to build their bankroll up from a small deposit.
When you deposit $20 or more and use the bonus code 'THIRTY,' you will receive a welcome bundle worth a total of $30. The bundle is distributed across the first six days of play, as follows:
Days 1, 2, and 3 – five $1 Spin & Go tickets each day (15 in total)
Day 4 – Cash bonus of $5
Day 5 – five more $1 Spin & Go tickets
Day 6 – the final $5 cash bonus
There are no special restrictions or hidden terms that you need to worry about when taking this bonus. Anything you win from Spin & Go's is transferred directly to your real money account without any wagering requirements.
The cash portion of the bonus can be used with no restrictions on cash game tables or to enter any and all MTTs on the schedule.
How to Claim Your PokerStars Deposit Bonus
To get started with PokerStars, you'll first need to download the software from the site and install it on your computer. That process is pretty simple and straightforward.
To begin, visit the PokerStars site and click the green download button to download the client to your computer: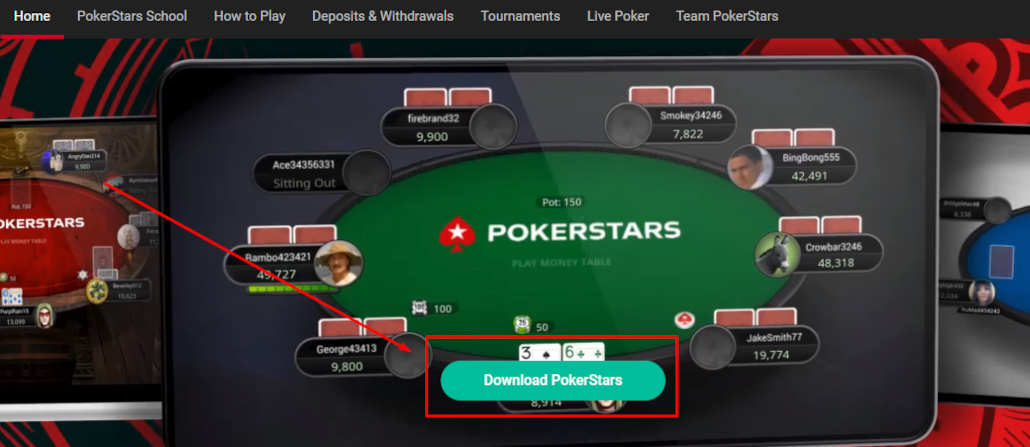 Once the software is installed, a window will pop up, where you'll be able to log in with an existing account, or open a new one if you don't have one already: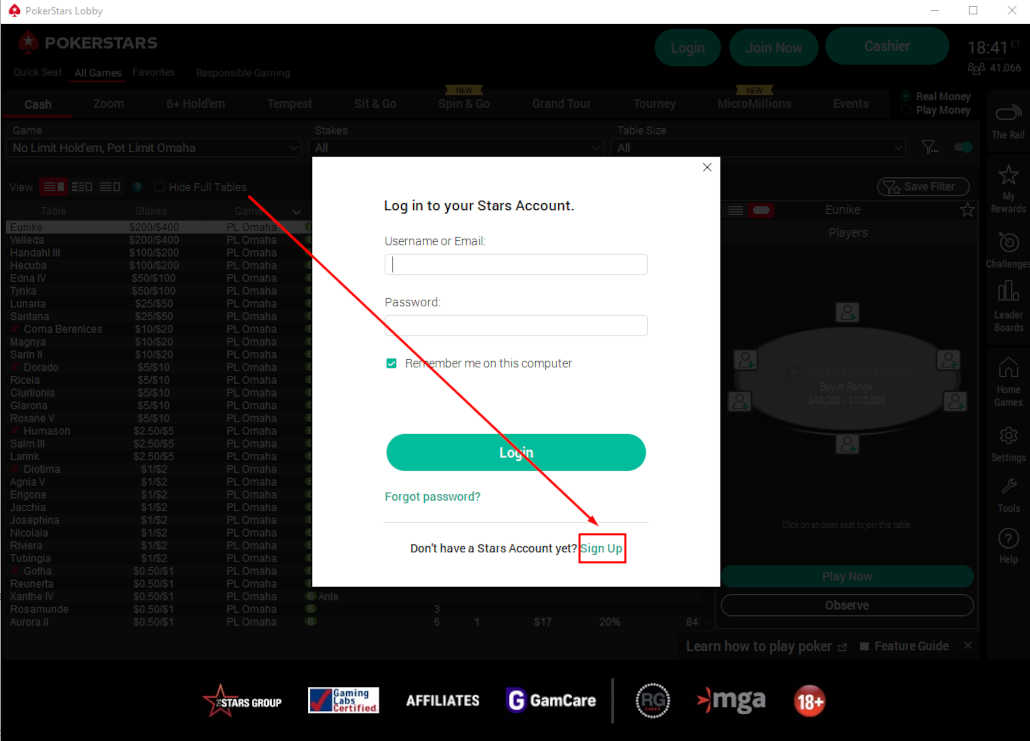 Click on the green 'Sing Up' text to begin the process of opening a new PokerStars account. On the next two screens, you'll need to enter some basic information, like your desired alias, password, and email: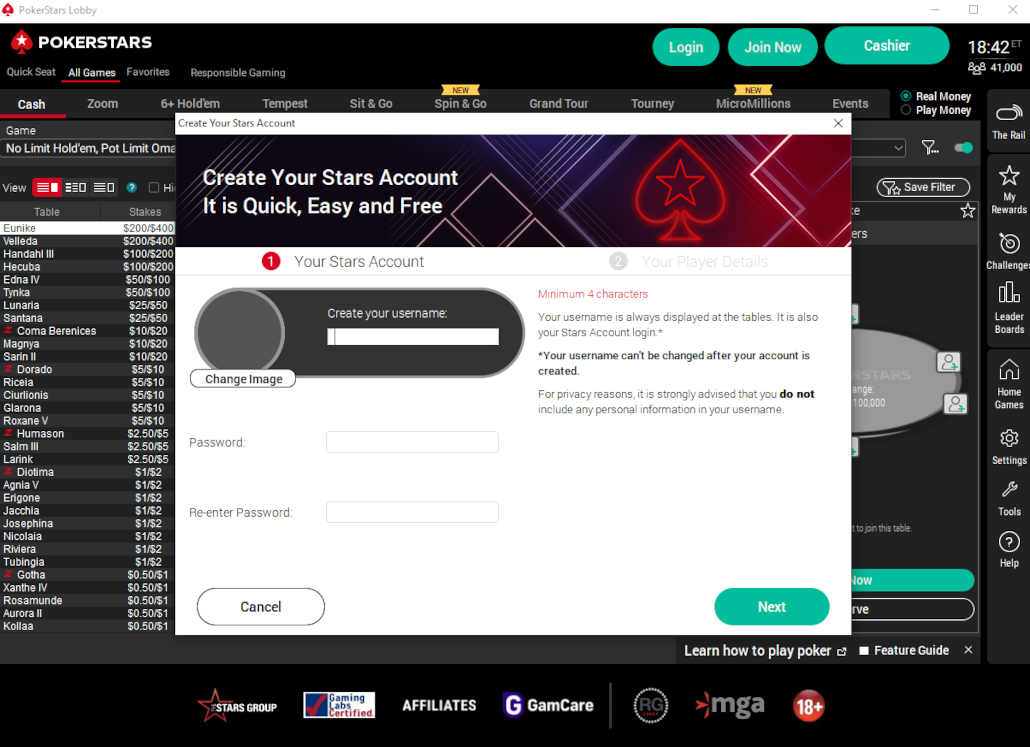 When you enter all the correct information and tick all the boxes that you agree with terms and services, click on the green 'Create Account' button: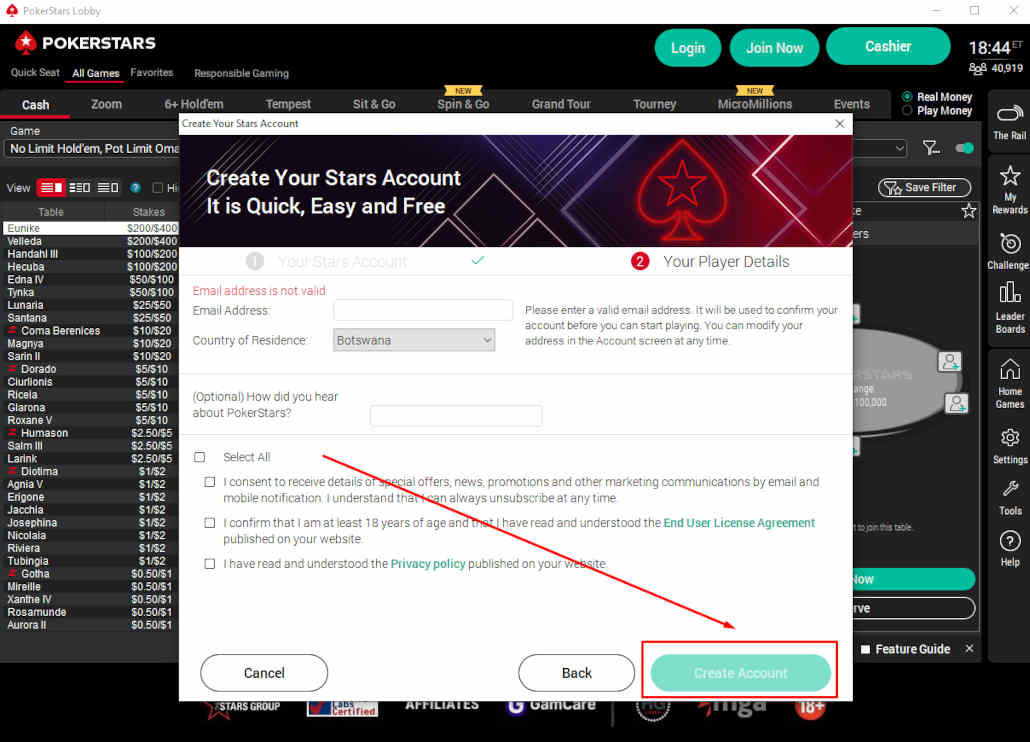 Once your account is created, you'll be able to log in from the initial screen, using the combination of the user name and password you selected. You're now ready to deposit and claim the bonus.
Navigate to the cashier section of the software: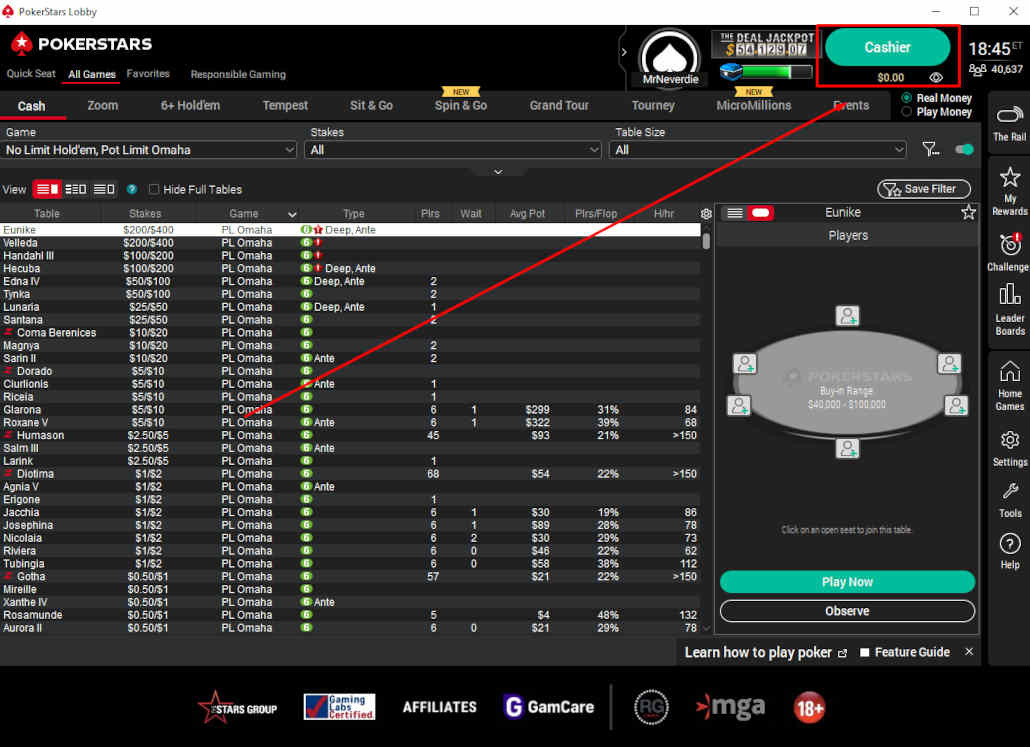 When the new window opens up, select the deposit method you'd like to use to transfer funds to your new PokerStars account: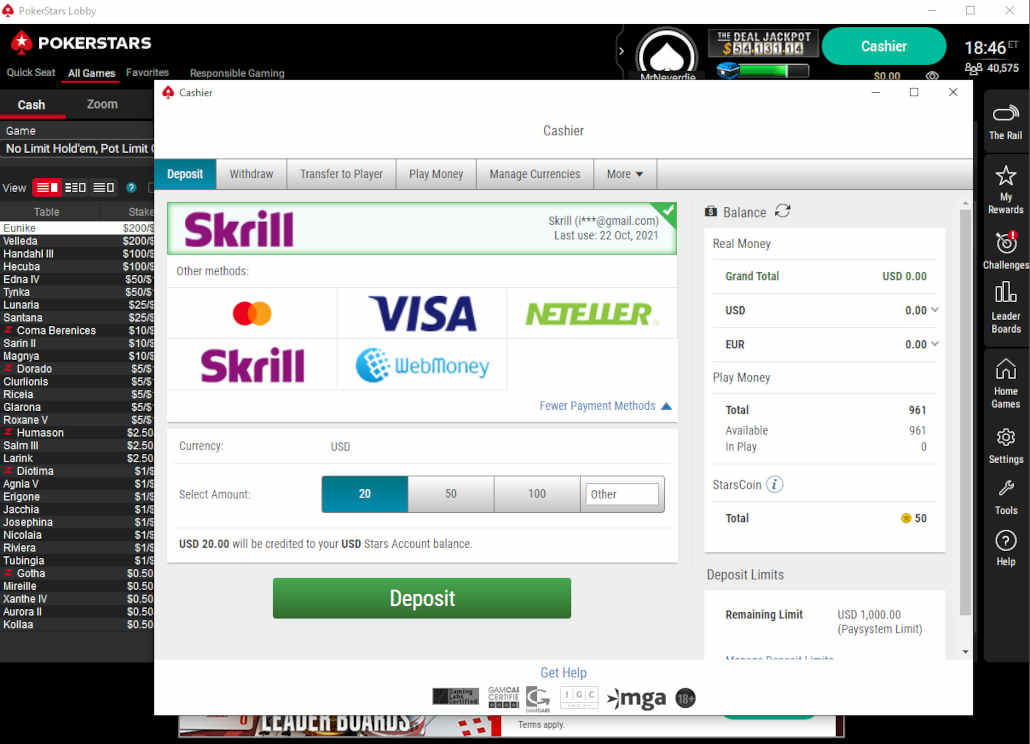 Select the method and enter the amount you wish to deposit: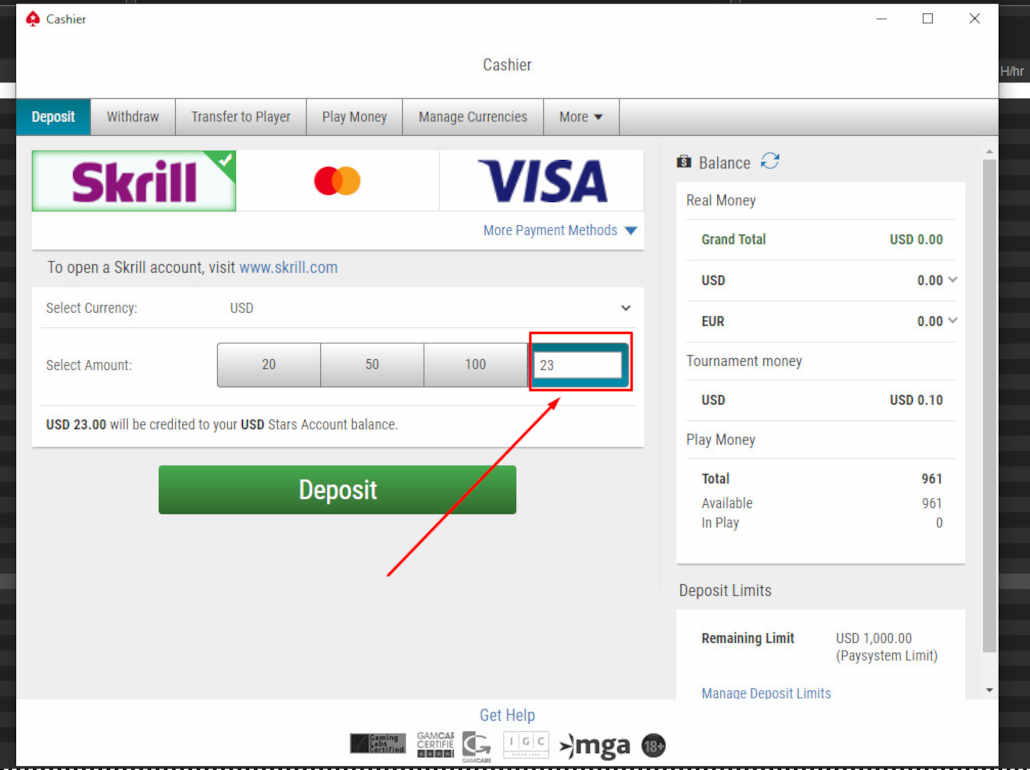 Depending on the selected method, enter the required information (log in for your e-wallet or credit card information, confirm the transaction, and the money will be transferred to PokerStars.
That's it! A new window will pop up, letting you know the money is now ready in your cashier, and you can join the action at the tables!
New and Improved VIP System: Get up to 65% Rakeback on PokerStars
Back in the day, PokerStars was known as one of the most rewarding poker rooms around. It was extremely reg-friendly, giving grinders ample opportunities to make a lot of money in rakeback if they put in enough volume.
Over the past few years, the operator came under some fire for the changes that saw them shift more towards recreational players, significantly lowering the value of their loyalty program.
Luckily, we are happy to report in this PokerStars review that the operator has made a U-turn and revamped their loyalty scheme to once again cater to regular players.
The new loyalty scheme consists of two core elements:
VIP Tiers and Chests (accounting for 15% – 25% in rakeback)
Monthly challenges adding another 40%
So, according to this math, the maximum rakeback you can expect to get on PokerStars is 65%, which is very competitive and represents one of the best offers you'll find anywhere.
The loyalty program is divided into six tiers, and it is still based on Chests. These Chests now contain fixed monetary amounts, which represent a percentage of your rake that increases with each new level:
| | | | | |
| --- | --- | --- | --- | --- |
| Chest | Value | Rakeback % | Monthly Challenges % | Total rakeback |
| Blue | $0.50 | 15% | N/A | 15% |
| Bronze | $1.50 | 16% | N/A | 16% |
| Silver | $5 | 17.5% | 40% | 57.5% |
| Gold | $20 | 18.5% | 40% | 58.5% |
| Diamond | $75 | 20% | 40% | 60% |
| Black | $250 | 25% | 40% | 65% |
Monthly poker challenges are available to all players with no discrimination. As soon as you reach the Silver level (after opening five Chests at each of the previous two levels), you'll qualify for the challenges, which will give you a chance to earn an additional 40% in rakeback.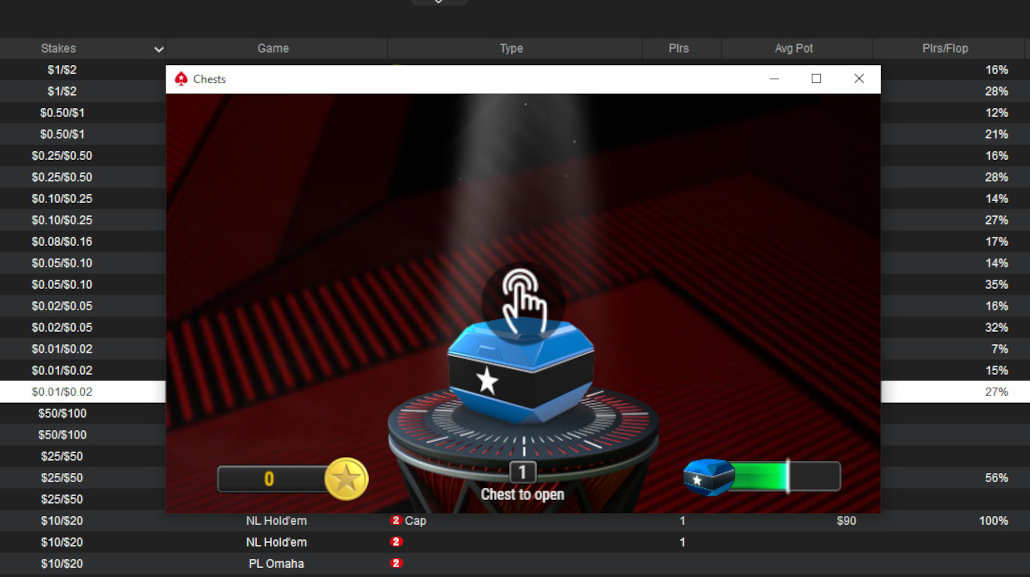 With the new program, PokerStars had edged ahead of their biggest competitors, GGPoker and partypoker, bringing back the good old days when grinders were in focus.
PokerStars Promotions
The generous PokerStars welcome bonus, PokerStars Rewards, and the Weekly Poker Challenges offer massive returns of the most active players on the platform, but this is not the end of extra value at PokerStars.
In fact, the operator presents a number of other opportunities for players to get some extra rewards, whether they are playing tournament or cash game poker.
A selection of PokerStars promotions is available, making it possible for the most persistent and active players to capitalize on their hours spent grinding their favorite games.
Here is a quick look at some of the most popular PokerStars promotions that you can capitalize on as early as today:
Spin & Go Leaderboards
Spin & Go is currently one of the most attractive game formats at PokerStars, with thousands of players chasing after the elusive jackpots each day.
If you like to play Spin & Goes on the regular, make sure you also Opt In for the daily Spin & Go Leaderboards, which give you a chance for some extra winnings on top of what you make at the tables.
Each day, you will have a chance to Opt In for the Spin & Go Leaderboards in the leaderboards screen. Once Opted In, your results will start counting towards the Leaderboards.
A separate Leaderboard is available for each Spin & Go level from $1 to $25, with up to 100 top finishers receiving cash rewards.
Only your first 10 Spin & Goes of a given level after Opting In will count towards the daily Leaderboard, with points awarded according to your multipliers and your finishing position.
Note that 2x multiplier Spin & Goes award the highest number of points, with 20 points up for grabs for the winner, while the winner of a game with a 10x or higher multiplier will only win 4 points.
This means that if you happen to get unlucky with the draw and get many 2x games in a row, there is still plenty of reason to give it your best and try to win them all.
Here are the rewards you can win in different Spin & Go Leaderboards each and every day, depending on your finishing position in the Leaderboard:
| | | | | | |
| --- | --- | --- | --- | --- | --- |
|   | $1 Buy-in | $2 Buy-in | $5 Buy-in | $10 Buy-in | $25 Buy-in |
| 1st | $35 | $60 | $100 | $200 | $300 |
| 2nd | $30 | $50 | $90 | $180 | $250 |
| 3rd | $25 | $40 | $80 | $160 | $200 |
| 4th | $20 | $35 | $70 | $140 | $150 |
| 5th | $15 | $30 | $60 | $120 | $100 |
| 6 – 10th | $10 | $20 | $50 | $100 | $50 |
| 11 – 20th | $5 | $10 | $25 | $50 | $25 |
| 21 – 50th | $2.5 | $5 | $10 | $20 | $25 |
| 51 – 100th | $1 | $2 | $5 | $10 | N/A |
Daily Cash Game & PLO Leaderboards
Cash game players are not forgotten at PokerStars either, as Daily Cash Game and PLO Leaderboards give you a chance at extra wins across all stakes.
Once per day, per stake, you may opt in to participate in NLH or PLO leaderboards, collecting points with every hand you are dealt.
For this particular PokerStars promotion, the only thing that matters are the cards you are dealt, regardless of how you decide to play them, giving every player the same chance.
Once you Opt In for a Leaderboard, the system will count the first 200 hands you are dealt towards the Daily Leaderboard.

In NLH, getting dealt special hands like suited connectors, pocket pairs, or big hands like AA and KK, will earn you special points, while in both NLH and PLO high ranking cards will earn you more points.
At the end of the 200 hand period, your score will be written into the Leaderboard, and you will compete against all other players playing at that stake for the day.
NLH Leaderboards offer prizes of up to $800 at $1/2, with a total of $16,000 given away each day, while PLO players can hope to win up to $500 at $1/2, and similar value prizes across all lower stakes.
The next time you play NLH or PLO cash games at PokerStars, remember to Opt In for the Daily Leaderboards for your chance to win the valuable daily prizes.
Power Path
A newly introduced promotion at PokerStars, Power Path gives all players a chance to win valuable Power Passes, which provide entry to the best PokerStars online and live tournaments out there.
Each and every day, playing a single hand of real money poker will give you a free $0.50 Step 1 Power Path ticket, allowing you to enter the chase at the lowest level.
Of course, you can also use real money to enter each step of Power Path tournaments, except for the $109 Step 4, where you can only enter if you qualified through Step 3.
Different options are given across each steps, including:
Step 1: $0.50 Spin & Go (One free ticket available daily)
Step 2: $1 SNH or $1.50 MTT (on demand)
Step 3: $11 MTT (on demand)
Step 4: $109 MTT (ticket only)
If you want to win one of the Power Passes, you will have to qualify into Step 4, with an occasional Bronze Pass given out to the lucky winners in the Step 1 Spin & Goes.
Once you have a Step 4 ticket, you will have a choice of entering different Step 4 events, with the following passes up for grabs:
Bronze Power Pass: Worth $109, good for online events like Sunday Million or Power Path Step 4
Silver Power Pass: Worth $2,500, good for smaller regional live events like Eureka or ESPT or major online poker series
Gold Power Pass: Worth $10,300, good for major PokerStars live events like EPT or major online poker series
Playing Power Path tournaments gives you the best chance to qualify for valuable PokerStars events, with no real money entry or re-entry available in Step 4 satellites, preventing professional players from grinding these too hard.
Everyone gets a fair shot with Power Path, and all you need to do is build your way up to Step 4 playing the lower Steps and working your way up the ranks.
Play the Deal
Stars Coins used to be the main Rewards currency at PokerStars, but have become less relevant following the changes to the operator's Rewards system.
These days, you can still find Stars Coins in your Chests, and you can exchange these for cash prizes once you accumulate enough, but you can also use them to Play the Deal.
The Deal is a unique mini game within the PokerStars client that allows you to invest 7 or 70 of your Stars Coins for each round of the game.
In each round, you will be dealt seven cards face down, and asked to discard two, revealing a five card poker hand.
Depending on the strength of this hand, you can win Stars Coins, cash prizes, or entry into the Jackpot Round, where the big bucks can be found.
Winning The Deal Jackpot by spinning the wheel will give you a share of at least $25,000, which is the seed value of the progressive jackpot, while all other fields on the wheel will award cash prizes worth as much as $1,000.
The Deal is about pure luck, but it can be a fun way to spend a few minutes after a long session of playing poker and working your brain hard at the tables, while also giving you a fair chance to win a massive jackpot.
PokerStars Review 2023: Quality New Software
For the purposes of this PokerStars review, I  took a deep dive into the operator's software solution, and I must say I'm impressed.
PokerStars has always been at the forefront of the online poker industry in terms of the gaming platform, as it was way ahead of what anyone else was doing. But, implementing their new Aurora graphics engine, the room has outdone itself.
The only small caveat I'll mention before moving on to the good stuff is that these changes do come with a price. You need a pretty solid PC if you want to run this program with all graphics options enabled.
That being said, the experience is definitely worth it.
The new PokerStars 2023 design really highlights what modern online poker is all about. The sleek black lobby provides quick and easy access to all the different options available on the platform, and there are many to talk about.
Personalization Options
Clicking on your avatar in the top-right corner, you'll get access to the page containing different personalization options to help you set up your online poker experience. The number of features is really big, so this PokerStars review should help you find your way around.
First of all, under the Global tab, you can change some important aspects of the client, including the language. PokerStars is available in English, German, Spanish, French, Polish, Croatian, and more – so even if you don't know English, you can fully enjoy your experience on the room.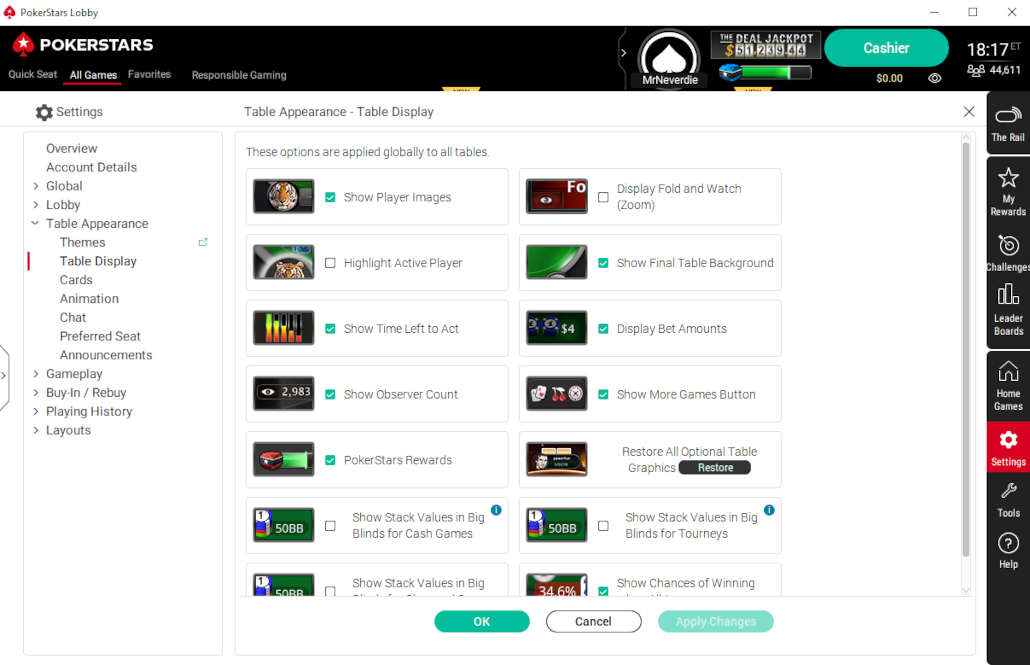 The 'Table Appearance' tab is the most interesting one. Here, you can choose from many different table and card themes, turn on the four-color deck, and fine-tune any animations you'd like to see while playing.
This includes turning on and off the "Throwables," one of the latest addition to the PokerStars software, giving you access to various objects that you can throw at other players at the tables.
It doesn't matter how serious you are about poker, these are fun to have!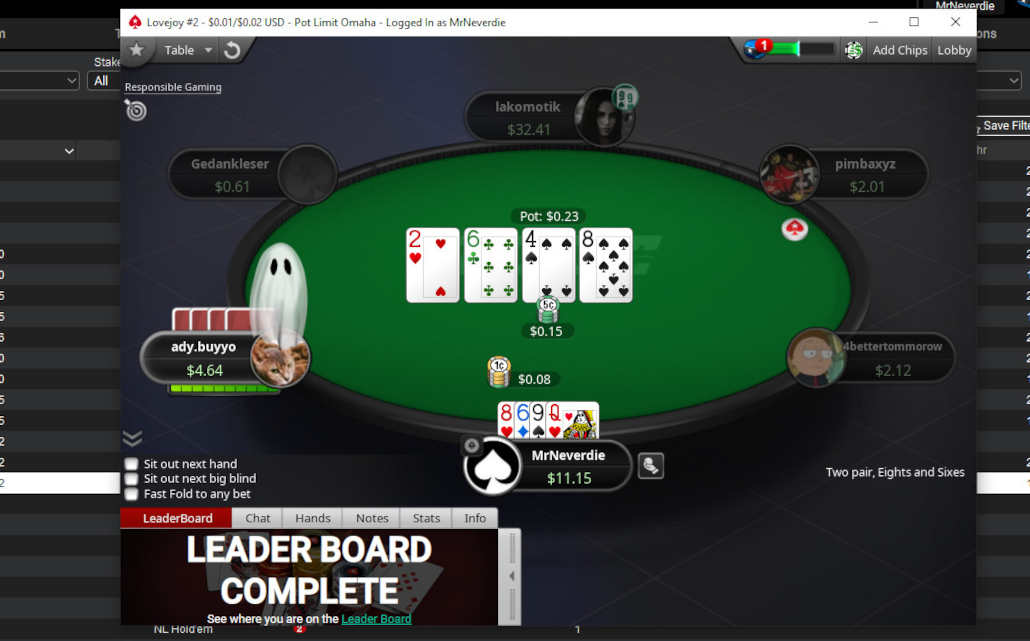 Under this tab, you can configure some other important options, such as:
Auto rebuy
Run-it twice (which is now available across PokerStars cash games)
All-in cashout – a cool feature that allows you to cash out your equity when all in, which means you don't have to worry about two outers hitting on the river.
Hotkeys
Various multi-tabling options
All in all, the new software really gives you a chance to personalize your experience and set things just the way you like them. This is by far the highest level of customization offered by any poker room out there.
Lobby Options & Filters
The main lobby makes it easy to access all sorts of different games and formats almost effortlessly. The room has done a great job of categorizing everything into the most popular categories, but there are additional filters available for fine-tuning your results as well.
As you open the client, you'll see several tabs offering access to all the main sections, such as:
Cash games
Tournaments
Zoom
Sit & Go
Spin & Go
6+ Hold'em
Tempest
In each individual lobby, you'll have access to further dropdown menus and additional filters to narrow down your search by the game type, stakes' range, number of seats at the table, the particular format you might be interested in (cap, ante games), and more.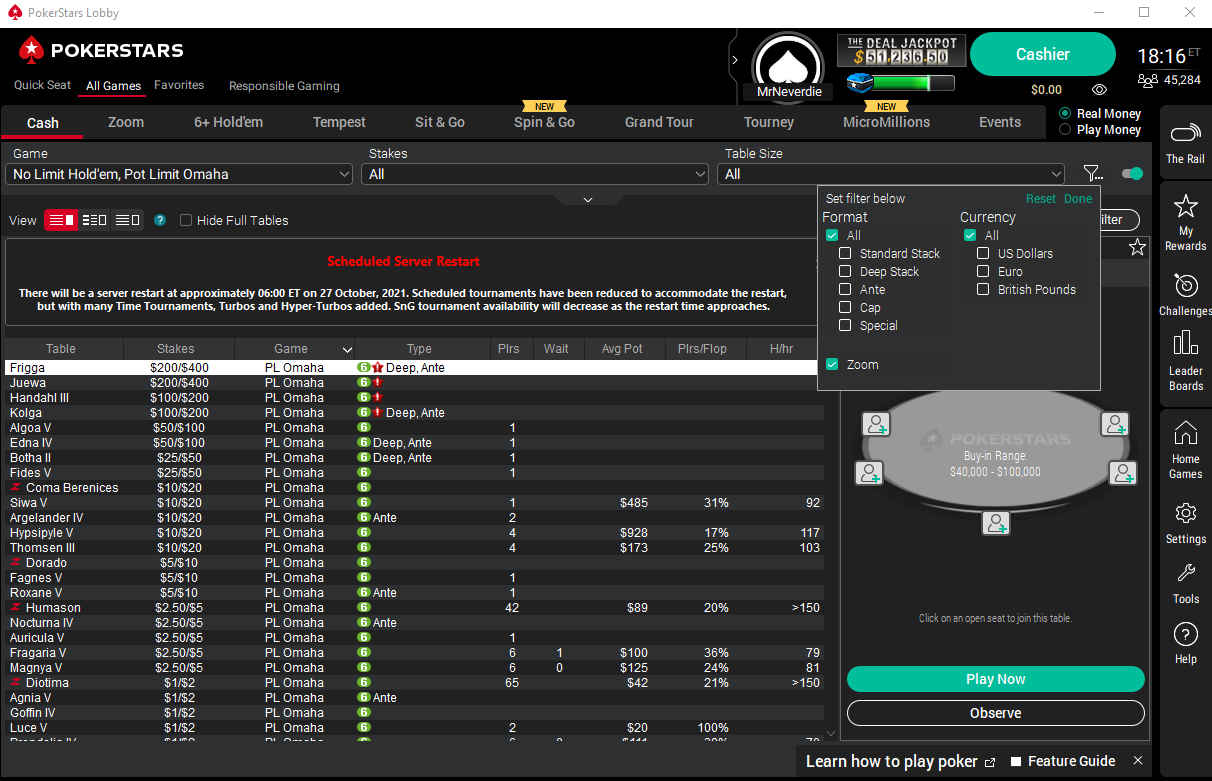 Granted, these filters can be a bit confusing at first, but once you get used to them, they're really useful. Plus, since most people have their favorite games, once you set them up, you'll have only the games you're interested in appearing in the lobby.
PokerStars Game Variety: The Absolute Market Leader
If there is one thing that has been setting PokerStars apart from other online poker operators for many years, it is the selection of poker games available on the platform.
To this day, no other operator has been able to offer as many different poker variations to the players as PokerStars.
While action is relatively scarce in many of these games, especially when it comes to cash games, the ability of PokerStars to offer all these different poker variations continues to make the operator very relevant despite the competition.
PokerStars is able to run some of the most comprehensive tournament poker series thanks to the vast selection of games, which makes it the only platform capable of running tournament series akin to the WSOP.
Some of the different poker games offered by PokerStars include:
No Limit Texas Hold'em
Limit Texas Hold'em
Pot Limit Omaha
Pot Limit Omaha Hi/Lo
6+ Hold'em (Short Deck)
5 Card Omaha
6 Card Omaha
Seven Card Stud Hi/Lo
Razz
8-Game
Five Card Draw
2-7 Single Draw
2-7 Triple Draw
Badugi
Courchevel
Swap Hold'em
Split Hold'em
Cash Game Action
Whatever your taste may be, PokerStars offers a wide array of cash game tables across the board, with stakes starting as low as $0.01/$0.02 and going up to $200/$400 for the most popular formats like No Limit Hold'em and Pot Limit Omaha.
However, if you're looking for a more niche variation, this is where you'll find it. PokerStars also spreads games like 5 and 6 Card Omaha, Seven Card Stud, Razz, Badugi, 2-7 Triple and Single Draw, and 5 Card Draw. There are also different mixed games tables.
If you're looking to play Short Deck Hold'em, you'll find these games in their own lobby in the client. Stakes start at $0.02/$0.02 (button blind and ante) and go up to $200/$200.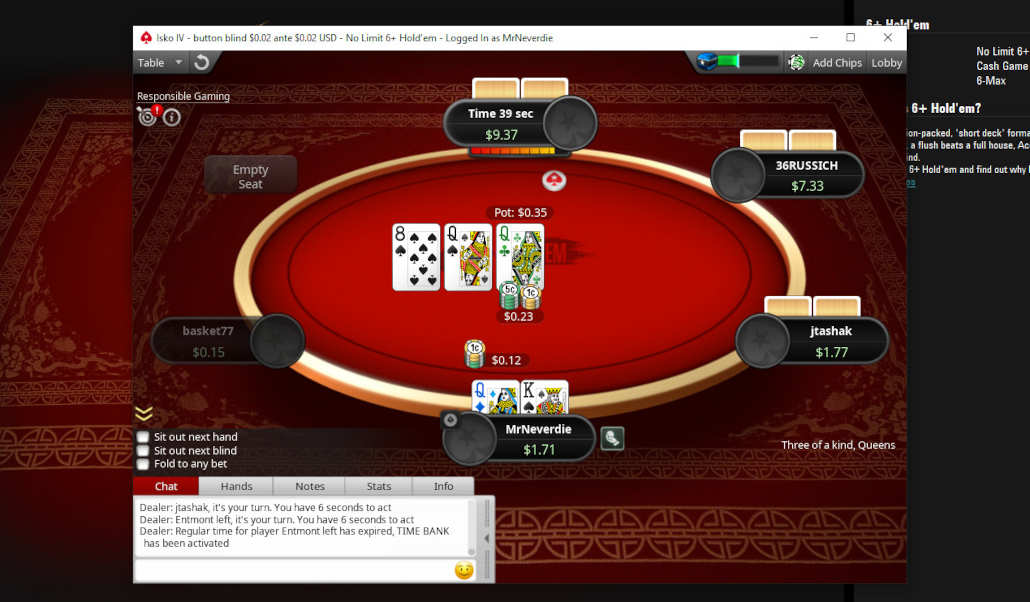 For those who prefer faster-paced action, there is Zoom. These are fast-fold tables where you are dealt into a new hand as soon as you fold. Zoom games are offered for Hold'em and Pot Limit Omaha, with stakes topping at $10/$20.
Multi-Table Tournaments (MTTs)
When trying to answer is PokerStars legit, it's enough to look at their MTT schedule, player numbers, and guarantees. The platform remains the best option by far for tournament players across all stakes, with no exceptions.
From freerolls and micro-stakes tournaments with buy-ins of $1.10 and under to high-roller events with buy-ins of $1,050, you'll find a variety of MTTs every single day.
Then, there are various tournament series like Micro Millions, WCOOP, SCOOP, and more, with boosted guarantees and even bigger fields.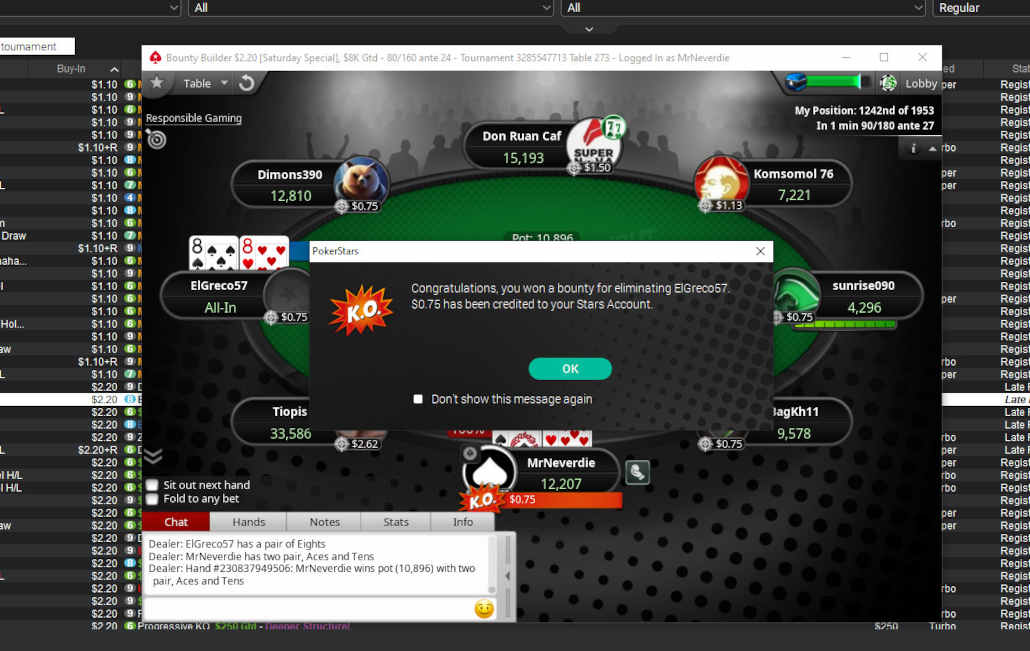 A particularly popular MTT format on PokerStars these days is the so-called knockout or KO. These are tournaments where eliminating players wins you cash bounties, and Stars offers a variety of these events.
There are traditional KOs as well as progressive ones, where your own bounty increases with every elimination. This adds interesting dynamics to these tournaments and makes them very attractive to regulars and recs alike.
MTT Series
Thanks to the massive base of loyal players, and the ability to run games in nearly every form of poker ever invented, PokerStars remains the king of tournament poker in 2023.
The operator runs a number of yearly tournament series that hold the highest prestige, with WCOOP and SCOOP widely considered as the two most relevant online poker festivals today.
The series feature massive prize pools which can hardly be matched by most competitors and make PokerStars the place to be for extended periods, with intense action and hundreds of satellites bringing online poker players back to PokerStars time and time again.
World Championship of Online Poker (WCOOP)
If there is any online poker tournament series that can be considered the equal of WSOP, it is PokerStars World Championship of Online Poker (WCOOP), which has been running since 2001.
Typically organized in early fall, after the conclusion of the festivities in Las Vegas, WCOOP features multi-million dollar prize pools across dozens of events in three buy-in orbits (low, medium, high).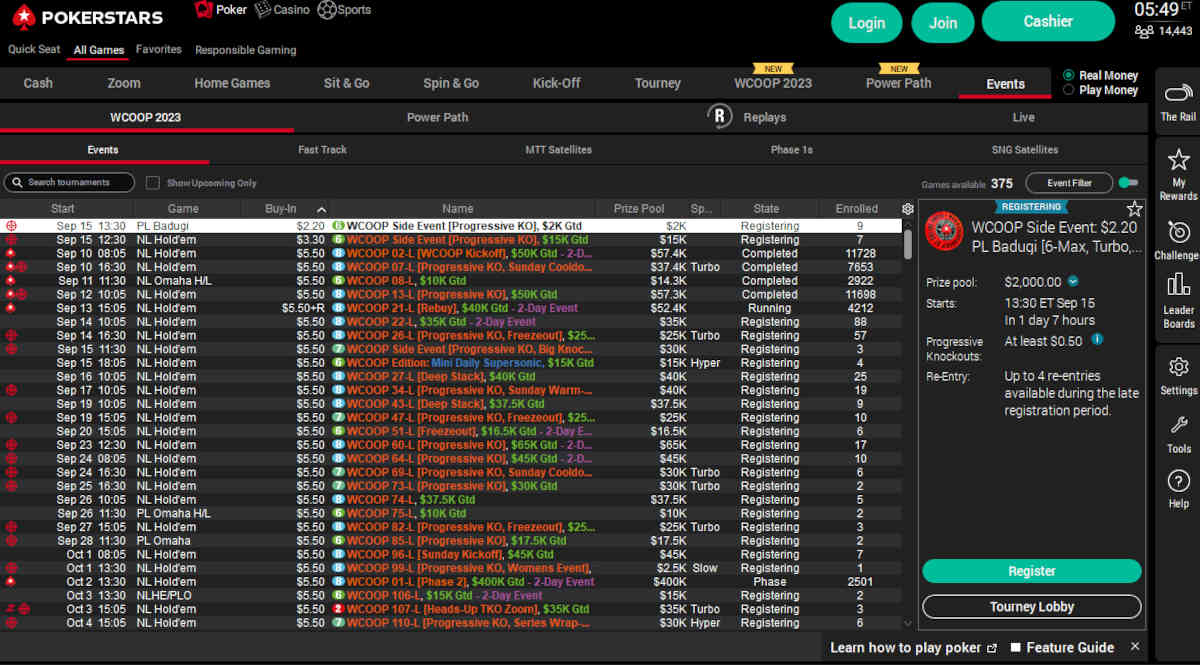 With millions on the line, satellites available from as low as $0.50, and events across all buyin levels, WCOOP projects the kind of prestige that few other tournament series in the world can.
Winning WCOOP trophies is a matter of some importance to the top players in the world, with some of the best online grinders having made their names during this prestigious PokerStars tournament festival.
Spring Championship of Online Poker (SCOOP)
A springtime version of WCOOP, the Spring Championship of Online Poker (SCOOP) is another highly prestigious tournament series thrown by PokerStars each year.
Like WCOOP, SCOOP features tournaments in three buy-in orbits and offers tens of millions in total guarantees, scattered across dozens of events.
SCOOP is typically a May affair and it mimics the WCOOP in most aspects, including the size of the guarantees and the prestige of the festival.
Micro Millions
Running in summertime, PokerStars MicroMillions is one of the best online low stakes tournament series out there, allowing players to play for millions of dollars with very little of their own money on the line.
With buyins starting at just $1.10, and going up to $22, MicroMillions series gives out as much as $4 million in cash prizes every year, over dozens of events in different poker disciplines.
Each MicroMillions series features a $22 Main Event, along with dozens of other events of lower buy-ins, many of which have guaranteed prize pools into the tens of thousands of dollars.
While not as prestigious as WCOOP and SCOOP, MicroMillions presents an ideal opportunity for newcomers and low stakes grinders to grab a big win and propel themselves into the higher stakes games.
SNGs
Ever since the early days of online poker, PokerStars has been one of the top poker sites for players who preferred the Sit & Go (SNG) format of play.
SNG tournaments at PokerStars allow players to play for stakes of their own choice at any time of day or night, with as few as 2 people needed to start a game.
PokerStars offers different SNG formats across all stakes, including normal speed and turbo games on one or multiple tables.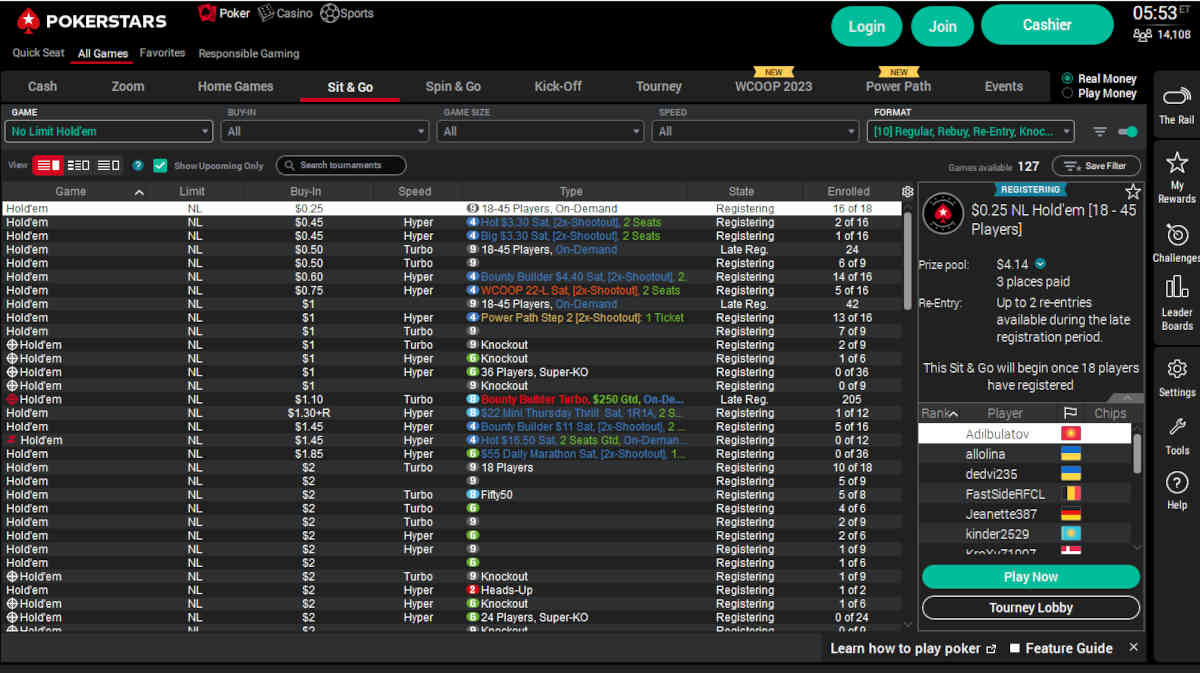 Whether you are looking to play heads up, 6-Max, full ring, or multi-table SNGs, PokerStars has plenty of different options at your disposal.
It is worth noting that SNG action has dried up quite a bit in recent years and that there are fewer SNGs running these days than it would be the case a few years ago.
Spin & Go Phenomenon
Probably one of the most popular, if not the most popular, game format offered on PokerStars is Spin & Go. These three-handed sit-and-go tournaments give players a chance to win up to 10,000 times their buy-in every time they sit down to play.
Prizes in Spin & Go events are determined randomly. Every tournament can have a prize pool between 2x and 10,000x, with several prize levels in between.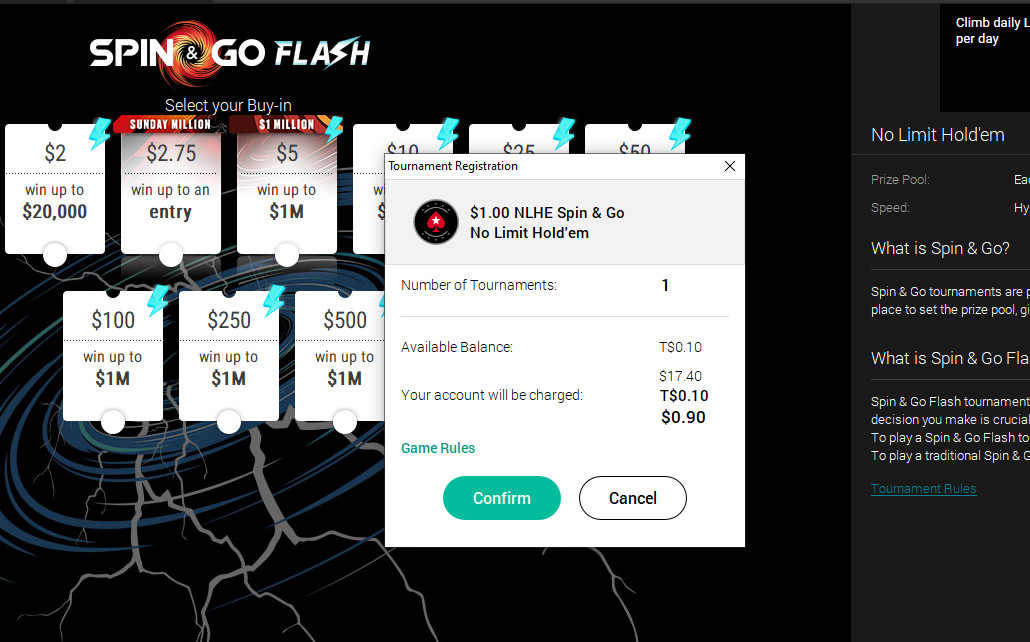 The lottery element in Spin & Goes makes them very attractive to recreational players. While events with the biggest prize pool trigger very infrequently, the possibility is always there, keeping the dream alive.
PokerStars Review: Deposits & Withdrawals
This PokerStars review would be incomplete without some banking information, as these are vital to your gaming experience. How easy it is to deposit and/or withdraw money can be a crucial factor in deciding whether to play somewhere or not.
The room features a long list of supported options, but which ones you'll be able to use will depend on several factors, the biggest one being what country you play from.
Some of the most popular banking options available on the site include:
Visa
MasterCard
NETELLER
Skrill
WebMoney
When it comes to withdrawals, the room enjoys a great reputation of being quick to process players' requests. You won't have to wait long to receive your money as most withdrawals are completed within 24 hours, at least on PokerStars' side.
PokerStars Customer Support
Customer support at PokerStars is one of the best in the business, but only available via email, which may come as a surprise to some users.
At PokerStars, the only way to reach out to customer support agents is through email, but you can expect to hear back within a few hours at most.
In cases where it is necessary, PokerStars support agents will contact you via telephone and conduct a conversation in English or Spanish language.
When it comes to the quality of care provided, PokerStars leaves nothing to chance, as every player inquiry is taken seriously and only considered as closed once the user no longer requires any assistance.
One thing you can be sure of is that if you encounter any problems with PokerStars, their customer support team will do its utmost to help resolve it and rectify any errors that might have been made on the company's end.
Final Tips for Playing on PokerStars
To wrap up our PokerStars review, here are a few final tips to help you get started and make your experience on the site as seamless and as profitable as possible.
Setting up the Software
When you download the PokerStars client, you just need to find the file and click on it to start the installation. For the most part, the installation process is automatic, although you'll be able to select a few options along the way (including the client language).
Once the software is up and running, you can set up your account if you don't have one already. Click the "Sign up" button and fill in all the fields. There is nothing particularly hard about this step, but do make sure to enter all the information correctly and make sure there are no typos.
Finally, once the software is up and running, spend some time tweaking the options to set things up the way you like them. As mentioned earlier, there are quite a few options to choose from, giving you a lot of flexibility, so take your time.
Use Legal Poker Software to Win More
PokerStars supports a long list of useful poker tools and software that you can use to improve your results. The full list of supported programs is available on the site, but all major tracking programs like Hold'em Manager and Poker Tracker can be used.
If you want to use more obscure software, you should first consult the site, though, to make sure it's not on the excluded list. Using one of these programs could create unwanted problems, so you should take a couple of minutes to check first.
Why Choose PokerStars?
Having read this extensive PokerStars review, you probably have some idea as to what are the advantages this operator offers. Still, it doesn't hurt to sum them up once again.
The welcome bonus at PokerStars is tailored in a way where it fits different types of players. Their $30 free-play offer is great if you're just starting and don't want to risk too much money. On the other hand, for a more serious player, the 100% boost up to $600 is a great way to build your bankroll quickly.
PokerStars offers a wide range of stakes and game types, whether you're looking to just learn basic Texas Hold'em rules playing for cents or you're an experienced player ready for some high-stakes action.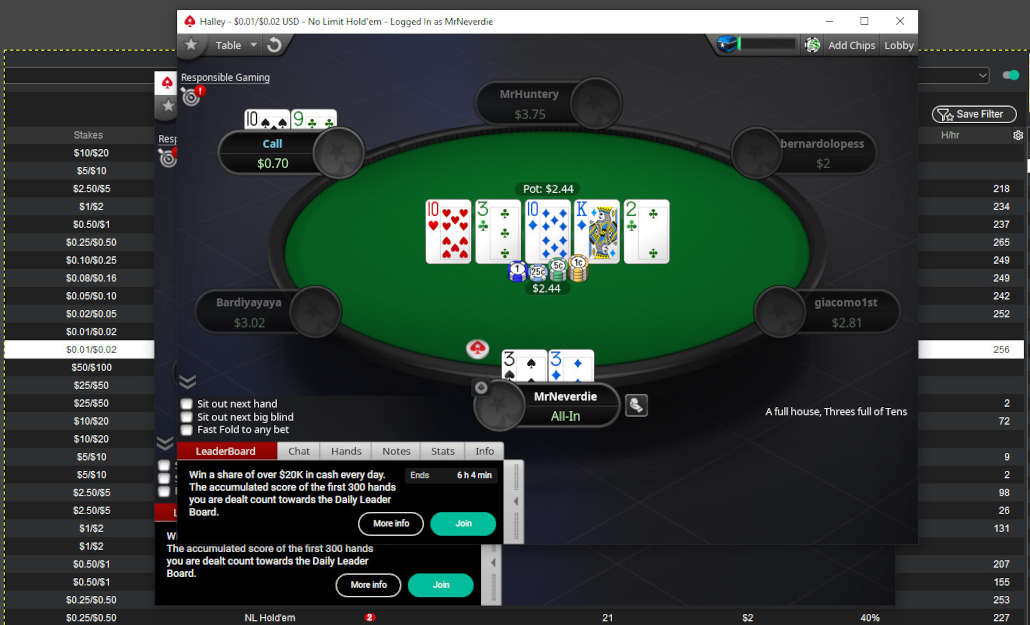 When it comes to tournaments, no one can parry PokerStars. The room features an excellent daily MTT schedule that only gets further boosted on weekends. Plus, there are various series like WCOOP, SCOOP, Micro Millions, and more.
Finally, the new loyalty program now gives everyone a chance to get up to 65% rakeback, which is the best offer on the market at the moment.
So, to sum it up, PokerStars is an excellent choice for players of all shapes and sizes, from those just starting their poker journey to those with years of experience under their belts and significant poker bankrolls.
FAQ – PokerStars Site