Doyle Brunson Poker Story – Meet the Godfather of Poker
Doyle Brunson Poker Story – Meet the Godfather of Poker
Whether you're new to poker or have been playing the game for a while, you know the name of Doyle Brunson. There are very few, if any, players that enjoy the same reputation as the man known as the Godfather of Poker.
Texas Dolly has been around for a long time and has seen it all. He's been playing the game for a living long before Texas Hold'em became a thing. Brunson has lived and breathe poker for decades and has been at the top for the best part of that period.
The Doyle Brunson poker story is an interesting one, especially for the younger generations of players. He started his career in a time that was much, much different, and had to overcome obstacles that you wouldn't even think of today.
Doyle Brunson Career Highlights
Started playing in underground poker games in Texas
One of the seven players to play in the first-ever WSOP
Holder of 10 WSOP bracelets
Author of Super System – the best-known poker book in the game history
Poker Hall of Fame member since 1988
Doyle Brunson Youth and Poker Beginnings
Brunson was born in Longworth, Texas, in 1933. During his school days, Doyle was an exceptional athlete. In 1950, he set the school record for the one-mile race, and it looked like he could have a career as a long-distance runner.
However, basketball was his true passion, and he was equally as good at it. His skills with the ball earned him a university scholarship.
It seemed like Brunson's life was going down the path often taken, and his future looked pretty bright. But, as he would learn the hard way, fortunes can change quickly.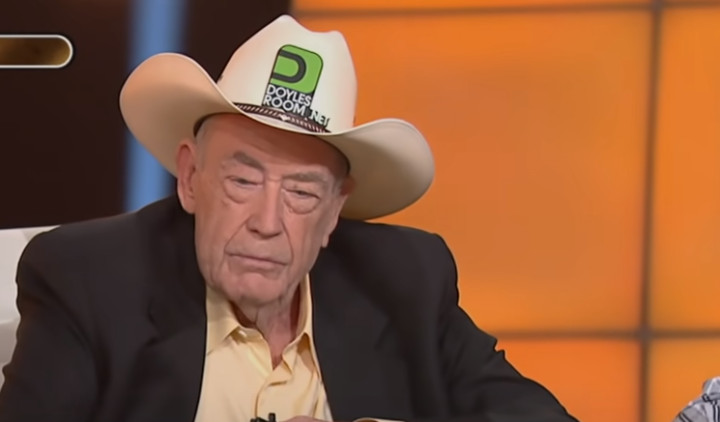 During his time at the university, Doyle took up a summer job to earn some extra money – a decision that would change his life path forever. One day, while doing his job, Brunson had an accident and broke his leg in two places.
The injury meant the end for any hopes and aspirations he had for becoming a professional basketball player.
Doyle went on to complete his BA and even earned a master's degree, but this wasn't enough to satisfy his competitive spirit.
During the time he spent recovering from the injury, Brunson took up poker and started to take it seriously. The game gave him an opportunity to do what he had always enjoyed doing – compete against others but without the physical strain.
This was the beginning of the Doyle Brunson poker journey. At that time, not even Doyle himself could have imagined what the future and Lady Luck had in store for him. But, he was a man on the mission, and that was all that mattered.
Doyle Brunson Poker Career & Achievements
Doyle got into poker during his time at the university, even before his injury. He played a lot of 5 Card Draw in private games, making decent money out of it. After the injury, he had much more time on his hands, and he spent a lot of it playing poker.
Having finished his studies, Doyle took up a couple of "real" jobs, but it wasn't the kind of career he could settle with. After a little while, he decided to call it quits and move on to poker full time.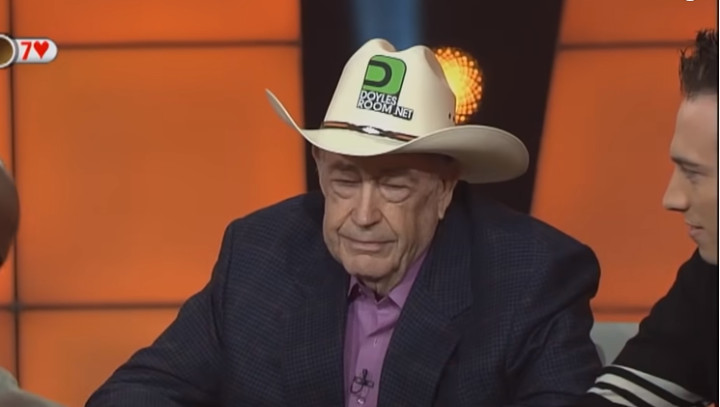 Even today, it's not an easy decision to make, but back then, it was a pretty outrageous idea.
There were no glitzy casinos or local poker rooms in Texas back then. To make enough money playing poker, Brunson had to get involved with illegal games, usually organized by criminals or their associates. The lifestyle entailed risks far beyond losing a few buy-ins.
Some of the stories from these Brunson's early poker days are pretty wild and hard to believe. He was held at gunpoint several times, and he often said that winning in the games was the easy part. It was walking away with the money that was difficult.
As crazy as these stories may sound today, they're not that unbelievable in the context of place and time.
They also go to show the kind of determination one had to have to play poker full time during that period. It wasn't an easy life, even if you were the best player around. Winning at cards was just one piece of the puzzle.
After a while, Brunson started traveling to find the games, regularly visiting Oklahoma and Louisiana. In addition to 5 Card Draw, 7 Card Stud was another popular variation at the time. These experiences made Brunson into a well-rounded poker player who wasn't afraid to play any game and for any stakes.
Doyle Brunson Takes on Las Vegas
In the early 1970s, Las Vegas was starting to shape up into the gambling center of the world. Doyle, determined to pursue a career in poker, was there pretty much every step of the way.
He was one of the seven players to participate in the very first World Series of Poker event in 1970 at Binion's Horseshoe, alongside Johnny Moss (who was voted the winner), Puggy Pearson, Amarillo Slim, Sailor Roberts, Carl Cannon, and Crandell Addington.
At the time, this was a small and unimportant event that nobody outside of Las Vegas (and not many in Las Vegas) cared about. But it was history in the making, and Brunson was there to help write it.
It was Brunson and the rest of the crew who helped popularize poker in Las Vegas. Of course, they had their own, selfish goals as well, as they needed some "fish" at the tables, but this still doesn't take away from their contributions.
In 1976, Brunson won his first Main Event title, pocketing $220,000 for his efforts. This was a winner-takes-all tournament that attracted 22 players, so nowhere near the massive WSOP fields we see today, but it was the Main Event bracelet nonetheless.
Texas Dolly went on to repeat that same success in 1977, winning back-to-back Main Event titles, a feat achieved only by two other players since – Stu Ungar and Johnny Chan.
Interestingly enough, the Texan closed the deal in both tournaments with a very bad hand, containing a ten and a deuce. Because of this, this particular hand was nicknamed "The Brunson."
In the years to come, Doyle continued to dominate the poker scene in Las Vegas, in tournaments and high-stakes cash games alike.
Slowly but surely, poker was growing in popularity, and WSOP fields were growing. Many players were coming to Las Vegas with a dream and leaving with empty pockets. The likes of Brunson, Moss, and others from the old school were happy to take on any challengers.
It would take way too much time to fully describe the entire poker career of Doyle Brunson. The fact that he's gathered 10 WSOP bracelets over the years speaks volumes, though. And that's just a small piece of the puzzle.
For professional players like Doyle, tournaments have always been more for a show and to attract players. Cash games, on the other hand, were where the real money was. And, according to those in the know, Brunson has done extremely well for himself in these.
He's been a regular staple in some of the biggest games in Las Vegas, where his knowledge of other game formats has come in very handy.
Due to his extraordinary track record, Doyle Brunson was inducted into the Poker Hall of Fame in 1988.
Doyle Brunson Book – Super System as the Poker Bible
Brunson isn't just a great poker player. He's also done a lot for the popularity of the game on multiple levels. As mentioned, he was involved with the first-ever "marketing" efforts to popularize the game in Las Vegas during those early days.
But, beyond this, he's also the author of one of the best-known poker books ever written –Super System: Course in Power Poker.
Super System was a real game-changer, revealing secrets that were only known to a handful of professionals.
Written by Brunson and coauthored by the likes of David Sklansky, Mike Caro, Chip Reese, and others, the book was first published in 1979, and it soon came to be known as the Poker Bible.
Looking at it today, the book may not seem that impressive from a strategic point (although it's still a great read), but you have to look at it from the perspective of the period. At that time, the Doyle Brunson book was the only real and relevant source of poker strategy.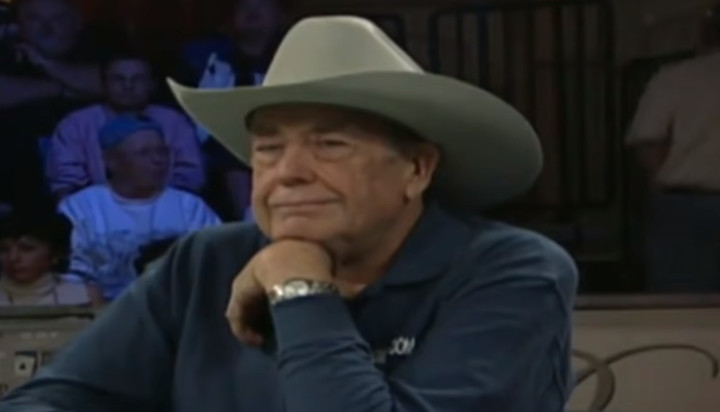 Players didn't have access to poker training sites, free forums, and software to help them figure things out. Before Super System, you could pretty much try to figure things on your own or find someone who seemed like a good player and was willing to teach you.
As poker gained more popularity, so did the Doyle Brunson book. Over the years, it became the best-selling poker book by a big margin. For those wanting to try their hand at a game, buying Super System was a no-brainer. It was the best thing out there.
Doyle published the sequel to his Poker Bible, aptly named Super System 2, written in a similar style but covering games with fresh eyes and in the light of new knowledge. The book was coauthored by Jen Harman, Daniel Negreanu, Johnny Chan, and several other successful players.
Brunson authored several other books. Although these aren't as popular as his Super System titles, they're definitely worth the read, especially if you want to know more about the Godfather of Poker.
My 50 Most Memorable Hands
According to Doyle
Poker Wisdom of a Champion
The Godfather of Poker
"The Godfather of Poker" is an exceptionally good read if this page doesn't satisfy your curiosity and you want to know more details from the life of one of the game's absolute legends.
Doyle Brunson Net Worth – How Much Money Does Texas Dolly Have?
Figuring out any poker player's net worth is often quite hard, but it's especially so for Texas Dolly. Brunson has been playing poker for so long that even the dollar value has changed quite a bit over the years.
It's not hard to figure out he's a rich man, but what exactly is the Doyle Brunson net worth?
One number that is out there is his tournament winnings. Doyle has won close to $6.2 million playing poker tournaments, which is a respectable number. It's not as impressive as what you'll see with the young guns, but prize pools during Brunson's most active years on the circuit were much smaller as well.
At the same time, winning $200,000 or $300,000 in the 1970s was much bigger than doing it today.
But tournament winnings are just a small part of the overall Doyle Brunson net worth. As mentioned, he's been very successful in cash games of the highest stakes order. How much he's won over the decades is anyone's guess, but everyone seems to agree he's a big winner in these.
Did Doyle use the money he won to invest in non-poker-related things, or did it all go back to his bankroll so he could play even higher stakes?
And then, there is income from his books, especially the original Super System. Being one of the most popular poker books ever written, it must have made Texas Dolly a pretty penny over the years, and it probably continues to do so to this very day.
The general consensus seems to be that the Doyle Brunson net worth is north of $70 million, and this doesn't seem unreasonable at all.
Texas Dolly has had a very successful career in poker, both on and off the felt, so the number definitely doesn't look outrageous. If anything, it could be even higher.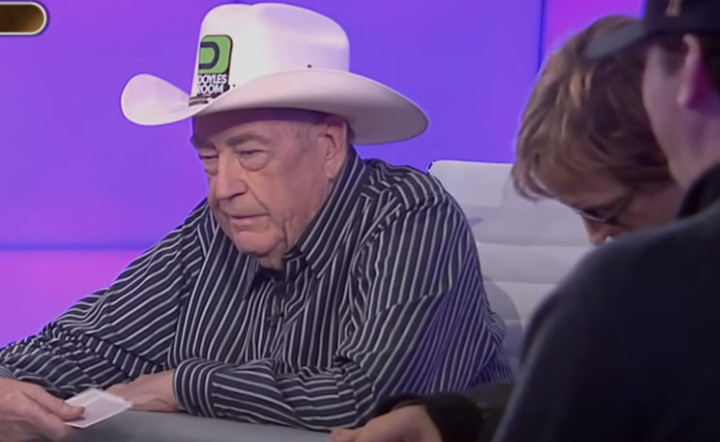 Doyle Brunson Personal Life: Never Giving Up
For all his success at the tables, Brunson hasn't had it easy in life. He's been battling cancer for years, undergoing several surgeries, but coming out on top every single time. His competitive spirit and the support of his family were probably a huge help during these difficult times.
Doyle met his wife, Louise, in 1962, and the two got married a couple of years later. They've been together ever since and have had three kids. The eldest son, Todd, followed in the father's footsteps, becoming a professional poker player.
The couple also had two daughters, Doyla and Pamela. Unfortunately, Doyla passed away when she was just 18. It was a big personal tragedy for Brunson, who took time away from poker and gambling to deal with the loss.
Pamela is not as involved with the game as the father-son duo, but she's been known to enjoy an occasional poker hand here and there.
As one of the most famous players around, Doyle was also on countless poker shows over the years, which only helped cement the Texan's name in poker history.
Despite his difficult beginnings, Brunson was never involved in any major poker scandals, and his name was never dragged through the mud. He always practiced what he preached, staying on good terms with his fellow players, at least in a professional sense.
When it comes to his private views, Texas Dolly is the kind of man who sticks to his guns (no surprise there, really). He's had many arguments on his extraordinary active Twitter account, and he's not shy to block the people he doesn't agree with.
Some would call this petty, but despite his celebrity status, Doyle Brunson is still an actual person with his world views and opinions. So, if he blocks someone on his personal social media channels, that's his call.
It doesn't win him any popularity points with certain people, but at this stage in his life and career, that's probably not something Texas Dolly cares about all that much.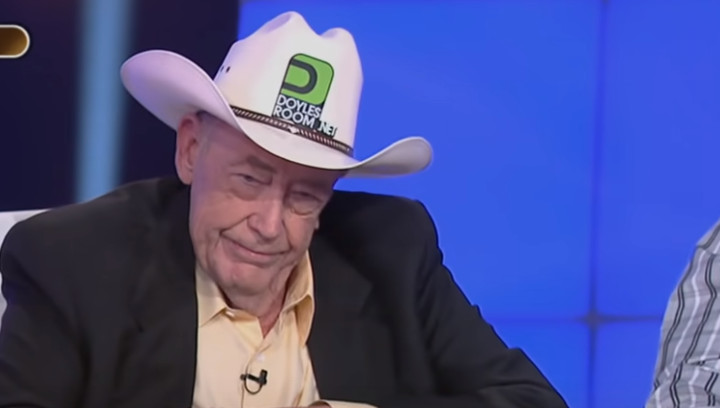 Is Texas Dolly Poker Career Over?
At the time of writing this, Doyle is just a couple of months shy of celebrating his 88th birthday. So, it's no surprise he's not been as active playing poker in recent years. In fact, a few years back, Brunson officially announced he was done playing tournaments as these were just too tiring and demanding, and he no longer had it in him to spend hours every day on the grind.
So, yes, it seems Doyle is no longer interested in chasing poker achievements in the form of bracelets and shiny cups.
Is he done playing poker, though? Highly doubt it!
While the whole pandemic situation put a lid on live poker in the US and worldwide, I have no doubts that Brunson will keep on playing for as long as he physically can. He'll probably come around to Bobby's Room or elsewhere for some high-stakes action every now and again.
He may be close to 90, but his wits are still as sharp as ever. Just check out his Twitter, where he posts every day and happily responds to many questions from his almost 400,000 followers.
And, if things line up just right and with a bit of luck, maybe, just maybe, we get to see Texas Dolly take his seat in the next season of High Stakes Poker. That'd be something!