Daniel Negreanu Poker Story: Kid Poker's Astounding Journey
Daniel Negreanu Poker Story: Kid Poker's Astounding Journey
If you're even remotely interested in poker, you know who Daniel Negreanu is. Probably the best-known face in the poker world, the man nicknamed "Kid Poker" has been a dominant force for a couple of decades now.
Known for his accomplishments on the felt and his long-standing role as the main ambassador for PokerStars, Negreanu has deserved his spot in the Poker Hall of Fame multiple times over.
But, he wasn't always on top of the world. The Daniel Negreanu poker journey hasn't been without its bumps along the road. To get where he is now, "Kid Poker" had to work hard and remain persistent in the face of adversity.
Like most accomplished people, Negreanu's story is a fascinating one and well worth reading if you're looking for inspiration or motivation. He's a living, walking proof that, if you want something hard enough, you will get it.
Daniel Negreanu Poker Career Highlights
More than $42 million in live tournament winnings
Six World Series of Poker bracelets
Two WPT titles
Finished runner-up in 2014 Big One for One Drop for $8.3 million
Has been an ambassador for PokerStars for over a decade
Currently wearing the GGPoker patch
Daniel Negreanu Early Life & First Attempts at Poker
Negreanu was born in Toronto, Canada, in 1974. His parents migrated to Canada from Romania, looking to build a better life for themselves and their children.
Negreanu did well in high school, especially in certain subjects like math. This natural affinity for numbers would be of great assistance later in his life and career.
It became obvious quite early on, though, that Daniel wasn't going to pursue a traditional career.
During his teens, he first fell in love with the pool and became very good at the game. He spent hours hustling other players, making a pretty penny in the process.
Later on, poker caught his attention, and he became a regular at card rooms in Toronto, often playing against people who were double his age. This is where the Daniel Negreanu poker journey started, but no one could imagine where that path would take him.
Daniel Negreanu Poker Career and Struggles
Negreanu's natural talent for the game helped him quickly become one of the best players in the Toronto area. He was dominating the local games without almost breaking the sweat, but he had his goals set much higher.
When he turned 21, Negreanu decided to move to Las Vegas, the gambling capital of the world, and test his metal there.
It was a big challenge and the one that young Daniel wasn't quite ready for just yet. He had quickly realized that games in Vegas were much different than what he was used to back home.
A much higher level of competition, combined with some poor bankroll management, resulted in what most poker players fear the most. Negreanu went broke, and his Vegas adventure came to an early close.
But the Canadian wasn't about to throw in the towel. It was a big blow, but he was still determined to become a professional player, and he was convinced he had what it takes to make it in the rough gambling world.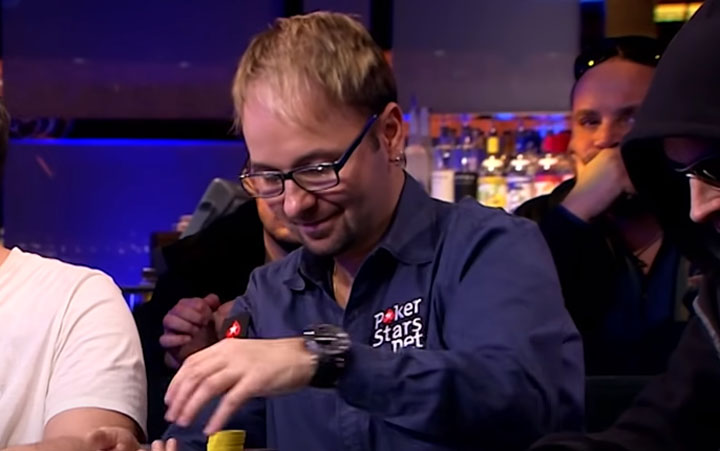 He rebuilt his bankroll playing in Toronto before going back to Vegas for another try. Negreanu kept this cycle of winning money in Canada and dropping it off in the US for a couple of years, but eventually, all the pieces came together.
It may have been a difficult beginning, but even then, Negreanu was showing the most important traits of a champion: confidence, perseverance, and determination. And, once he finally cracked the magical code, there was no stopping him.
"Kid Poker" is Born
It was in 1998 that Daniel Negreanu made his first major breakthrough. He entered a $2,000 WSOP Pot Limit Omaha tournament and managed to outlast the other 228 players to seize both his first six-figure win and the first WSOP bracelet.
He was only 23 at the time and looked even younger, so the locals dubbed him "Kid Poker." They didn't know that much about the Canadian at the time, but it was becoming clear Negreanu was there to stay, and he wasn't someone you could afford to underestimate at the tables.
A few months later, Negreanu won a tournament in California, earning more than $40,000. That number may not seem all that impressive, but the tournament had a buy-in of just $300, so it was a big boost for the rising star.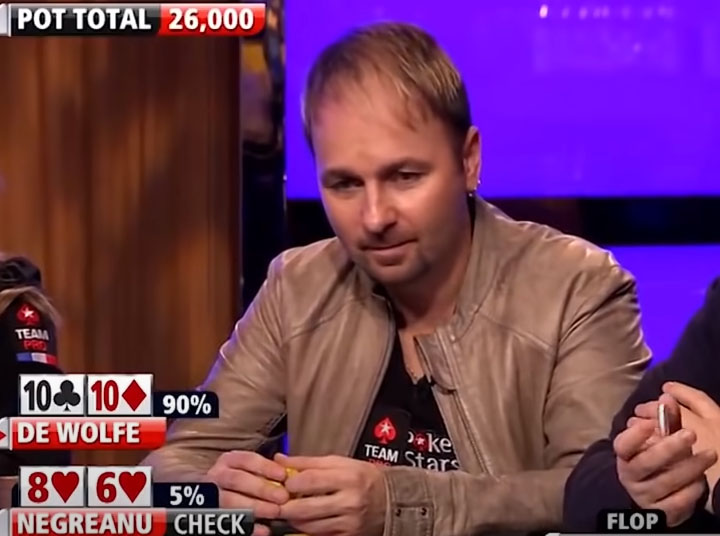 Over the next few years, Negreanu kept on grinding. His rise through the ranks of the poker elite took some time, but Daniel was determined to succeed and clearly in love with the game.
Taking up poker professionally long before the Moneymaker boom, the Canadian wasn't a one-trick pony, either.
He was (and still is) quite good at many different variations besides Texas Hold'em. This proved invaluable, not only on the tournament circuit but also in the high stakes cash games in Las Vegas later on, which often featured mixed game formats.
All Poker Achievements of Daniel Negreanu
The Canadian has had such a rich and colorful career that it's hard to even mention, let alone describe all of his achievements and successes. We'll try, nonetheless.
Negreanu is the proud owner of six World Series of Poker bracelets as well as one WSOPc ring. The number of bracelets could have easily been much bigger, but the Canadian has had a record number of runner-up finishes in WSOP events – as many as ten as of right now.
One of these unlucky finishes was in 2014 $1,000,000 Big One for One Drop event. Although "Kid Poker" missed out on the bracelet in that one, he still pocketed close to $8.3 million, which is pretty cool as far as consolation prizes go.
The Canadian also has two World Poker Tour titles to his name.
Negreanu has pretty much seen it all over the years and has been a part of all major competitions. For a guy who started hustling local pool halls, he's become one of the best poker players in the world, casually entering six-figure buy-in tournaments.
His impressive resume had probably qualified him for the Poker Hall of Fame a few years before the actual induction. Like his friend and fellow-pro Phil Ivey, though, Negreanu also had to wait to turn 40 before he was officially extended the honor in 2014.
Daniel Negreanu Poker Influence
Despite some controversies in recent years, there is no denying that Negreanu has been one of the most influential players in all of poker who's helped inspire many young players.
In addition to his skills, the Canadian has a special kind of charisma, which makes him a great presence at a table and also great for TV. His casual chatting, remarkable reads, and extroverted personality have turned him into one of the fans' favorites, and viewers at home simply couldn't get enough of Negreanu.
Thus, it's hardly a surprise he's been a regular staple on the High Stakes Poker show right from the very start.
Daniel was also signed by PokerStars back in 2007 and quickly became one of their main ambassadors. In many ways, he was the embodiment of PokerStars and what the room stood for, and the partnership worked well for all parties.
It was only in 2019 that the PokerStars contract was terminated, and the Canadian exchanged the famous red spade with a GGPoker patch.
Performing his role of an ambassador, Negreanu was present for all major PokerStars events, many of which had TV coverage. Over the years, he's become the most recognizable face in poker, earning the respect of fellow pros and fans alike.
Daniel Negreanu Net Worth
It's very hard to know how much money high-profile poker players actually have. There are simply too many moving parts to figure out the exact number, but there are some numbers to go by when figuring out the Daniel Negreanu net worth.
The first point of reference are his live tournament results. "Kid Poker" won $42,000,000 in tournament prizes over the course of his career, currently putting him in the third spot on the All-Time Money list.
The biggest win came from the already-mentioned runner-up finish in the One Drop event, good for $8,288,000.
The second-best score, interestingly enough, was a result of another second place. In 2018, Negreanu lost the heads-up battle in the $300,000 Super High Roller Bowl to Justin Bonomo, but his efforts were still rewarded with $3,000,000.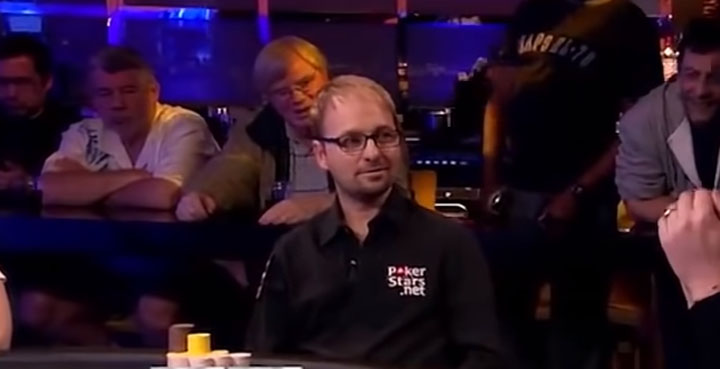 Over the course of his lengthy career, the Canadian has had several more seven-figure scores and a few dozen six-figure cashes, adding up to that impressive total.
Negreanu's tournament winnings, no matter how impressive, are just a small piece of the puzzle.
The long-standing contract with PokerStars must account for a fair portion of the total Daniel Negreanu net worth as well. While no one knows exact details of the deal, it's safe to assume the room was paying him well as he was an invaluable asset over the years.
To get to the bottom of the Daniel Negreanu net worth, we'd also have to obtain some information about his results in high-stakes cash games, which simply isn't going to happen.
The Canadian spends a lot of his time playing in live games, and there is no tracking available for those. The rumor has it he's done very well in these over the years, but what that means exactly is impossible to say if you're not a part of the inner circle.
One thing is for certain: with his success on the felt, and away from it, Negreanu has done well for himself. He is probably in the top one percent of all poker players out there.
"Kid Poker" Personal Life & Non-poker Activities
Besides his poker engagements, Negreanu has always been very vocal about other issues that he was interested in. With a huge following on Twitter and other outlets, he is in a position where his voice is heard far and wide.
One of the more interesting tidbits from his personal life is that Negreanu acquired American citizenship in 2016.
The main motivation for this move was so he could vote against Trump, who he believed had zero chances of winning the election. I guess his read was a bit off there.
This wasn't the first time "Kid Poker" used his influence to share his personal views on a general social or political issue. Negreanu has never been afraid of taking the stand on what he believes is right, even if it gets him in trouble sometimes.
When it comes to relationships, the Canadian superstar got married twice.
His first marriage was to Lori Weber, and the two tied the knot in August of 2005. Eric Lindgren was Negreanu's best man, and the ceremony was attended by numerous other high-profile players and friends like Mike Matusow, Jen Harman, etc.
The marriage didn't last for too long, though. In 2007, Negreanu announced on his blog that he and Lori had agreed to an amicable divorce and were parting ways.
After that, Negreanu had a number of relationships, but it seems that only one of those really captured his heart – the one with Amanda Leatherman in 2010.
Seeking love, Negreanu even appeared on the popular reality show Millionaire Matchmaker, but that didn't quite work out as planned.
In the end, the heart wants what it wants. Amanda, it seems, has always been "the one" for Negreanu, and the two got back together in 2018. Not long after, in 2019, Daniel and Amanda got married.
As of writing this, the two are still together and seem to share a rather happy and bubbly relationship that's often a target of unpleasant comments on social media, but it's nothing "Kid Poker" isn't used to. Haters gonna hate, right?
Of course, like many other celebrities, Negreanu has been heavily involved in various charity initiatives, giving back to the world.
He also has two dogs, named Rocky and Apollo (inspired by one of his favorite movies), and the puppies often make an appearance on his live streams and YouTube videos.
Negreanu's YouTube channel has a huge fan base and a lot of content, including his most recent attempts at mastering the game of chess. The Canadian is still a far cry from being a master-level player, but it seems he's putting in the work and loves the game, so who knows?
More Rake is Better: Daniel Negreanu Poker Controversy
For the best part of his career, Negreanu was considered to be the voice of the players. His role at PokerStars, as well as his general fame, have put him in the position where he could be a positive influence on the game on multiple levels.
However, in the aftermath of Black Friday and PokerStars being bought by a large company, things started to change. The room that used to be all about the players gradually shifted its focus, making many controversial decisions along the way.
First, they decided to do away with their VIP program late in 2015, which was a huge hit for many of the hardest-working players who played hundreds of thousands of hands to acquire the Supernova Elite status and reap the benefits the next year.
The abrupt decision by PokerStars pulled the rug from under these players, basically robbing them out of a huge amount of equity.
The room didn't stop here, either.
In the months and years to follow, they continued to increase the rake, making the climate really unfavorable for many regs and professionals who made a living playing poker on the site.
While all this was happening, Daniel Negreanu was still the lead ambassador for the site, and many players were looking at him for help. They believed "Kid Poker" had enough pull within the organization to stop the insanity and bring PokerStars back to its original path.
However, to everyone's surprise, Negreanu sided with PokerStars on this one, proclaiming in one of his interviews that "more rake was better."
Although Negreanu tried his best to explain his reasoning and claimed that this was his personal view, the poker public didn't believe him. Many accused him of being a "sellout" who was defending a big company that was signing his paychecks, despite knowing that the said company was screwing serious players pretty hard.
Doug Polk came after Negreanu pretty hard, calling him out on his YouTube channel and making fun of his statements. It resulted in the two developing a rather tense relationship that culminated in an epic grudge match in 2019 and 2020.
Starting a New Chapter: Parting Ways with PokerStars
In 2019, the contract between Daniel Negreanu and PokerStars came to an end. The Canadian spent over a decade being the main ambassador for the brand.
Not too many details were revealed explaining the reasons for this decision. Officially, it was an amicable split, and that was that. In years prior, PokerStars had already terminated a number of contracts with high-profile players who used to be on their Pro team, and some of them left on their own accord, not liking the new direction the company was taking.
Daniel saw this as a positive. Although it was a big change, he shared he was happy that he was now free to share his views and opinions without being accused of doing it for the money. This marked a new stage in the Daniel Negreanu poker journey.
Not surprisingly, this "freedom" didn't last for too long. The Canadian was soon after signed by GGPoker.
One of the fastest-growing poker rooms on the internet, GGPoker was probably thrilled to snatch Negreanu and add him to their roster. As to why the Canadian had accepted it, it was probably the kind of an offer that you just can't refuse.
In the meantime, Negreanu also partnered up with MasterClass, creating an interesting beginners' poker course. If you're looking to learn the secrets of one of the best in the game, you should definitely check it out.
What Comes Next for "Kid Poker?"
The Daniel Negreanu poker career has been one of the most impressive journeys out there. Winning countless accolades and becoming the number one celebrity of the poker world, he's proven that dedication, hard work, and persistence do pay.
"Kid Poker" has already achieved so much that it's hard to imagine what his next challenge might be. But, being the competitive spirit that he is, the Canadian will certainly find something to do with his time.
His match with Doug Polk helped him learn a lot about the GTO side of the game, and that's something Negreanu will definitely look to profit on. Whether this will happen through more heads-up challenges, ultra high-stakes tournaments, or the combination of the two remains to be seen.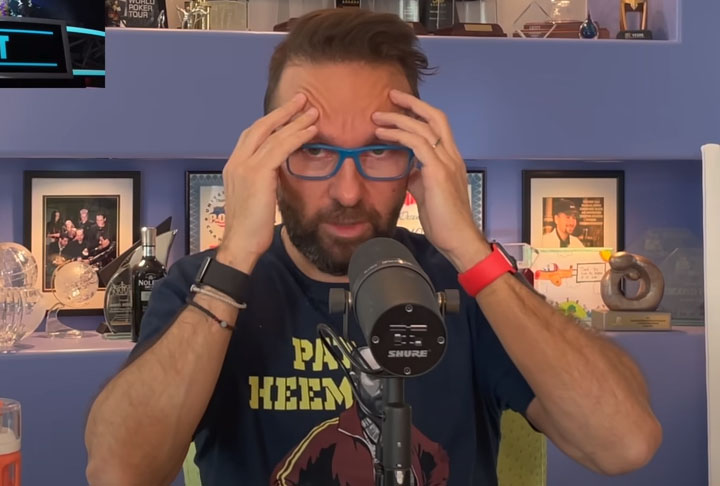 One thing is certain. Daniel Negreanu is here to stay, and he's not going anywhere.
There's been a trend as of late with some high-profile players announcing "retirements" or taking a step away from the grind.
Negreanu seems to be on the opposite side of the spectrum.
Despite all the years he spent grinding and all the challenges he had to overcome along the way, it seems the Canadian had never lost his passion for the game. If anything, it seems to be stronger than ever before, and he appears ready for whatever next poker gods throw his way.
Negreanu may have become a bit of a controversial figure in recent years, but that doesn't seem to influence his ability to play good poker. Thus, we fully expect many more great results for "Kid Poker" in the future!