Doug Polk Wins Grudge Match for $1.2 Million: Full Story from Start to Finish
Doug Polk Wins Grudge Match for $1.2 Million: Full Story from Start to Finish
After several months of play, the grudge match that kept the poker audience entertained came to a conclusion. Doug Polk finished wrapped things up with a winning session, bringing the total win over 25,000 hands to $1,200,000.
The final result hardly came as a surprise as Polk was a heavy favorite going into the whole thing.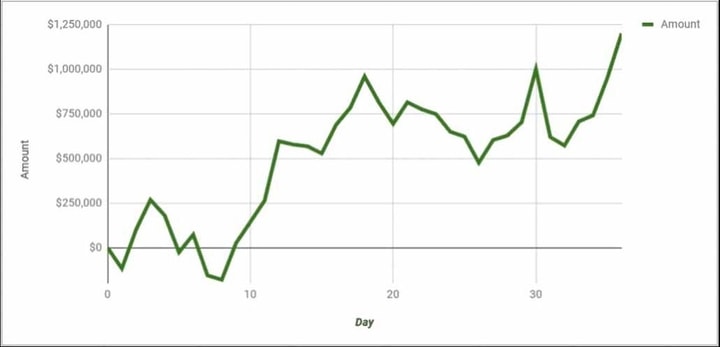 Polk, who is a Texas Hold'em HU specialist, was definitely on his turf for the grudge match, and even Negreanu knew this. But, he accepted the challenge just the same, thinking that he could still come out ahead with a bit of luck and some hard work.
Looking back at it, it was an exciting skirmish throughout, although DNegs never really came close to threatening to win. On the other hand, a potential big session that could turn the ties was always just around the corner, which kept the suspense going.
How It All Started?
Back in August of 2020, the poker community was in a bit of shock when Negreanu came out stating that he decided to accept Polk's heads up challenge.
Polk has been teasing the Canadian for a while, challenging him to a heads up duel to "settle the score," but even Doug was surprised by Negreanu's decision.
Polk has pretty much retired from poker, devoting his time to other endeavors. He wasn't that thrilled about the prospects of having to sit in front of his computer for months to come, not just playing the game but also studying poker hands and doing the preparatory work.
But, from his perspective, it was "free money," as heads up poker is probably the most skillful format of the game, and he was miles ahead of his opponent.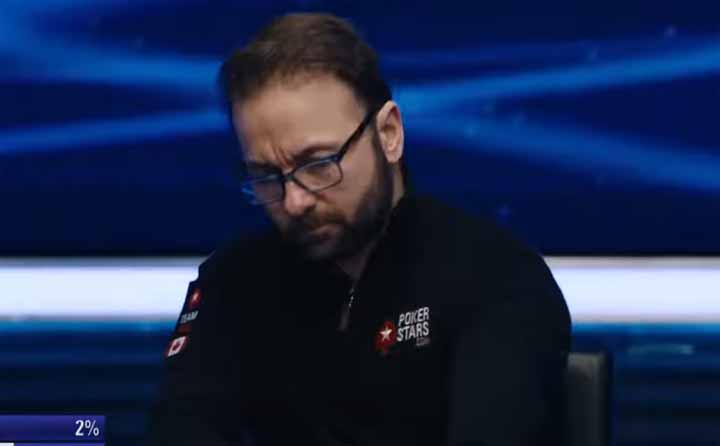 Negreanu knew he was the underdog, or at least that's what he stated publicly when he accepted the challenge.
However, the animosity between the two has been going on for some time, with Polk often criticizing Negreanu's actions in his videos.
For the Canadian, this was a way to end the saga, and he made it very clear by stating:
Attack me endlessly, bully me, mock me, in the hopes of getting me to agree to a high stakes poker match. If that's the case, well played. You have your wish.
The game was on.
After some back and forth, the two agreed to play 12,500 hands of heads up poker on WSOP.com with stakes of $200/$400. Whoever was behind after the initial 12,500 hands had the option to extend the match for another 12,500.
No HUDs were allowed during the grudge match, and they agreed to play two tables at the time, being at least 100 big blind deeps at all times.
Kicking Off With Some Live Action
The Negreanu – Polk grudge match officially kicked off on November 4, 2020. The two met up for a live session that was covered by PokerGO and played for 200 hands. Negreanu came out ahead to take the early lead of $116,500.
Unfortunately, this was the only live session during the match, although fans were hoping to see at least one or two more before the whole thing was over.
After this, they moved to the virtual felt and kept the grind going on WSOP.com, usually meeting three times a week to play for at least two hours. Once DNegs got a bit more comfortable, the sessions started to last longer as well.
The Breaking Point
For the first ten or so sessions, players were within a few buy-ins, so every session could turn the ties. It was on the 12th day of the challenge that Polk managed to really break away, and he never looked back after that.
He was coming into the session with a healthy lead of $264,000, which was decent but not insurmountable by any stretch of the imagination.
However, during the session on November 28, things went completely his way, and he managed to win an additional $332,000, taking a huge lead.
Who's the Luckier Player?
It was around this time that the grudge match picked up some heat, with Negreanu complaining about his bad luck and running bad in all important spots.
Not surprisingly, Polk was quick to troll Daniel, emphasizing just how "lucky" he was in some of his post-session interviews and even changing his Twitter handle to Doug "Very Luck" Polk at one point.
DNegs, on the other hand, wasn't shy to vent his frustration, resulting in a few funny and entertaining videos such as this one.
While it must have been hard for the Canadian, this was gold for the poker audience all over the world. It's nice to have a high stakes grudge match such as this one, but it's so much better if you also add some drama into the mix.
Breaking the Million Mark
While Polk will tell you that he doesn't observe poker through individual sessions but that it's all one big session with breaks in-between, he must have been pretty pleased with the session that took place on January 20, 2021.
This was the first time in the grudge match that Polk managed to break the $1,000,000 profit mark.
At this point, there were still some 7,000 hands left to be played, but the 25 buy-in lead in the match that he was already a big favorite in must have felt good.
Plus, it was a cool million, so nothing to complain about there.
The Final Stretch
With a big deficit to make up for, Negreanu figured that the only way to still have a chance at winning was if he adopted a high variance style, throwing the GTO approach out the window.
Throughout the match, both players spent a lot of time using solvers and learning the "computer" approach to the heads up game. This was new territory for Negreanu, but he gathered a team of people to help him learn and improve throughout the match.
But the GTO approach wouldn't allow for some gambles that DNegs felt were necessary if he were to come back.
So, on the very next session, he came out all guns blazing, and it worked out! He booked a $390,000 win, which was the biggest single-session in the entire grudge match.
While there was still a lot of work to be done, it no longer felt impossible. One more session like this, and he would close the gap to few buy-ins.
Some More Drama
With some 5,000 hands left to play and the lead of about $550,000, Polk decided to change his strategy.
Up until this point, he either raised or folded on the button. Now, he came up with a limping range as well.
The main point of this change was to try and lower the variance going into the final stretch. And if you're wondering why he'd do this, it's because he had a lot of money riding on the side bets.
It was imperative for Polk to win the match as he clearly had many bets out there on himself to win. While exact numbers weren't revealed, there were many hints that he had a substantial amount of money on the line, especially given the fact he was about 4 to 1 favorite.
To win a million, Doug had to bet $4,000,000 of his own money, so there were serious implications of losing the match beyond the money on the felt.
Negreanu wasn't at all happy about this new style, though, and it led to another controversy, resulting in Phil Galfond getting involved, trying to resolve the matter.

In short, Daniel decided to take the maximum amount of time on every single decision, bringing the play speed down significantly and driving Polk crazy.
In the end, Doug decided that it just wasn't worth it and gave up the limping strategy altogether, which resulted in Negreanu playing normally again, and all was good with the world once again.
The Last Session
On February 3, 2021, the two sat down for what was advertised as the last session of the grudge match.
Some 1,700 hands were left to play, but both Polk and DNegs were committed to wrapping things up.
Polk was up $950,000 going into it, and, in theory, he could have locked up the win by just folding the rest of the hands. It would cost him about half a million to do so, but he'd still walk away with a nice profit and all side-bet action.
It would be a very anti-climactic finish to the whole thing, though, and, luckily, it didn't happen.
Instead, it turned out to be a very exciting session, worthy of the grudge match. Negreanu sprang to an early lead of about $200,000, but Polk managed to find the way back and even things up.
After that, the tide has turned, and things started going in Polk's direction.
By the time the final hand was played, Doug had won another $250,000, bringing his total profit for the match to $1.2 million.
Is This the End?
Although everyone who's been watching the grudge match was anxiously awaiting to see the final score, it's still somewhat sad to see it finished.
Polk vs. Negreanu sessions were great entertainment, as was all the drama on Twitter and YouTube accompanying it.
So, the first question is, will there be a rematch?
It doesn't seem likely, as Polk made it very clear (repeatedly) that he's not enjoying poker anymore and even the money he stands to win isn't enough of a motivator. Plus, he does believe that DNegs has improved quite a lot, so he's no longer that big of a favorite.
The Canadian, on the other hand, seems eager to keep the grind going.
A rematch with Polk may not be in the cards, but he will be looking for other "softer" challengers to organize some more matches, most likely on GGPoker, which he currently represents.
So, there might be some interesting action and free poker entertainment in the weeks and months to come. While waiting, and if you don't mind spending a few bucks, check out the whole new season of High Stakes Poker featuring a lot of big pots and many familiar faces!