Phil Hellmuth Poker Story – Extraordinary Adventure of The Poker Brat
Phil Hellmuth Poker Story – Extraordinary Adventure of The Poker Brat
The poker world features many colorful characters, but very few come close to Phil Hellmuth, both in terms of his achievements and his fame. The man nicknamed "Poker Brat" for his constant complaining at the tables may be annoying at times, but his poker resume is nothing short of impressive.
Hellmuth holds the record for most WSOP bracelets won. He's currently the proud owner of 15, but he has no plans of stopping anytime soon if he can help it. Even the best of the best have a lot of catching up to do if they were to challenge Phil's record that he's extremely proud of.
Phil Hellmuth Jr. has always been a bit of a controversial character.
Many fans enjoy his larger-than-life attitude and firmly believe that Phil has earned the right to call himself the best poker player in the world.
Others are annoyed by it and think Phil should take it down a notch.
Whatever camp you happen to belong to, there is no denying that "Poker Brat" has achieved so much over the course of his career that it's hard to argue with his perspective. He may not be the best player to have ever lived, but when it comes to large-field Texas Hold'em tournaments, he clearly knows something others don't.
This article will recap Phil Hellmuth's poker journey from his very beginnings to this day. If you're curious to know how "Poker Brat" managed to climb to the top of the poker food chain, keep on reading.
Phil Hellmuth Career Highlights
Became the youngest WSOP bracelet winner at the age of 24 in 1989
Won the 1989 WSOP Main Event defeating Johnny Chan
Holds the record for most WSOP bracelets – 15 and counting
$24 million in live tournament winnings
Published several poker books including "Play Poker Like the Pros"
Phil Hellmuth Poker Beginnings
Phil was born in 1964 in Madison, Wisconsin. His father was the dean of the University of Wisconsin at the time, while his mother was a renowned sculptor.
The eldest of five children, Phil Hellmuth Jr. has developed a very competitive spirit while growing up. He felt the need to always be better than his siblings in various games, and he didn't like losing very much.
Although he learned many card games during his childhood, poker didn't enter Phil's life until much later. It was during his college days that Hellmuth discovered and fell in love with Texas Hold'em, a game that would end up shaping his life to a great extent.
While at college, Phil started to play poker regularly with his friends, often visiting local casinos and improving his skills at cash games tables in Madison, his hometown. After three years, Phil decided to leave college and pursue a full-time career in poker.
In Pursuit of Poker Glory
The Phil Hellmuth poker story, or at least its beginnings, is similar to that of Daniel Negreanu. After accomplishing a great deal of success in the local games, Phil felt ready to take things to the next level, traveling to Las Vegas, the world's poker capital.
However, like Negreanu, Hellmuth quickly discovered that games in Vegas were a far cry from those he was used to in Madison.
He had to go back home and rebuild his bankroll several times over before things finally fell into place. Making it in Sin City was no joke as the competition was fierce, but Phil was very competitive and determined to succeed – and succeed he did.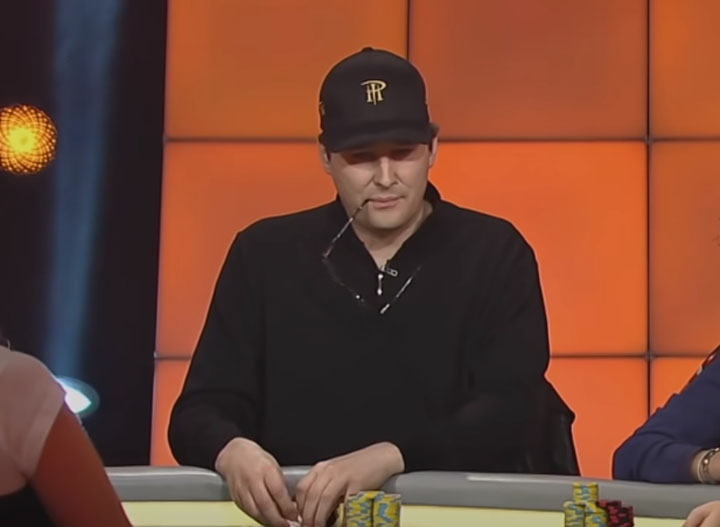 From 1987 to 1989, Hellmuth had a few notable results in live tournaments, but it was in 1989 that his poker journey started to really take off.
In that year, Phil Hellmuth Jr. claimed his very first of many WSOP bracelets to come. He did it in style as well, taking down the Main Event to the tune of $755,000. Only 24 years old, he became the youngest person to win a WSOP bracelet at the time, and it took nearly two decades for this record to be broken.
To make his success even sweeter, Hellmuth defeated none other than legendary Johnny Chan in the final heads-up battle for the title.
The writing was on the wall. Young Hellmuth was in pursuit of poker glory, and his Main Event winnings, as well as the confidence boost that came with the win, only made his aspirations stronger.
In the years to come, Hellmuth kept on grinding, focusing almost exclusively on the tournaments. The World Series of Poker was especially kind to the "Poker Brat" as he has had his best results in WSOP events.
In 1992, Phil won his second bracelet in a $5,000 Hold'em Limit tournament.
The following year, Hellmuth exceeded everyone's expectations, winning three more bracelets over the summer and coming close to winning the fourth one as well. This brought his total to five, but it was clear he had no intentions of stopping anytime soon.
Hellmuth continued to dominate the live poker scene, improving his skills and adding more wins to his impressive resume. As things stand right now, he has 15 bracelets, and he's keen on winning at least a few more before he throws in the towel.
It's interesting to note 14 of Phil's bracelets came from Hold'em events. Only the penultimate one (from 2015) came from a win in a Razz tournament.
The 2015 bracelet probably holds a special place in Hellmuth's heart as it helped show the world that he could play games other than Texas Hold'em.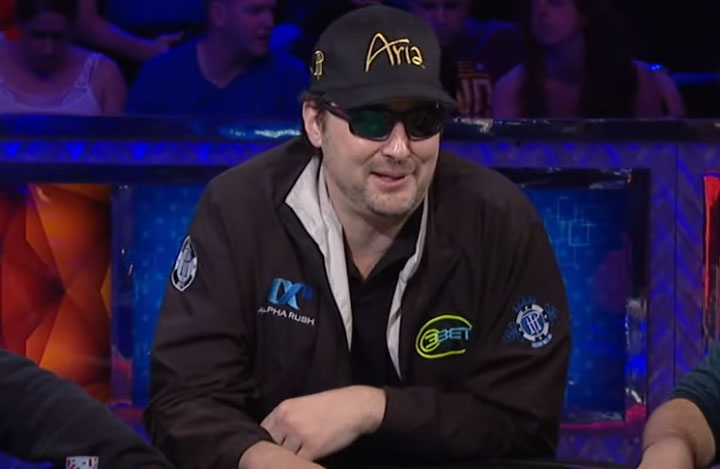 Phil is clearly very proud of his accomplishments, so you'd probably expect him to have all his bracelets on display somewhere. But, the truth is completely opposite. He gave all of them away to friends and family, with the exception of the Main Event one.
That one was too important to give away, but it seems that Phil wasn't able to hold on to it nonetheless. During one of his recent TV appearances, he stated that the 1989 one got lost somewhere, and he was no longer in possession of it (at least to the best of his knowledge).
The "Poker Brat" also has 140 ITM finishes in WSOP tournaments, has made 57 final tables, and finished the runner-up in 11 events (by 2021).
It goes without saying that Phil Hellmuth is also a member of the prestigious Poker Hall of Fame. He was inducted in 2007, together with Barbara Enright, one of the most accomplished female players.
Phil Hellmuth Net Worth: Poker Winnings, Sponsorships, and Business
It's hard to guess the exact Phil Hellmuth net worth as he is one of the most business-savvy poker players out there. Phil has done well for himself over the years, building his brand and getting involved in different enterprises to boost his wealth.
As with most poker players, the first point of reference when talking about Phil Hellmuth net worth are his live tournament winnings.
According to Hendon Mob, Hellmuth has won more than $24 million over the span of his career.
Interestingly enough, two top scores came from 4th place finishes in high roller tournaments, but these account only for about $4,000,000 of the total Phil Hellmuth net worth.
His third-best score was actually the result of his triumph in the WSOP Europe Main Event. Phil managed to take down the event, banking more than $1.3 million for his efforts.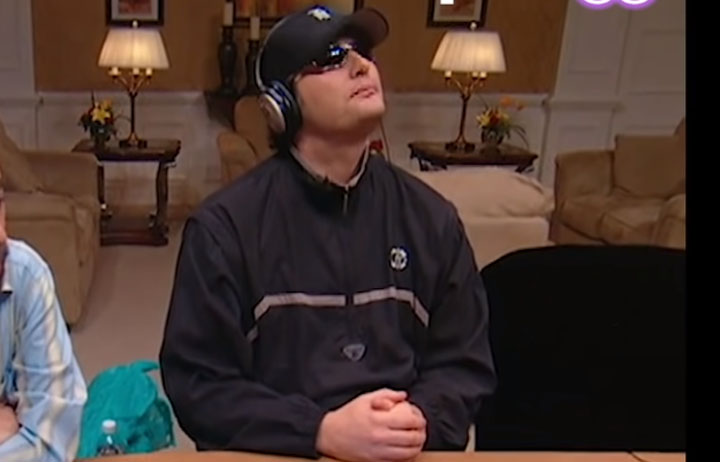 The only other seven-figure score on his resume came from the runner-up finish in the 2011 $50K WSOP Player Championship.
But a player of Phil's reputation must have made a lot of money away from the felt as well.
During the golden years of poker, Hellmuth was one of the main ambassadors for Ultimate Bet, one of the top three poker rooms catering to the US players. That sponsorship came to an end when Black Friday struck, but Hellmuth came out clean from the whole UB scandal that ensued.
Like other sponsored pros, Phil kept the details of his agreement with the room private, but there is little doubt that it contributed nicely to his overall net worth.
It is also no secret that the "Poker Brat" has been involved with numerous businesses over the years, wisely investing his money and letting it work for him.
One of these business endeavors is his "Poker Brat" clothing line, selling T-shirts, hats, and other items of clothing. This, together with other businesses he's involved with, probably makes Phil a lot of variance-free money.
"Poker Brat" as an Author: Phil Hellmuth Books
On top of his other achievements, Hellmuth is also an accomplished author of no fewer than ten poker books. Recently, he even set up a publishing house, looking to further diversify his income and keep growing the Phil Hellmuth net worth for the years to come.
Probably the most popular Phil Hellmuth book is his "Play Poker Like the Pros" title. Published back in 2003, the book reveals many of Phil's secrets and lets the reader inside the mind of one of the greatest tournament players alive.
In the book, Phil presents his now-famous classification of player types and offers a lot of useful advice and beginner poker tips for those looking to improve their game.
In 2017, another popular Phil Hellmuth book was published. Entitled "Poker Brat: Phil Hellmuth's Biography," the book sheds some light on Phil's personal and professional path but also shares some invaluable poker-related thoughts, insights, and advice.
The most recent Phil Hellmuth book to hit the shelves is called "#Positivity: You Are Always In The Right Place At The Right Time." The book doesn't talk just about poker but about the overall approach to life and challenges, offering advice and guidance on how to achieve personal happiness and success.
The "Poker Brat" Persona: Phil Hellmuth Blowups
If you were just reading the Phil Hellmuth poker biography and looking at his results, you'd struggle to figure out why he'd be called the "Poker Brat." How does such an accomplished player end up with a not-so-flattering nickname?
But if you spend more than 15 minutes watching Phil play, especially if things aren't going his way, you'll have all the explanation you need.
To put it simply, Phil Hellmuth Jr. hates losing and doesn't take defeat very well. Whether he gets unlucky in a poker hand or he's outplayed, he'll always find a reason to complain.
Maybe it's the dealer's fault, or the other player's fault (for not doing what Hellmuth thought he was supposed to do), or the universe's. He'll rarely admit he made a mistake or give other players credit for outplaying him.
On one occasion, he stated: "If there weren't luck involved, I would win every time."
And, Phil isn't just a bad loser – he's actually quite terrible at it. Over the years, he's had some epic rants directed at his opponents and other people who happened to be in the room. Every now and again, he'd go too far, causing some backlash on the social media, but that's just who Phil is.
Those who know him more intimately say that his TV outbursts are often purposefully exaggerated to fit the "Poker Brat" persona. After all, Hellmuth has built quite a brand around this character, so it does make sense he'd want to keep it alive.
But not all of it is acting; that much is certain. Maybe Phil does turn things up a notch when playing on TV, but his opponents still have to deal with trademark Phil Hellmuth blowups even when there are no cameras around.
All of this has made Hellmuth a rather polarizing character. Some enjoy his outbursts and believe they contribute to making poker fun. Others are not so keen on them (or the "Poker Brat" in general).
Be that as it may, TV producers clearly love it, as Phil still gets regular invitations to pretty much all poker shows, and whenever he plays in a tournament, his table gets a lot of coverage.
The Personal Life of Phil Hellmuth
While his attitude at the tables might suggest otherwise, those who know Phil claim he's a great person, always willing to help others.
When not traveling for poker or business, Phil lives in Paolo Alto, California. One Kathy Hellmuth (Katherine Sanborn) has been the Phil Hellmuth wife since 1990. The couple has two sons, Phillip III and Nicholas.
Hellmuth and his wife have managed to keep a happy and healthy relationship for over three decades despite all the challenges that come with the life of a professional poker player.
In a number of interviews, Phil has stated that he's never cheated on his wife Kathy, although he's had ample opportunities. Whether you choose to believe this or not is up to you, but Hellmuth says he's very proud of it.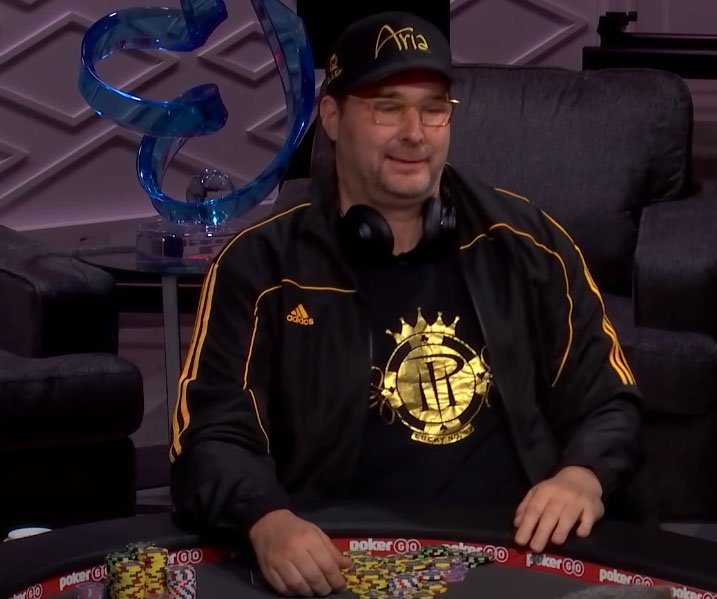 The Phil Hellmuth wife often accompanies her husband to tournaments to cheer him on and be his moral support.
Although Hellmuth seems to have a very nice and normal family life, it's no secret he enjoys going to clubs and spending nights out, be it with other high-stakes pros or famous people from other walks of life.
In fact, it seems Hellmuth enjoys it a bit too much, as he never misses an opportunity to let the world know who he's been hanging with.
Apparently, Kathy is fine with it all, though. She probably knows Phil like no other person on the planet, and she knows exactly the kind of person he is. After all, when all the cameras are out, and all the clubs shut down, he goes home where he's simply Phil, a husband and a father who does what he knows best to take care of his family.
Phil Hellmuth Poker Controversies
In a world where stories like the Mike Postle cheating scandal are not that uncommon, Hellmuth has actually done very well to keep himself out of any major scandal over the decades.
Despite his sometimes overbearing personality, he's always remained one of the "good guys of poker."
The biggest scandal Phil was involved with was the early-mentioned Ultimate Bet fiasco. Phil was one of their main ambassadors, so when it came to light that some people in the company were using the "god mode" to see other players' hole cards and cheat them out of millions, his reputation was seriously shaken.
From the get-go, Hellmuth claimed he had no knowledge of any of this, but with all the outrage that ensued, players didn't know who or what to believe anymore.
Luckily, audio recordings that surfaced later on cleared Phil's name. In these recordings, Russ Hamilton clearly states that they should keep Hellmuth out of the loop as they were pretty sure that he wouldn't go with the idea of cheating players.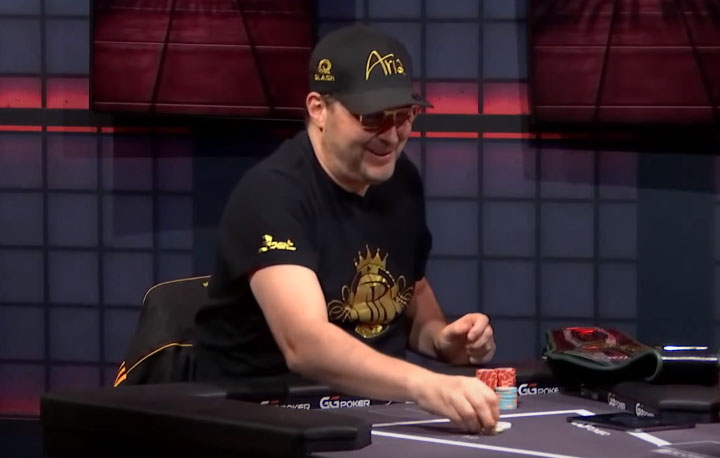 In the statement that followed, Hellmuth still apologized for making a very "bad read" about UB and endorsing the company. Still, instead of running for the hills, he stuck around to help ensure those who suffered financial losses due to the cheating were repaid.
Although not all the money was returned to the rightful owners, Phil played a major role in fixing the situation as much as it was possible.
Apart from this instance, which was really not Phil's fault, the "Poker Brat" has been a part of another "controversy" that kicked off at the start of 2021, and it involves his long-time friend Daniel Negreanu.
After "Kid Poker" had lost to Doug Polk in the grudge match, Hellmuth came out, saying he wasn't happy with Daniel's play throughout the match. Although Phil had bet on Daniel to win, when it was all said and done, he felt it necessary to take a jab at Negreanu.
Daniel didn't take the criticism really well, especially since Phil stated that he didn't actually follow the match.
So, he came after Phil pretty hard, questioning his statement that he is "the best poker player in the world" and challenging him to a heads-up match.
This created quite a bit of back and forth between the two. It was strange to see the two having a go at each other publicly, especially given their long relationship.
Hellmuth didn't accept the challenge Negreanu suggested, but the two did agree to play a shorter match. Given the structure of the event, it will hardly determine who the better player is in the heads-up format, but Phil clearly believes that his tournament experience over the years thwarts all the hard work Daniel put in to prepare for his skirmish with Polk.
It's hard to believe that this Twitter feud will hurt the long-lasting friendship the two have, but it does go to show that Hellmuth's ego sometimes gets in the way.
Whether he truly believes to be the best poker player in all formats there are or not – that's up to you to decide. While no one can take away from his great legacy, there is a world of difference between big-field WSOP tournaments on the one and high roller events, cash games, and heads up on the other side.
But it seems Phil doesn't agree, and when Phil doesn't agree with something, it's really hard (if not impossible) to change his mind.
Phil Hellmuth in 2021 and Onwards
Phil Hellmuth has been on the path of poker glory for several decades now, but he's not showing any signs of slowing down. In his recent interviews, he's pointed out that one of his main goals is to win a few more bracelets and ensure no one can take down his record.
So, you can be pretty sure Hellmuth will be there for the World Series of Poker, probably with another one of his grandiose entries.
Perhaps there is another book in the works as well. Phil is all about his legacy, so he'll be looking for opportunities to cement his name in poker history, although his spot is safe even if he never played a single hand of poker again.
If you want to keep up with Hellmuth, just follow him on his official Twitter. He's very active there, so you won't miss out on anything important. In fact, you'll probably find out more than you really care to know, but that's the "Poker Brat" for you!