Win up to $10,000 Extra with Card Strike Promo at 888poker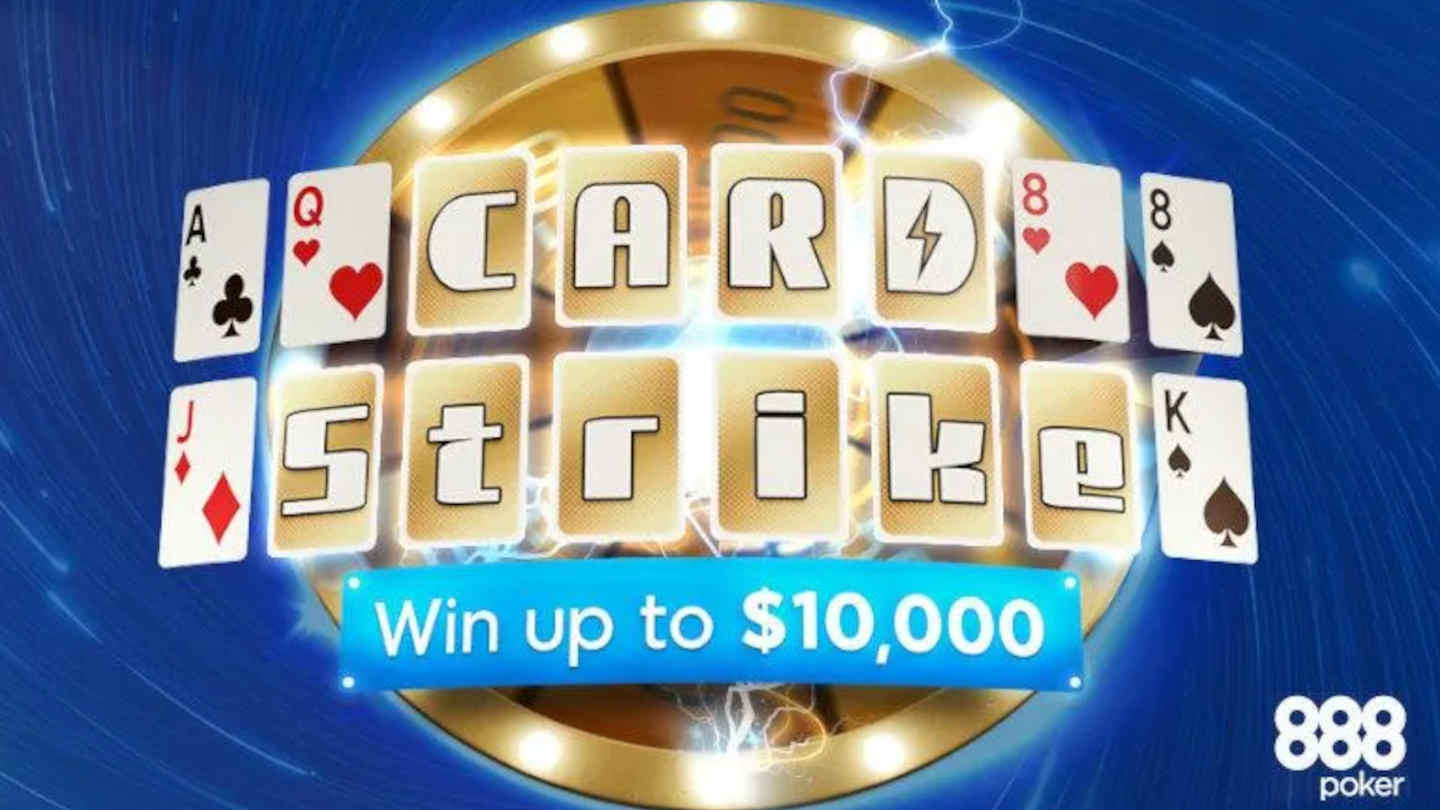 888poker has introduced its new rewards feature called Card Strike. This fresh initiative gives you the opportunity to win substantial cash prizes playing No Limit Hold'em or Pot Limit Omaha cash games.
The promotion is available across all tables at 888poker, but naturally, the higher the stakes, the higher the potential rewards. If you get really lucky, you could add as much as $10,000 to your bankroll!
What makes Card Strike even better is that you don't need to do anything special or change your strategy in any way. You can simply play your game and let the cards fall where they may.
How to Participate
Card Strike is a new promotion available on the cash-game tables of 888poker. It offers you a chance to win up to $10,000 by playing your favorite poker variants. The best part is that it comes at no extra cost to you as it is fully funded by the operator.
Simply keep an eye on the Card Strike Board while playing. If one or more of your hole cards align with any of your board cards, that specific card will be marked off.
The Card Board also shows a number that represents the number of poker hands that you have to complete the board.
Your goal is to match all your board cards within the hand limit. This will trigger the Card Strike, and a spinning wheel will show on the screen to determine which cash prize awaits you.
The higher stakes you play, the greater the potential reward, with the biggest cash game prize coming at $10,000.
PLO fans will likely enjoy this new promotion even more, as with four cards instead of two, you're doubling your chances of finding one or two cards you need with each hand.
Last Call for the XL Spring Series
If you are more of a poker tournament fan, take advantage of the XL Spring Series currently underway at 888poker.
While Card Strike may be exclusive to cash game tables, the XL Spring Series delivers a whole new level of excitement.
Running until June 5 and with over $2 million in prize money, this series offers something for everyone. While many events are already in the books, there is still plenty of money to play for before all is said and done.
🎬 Get ready for an epic week of poker action with XL Spring Week 2!

🏆 Check out the thrilling schedule packed with exciting tournaments and massive prizes.#888poker #poker #onlinepoker pic.twitter.com/HXKbUHJbt8

— 888poker (@888poker) May 27, 2023
The standout tournament of the series is undoubtedly the Main Event which will have a $500,000 prize pool and a buy-in of only $250.
If you want to join the action but the buy-ins are out of your prize range, head to the 888Poker Twitter page, where they run regular giveaways for the XL Spring Series.
Join the Fun at 888poker
Whether you're a complete novice or a seasoned player, 888poker offers something for everyone. There are tournaments to fit every bankroll and cash game tables where you can sit down with just a few bucks to your name.
If you're into cash games, there's never been a better time to sign up and join the fray. The Card Strike promotion gives you a shot at big money with no special skills required.
You just need to play and get lucky, and the more you play, the better your odds of completing the board will be!