PokerStars MicroMillions Kicks Off on Sunday Offering $4.3 Million in Prizes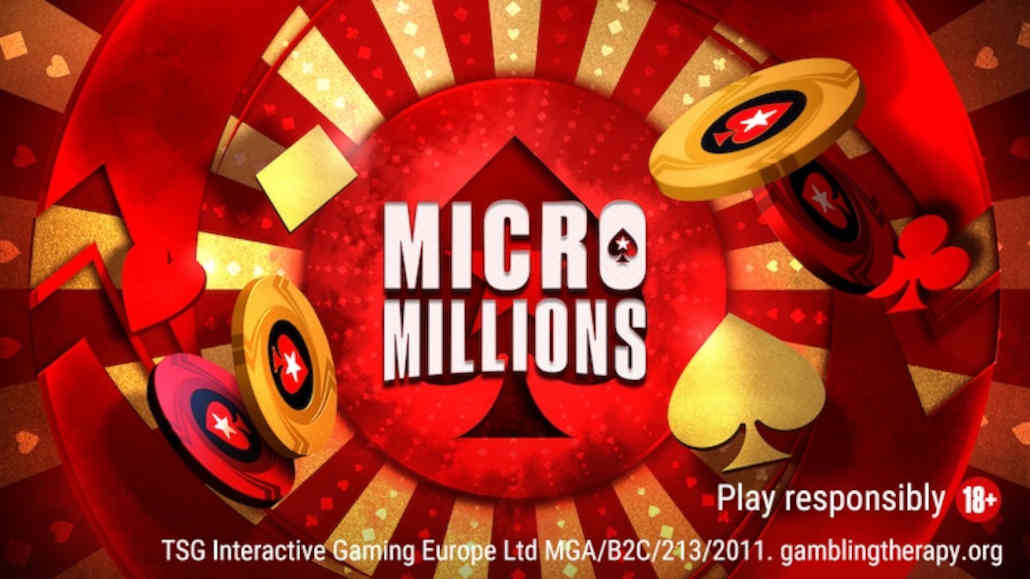 As the WSOP in Las Vegas slowly comes to an end, online poker operators are back to offering some of the biggest and most comprehensive tournament series that players can get into without leaving the comfort of their homes.
MicroMillions has been one of the top tournament series for low-stakes grinders for years and will be launching once again on July 17 on PokerStars, running through July 31 this year.
As usual, MicroMillions is scheduled to feature a host of events, with 208 individual tournaments on the list this time around.
The series will offer a total guaranteed prize pool of $4.3 million, with the largest buy-in standing at just $55.
We have grown accustomed to MicroMillions being a massive affair with events that attract tens of thousands of runners, and it looks like more of the same is coming this year.
The 208 events on the schedule will include a wider variety than is offered in any other micro-stakes tournament series out there, including games like H.O.R.S.E, 8 Game, 7 Card Stud, Razz, PLO, and much more.
MicroMillions kicks off on July 17 with an incredible 16 events on the docket for that day alone, giving tournament grinders plenty to be excited about as the day quickly approaches.
MicroMillions Schedule Highlights
There are plenty of tournaments scheduled for the 2022 MicroMillions that will attract lots of attention, but a few that truly stand out.
The highlight of the opening day will be the $11 PKO with a $100k guarantee, a fantastic precursor to the multi-million dollar series.
The major highlight of the whole series will be the MicroMillions Main Event with a $22 buyin and an incredible $500k guaranteed prize pool, one of the best you can get for an affordable buy-in all year long.
The $55 High Roller is also on the schedule with a $200k guarantee, another massive prize pool for a buyin that many players will be able to afford or easily satellite into.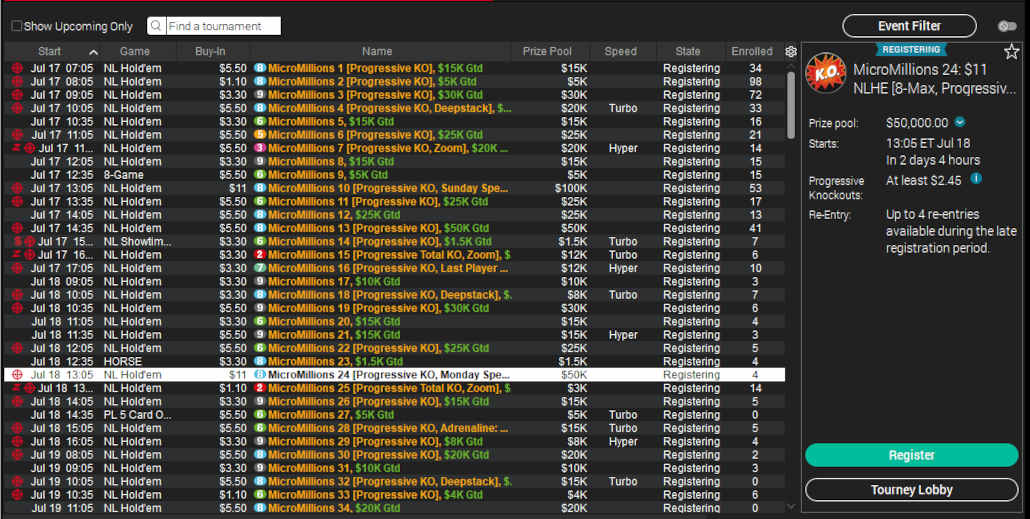 On top of the variety of games that PokerStars always like to offer in their series, this time around, we will also have events in games like 6+ Hold'em, Courcheval, and Fusion.
Playing every single event of this year's MicroMillions will cost you just over $1k while giving you plenty of opportunities at a major tournament title and a massive amount of experience playing in big-field online tournaments.
It's also worth mentioning that a big chunk of this year's Texas Hold'em tournaments will be played in the PKO format, following the general trend of PokerStars Hold'em tournaments.
Get Into the Grind Today
With MicroMillions looming, the satellite tournaments are already running, and there is plenty of other low-stakes tournament action going on around the clock.
Signing up with PokerStars today will give you access to $30 free play or a huge $600 deposit bonus on your very first deposit
Download the PokerStars software and sign up for an account to take part in the biggest micro stakes tournament festival of the year.
Participate in valuable promotions, and claim the lucrative welcome bonus available to every new player out there.
MicroMillions runs through July 31 and offers plenty of exciting events every single day, including the Main Event and the High Roller, both scheduled for the very end of the series.