Win Extra Cash in PokerStars Spin & Go Races This Month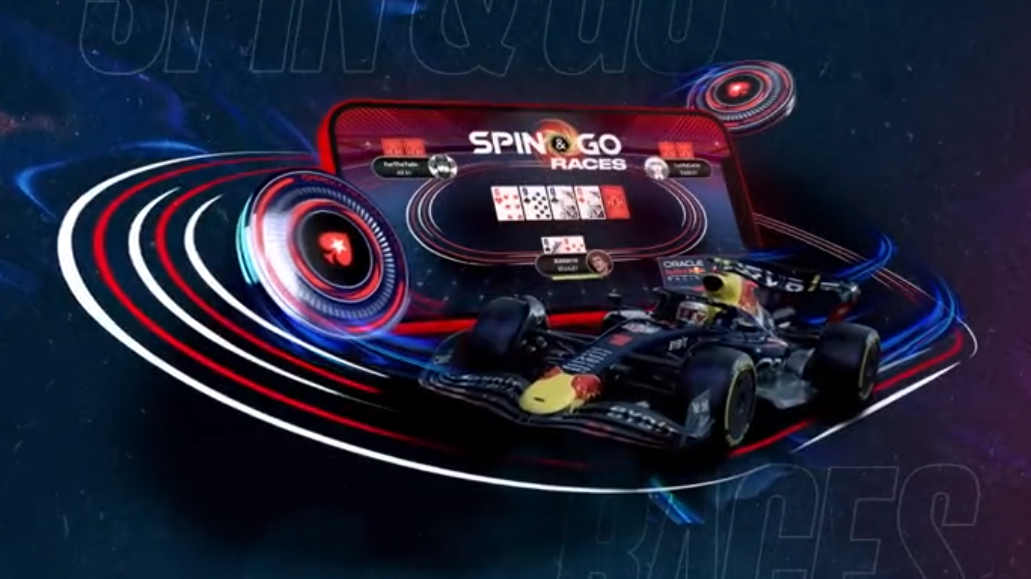 3 minutes
Last Updated: November 6, 2023
The Spin & Go tournaments at PokerStars have been extremely popular among recreational players and pros alike, thanks to their quick play time, fun format, and the chance to win a massive million dollar jackpot.
The jackpot sit and goes will be even more exciting and profitable through the month of November, as PokerStars are running Spin & Go Races, a promotion that will award all the best Spin & Go players out there.
The Spin & Go Races will give players at all Spin & Go buy-in levels a chance to win points towards eight different weekly leaderboards, each more valuable than the next.
Regardless of which Spin & Goes are your favorite, you will have a chance to earn some extra money by playing them between now and November 20 when the promotion comes to an end.
How to Compete in Spin & Go Races
Every player who plays in Spin & Goes in November and opts-in for the promotion will be entered into the appropriate Spin & Go Race, depending on the buy-in level they play.
At each buy-in level, you will get to play up to 22 Spin & Goes in one week that count towards the leaderboard. However, your results will influence how far you can get in each 22 game streak.
Every time you win a Spin & Go, you will keep running in the Race without any cost.
Every time you finish second or third, you will lose 8% of the fuel reserved for that race, which means your run will be cut short if you can't win enough consecutive games.
For each victory in a Spin & Go, you will receive 25 points towards your Race, while each second place finish will earn you 18 points, and each third place finish will earn you 15 points.
These points will be further multiplied by multipliers that depend on the prize pool of the tournament, which is random.
Put your foot on the throttle and join Spin & Go Races for as little as $1.

🏎️ $105,000+ in prizes each week
🏎️ Multiple leader boards
🏎️ Opt-in for the chance to win
🏎️ All the details 👉 https://t.co/MgpSYWY590 pic.twitter.com/xYWBc9oWM3

— PokerStars (@PokerStars) November 2, 2022
At the end of the week, your scores from the three attempts at each leaderboard will be calculated and compared with other players in the same buy-in bracket. The more wins in the big prize pool Spin & Goes you had, the more chances you will have to earn a piece of the prize pool.
Keep in mind that you will be losing fuel each time you don't win your Spin & Go and that there is no way to earn additional fuel. Thus, you will need to tie together some wins in order to get the maximum of 22 games in your runs.
What Can I Win in Spin & Go Races?
The prizes for Spin & Go Races winners are all paid in cash and depend directly on the buy-in of the Spin & Goes you competed in. It's worth noting that you can compete in multiple leaderboards each week.
Players in the lowest bracket, the $1 buy-ins, will have a chance to win between $5 and $200 in cash, with 150 players paid cash prizes. Those who finish between 150th and 500th place will receive low stakes Spin & Go tickets.
The prize pools are similar for the $2 and $5 leadearboards, with 500 players paid in each and prizes going up to $400 and $1,000 respectively.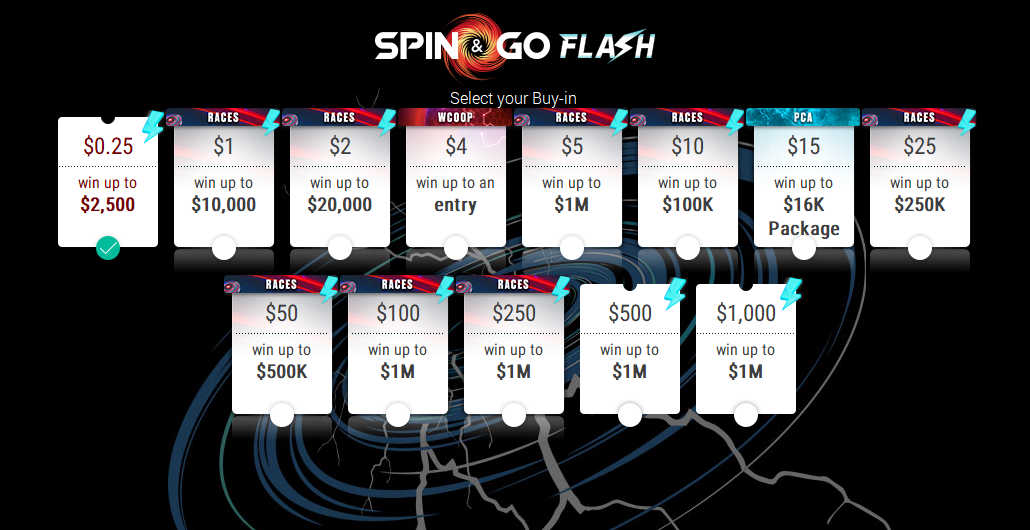 You will have a chance to win up to $2,000 by doing well in the $10 Spin & Goes, with 150 players paid in this leaderboard.
The $25, $50, $100, and $250 buy-ins all offer the top prize of $3,000 per week, but the number of payouts is significantly reduced to compensate for the lower number of players competing in these brackets.
Keep in mind that you are eligible for prizes in each of the eight weekly leaderboards and that the promotion will be available until November 20, so jump into as many Spin & Goes as you can to maximize your chances of getting some extra value.
Claim Your PokerStars Welcome Bonus
While the Spin & Go Races are a great extra reason to join PokerStars, there is plenty of value available for those who play other game formats as well, but also for Spin & Go grinders.
The PokerStars welcome package is worth $600 and is available for all newly registered players from all regions. The bonus is cleared through playing at real money tables at a fantastic rate and is available for 60 days after your deposit.
All that remains is to head over to PokerStars, download your client, and set up your player account to get your bonus and start your progress toward the Spin & Go Races.