WPT Global $1-for-$1-Million Day 2 Postponed for Start of October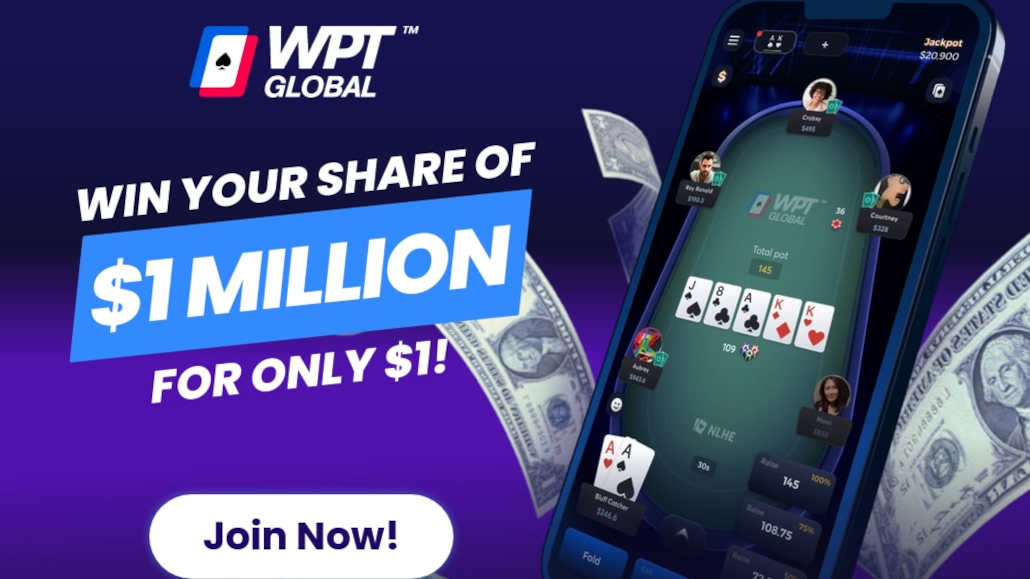 2 minutes
Last Updated: November 6, 2023
As many of you will know, WPT Global, a brand new poker room, has been running an exclusive $1 tournament with a massive guaranteed prize pool of $1,000,000.
Things kicked off on July 20, and there have been numerous Day 1 flights over the past month.
Originally, the operator planned for Day 2 of the tournament to take place in August, but a few days ago, they announced this would not be the case. Instead, Day 2 has been pushed forward to October 1.
This was quite a surprise, especially for those who already qualified for Day 2 and expected to play down to the winner this weekend.
To make up for it, WPT Global did the right thing and awarded everyone who had qualified prior to the announcement with $330 tickets for the Main Event. This was the second $1,000,000 guaranteed event on the Summer Festival schedule.
Plenty of Extra Time to Qualify
While the decision to move Day 2 several weeks after the original date was a surprising one, the operator explains the motivation wasn't financial in nature.
Additional entries will barely make a dent in what's guaranteed to be a $900,000+ plus overlay, one of the biggest in online poker history.
However, with such a big value up for grabs, WPT Global wants as many players as possible to get involved. Adding a few extra weeks' worth of action will certainly help achieve that goal.
There are still those who haven't heard about the tournament or haven't had a chance to enter it just yet. Those players now get plenty of extra time to get involved.
For those who tried but failed to get into Day 2, there are now additional flights to take part in.
To remind you, players are allowed to enter as many starting flights as they want for the $1-for-$1-Million tournament.
Those qualifying multiple times will get to carry their largest stack into Day 2 while remaining entries will be forfeited.
Heaps of Day 1 Flights Added
For the remainder of August, you'll find plenty of Day 1 flights running on the platform. In fact, there will be at least one starting flight every day until the start of September.
After that, the room will return to the usual schedule, with Day 1s happening four times a week: two on Sundays and two on Wednesdays.

This is at least what the schedule looks like at this time, but it is quite likely WPT Global will add some extra starting days to the mix during September.
Day 2 is set to take place on October 1, and the action will play down to the final table. The action will stop at this time, and players will return to resume the affair and play down to the winner on Sunday, October 2.
If you don't have an account with WPT Global yet, make sure to open one, and don't miss out on this great opportunity and a massive overlay.
Plus, there is a nice 100% poker welcome bonus of up to $1,200 for all new depositing players if you need more reason to give this new room a try!