Win a Share of $300,000 in The Wizard's Spell Freerolls at 888poker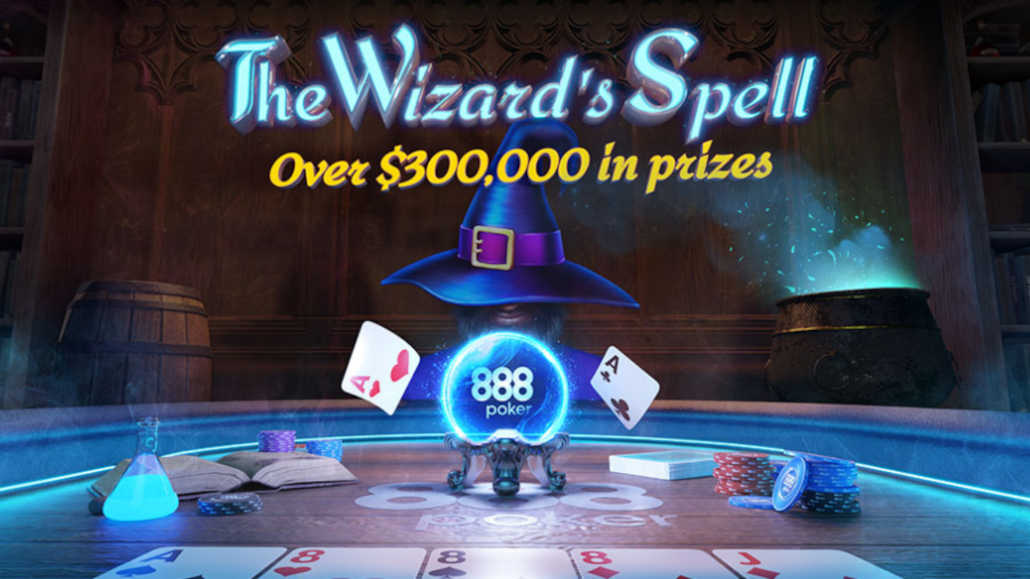 Following a successful 2022, 888poker has kicked off the New Year with plenty of value for its players, and The Wizard's Spell promotion will be bringing a lot of it our way in the early months.
With $300,000 in cash set to be given away, The Wizard's Spell will go on until April 23 and let all 888poker players compete for their share in a series of daily, weekly, and monthly freeroll tournaments.
888poker's faithful wizard has already began casting his spell on the lucky players each day throughout January, but plenty more is yet to come in the following days and weeks.
Whether you are a cash game or tournament player, keep reading to find out how you can get your share of the $300,000 prize pool being given away at one of the world's largest online poker sites.
The Wizard's Spell Freerolls Explained
The entire promotion will boil down to a series of freeroll tournaments, with entry into each freeroll only allowed for players who meet the criteria.
To get your spot in The Wizard's Spell freerolls, you will need to play poker at 888poker or make sports bets or casino bets on the associated platforms.
The following types of freerolls will be available throughout the promotional period:
Daily Wizard's Wonder Freerolls: $300 Guaranteed
Weekly Magical Mystery Bounty Freerolls: $2,000 Guaranteed
Monthly Miraculous Mystery Bounty Freerolls: Up to $60,000 Guaranteed
The daily Wizard's Wonder freerolls will be the easiest to get entry into, as you will simply need to win a single cash game hand holding AK, win a single BLAST game, or bet $2 on sports or casino games at 888.
The Magical Mystery Bounty freerolls will be played once a week and will require you to complete any nine of the challenges we've just mentioned during the week to receive your ticket.
Once you have entry, you will be competing for a prize pool of $2,000, but also special mystery prizes added for the top five finishers in each weekly freeroll.
Monthly Miraculous Mystery Bounty freerolls will be the culmination of the whole promotion, offering up to $60,000 in prizes for the top finishers.
The exact prize pool for each monthly freeroll will be determined a few days before the actual event, while players will have a full month to earn their entry.
To be a part of the monthly Miraculous Mystery Bounty Freeroll, you will need to win 100 poker hands at cash game tables, make the money in five separate MTTs, or knock out a total of ten players from progressive KO and mystery bounty events on the platform.
Start Winning Your Freeroll Tickets Today
It is worth noting that all real money action will count towards the promotion. You could win your entry into the freerolls playing $0.01/0.02 cash games or $1 tournaments with no problems.
All you need to do is head over to 888poker, create your account, and make a minimal deposit into your balance to get things rolling.
This will give you a fair chance to fight for the $300,000 given away as part of The Wizard's Spell. You'll also get access to the $888 deposit bonus and the $20 no deposit package given away to every player who joins using our exclusive link.