Win a Share of $5,000 in YouTube Celebration Freeroll at 888poker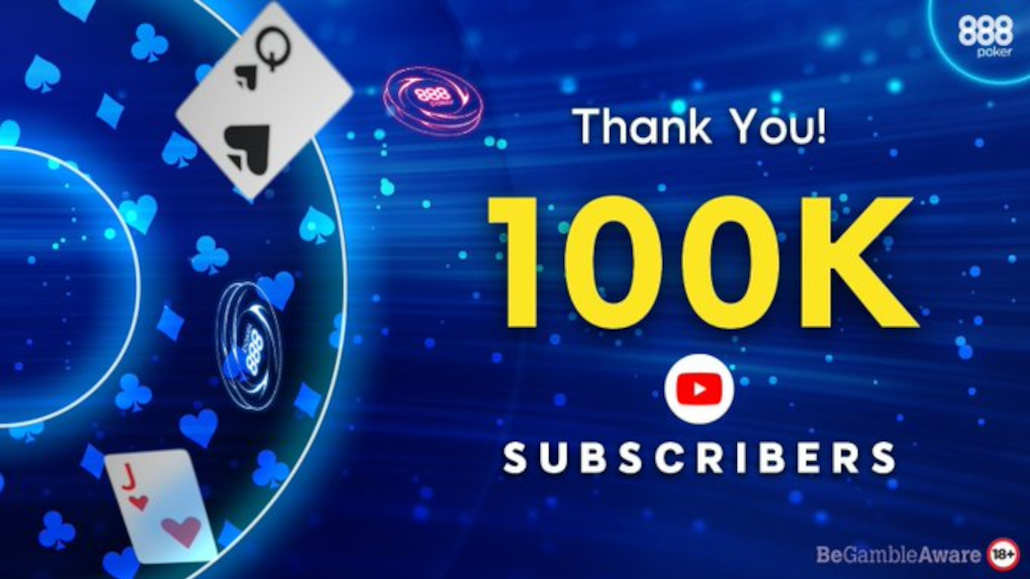 As one of the biggest brands in the online poker world, 888poker has been at the forefront of basically every part of the industry's evolution over the years.
When it comes to the media side of things, 888poker has always produced some of the best content out there. In recent years, they also have been sharing a lot of it via their popular YouTube channel.
The 888poker YouTube channel has now reached a new milestone of 100,000 subscribers, which the company has seen as a huge achievement.
To celebrate the occasion, 888poker is running an exclusive $5,000 freeroll for its subscribers on Saturday, February 4, and there is still plenty of opportunity to get into it.
All you need to do is head on over to 888poker YouTube channel, subscribe, and turn on notifications to get the password for this online poker event in time.
You will also need an 888poker account, so if you don't have one, make sure to register with 888poker right now. This will give you the opportunity to play this amazing freeroll which will be open to anyone who subscribes with 888poker on the popular streaming platform.
$5,000 Freeroll to Celebrate the Milestone
For many years now, 888poker has been giving away thousands upon thousands of dollars through all sorts of promotions, bonuses, and freerolls to its players.
In celebration of their big YouTube milestone, the operator is now giving away another $5,000 in cold hard cash to anyone who wants to play some poker this Saturday.
Thank you to our YouTube community for 100k subs! To celebrate we're having a $5,000 freeroll 😎 The freeroll is at 20:30 GMT, February 4. The password will drop at 20:00 ONLY on the Community Tab of our YouTube channel. 30 mins late reg so get in! https://t.co/56WY8Cv2dx pic.twitter.com/WQM97bkr4j

— 888poker (@888poker) January 28, 2023
You will find the event in the 888poker lobby under the name "YouTube 100k Subscribers Celebration Freeroll" and you will find the password to play in it on the YouTube channel's community page.
The event kicks off at 8:30 pm GMT on 888poker, and anyone who subscribes to the YouTube channel will have an opportunity to play in it. The event is open to all 888poker account holders, even if they have no real money balance.
What's on 888poker's YouTube Channel?
Getting up to 100k subscribers on YouTube is no small feat these days, especially posting something as specialized as poker content.
Powered by a team of 888poker Ambassadors that includes the likes of Kara Scott, Vivian Saliba, Ian Simpson, and Lucia Navaro, 888poker videos have amazing educational and entertainment value alike.
On top of regular streams from major 888poker online and live events, the channel also features video series like Ask a Poker Pro, Made to Learn, and Focus Fridays, all of which aim to help novice and intermediate players get better at the game.
Videos, shorts, poker hand analysis, and much more available at 888poker YouTube channel, making it one of the must-follow accounts for any real poker fan out there.
If you are not following 888poker on YouTube yet, we highly suggest you do it, especially right now in anticipation of the $5,000 freeroll.
Make sure to also sign up with 888poker in time and be ready for the password drop which should come on the day of the tournament. This will allow you to enter the event and play for the easiest share of a $5k prize pool you will ever see.