APPT Cambodia Draws to a Close at NagaWorld Integrated Resort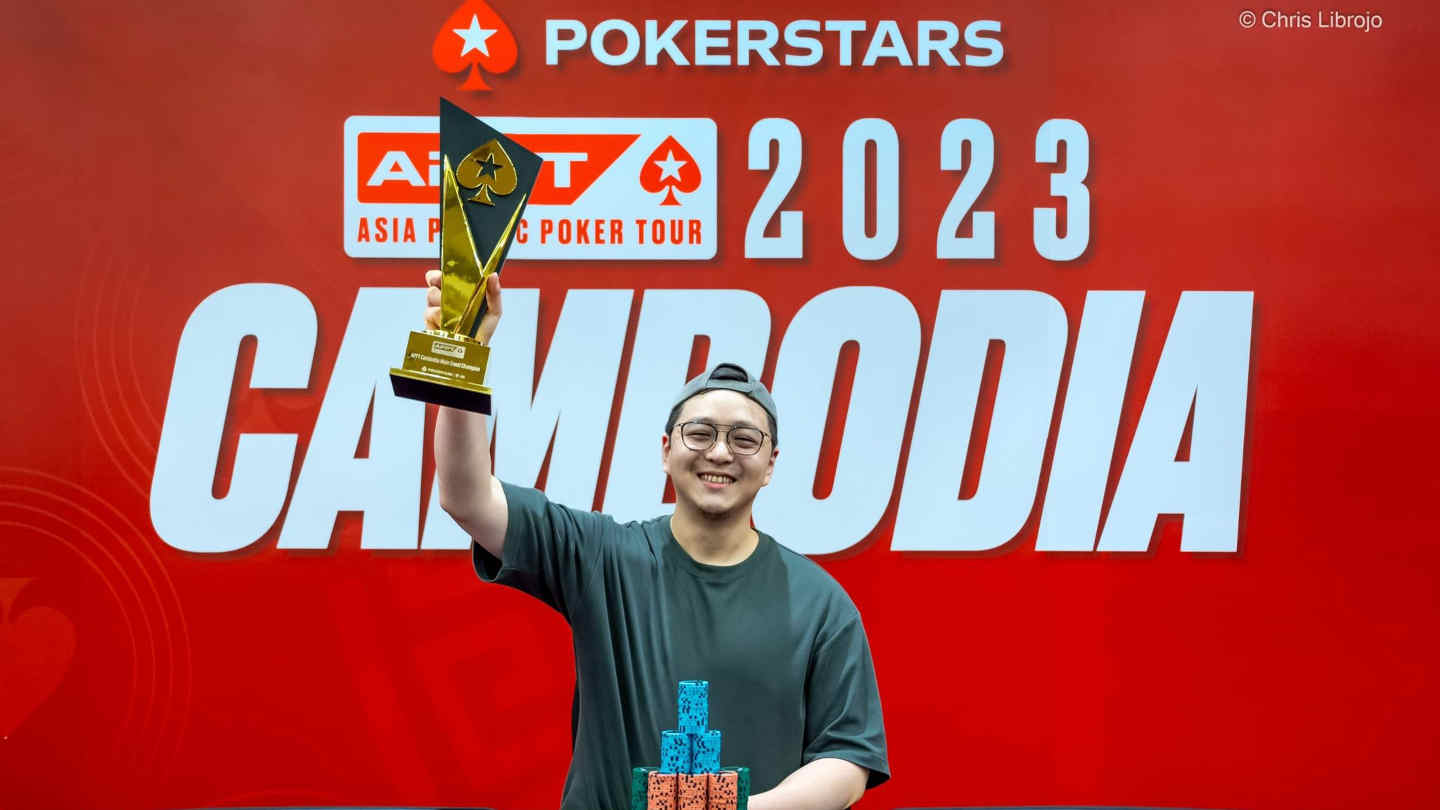 Another leg of the popular Asia Pacific Poker Tour has come to a close, with the APPT Cambodia Main Event crowning its champion at the NagaWorld Integrated Resort in Phnom Penh.
When all was said and done, it was Chao-Ting Cheng from Taiwan who took home the trophy, although the runner-up Junnie Pamplona from the Philippines bit off the biggest slice of the cake in terms of sheer cash, following a heads up deal between the two.
All things said and done, APPT Cambodia was another great success for live poker in the region, with the PokerStars sponsored Tour once again drawing in a massive international crowd, made up mostly of Asian players, with some guests from other parts of the world, too.
Keep reading and find out how it all went down in the $1,500 APPT Cambodia Main Event, or head on over to PokerStars to try and win your seat in the next leg of APPT, which will be played in Manila in July and August this year.
Heads Up Deal for Two Young Players
APPT Cambodia kicked off at the exclusive NagaWorld Integrated Resort in Phnom Penh on May 5. One could immediately tell it would be one to remember, as players from far and wide made it out even for the preliminary events.
The APPT Main Event itself drew in a total of 476 entries, including re-entries, and created a massive prize pool of $623,322, insane value for a $1,500 buy-in.
The final table was dominated by players from the region, although Evgenii Neksarov from Russia (fifth), and Jimmy Torres from Colombia (fourth) represented the rest of the world quite well.
It was an interesting and very young final table at Phnom Penh, with the vast majority of players who made it all the way in their 20s and 30s.
#APPTCambodia Main Event final 9 players . Good luck players! pic.twitter.com/qFCzrIpTtv

— PokerStarsLIVEManila (@PSLiveManila) May 15, 2023
Early action saw eventual champion Chao-Ting Cheng nearly bust out, but he managed to crawl his way back and find his way to victory.
First to bust out was Bien Mai from Vietnam. Just three hands into final table play, the player who has been dominating Asia Pacific tournaments this year ended up bowing out, as his AQ was not enough to beat Cheng's 88, which turned into quads.
Curtis Lim was next to go when his own 88 ran into QQ of Colombian Jimmy Torres, but no quads could be found this time, which meant the player from Singapore would leave us in eight place ($13,775).
Taiwan's Hua-Wei Lin lost a coin flip to Eric Tsai to bust out in 7th place ($19,759). Kien Tat Heng from Singapore would not last much longer, as he left play in 6th place ($26,242) after his J9s could not improve against KK of Cheng.
The end soon came for the only European player at the table as well, as Russian Evgenii Neksarov finished in 5th place ($33,597), much thanks to his TT coming second best to Pamplona's KQ.
The other representative of the rest of the world, Jimmy Torres from Colombia, could not last much longer either, as he bowed out in 4th place and took home a respectable $42,760 for his troubles.
Finding the Champion
This left us three handed with three Asian players, and it was Taiwan's Eric Tsai who would go out before the heads up battle and take home $54,290.
The two remaining players, Junnie Pamplona from the Philippines and Chao-Ting Cheng from Taiwan decided to make a heads up deal and only leave a symbolic amount of money and the trophy up for grabs in heads up play.
#APPTCambodia Main Event now on heads-up.
Junnie Pamplona (Philippines) against Chao Ting Cheng (Taiwan).

Goodluck players!!!! pic.twitter.com/aWkj6eb9Ci

— PokerStarsLIVEManila (@PSLiveManila) May 15, 2023
Pamplona ended up losing the heads up match holding AA when Cheng flopped quads, although the latter already had a massive chip lead following an earlier double up with QQ.
In the end, second place finisher Pamplona ended up winning the lion's share with $101,647 going his way, while Cheng had to be satisfied with $94,448 in prize money and the beautiful PokerStars APPT trophy.
It is worth noting that both players were quite young and had both been crushing the Asia Pacific tournament scene in the last couple of years, registering numerous significant cashes and wins in tours like APPT, APT, and WPT in the region.
We can be sure that we will see these names on the leaderboards again quite soon, as APPT moves forward and Asian poker continues to blow up.
PokerStars APPT Travels to Manila Next
With the Cambodia leg of the APPT now in the books, players from across Asia are looking forward to the Manila stop, which is scheduled to play out between July 27 and August 6 this year.
The Philippines stop of the Tour this year will be played out at Okada Manila, one of the most luxurious integrated resorts of the Entertainment City.
The Main Event kicks off on August 3, and will cost PHP 65,000 to enter, with a PHP 20,000,000 guarantee, while side events like APPT Kickoff and APPT National will be available for play in the week leading up to the Main.
Satellite tournaments for APPT Manila are already over at PokerStars, so head on over and become the next big story of the Tour, much like Pamplona did after winning his seat in APPT Cambodia through a $120 PokerStars satellite.