Best PokerStars Tournaments in May: SCOOP Is Here!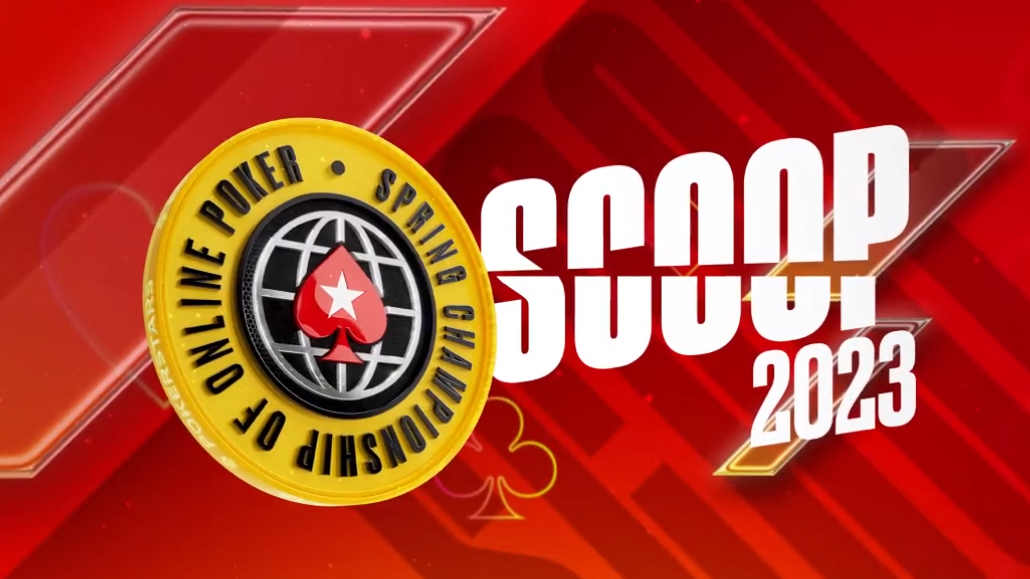 Spring time is one of the most exciting times for tournament players at PokerStars, as the annual Spring Championship of Online Poker (SCOOP) is on the schedule.
This year, SCOOP is happening between May 7 and 31, offering $75,000,000 in total guaranteed prizes across hundreds of events, split into three buy-in orbits.
With buy-ins ranging from just $2.20 to $25,000, there is something on the SCOOP schedule for everyone, but that's not all.
PokerStars continues to offer a loaded tournament schedule every day of May beyond SCOOP alone, with tournaments in every poker game and format you can imagine available for entry.
Keep reading to find out more about PokerStars May tournament schedule, or head on over to PokerStars yourself and check out the schedule in real time in their tournament lobby.
The SCOOP Is Back in Town
The 2023 Spring Championship of Online Poker (SCOOP) kicked off on May 7 and will be running throughout the month, offering hundreds of valuable real money poker events across all buy-in levels.
In total, the series offers $75 million in guaranteed cash prizes, with 11 separate events offering a cool million or more in prizes.
The SCOOP Main Events will be the highlight of the show, as the $109, $1,050, and $10,300 Main Events all kick off on May 28 and run for four full days.
🔉 Sound on@LexVeldhuis is in the zone and live with #SCOOP action.

👉 https://t.co/JU0LdjmnEu or https://t.co/xI3gx3Foac pic.twitter.com/bXV0H0BOqs

— PokerStars (@PokerStars) May 9, 2023
On top of those, PokerStars will be running special SCOOP Edition Sunday Millions, along with hundreds of other events at all buy-in ranges and across different types of poker.
SCOOP is one of the few online poker festivals that offer tournaments in mixed games and other poker formats such as 5 Card PLO, Short Deck, PLO8, 2-7 Single Draw, Badugi, and more.
The truly amazing thing about SCOOP is that players across all levels get to enjoy the Championship in full. Each event runs separately in Low, Medium, and High orbit, but with the very same structure.
You will be able to play SCOOP events regardless of your bankroll size, but if you are gunning for the big ones, you will have plenty of chance to get in there via a host of satellites offered by PokerStars throughout the month of May.
Bounty Builders
PokerStars trademark PKO tournaments are back this May, with plenty of games across all buyi-ns offered on a daily basis.
Progressive Knockout, or Bounty Builder format, is one of the favorite new forms of tournament poker among players from all parts of the world, and it's a highlight of PokerStars daily schedule.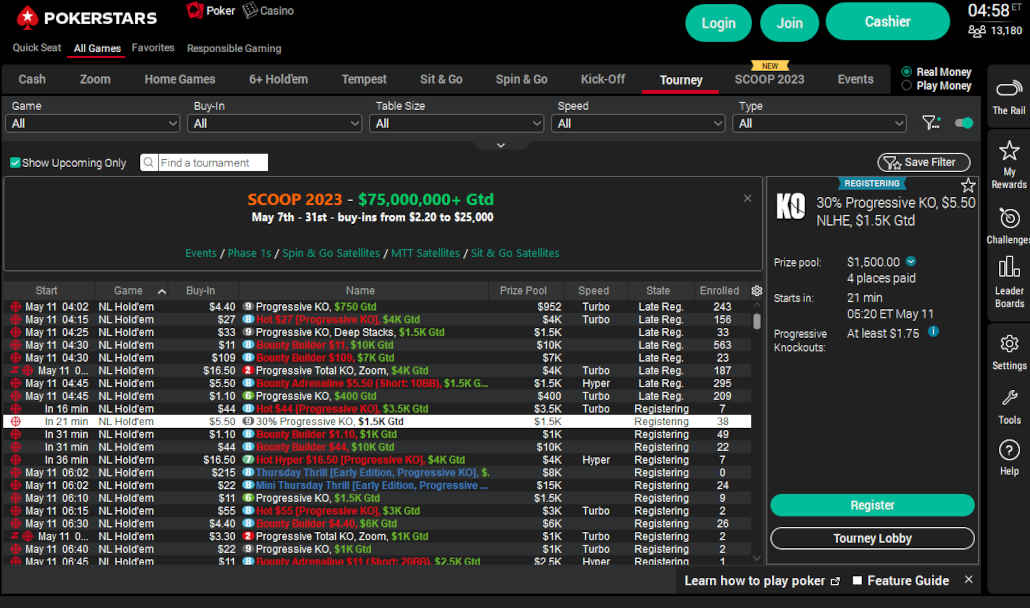 Each day, you can find a number of PKO events at PokerStars to suit your buy-in preferences, culminating in special events like the Mini Bounty Builder High Roller with a $150k guarantee and Bounty Builder High Roller with a $250k guarantee.
If you have fallen in love with chasing those escalating bounties, you will not be lacking action this May, as PokerStars will ensure plenty of PKO events both within and outside the SCOOP.
Sunday Storm
Sunday Storm is one of the most prestigious low buy-in events in all of online poker, typically taking place every single Sunday, and it will be available throughout May as well.
With the SCOOP running, the tournament schedule at PokerStars will be a bit altered, but that doesn't mean there won't be plenty of regular action going on as well.
Sunday Storm action will be up and running on Sunday, May 14, when the 2-day $11 buy-in event will offer $100k in guaranteed prizes and one of the softest tournament poker fields you could imagine.
Jump into the Sunday Storm this May for your chance at a massive bankroll boost or an easy min-cash, and don't miss out on this great action just because SCOOP is running.
Daily Schedule at PokerStars
If there is one thing that massive tournament festivals like SCOOP do, they drive action. This May, you can expect tournament action at PokerStars to be wild, as more players will be around grinding than usual.
This is why the regular daily tournament schedule at PokerStars will be juicier than ever You can expect guarantees to be shattered and more players to be in the daily games than usual.
All the regular Big, Hot, and other named events you have grown accustomed to will still be available daily, with prize pools likely boosted by the elevated traffic.
Add to that the fact SCOOP events will be running daily within your buy-in range, whatever it may be, and PokerStars grinding sessions just got a lot better for a few weeks.
Join PokerStars for Best Tournaments in May
PokerStars is one of the biggest and best places to play tournament poker any month, but this May things are even more interesting with the SCOOP running.
T he operator will be offering more individual tournaments and bigger guarantees than usual, making this the ideal time to join up and start playing on the platform.
Head on over to PokerStars to sign up for your free account, claim your welcome bonus, and start playing some of the best and most valuable online poker tournaments around.