Top 10 Types of Poker Card Games You Must Try at Least Once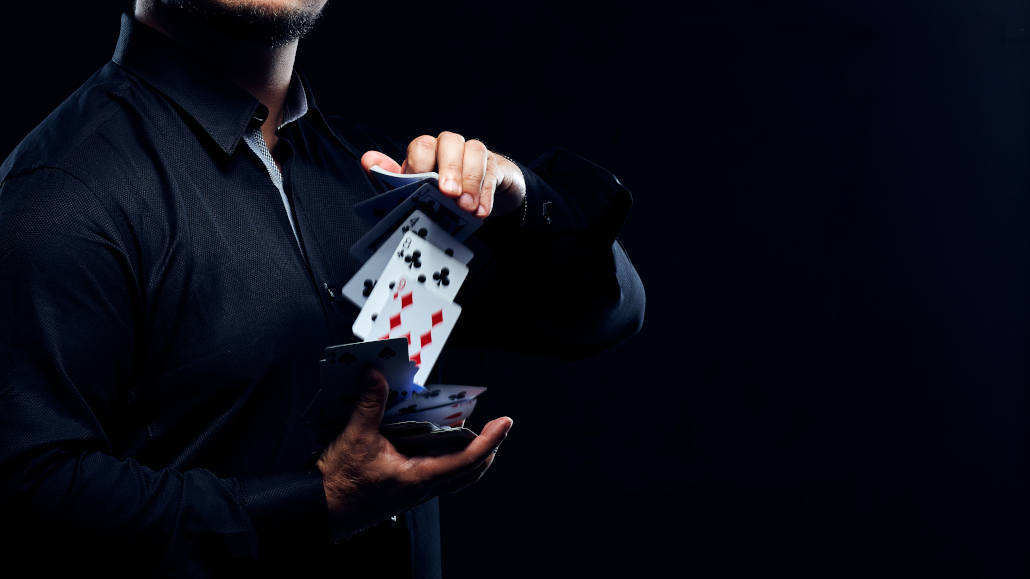 12 minutes
Last Updated: April 6, 2023
While Texas Hold'em continues to dominate the poker world as the most popular of poker variations, the best players can be regularly seen playing many different poker games and competing in ever more innovative events.
In fact, it is often said that only players who can play many different types of poker can be considered in the debate for the greatest player of all time, with the likes of Phil Ivey or Daniel Negreanu often mentioned in this context.
If you want to be a well-rounded poker player, you will need to learn how to play at least a few different poker card games, and today is a great day to start the process.
We look at the ten best poker games you can learn today to improve your understanding of poker and find new opportunities to beat players in card games you have mastered.
Poker Game #1 – Texas Hold'em Poker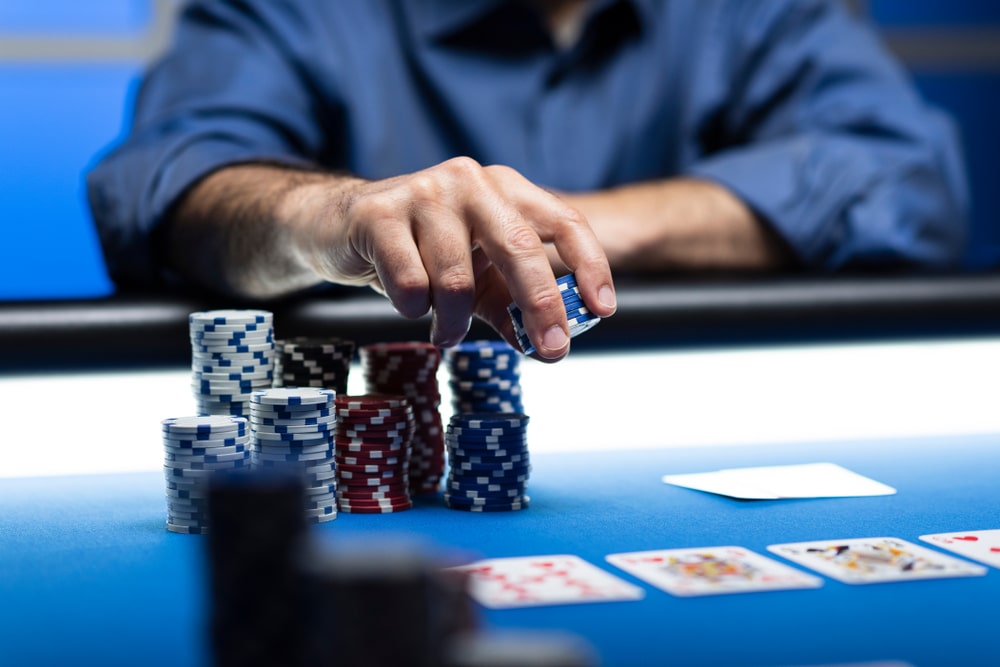 Without a doubt, Texas Hold'em remains the most popular poker game in the world and is the one game you absolutely have to know how to play.
Both the no-limit and limit variations are still often played today, although No Limit Texas Hold'em is considered the Cadillac of poker in poker rooms across the globe.
Texas Hold'em is a relatively simple game to get the hang of poker rules, but one that will take you hundreds of hours to master or even become fairly good at.
In fact, I have played with hundreds of players who have spent years playing Texas Hold'em but still play the game at a very basic level.
If you want to be a great poker player in any capacity, you must master Texas Hold'em first and only then make your way to other forms of poker, primarily because of its popularity. If it's tournament poker you want to play, this game will be by far the most important one to master.
If you prefer the liberty of cash games, you could get away with only playing a game like PLO, although you may still run into trouble finding regular games if you can't play any NLH.
⭐ Texas Hold'em Poker Pros:
Most popular poker game in the world
Widely available teaching tools
Easy access to games online and live
Tournament players can thrive in Hold'em
⭐ Texas Hold'em Poker Cons:
Many players play this game very well
You can be card dead for long periods of time
Learn how to play Texas Holdem.
Poker Game #2 – Pot Limit Omaha Poker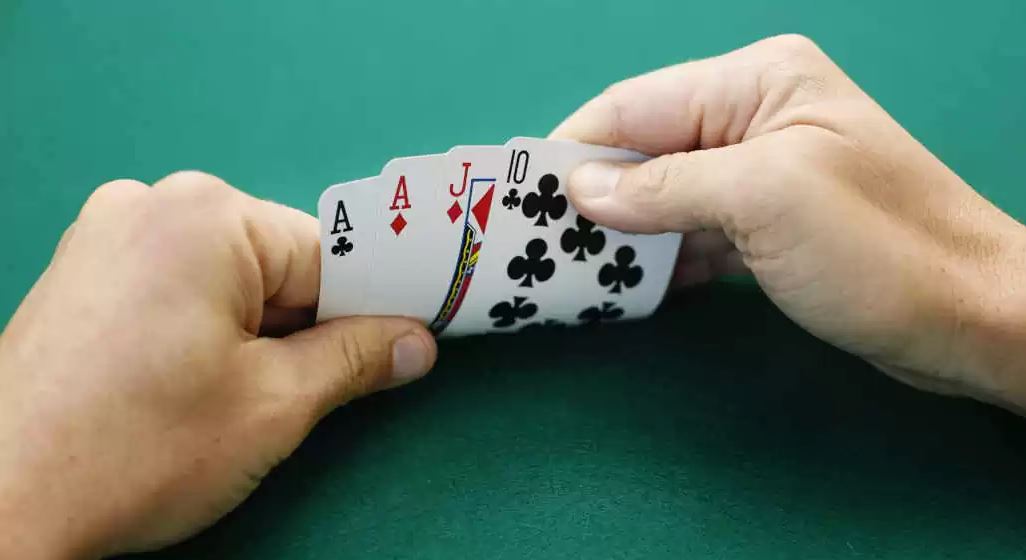 Pot Limit Omaha is easily the second most popular poker game in the world today, and it is a derivate of Texas Hold'em, with two extra hole cards added to create more action and bigger pots.
Because of the wild nature of the game, Omaha Poker is almost always played in the pot limit version, although the craziest players will play No Limit Omaha on occasion as well.
Pot Limit Omaha, or PLO as it's called for short, is one of the most dynamic poker games out there, where fortunes can easily change between flop, turn, and river, taking hands from literal nuts to literal garbage across the streets.
This makes PLO ideal for big bluffers and nut-paddlers, who can hope to exploit their opponents and crush the table, especially in live poker environments.
PLO is also played in tournament formats, but it is ideal for deep stack cash game play where a lot of bluffing can go down, hero calls are encouraged, and the player with the strongest guts often walks away the winner.
To get you started on the rules of one of the best poker games out there, remember that you can only use two of the hole cards you are dealt with three community cards to make the best possible combination by showdown.
⭐ PLO Poker Pros:
Action game with bluffing opportunities
A lot of games can be found these days
Fewer great players at Omaha tables
⭐ PLO Poker Cons:
A lot of variance is involved
Finding tournaments can be a challenge
Poker Game #3 – Omaha Hi-Lo Poker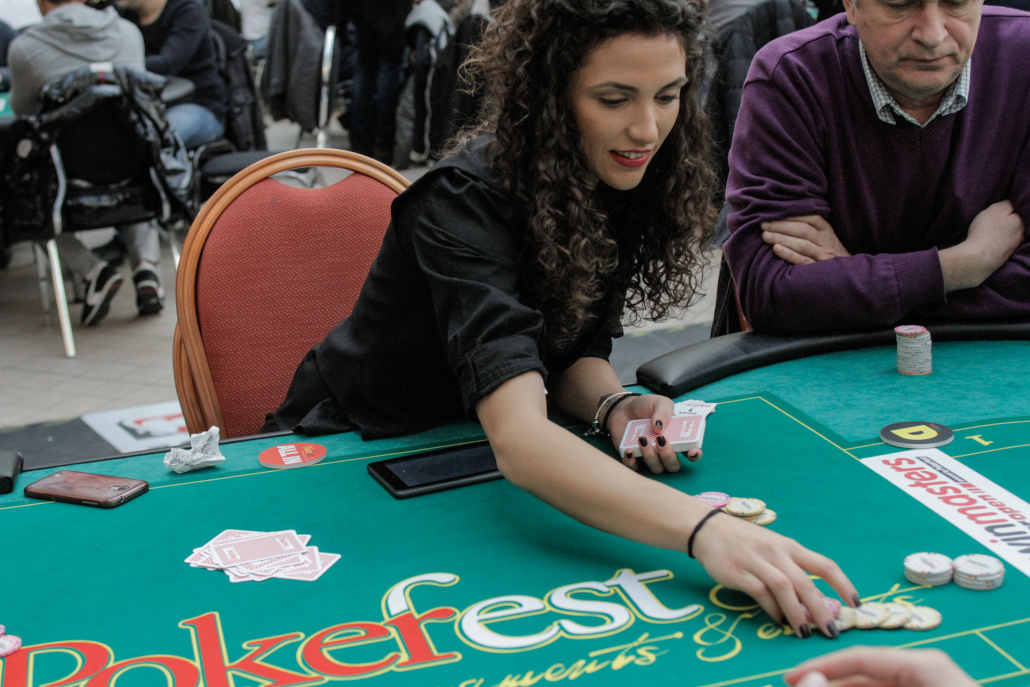 Next on our poker games list is Omaha Hi-Lo, which is a variation of PLO that includes a lowball element from back in the old days.
On a technical level, Omaha Hi-Lo is played the same way as PLO, with each player dealt four hole cards and the dealer putting out five community cards.
In most cases, Omaha Hi-Lo is played as a pot limit variation, although both limit and no limit versions are possible and played in some games.
The big difference is that the pot is split into two halves, with one half going to the best "hi" hand and the other half going to the best "lo" hand.
The first half goes to the best poker hand, as it would in PLO. The "lo" component of the hand is the best possible pairless combination with cards made up of cards eight or lower.
For example, if you hold the wheel (five-high straight), you will have the best possible "lo" hand while also being able to claim the other half of the pot with your straight.
Remember that the "lo" hand will only be possible if at least three different cards under a nine are on the board. Otherwise, the entire pot will go to the best poker hand, as it would in PLO or Texas Hold'em.
If you want to experiment and learn something completely new, Omaha Hi-Lo is the game you will definitely want to try learning and finding some opponents to play with.
⭐ Omaha Hi-Lo Poker Pros:
Extremely fun poker variant
You can often win half of the pot
Discipline is rewarded
⭐ Omaha Hi-Lo Poker Cons:
Games can be hard to find
Starting with a tight range is recommended
Poker Game #4 – 5/6 Card Omaha Poker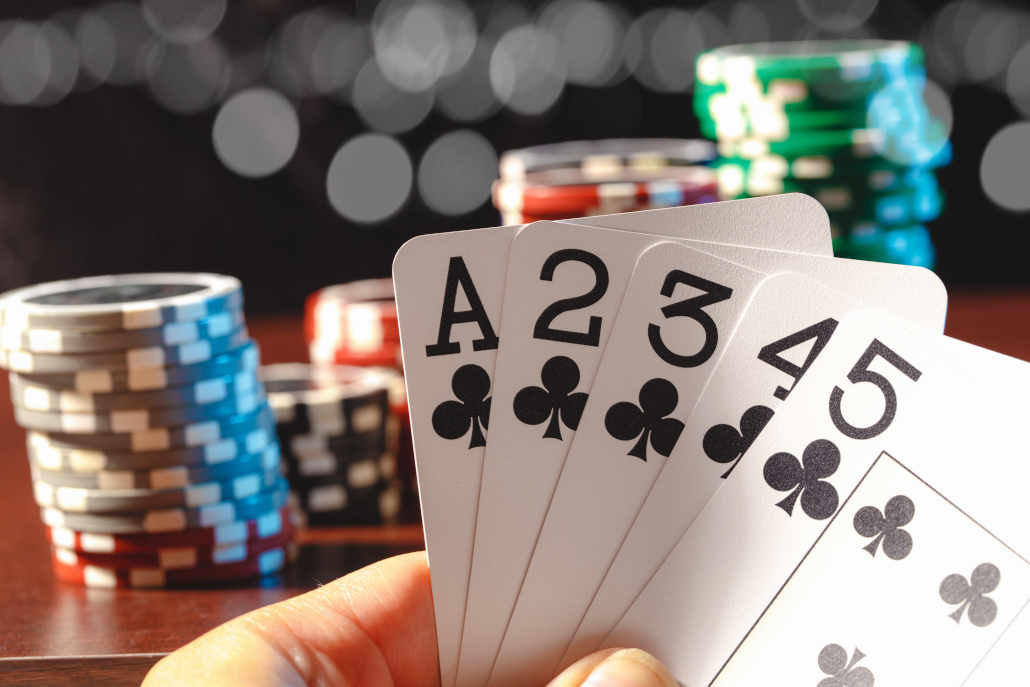 Pot Limit Omaha has not even become the most popular poker game in the world, and spinoff games are already being made to make it even more interesting for the players.
Five and Six Card Omaha variations have become popular over the last few years, especially as several prominent online poker operators added the games to their rosters.
As you may have guessed, these games are played the same way as PLO, with additional hole cards being dealt to players at the start of each hand.
This means you will have even more opportunities to make big hands, even more opportunities to bluff with big draws, and plenty of big hand-over-hand situations where stacks will go in.
Both Five Card Omaha and Six Card Omaha are massive action games, which is why I recommend playing for lower stakes than you might normally do in other games.
Once you have learned how to play PLO, transitioning into these versions should not be too difficult, but beware of all the implications of playing against people with so many hole cards, and remember to only play hands when you have position over other players.
⭐ 5/6 Card Omaha Poker Pros:
More action than in any other poker game
A lot of players play very badly
Extremely fun to play
⭐ 5/6 Card Omaha Poker Cons:
Insane levels of variance
Very hard to play out of position
Poker Game #5 – Short Deck Hold'em Poker
Many different poker games have emerged in recent years, and Short Deck Hold'em, or simply Short Deck Poker as they often call it, has been among the most successful.
The game first emerged in the high-stakes circles in the Far East and quickly became popular in Europe and the rest of the world as televised Triton Poker events started showing up online.
The game is played similarly to Texas Hold'em, except for the fact that all deuces, threes, fours, and fives are removed from the deck.
With only 36 cards in the deck, getting good cards is easier, and so is making big hand combos on the board, which generates more action and bigger pots.
Short Deck Hold'em is also played with all players posting an ante, flushes beating full houses (as they are harder to make), and the ace acting as the low card for a nine-high straight.
If you want to challenge your brain and find a new poker game to master, Short Deck Hold'em is probably one of the games to try, as its popularity is growing daily.
This version of Hold'em Poker could become more popular than the original someday, especially in live cash games where players often get sick of waiting for a big starting hand.
⭐ Short Deck Hold'em Poker Pros:
Easier to get a good starting hand
More action is generated
Popularity is growing by the day
⭐ Short Deck Hold'em Poker Cons:
Skill edge is partially diminished
Variance is higher than regular Hold'em
Learn how to play Short Deck poker.
Poker Game #6 – Pineapple Poker

Yet another twist on the popular Texas Hold'em Poker, Pineapple Poker is very easy to learn if you already know how to play the regular two-card version.
Unlike regular Hold'em, Pineapple is played with three hole cards dealt to each player, with each player having to discard one of the cards they are dealt at the start of the hand.
That's really the only twist in Pineapple compared to regular Hold'em, which adds some slight strategic deviations and makes the game more interesting.
With three cards to choose from, you will be dealt big pocket pairs and other interesting hands more often but will also be aware of another card that's already discarded.
With all that in play, you can have a significant advantage over your opponents if they don't quite know what they are doing, which is often the case in live Pineapple games.
Since Pineapple is normally only played in a live poker environment, this can be a great twist to recommend in your home games.
⭐ Pineapple Poker Pros:
More good starting hands
More edge can be gained over the fish
Easy to learn for Hold'em players
⭐ Pineapple Poker Cons:
Games can be hard to find
Can cause a lot of confusion for new players
Poker Game #7 – Five Card Draw Poker
Of all the poker card games, Five Card Draw probably has the most TV time in old western movies and other popular culture.
The game is played with each player getting dealt five unique cards to play with, and no community cards are used, which is something that Texas Hold'em or PLO players are not familiar with.
Without seeing a single card your opponents may be working with, you must decide which cards you want to hold and which to draw again. You will then need to make your bets based on the very limited information at your disposal.
Playing Five Card Draw can be hard and confusing. The game includes a lot of bluffing and overbetting, and it is often considered more of a "feel game" than the more traditional poker formats.
This is an amazing game to play in home games and with few people, and it can also be played with a shortened deck to make the action even wilder and more hectic than it normally is.
⭐ Five Card Draw Poker Pros:
Very easy to learn the basics
Strategy is limited but still exists
A lot of chances to bluff
⭐ Five Card Draw Poker Cons:
Games are not widely available
Luck can often be the determining factor
Learn how to play 5 Card Draw.
Poker Game #8 – Stud Poker
One of the most famous poker games ever, Stud Poker was the number one poker variant for many years before Texas Hold'em was even invented.
Stud Poker can be played in many variations, with 7 Card Stud, 7 Card Stud Hi-Lo, and Razz poker being the most popular versions still played these days.
Today, you will find Stud Poker played in mixed cash games and tournaments at major poker festivals like the WSOP.
If you are looking to become a true master of all forms of poker, learning how to play the different Stud Poker variations is an important step on your journey.
I recommend learning how to play simple 7 Card Stud first and moving on to the other variants, all of which draw their basic rules from this game.
⭐ Stud Poker Pros:
Popular poker game to this day
A big part of all mixed games
Limit betting reduces variance
⭐ Stud Poker Cons:
Less exciting than NL or PL games
Strategy can be overly simple in some spots
Learn how to play 7 Card Stud.
Poker Game #9 – 8 Game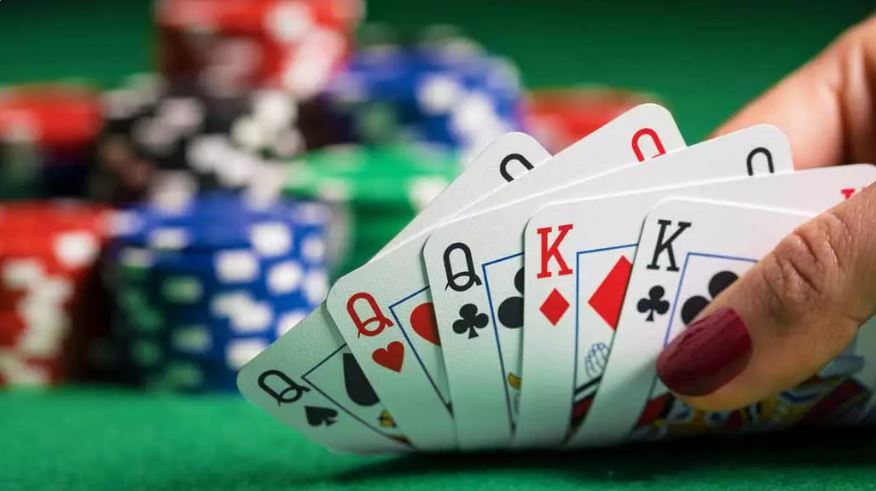 8 Game is the game given to the most popular mixed games poker variation out there these days, the one that's played in the biggest WSOP mixed games tournaments in Las Vegas.
As the game suggests, 8 Game is not a singular poker game but a mix of eight different poker games blended into one.
Each round of 8 Game is played with a different set of rules, with a new game introduced every time the dealer button makes a full circle around the table.
Games included in 8 Game are:
Limit Hold'em
Limit Omaha Hi-Lo
Limit Stud
Limit Stud Hi-Lo
Limit Razz
No Limit Hold'em
Pot Limit Omaha
Limit 2-7 Triple Draw
These days, other poker games such as Badugi, 2-7 Single Draw, and an infinite number of other poker variations are often added to mixed games tables, creating 10 Game, 12 Game, etc.
And we're off. 10k 2-7 triple draw pic.twitter.com/Yv8K8VEwby

— Todd Brunson (@ToddBrunson) June 22, 2018
If you want a seat at some of the toughest games in the world, learning all these poker games and holding your own in each will be an absolute necessity.
⭐ 8 Game Pros:
Awards versatile and experienced players
Very fun, with games changing every orbit
Often played for high stakes
⭐ 8 Game Cons:
Very hard to be proficient in each game
Only good for experienced players
Poker Game #10 – Chinese Poker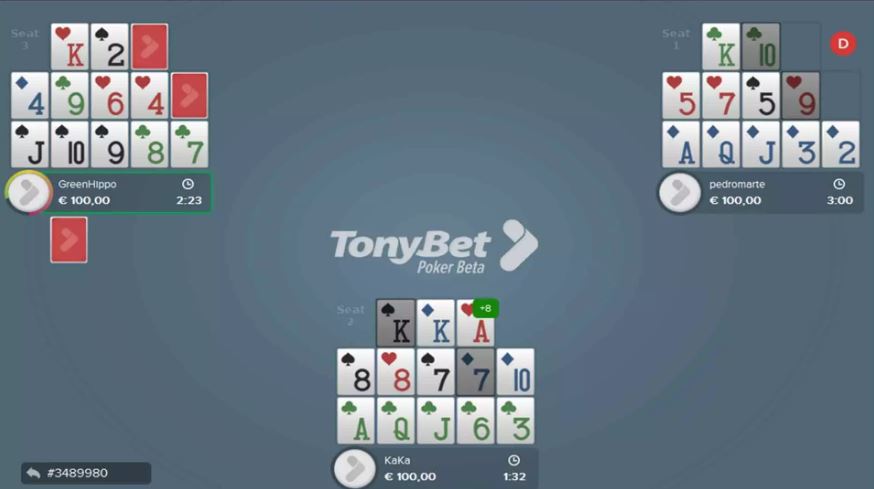 Unlike all the other games on the list, Chinese Poker is not a poker game, at least not in a traditional sense.
That said, it is an incredibly fun card game that takes the hand rankings part from the poker rules and applies it to a completely different game altogether.
The game is played between 2 – 4 players and is all about sorting the cards you are dealt into three separate "poker" hands and pitting them against your opponents.
The game can be played with closed or open cards (Open Face Chinese Poker), with the latter variation being considered slightly more skillful.
The game was played at the 1995 and 1996 WSOP before returning to the high-stakes poker scene in the late 2010s.
Today, Chinese Poker is still played on the outskirts of poker tournaments worldwide, and some of the top poker pros, like Shaun Deeb, are absolutely in love with Chinese Poker.
⭐ Chinese Poker Pros:
Fun game to play during poker breaks
Fairly easy to learn
Beginners can play with experienced players
⭐ Chinese Poker Cons:
Luck can play a big part
Games are not readily available
Learn how to play Chinese Poker.
Different Types of Poker Variations: Summary
If you've been wondering what other types of poker are out there besides No Limit Hold'em, this article should have answered most of your questions.
There are more poker games out there, and perhaps you'll come across some lesser-known variations at some point. However, if you know how to play these main types, you should have no problems adjusting to other formats, as they usually feature small tweaks to these popular options.