Poker Dice Game – How to Play Poker Without Cards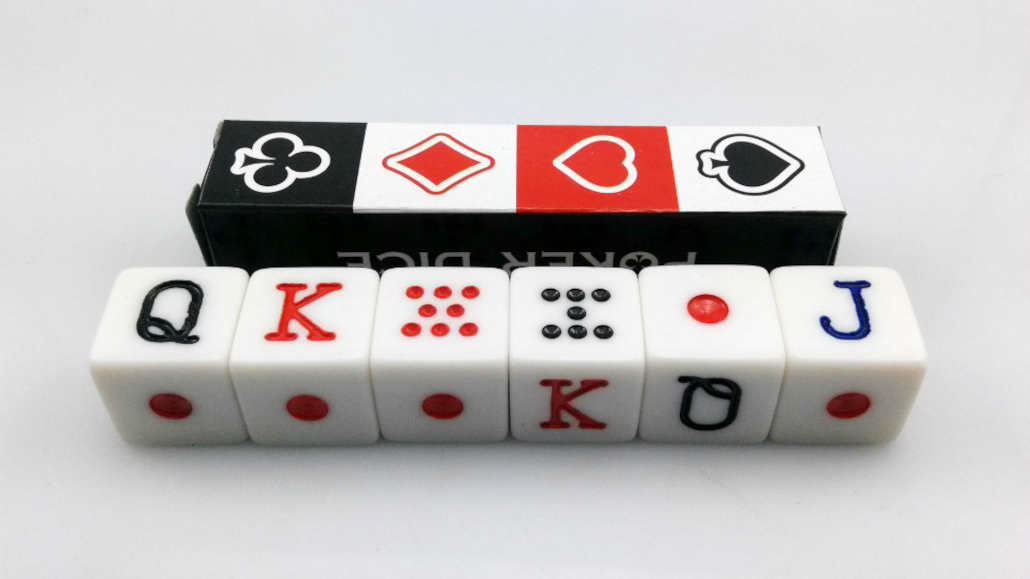 9 minutes
Last Updated: September 28, 2022
Do you like experimenting with different poker variations? If so, there's hardly a more unique and novel poker game than one involving poker dice.
At first thought, how can such a game even work? Moreover, is it a player-friendly game, and where can you play these games?
We'll go over the history of poker dice and card games, discussing everything from simple gameplay to more complex elements like winning probabilities. Read on to learn how to play poker without cards!
What Are Poker Dice?
Be it gambling games like craps or purely entertaining ones like Monopoly and Risk, dice games are all around us.
As you can assume from the name, these games combine elements of both poker and dice to put a unique twist on some of the world's most popular games.
A standard poker dice game includes a six-dice set and a cup. The dice are put into a cup, shaken a bit, and thrown out of it.
Dice poker games can be played on any surface, as there's no standardized practice of using a felt table like in traditional poker variations.
How Are the Dice Marked?
As the game replaces traditional poker cards with dice, you might assume that there'll be some confusion when playing with poker dice as a beginner.
However, this game is so straightforward that you'll have no problems adjusting to playing poker with dice.
Sure, it will be unusual at first, but not to the point that you can't follow the action.
The principle of the game is simple. In place of the 1 through 6 numbers, you can find on regular dice, poker dice feature card values. Most specifically, you will find the following values:
Ace
King
Queen
Jack
Ten
Nine
Additionally, it's important to mention that suits don't play a role in poker dice. There aren't standardized colors, meaning that you can't get any wins based on suited hands. Instead, certain colors mark specific values.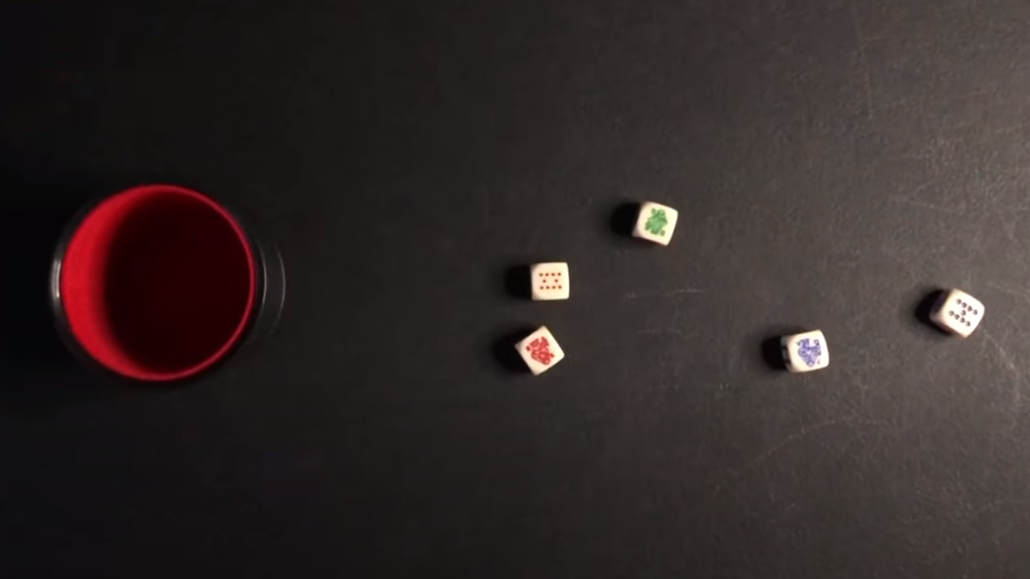 For example, most dice sets follow the same color rules. The king is marked with a red color, the queen with a green one, and the jacks are marked with a blue color.
This distinction makes it easy for you to automatically discern what combination you have, even on the dice's small surface.
When Were The First Poker Dice Invented?
Poker dice games have existed for almost as long as poker itself. While this globally popular card game was invented in the early 19th century, the first poker dice game was introduced just a few decades after.
There's no precise information on when the first game of poker with dice was invented, but data indicates that it was in the second half of the 19th century.
What we do know is that the game was patented in 1881, meaning that this marked the year when it was officially first marketed as a game sold by the patent holder.
Still, there's no information on who was the patent holder, and we've seen numerous variants of dice poker since that period.
How to Play Poker Dice – Casino Rules
Seeing that you're using five dice, each with six faces, the number of "cards" used is far lower than the one in traditional poker that uses actual cards. More specifically, poker dice only use 30 cards, while regular poker uses 52 cards.
This means that there have to be some exceptions and differences. As mentioned before, one apparent difference is that suits don't matter in poker dice games. So, hands like flushes and straight flushes are eliminated.
Moreover, as the total number of cards is lower, hands like straights come around much less frequently than in standard poker games. This is why they are worth more than a four-of-a-kind or full house hand.
Lastly, one favorable thing about the game is the presence of a five-of-a-kind hand. Instead of the standard Royal Flush hand, a five-of-a-kind hand is the highest-valued combination you can get when playing poker with dice.
So, keeping in mind all these features and differences, let's move on to arguably the most important aspect of this page, teaching you how to play poker with dice.
Here's a short and straightforward guide on how to play online poker dice games:
Select the amount you want to bet.
Click on the Roll button.
Wait for the dice to stop tumbling to see your payout.
From the three-step guide above, it's clear that playing the game in an online casino is as simple as playing slots. You don't have to do anything except select your bet size and wait for the outcome.
How to Play With Friends
In this guide, we'll mostly focus on playing poker dice with a fixed payout in a casino environment. That said, you can also apply slightly different rules if you're playing with your friends.
Instead of playing for a fixed payout with varying values, the game can be played between multiple players, in which the winner is simply determined by looking at who has the best poker hand.
In this case, there needs to be at least two or more players. Each player can roll their dice two or three times. They can hold dice between each roll but can also roll all five dice on each roll without any restrictions.
After all the players have made their rolls, the one with the best hand wins.
Playing poker with dice this way also adds a strategic element, as you choose which dice you want to keep as you progress through your rolls. In return, it also means that your winning chances directly depend on your decisions.
Poker Dice Odds
Knowing how to play poker dice is one thing, but understanding the probabilities and odds behind it will help you bring your game to a completely new level.
To help you out in this, we want to share the probability of each poker dice hand as well as the number of possible combinations. Here's a closer look:
| | | |
| --- | --- | --- |
| Poker Dice Hand | Probability | Possible Combinations |
| Five of a Kind | 0.08% | 6 |
| High Straight | 1.55% | 120 |
| Low Straight | 1.55% | 120 |
| Four of a Kind | 1.93% | 150 |
| Full House | 3.86% | 300 |
| Three of a Kind | 15.43% | 1200 |
| Two Pair | 23.15% | 1800 |
| Losing Hand | 52.47% | 4080 |
As in any other casino game, the probability of losing your money is slightly higher than the one for winning.
More specifically, the total number of possible combinations is 7,776, and the 4080 losing hands make up for just over 52% of all possible combinations.
To go deeper into the math behind these numbers, it means that the overall RTP (Return to Player) is just under 98%.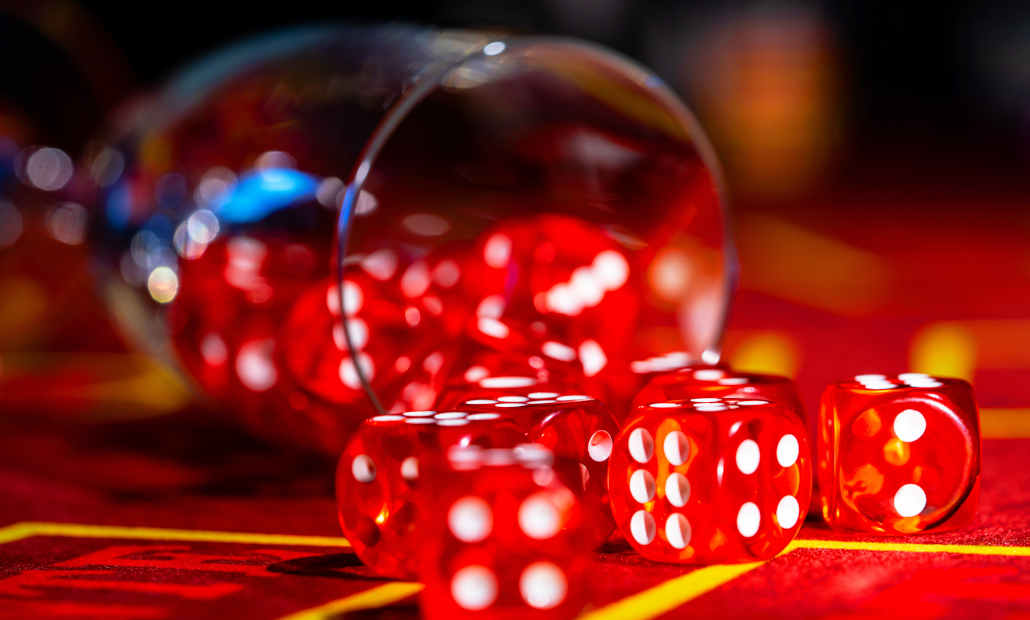 This makes poker dice a solid choice compared to luck-based games like slots. On the other hand, the game falls a bit short of standard video poker in this category.
Considering that, it's important to remember that you're more likely to lose over time than you are to win. This is why you should have a good grasp over your betting habits.
Payouts
Of course, there's no point in discussing odds and probabilities without also highlighting the possible payouts depending on the combination you have.
That said, your overall payouts will also differ based on how much you've bet, not just on the value of your hand.
With that in mind, here's a detailed table of what payouts you can expect in a standard poker dice casino game:
| | | | | | |
| --- | --- | --- | --- | --- | --- |
| Poker Dice Hand | 1 Credit Bet | 2 Credit Bet | 3 Credit Bet | 4 Credit Bet | 5 Credit Bet |
| Five of a Kind | 20 | 40 | 60 | 80 | 100 |
| High Straight | 6 | 12 | 18 | 24 | 30 |
| Low Straight | 5 | 10 | 15 | 20 | 25 |
| Four of a Kind | 4 | 8 | 12 | 16 | 20 |
| Full House | 3 | 6 | 9 | 12 | 15 |
| Three of a Kind | 2 | 4 | 6 | 8 | 10 |
| Two Pair | 1 | 2 | 3 | 4 | 5 |
Looking at the table above, you can see that the payouts are structured similarly to what you'll find in video poker.
That said, these payouts increase gradually, meaning that there isn't a greatly differing main jackpot for a Five of a Kind win on a maximum bet.
Still, poker dice can be very rewarding, especially if you bet more credits per round.
This is particularly true if you approach the game strategically and have a plan when betting. With that in mind, let's move to the next crucial part of playing poker dice games.
Tips for Playing Poker Dice Games
Even though there's a slight element of skill in terms of deciding what dice to hold, these games are mostly-luck based.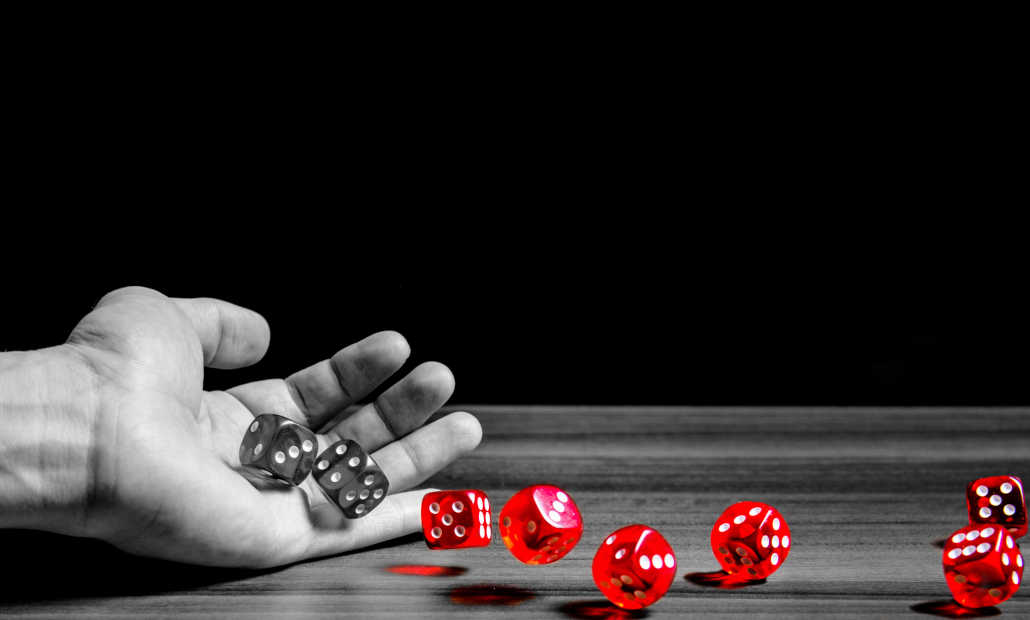 Nevertheless, there are a few things you need to be mindful of to make the best of it when playing poker dice games. Taking this into account, here are a few tips on how to best approach these games:
Don't Waste Time On Systems – Many gamblers fall to the temptation of trying to increase their chances through various betting systems and strategies. However, as playing poker with dice is super simple, there's nothing you can actually do to increase your odds. Everything is random, and you can't predict the results.
Play Video Poker If You Want Max Returns – Dice poker offers solid RTP numbers but is not the best pick if you want maximum winning percentages long-term. For this, it's best to play video poker, as it can provide you with noticeably better winnings long-term. Instead, enjoy betting on poker dice using small bet sizes, and don't strain your bankroll on this game.
Ideal for Relaxation – Knowing everything we've mentioned above, dice poker is a great game if you want a relaxing session. It's a superb alternative for slots, roulette, keno, and craps players that want a similarly luck-based and simple game to try out.
Summing it Up
While poker dice games aren't nearly as popular as their traditional card game counterparts, they still provide excellent entertainment value.
You might not find them in many places, but if you come across this game, especially in online casinos, it's well worth giving a try.
All in all, playing poker with dice is arguably even simpler and easier than doing so with cards. Remember the guidelines and tips we've shared on this page, play responsibly, and good luck!
Poker Dice FAQ