Bravo Poker Live – The Best App to Find Tournaments Near You
If you're looking for a simple and easy solution to find poker games near you, then Bravo Poker Live App is what you need.
Developed by Genesis Gaming Solutions, Bravo Poker offers a full-scale website as well as a mobile app that lets you quickly find poker tournaments and cash games in the vicinity or anywhere around the globe.
The platform offers much more than just basic info. With it, you'll be able to see exact details about various poker games running in different casinos.
Bravo Poker Live features information about the rake, all sorts of promotions and comps, and even a live tournament clock for the events underway.
So, if I want to find poker games near me, I launch the Bravo Poker app or their site and find everything I need to make my plans.
How Does Bravo Poker Live Work
Bravo Poker app is a big project that aims to provide players with an overview of poker games and tournaments happening around the globe. For the platform to be able to provide this information, it needs the poker room to utilize the software.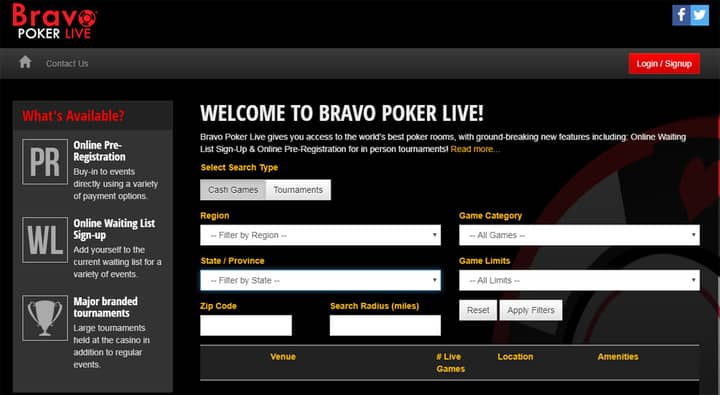 The number of rooms in the Bravo Poker Live network is on the constant increase because this isn't a piece of software that's geared only towards players.
It provides a great utility for poker room managers as well, allowing them to handle their room much more efficiently, keeping track of free seats, tournament progress, and much more.
So, Bravo Poker makes life easier on the managers and the staff while also allowing them to share the information for the players online.
Players are given free access to this information through the site or the mobile app, so they can see what games are currently running, how many people there are on the waiting lists, and even put their name on the list using the platform.
Bravo Poker App Download & Installation
There are two options you can choose from when using Bravo Poker Live. The first one is their website, which provides a great range of filters to fine-tune your search results.
Using the site, you'll be able to search games within a specific radius, inside a particular zip code or an area, and arrange them by type (tournaments, cash games), and stakes.
Then, there is the Bravo Poker App. You can easily download and install it on your phone in a couple of minutes, and it will be ready to go.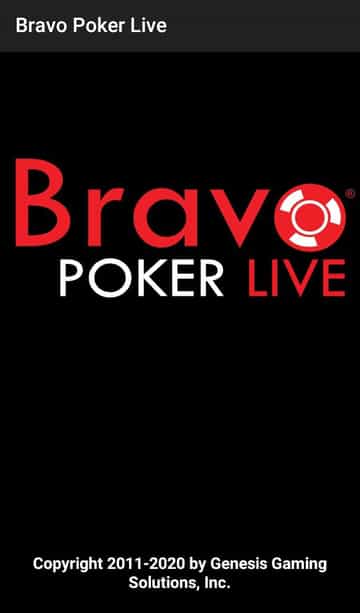 You don't even need to create an account to get started with it.
Once the app loads, you'll only need to allow geolocation, and you'll be all set.
The app always shows the list of casinos and venues offering poker games near me. These are listed by distance, from the ones closest to you to those thousands of miles away.
Usually, the first few results will be what you're interested in, as these will be venues within a reasonable distance.
Bravo Poker Live App Features
As mentioned, the Bravo Poker app offers much more than just a mere list of casinos and places to play poker near you.
It offers many useful filters and options that can help you narrow down your search and find the games that fit your bankroll and preferences. Let's take a quick look at some of these features.
Live Games
The first tab on the Bravo Poker Live app features all games currently happening in all the various casinos listed on the app. You'll see the name of the casino and the distance from your current location.
Tapping a particular venue, you're interested in visiting will bring up a new screen with much more detailed information.
The kind of information you'll be able to get includes:
Basic information about the venue (address, contact info)
Current live games
Daily tournaments
Short room description
Promotions
So, Bravo Poker software gives you a full overview of the casino, not just the list of games.
For example, you'll be able to quickly find out if a particular room features a bad beat jackpot and if there are some other interesting promos you should know.
You'll find out more about the rake and get the general feel for the room. Wondering whether you'll be able to charge your phone at the tables or if free drinks are offered for the players? Bravo Poker Live tool will tell you.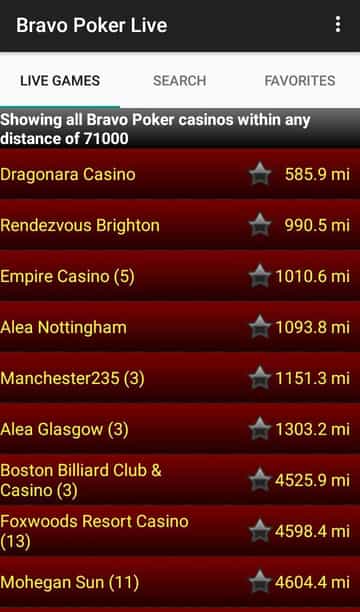 Of course, a lot of this information depends on the poker room staff as they're the ones who need to provide it. That's why some casinos feature more detailed and in-depth descriptions than the others.
Overall, though, the platform contains a wealth of details you'll want to know for most games.
Tournament Clock
One really neat feature of the Poker Bravo app is the live tournament clock. If there is a tournament happening at one of the listed casinos, you'll be able to see the tournament clock, showing you all the information you'd be able to see if you were actually there, i.e.
Blinds & antes
Time left for the current level
Total prize pool
Next payout (if available)
The number of entrants
Total chips in play
Average stack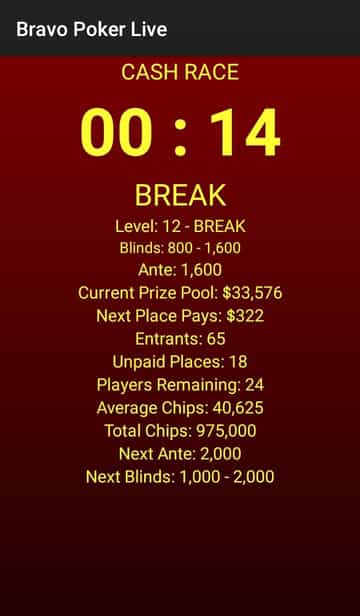 For those players who enjoy poker tournaments, this is an invaluable feature. For example, if you're considering late-registering an event, this clock can give you a much better idea of whether it is worth it.
Search Options
Instead of going through various casinos, which can be busywork, especially in some cities where there are many venues to choose from, you can go a different route.
Both the site and the Bravo Poker app feature a very elaborate search system that you can use to find exactly the type of game you want to play.
So, if I want to find cash poker games near me, I can filter by the stakes, anywhere from 1/1 all the way up to 500/1,500, as well as the game-type (Hold'em, PLO, Mixed Games, and many sub-variations).
For tournaments, you'll be able to choose the buy-in as well as dates you're interested in, and the app will return results featuring only venues that fit your search criteria.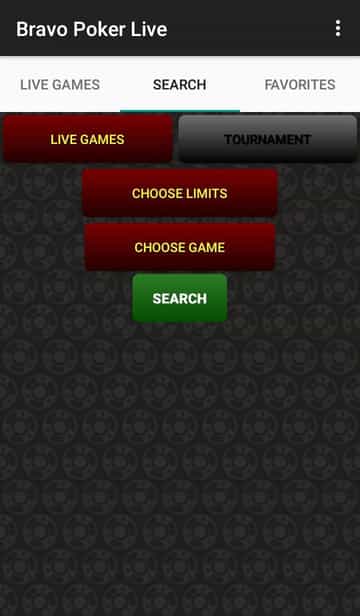 The tournament section is very convenient if you want to plan a poker trip ahead of time as you'll be able to find events and see a lot of details about them, giving you a chance to plan in advance.
It is just as useful when you find yourself in a new city looking for good tournaments within the next couple of days or so.
For some events, you'll even be able to register straight from the app, which makes everything so much more convenient and will help ensure your seat in a tournament.
What Bravo Poker Live Software Could Do Better
There are very few things that Bravo Poker Live doesn't do right. One minor improvement could be the design of the app, which has a bit of an outdated feel.
It doesn't really influence the app's functionality, though, so it would be more of cosmetic improvement. Still, I feel like such a useful little app deserves a bit of a facelift.
Another small issue I have with the Bravo Poker app is the number of filters for cash games. While being able to find the games you're interested in is important, it feels like there are just too many options.
Removing some of them would make it easier to find what you're looking for without really influencing the app's functionality.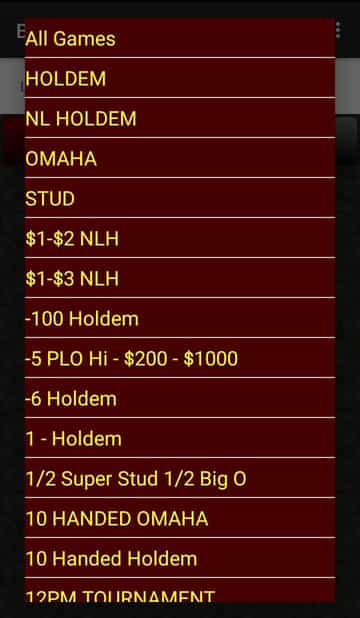 Other than these minor things, there isn't much Bravo Poker Live tool that could do better. Of course, having as much information as possible about every listed venue is awesome, but this has a lot to do with the casino's willingness to share and update such information.
So, if there is a lack of relevant data about a particular venue, it's probably not the fault of the people behind the app.
Do You Need Bravo Poker Live App?
If you play live poker, then you want to have this tool on your phone. While the site is also useful, it's much easier to use the app on a mobile device.
Bravo Poker Live is completely free, and you don't even have to create an account to use it. You can open an account if you want and it will give you some extra options, like creating the Favorites' list, but this isn't mandatory.
I'd go as far as to say that this is a fun app to have even if you don't need it right now. It can give you some ideas for your next poker trip, and get an understanding of where you can find good poker games.
But don't take my word for it. Visit the Bravo Poker site, get the app, and see for yourself. If you don't like it, you can always delete it and go about your day.
Something tells me that you'll want to keep it on, though, once you see the wealth of information it provides about poker games and tournaments from all over the world.
Pros:
Find casinos and poker rooms near you
See the full list of ongoing cash games & tournaments
Get info about rake, promos, and comps
Search games by stakes, game-type, and start times
Get your name on a waitlist & register for certain events
Cons:
The app interface feels outdated
The number of game-type filters is a bit overwhelming