Crush Live Poker by Bart Hanson Review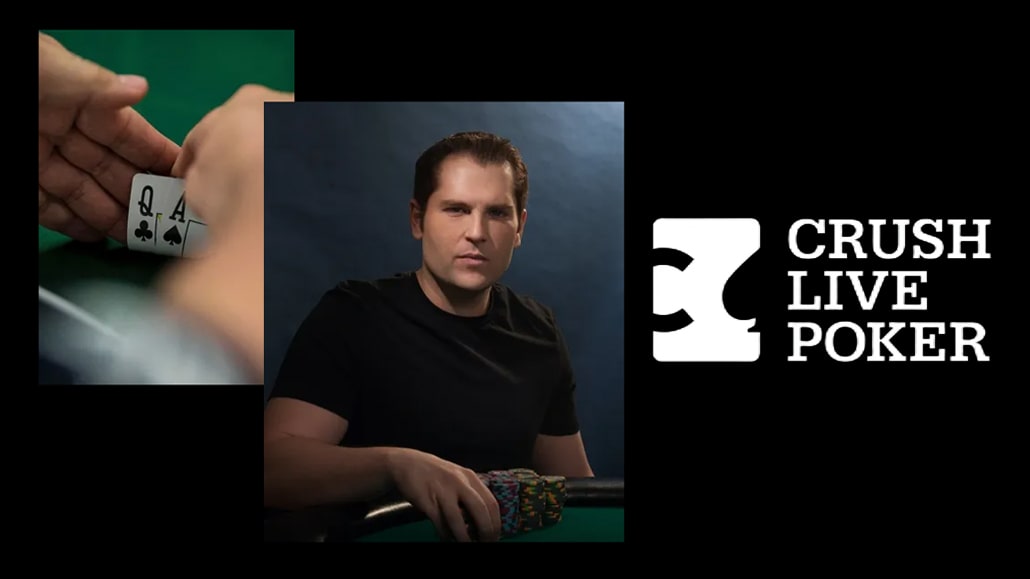 Founded and run by Bart Hanson, a successful poker player and coach with over 15 years of experience, Crush Live Poker is a comprehensive training platform that provides everything you need to make it at the actual felt. Check it out yourself!
From written articles and quizzes, over podcasts and individual videos, to several full-blown courses, this platform offers resources for different skill levels and focuses exclusively on live games.
As you may know, live poker may be played with the same rules, but it's an entirely different beast from online.
This Crush Live Poker review will provide you with all the details you need to decide if this is the right platform for you, so let's get straight to business.
1
Crush Live Poker at a Glance
Hanson has gathered an admirable group of players and coaches to help him create the content, with every single one of them having expertise in a certain area. Whether you're looking to improve your Texas Hold'em or Pot Limit Omaha game, you won't be disappointed.
While most poker training sites are geared towards online poker, Crush Live Poker puts exceptionally valuable resources in front of live players to help them beat their local games.
This training platform offers a very good variety of content, designed not only to help you improve your game but also to test your knowledge or simply relax and enjoy fun but educational videos. Inside, you'll find:
Four distinct courses: two for NLHE and two for PLO players
Quizzes: Over 60 quizzes covering different strategic aspects and allowing you to test your skill level and see if there are any particular areas you're lacking in
Individual videos: if you are looking for advice in a particular area of the game, browse the video library to find relevant lessons
Podcasts: A great mix of educational and entertaining content that you can listen to along the way
Community: Access to a very active Discord community where you can get a lot of useful advice from Crush Live Poker coaches and other members.
If you are fairly new to poker and aren't quite sure where to start, the best way to go about it is by taking the initial preflop quiz. It is designed to measure your skill level and then provide recommendations on where to go next.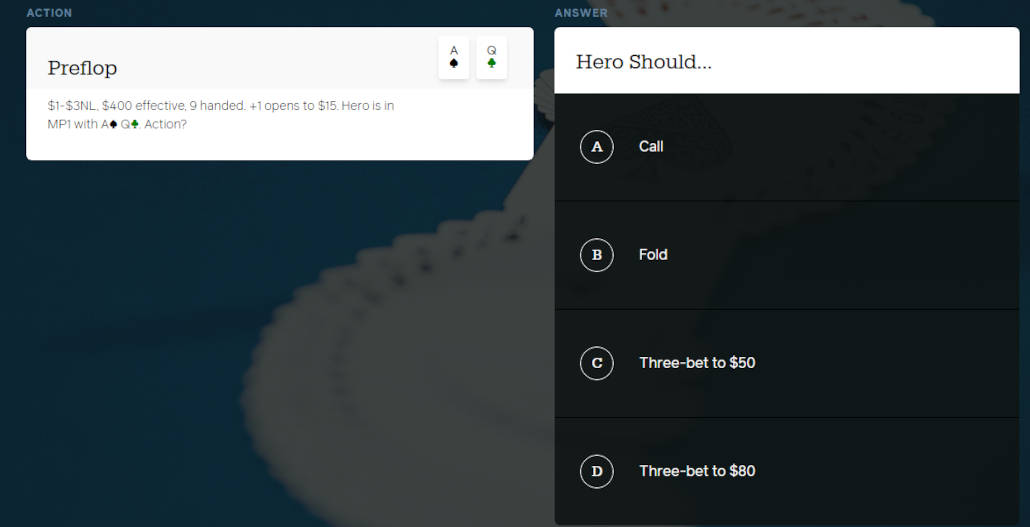 Crush Live Poker Courses: Hours of Quality Content
As mentioned in the introduction to this Crush Live Poker review, there are currently four comprehensive courses available on the platform, with potentially more coming in the future.
You get full access to all of the courses with Premium (monthly) and Elite (yearly) memberships, which makes these two the best option.
You can also go for the Basic package, which is somewhat cheaper, but only provides limited access and doesn't give you an opportunity to take full advantage of what this platform has to offer.
These courses combined feature around 140 hours of video lessons plus other useful resources, so it would be impossible to go into too much detail breaking them down. However, I'll give you a quick rundown of each individual course to give you an idea of what's inside.
Fast Track Poker
The most basic Crush Live Poker course, Fast Track Poker, is geared primarily towards those new to the game and looking to take up live poker seriously.
Like most beginner courses, this one lays down the foundations of the game, teaching you sound fundamentals that you'll need to master first. Of course, like everything else on the site, strategies and ideas have been tweaked for the live environment.
The course is taught by Ki Lee, a professional poker player, coach, and content creator, and consists of ten modules:
Preflop (two modules) – preflop fundamentals and adjustments for the latest trends
Solved for Live hand ranges
Basic poker math – everything you need to know about pot odds, ranges, blockers, etc.
Postflop fundamentals
Flop, turn, and river play (one module for each)
Advanced math – more complex mathematical concepts in poker, like SPR, implied odds, EV, and more
Hand history reviews – a module designed to put all the knowledge from the course together and apply it to real-life poker examples
Lee has designed this course to be really beginner-friendly, and he takes his time explaining things. If you're an experienced player, this may seem too detailed, but someone new to Texas Hold'em will certainly appreciate it.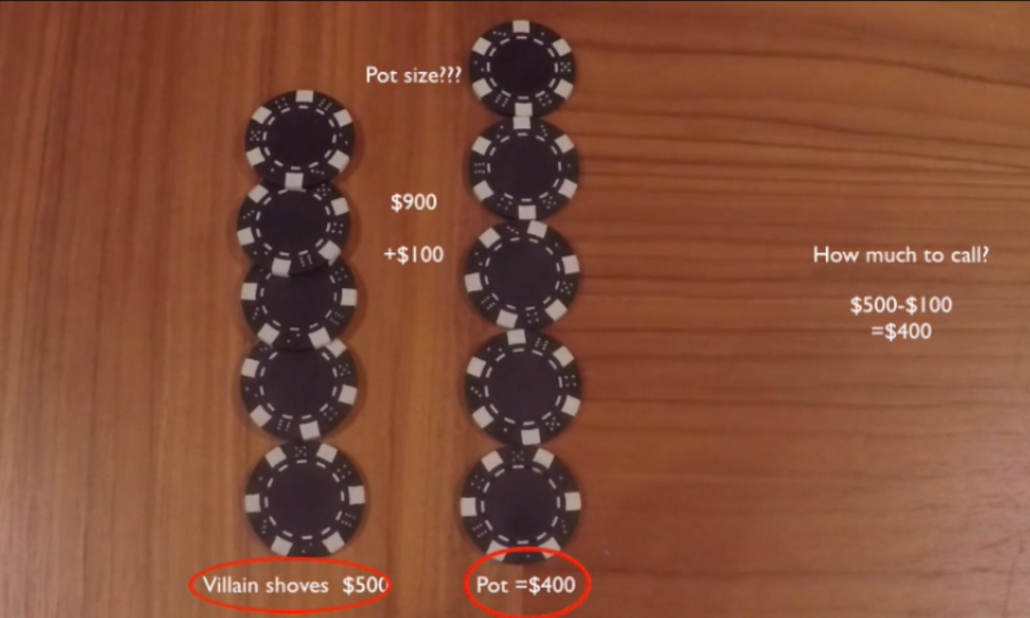 If you're just taking up poker and are playing in some low-stakes home games or even at your local casino, the knowledge from this course alone should make you a winner once you've had the time to really take it in.
Mind you, Fast Track Poker won't make you a "crusher," nor that's the goal of this course. It gives you all the tools you need to establish a very solid baseline for your game and gets you prepared for the next, much more advanced course.
Crushing Live NL Hold'em (2023 and Beyond)
Taught by Bart Hanson himself and Ki Lee, Crushing Live NL Hold'em is a course for those looking to take their live game to the next level. It doesn't spend too much time on fundamentals and instead addresses very particular aspects of the game.
This course also makes a sharp turn towards live games. While Fast Track Poker explains the basics, which remain universal across the board, Crushing Live NL Hold'em is all about the live environment and necessary adjustments and exploits you can incorporate into your game.
The course comprises over 50 hours of lessons and six main modules, namely:
Basic concepts – a good overview of some fundamentals with a focus on live poker adjustments, addressing some common leaks, poker equity, the value of suited hands, etc.
Winning at the low stakes – a lot of actual play footage with explanations of important strategic concepts, with an entire video devoted to bet sizing errors
Small stakes exploits – a truly valuable module covering nearly two dozen exploits you can incorporate into live small-stakes games. These are largely audio lessons, so they're perfect for listening to in situations where you may have some time but can't watch videos
Intermediate concepts – this module takes things up a notch, covering more advanced ideas, such as over-betting, scare cards, picking up on your opponents' tendencies in real-time, etc.
Continuation betting – being a very important area, this particular area gets an entire module covering c-betting in different scenarios (single raised pots, 3-bet pots, multi-way hands)
Winning at high and mid-upper stakes – Finally, a module by Marc Goone talks about higher stakes games and what it takes to be a winner as you move away from low limits.
This is, in all honesty, the most comprehensive course on live poker cash games I've come across, and I've seen my fair share of coaching programs and platforms.
Combining his experience with his natural ability to transfer knowledge, Hansen is able to zone in on things that really matter. He explains, in detail, how you can crush live poker games using different adjustments based on individual and general population tendencies.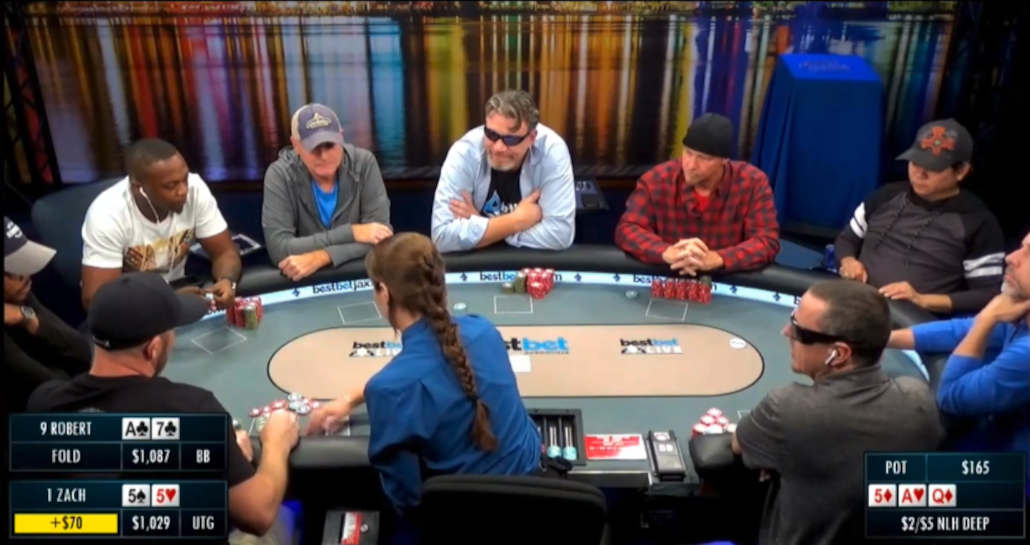 The course combines video lessons, audio files, and calls from actual players asking particular questions, giving you a really wide overview of what you can expect out there.
The theory is one thing, but Crushing Live NL Hold'em brings loads of hands-on experience and poker hands examples, and you just can't beat that.
If live cash games are your primary focus, you simply can't go wrong here. It's just the right mix of sound poker theory that also accounts for the human factor (which is much more important in the live environment)!
PLO Battle Plan
Live PLO games may still not be as popular as No Limit Hold'em, but the game has certainly seen a rise in popularity in recent years. This represents both an opportunity and a challenge, as mastering a new format is not a walk in the park.
But, with Crush Live Poker's PLO Battle Plan, you'll put yourself in a great spot against the competition, especially at the lower stakes, where many players don't even have a good grasp on the fundamentals of the game.
Taught by Ryan "TerpHimself" Terpstra, a PLO rounder with 15+ years of experience, the course is designed to teach you all the basics and give you a huge kick-start, even if you're just taking up Pot Limit Omaha. You'll learn about:
PLO essentials – basic math, how to successfully transition from Hold'em, slowplaying, variance, and more
Preflop – discipline, hand selection, 3-bet, and 4-bet pots
Flop, turn, and river play
Live dynamics – what makes live PLO games different, what are some common mistakes, how to play your big hands, and much more
With nearly a full day's worth of lessons, this course is virtually guaranteed to make you a winner in lower stakes live PLO games. The skill gap is still quite significant, and there are many players out there just trying to "wing it," applying Hold'em concepts to PLO without proper adjustments.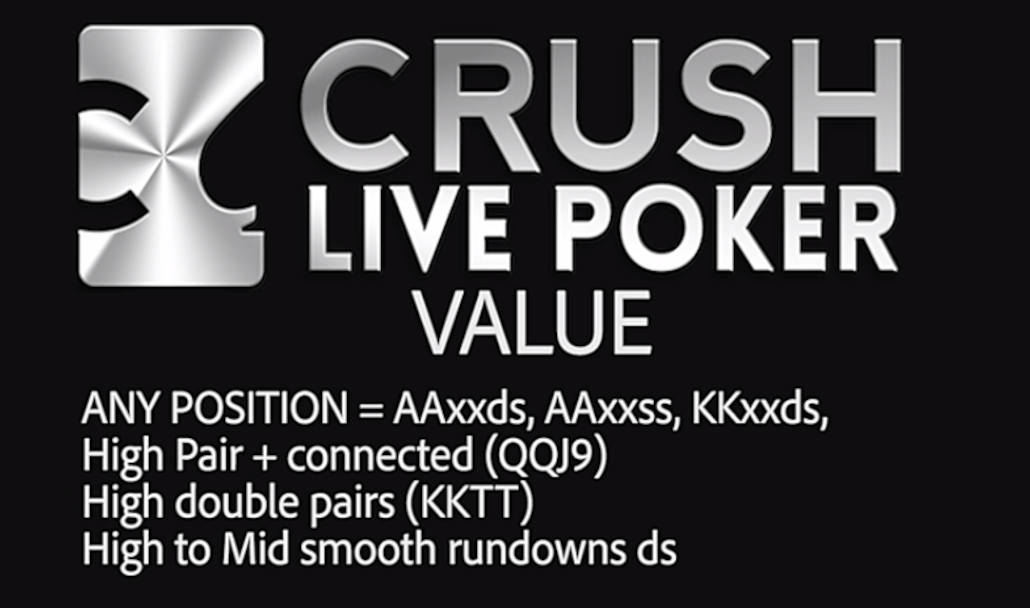 Just like other courses, this one abounds in hand examples and explanations from real-life situations, so it's not just theory. Even if you're a novice, you'll have no problems keeping up with Ryan's train of thought and clear explanations.
Crushing Live PLO
The fourth course currently available on the Crush Live Poker platform is Crushing Live PLO. In many aspects, it is similar to the previous one but more in-depth and targeted at players who are ready for bigger challenges.
Taught by Don Ding, the course features close to 50 hours of teaching materials and goes beyond basic concepts.
It addresses many important singular aspects of the game, which will allow you to hold your own even against experienced PLO pros.
For beginners, it's probably best to start with Ryan's course, but there is definitely no harm in watching both. I'd just recommend taking your time doing so, as PLO is a complicated game, and if you try to take in too much too quickly, it can be very confusing.
Luckily, once you're a member, you have full access to all the materials around the clock, so you'll be in no rush. You can figure out the pace that works best for you and set up your own schedule.
Quizzes
As I've mentioned earlier, Crush Live Poker also features a fair few dozen of quizzes. These give you a chance to test your newly acquired knowledge and see if there is something you perhaps misunderstood.
All quizzes are named according to the area they cover, so you should have no problems finding what you're interested in.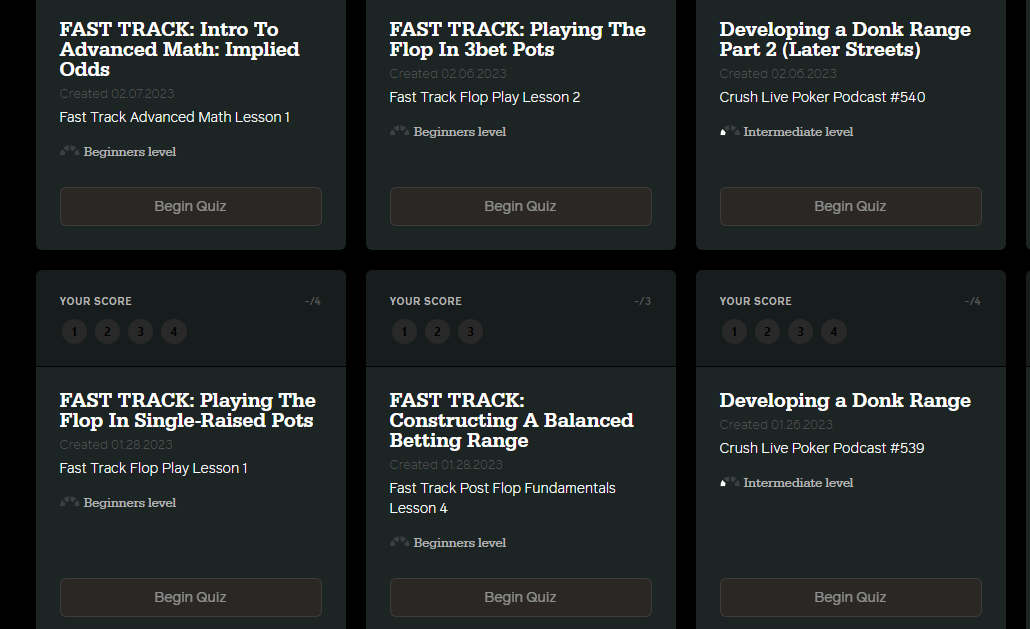 Another way to approach it is to take random quizzes (after watching a full course) and see how you do. This is a very efficient way to challenge yourself, track your progress, and have some fun in the process. These are primarily learning tools, so you can take the same quiz as often as you like.
Crush Live Poker Strategy Articles
In this day and age, most people consume content via multimedia, but well-written articles never go out of style. If you agree with this statement, you'll be happy to hear that Crush Live Poker features several hundred strategy articles from Bart Hanson.
These articles cover a wide array of topics, and Bart usually focuses on one particular theme in his text, be it continuation betting, reading your opponents, 3-betting, etc.
While these aren't as comprehensive as video lessons and courses, they provide good opportunities to pick up some additional nuggets of knowledge.
They are also fun and easy to read, so they have some entertainment value on top of their educational purpose.
Some people will certainly enjoy these immensely. Others may prefer videos and podcast-type content. Either way, the articles are there for you to enjoy, and I'd definitely suggest you check out at least a few of them and see how you like Bart's writing style.
Podcasts & Videos
With your Crush Live Poker membership, you'll also get access to a variety of individual videos covering all sorts of topics, some of them even discussing tournament play.
These video lessons mostly feature a hand review format, and some of them cover very interesting areas specific to live games, such as bomb pots and double-board bomb pots.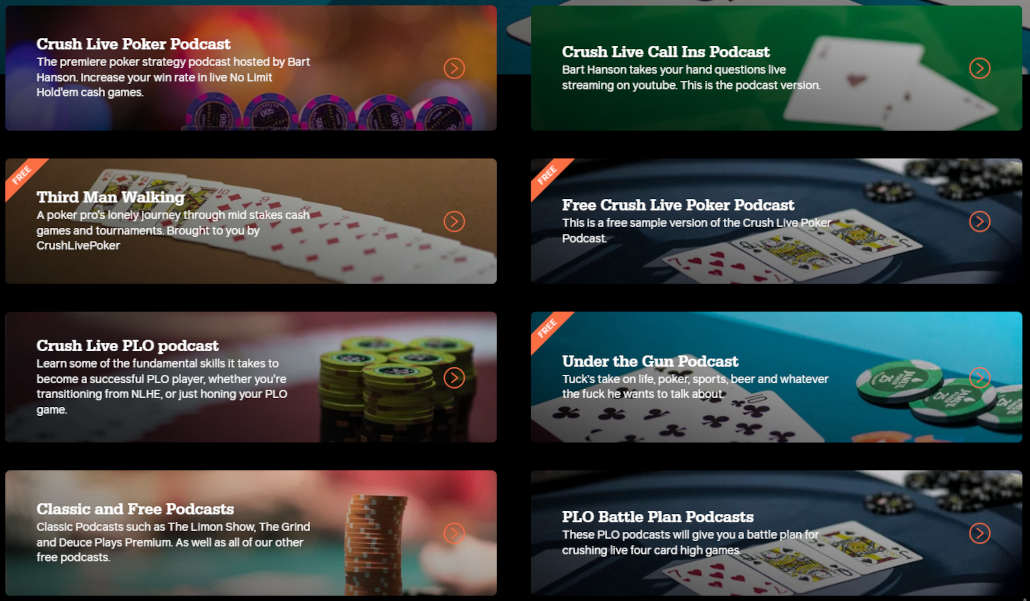 For a combination of poker strategy, fun stories, and more, there is the podcasts section, with links to high-quality poker podcasts. This includes links to Hanson's popular Crush Live Call Ins Podcast, where he takes live calls from the players and dissects hands in real-time.
Vibrant Crush Live Poker Discord Community
These days, many poker training platforms have incorporated Discord as means of communication for their members. Crush Live Poker has a Discord channel as well, but unlike on some other sites, the community is very active.
One particularly interesting feature you'll find here is the "Forum Feature." It allows you to tag your cash game hands with stakes size, making browsing and filtering hands much easier.
You'll need to get permission the first time you log into the Discord channel. Once your account is approved, you can jump straight into the action and join the discussions you're most interested in.
The community feedback is almost real-time, which is very useful. You won't have to wait days or even hours to get answers about hands that may be bothering you. This won't just speed up your growth as a player but may help you sleep better at night!
Is Crush Live Poker Worth It in 2023?
As I said in the introduction to this Crush Live Poker review, there are at least a dozen poker training sites you can choose from today. Many of them offer quality content, and there is something in everyone's price range.
So, why choose Crush Live Poker over these other options?
I can truly say that for those focusing primarily on live cash games, especially at low to mid stakes, this is the best resource you can find. Most courses out there are preoccupied with online poker and rarely touch on the intricacies of live play.
It's also worth noting that the price is very affordable, even for a semi-serious amateur, let alone someone looking to make a living playing poker.
On top of that, you get an exclusive 20% discount for a lifetime if you register through us!
To wrap it up, there is zero doubt in my mind that you'll start crushing your local live games after you start consuming this content. And the more you learn, the better you'll become, ready to take on recreational players and professionals alike.
1