Fortune Poker Room Review: A Premier Poker Room Near Seattle
Regarded as one of the top poker rooms in the Seattle area, Fortune Poker Room is open all day long, all year round.
It is not the biggest poker room you will ever play at, featuring 14 tables in total. Due to COVID-19, games are currently running 7-handed, but this is likely to change once the pandemic is over.
Amenities on offer are what you would expect. The room features:
Tableside dining
Cocktail services
Free Wi-Fi
Tableside massages
18-year-olds will also be pleased to know that they can legally play in this poker room too.
So if you are itching to hit the tables on your 18th birthday, rest assured you can have a night to remember at Fortune Poker Room.
Despite not being on any poker room management apps, you will be able to find what games are running and how long the waitlists are by visiting the Fortune Poker Room website.
The site is also a great resource to find out what their tournament schedule looks like and discover all the promotions and jackpots happening at the moment. And, trust me, Fortune Poker Room runs promotions that any player would find hard to turn down, but I'll get to that later.
Fortune Poker Room Review
You all know that variety is the spice of life and Fortune Poker Room does not disappoint when it comes to what poker games are on offer.
Games are more catered to those of modest bankrolls, but that is to be expected. Despite that, though, games can often get quite deep, which is always a good sign. You'll find fewer players playing short-stacked, which we all know tends to get pretty boring.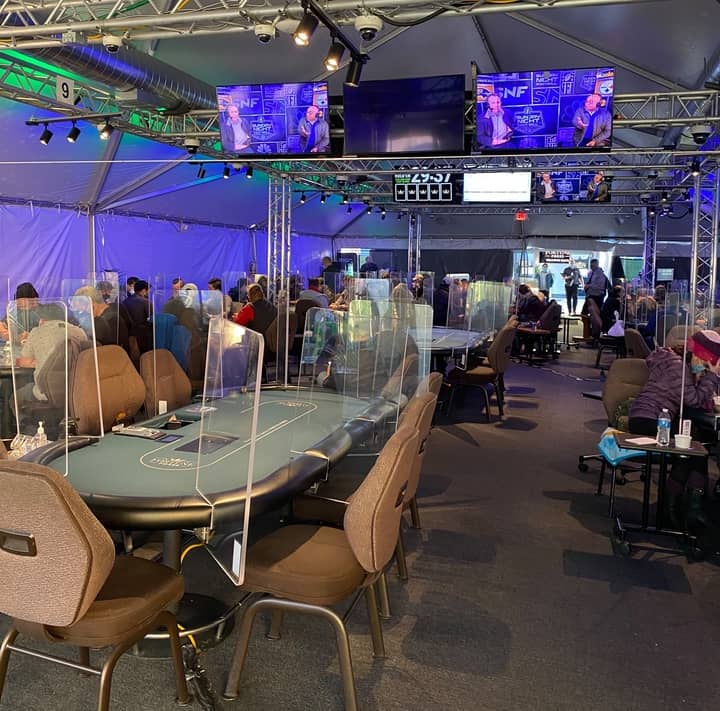 Regular players of Fortune Poker Room are very complimentary about the games that run, so you know the action will not be hard to come by and has been said to be the gold standard in the state of Washington.
Fortune Poker Cash Game Tables
Poker cash games that always run at Fortune Poker Room are:
$1/$3

No Limit Hold'em

– Min buy-in $100, max buy-in $300
$3/$5 No Limit Hold'em – Min buy-in $300, max buy-in $1,000
$4/$8 Limit Hold'em – Min buy-in $40
$8/$16 Limit Hold'em – Min buy-in $80
$20/$40 Limit Hold'em – Min buy-in $200
$4/$8 Limit Omaha 8 or Better – Min buy-in $40
Straddling is extremely common here as well. In the $1/$3 and the $3/$5 game, you can straddle up to $300 from under the gun only. So if you like action, you are sure to love it here.
Rake
Rake is the bane of our lives, but it is the price that we all must pay to play the game that we love. The rake is 10% capped at $4, which is more than reasonable. However, because of the fantastic promotions on offer, an additional $3 is taken from the pot to fund these.
Fortune Poker Room Tournaments
If you are a tournament player and fond of morning sessions, then you have found the poker room for you. With a daily tournament starting at either 8:30 am or 9 am, you can start the day off right by picking up some decent payouts.
On a usual week, this is what to expect from Fortune Poker Room tournaments:
Monday – Friday: 8:30 am start, $60 buy-in, 5,000 starting stack, 20 minute levels and $1,000 guarantee
Saturday & Sunday: 9 am start, $60 buy-in, 5,000 starting stack, 20 minute levels and $2,500 guarantee
You should take note that of the $60 buy-in, the house will take $15 as their fee, which is rather high. However, if you are someone learning the game, this isn't too big of a price to pay to garner some live tournament experience.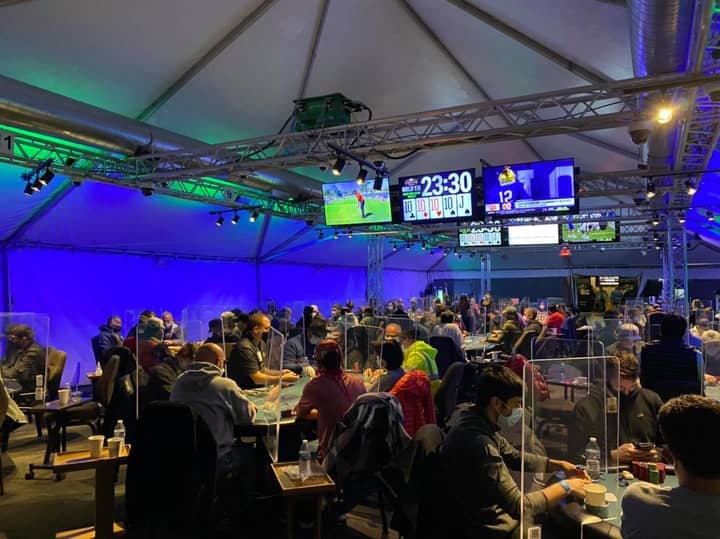 Fortune Poker Room Promotions
If you love promotions and jackpots and are looking to get your poker fix in the North West, then you need to look no further than this absolute gem of a poker room.
We all love a high hand promotion, but how does a $499 high hand sound? That's exactly what happens here every 30 minutes. That's right, Fortune Poker room currently gives out $499 every half an hour for the highest hand in the room, with no minimum qualifiers either!
Hitting a royal flush with spades as the suit will net you a tasty $10,000, and, if that's not enough, there is also a $100,000 bad beat jackpot to tempt you!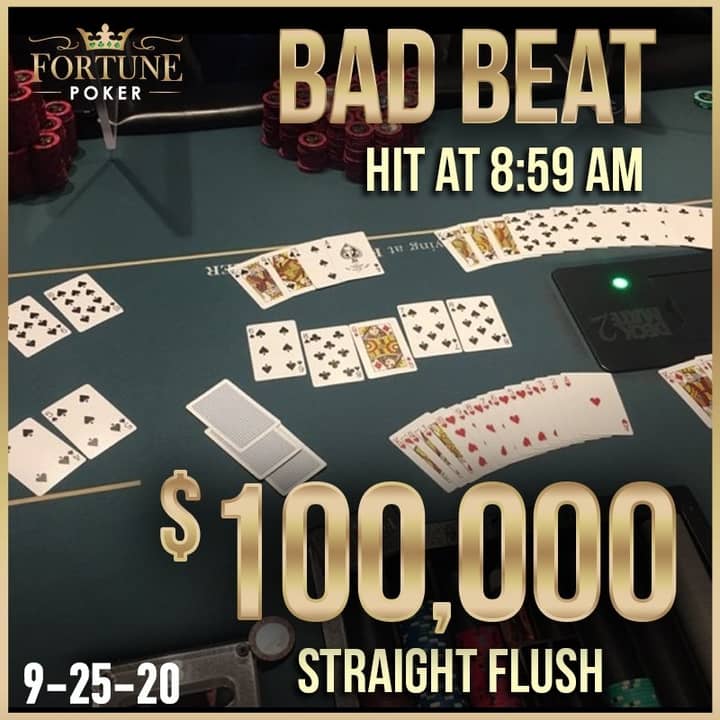 But as said before, make sure to check the website before you hit up Fortune Poker Room so you can find the latest and greatest jackpots and promotions.
Fortune Poker Room Staff
The Fortune Poker Room staff is highly regarded by all, from the management, over dealers, to the floor persons.
Floor persons are extremely helpful and fair in their poker hands rulings should one be made in, and you'll often find that they have a full rack of chips waiting for you once you walk through the door.
Dealers score highly for their professionalism; they keep the games in a good rhythm and are all known to have a good character.
Management is known and recognized for their efforts in keeping the poker room in top condition. They are also quite strict on the foul language being used at the table. This benefits both players and the staff because regardless of what card hits the river, the player and dealer abuse should not happen.
Fortune Poker Room Parking
Parking at Fortune Poker Room is complimentary. However, you will often find the car park full. There are overflow lots in other parking areas that you can use, but these are often a fair walk away, so make sure you don't leave anything you need in your vehicle!
Fortune Casino Games
Although Fortune Poker Room only offers poker games, the Fortune Casino is a short seven-minute drive away where you can play some of your favorite casino table games.
Featured games you can play include:
Baccarat
Lucky Ladies – a variation of blackjack
Player's Edge – another blackjack game with all 10's removed and often played with six or eight decks in the shoe.
High Card Flush
And just like the poker room, there are plenty of promotions that can see you get your hands on some cash. High hand promos on games like High Card Flush and Fortune Pai Gow Poker can net you up to $300 every hour. There are plenty of ways to earn cashback, too, provided you earn enough points through playing.
Fortune Poker Room: Things to Do
Other than playing cards, there's not much else to do in Fortune Poker Room, but I do recommend grabbing a bite to eat while here. All meat, poultry, shellfish, and egg products are cooked to order, so you'll be eating fresh produce as opposed to processed rubbish!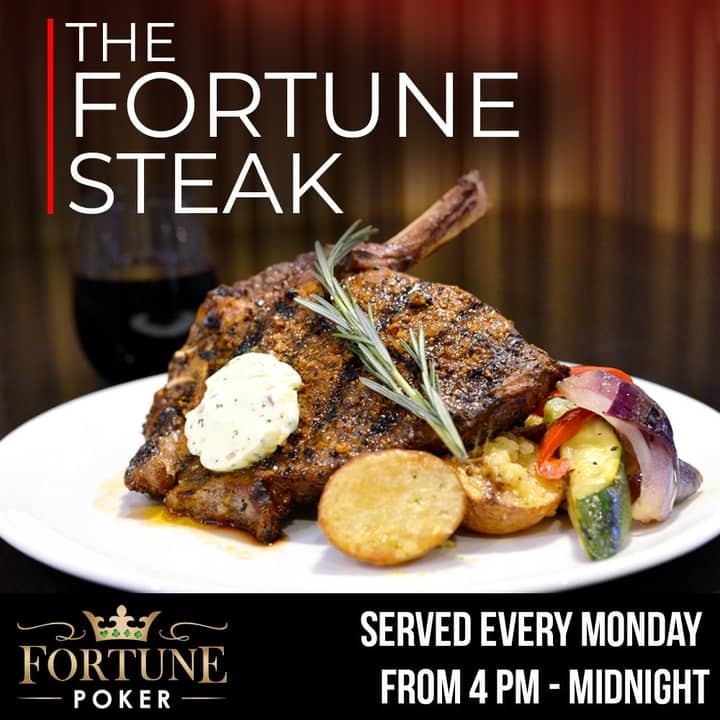 There's plenty of choice on the menu, from sugar cane shrimp to authentic street tacos and everything in between, so you can satisfy whatever cravings you have.
Fortune Poker Room Final Thoughts
Plenty of action, promotions, and jackpots make Fortune Poker Room one of the best rooms to play near Seattle and in Washington in general. The fantastic staff keeps the games fun and well-managed, so you'll always feel comfortable playing here. As poker players, can we really ask for much more than that from a local poker room?