Bet & Go Tournaments Going Live at GGPoker – The Ultimate Poker & Football Combo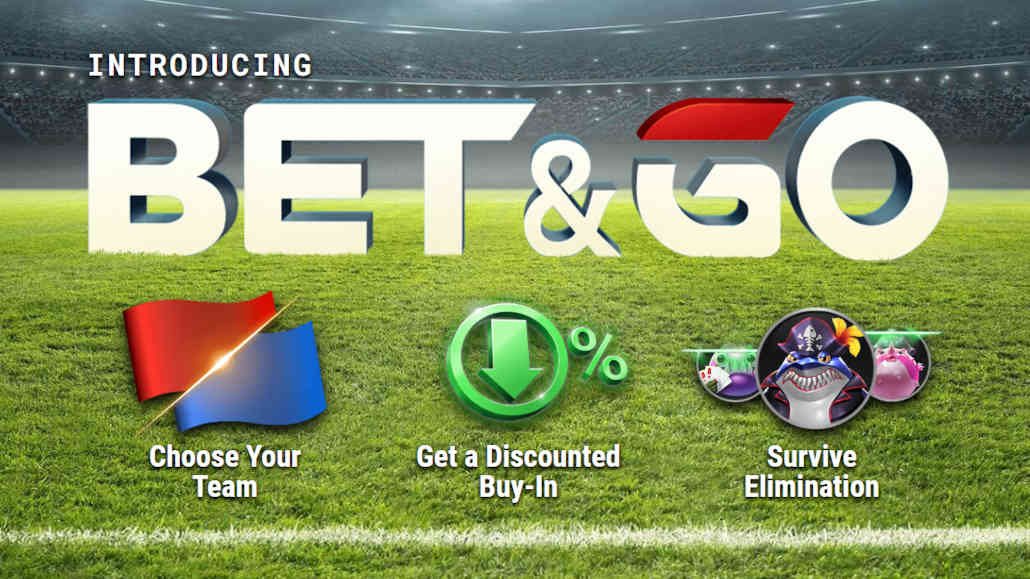 GGPoker has been finding fun new ways to make poker more exciting ever since its launch and Bet & Go tournaments are latest on its list of innovations.
The exciting new poker tournament format will bring together the worlds of online poker and sports betting, creating a fun new way for players to make use of both their skills at the felt and their knowledge of sports.
Bet & Go tournaments will be launching on GGPoker on November 20, along with the launch of the FIFA World Cup 2022 in Qatar, but are expected to run in the future alongside other popular sporting events.
Let's take a look at how Bet & Gos will work and how you can participate.
Where Are Bet & Go Tournaments?
A Bet & Go tournament will be a fun new format that will allow you to capitalize on making successful sports betting predictions.
Each tournament will be tied to a specific sporting event and the outcome of that sporting event will have a direct impact on your standing in the tournament.
The buy-in for Bet & Go tournaments will depend on which side you decide to support in the real world sports match, with those supporting the favorites forced to pay a higher buy-in.
This is not all, as players who support the wrong side that ends up losing the game will be automatically eliminated from the event, regardless of their chip counts.
This will create an exciting dynamic at the tables as the game draws to a close, with players forced to play good poker but also support their side in the live sports match.
Bet & Go Tournaments Launch with FIFA World Cup
The first ever Bet & Go event will be tied closely together with the opening match of the FIFA World Cup in Qatar on November 20 between the hosts and Ecuador.
This particular match will have a $50,000 guaranteed prize pool and a nominal buy-in of $10, which will change depending on which side you decide to support in the game.
The buy-in discounts depend on the current sports betting odds for either side to win the match. Supporting Qatar to win would mean you get to play for $3.63 at this time, while supporting Ecuador would mean you can buy-in for a fee of $5.37.
The tournament launch time coincides with the start of the match and players will be able to register throughout the match, with the buy-in fee changing depending on the situation on the pitch.
Those who enter the tournament at a discounted price will not be able to unregister from it.
The real catch comes once the match ends, with all players who supported the losing side when they bought in being immediately kicked out of the tournament.
Buying in cheap by supporting the underdogs in some World Cup games could prove to be very lucrative, but could also be devastating as you could get eliminated simply because your side lost the match.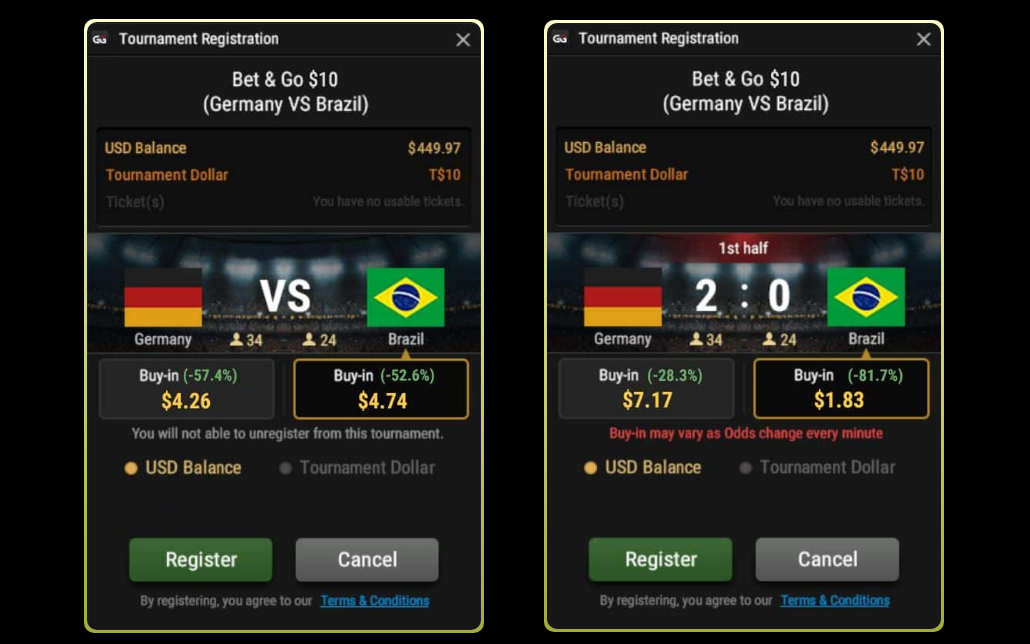 If you are knocked out of the event, you will still be able to buy-in for the regular tournament fee of $10 and play and rebuy until the end of the late registration period.
This is easily one of the most exciting online poker tournament formats for all sports fans out there. It will run throughout the 2022 World Cup and hopefully during other major sporting events in the future as well.
Join GGPoker for a Huge Welcome Bonus
The new Bet & Go poker tournaments offer plenty of entertainment value, but they are not the only reason to join GGPoker, the world's biggest online poker room.
GGPoker offers all new players a lucrative welcome bonus package worth $600, along with numerous other promotions, leaderboards, and competitions to take part in.
GGPoker's brand new Bet & Go Tournament is open for registration.
Choose your favorite teams and enjoy the tournament at a DISCOUNTED BUY-IN!#Bet & #Go #QATvsECU #Kickoff #NewTournament pic.twitter.com/SxXyjRAxLg

— GGPoker – World's Biggest Poker Room (@GGPoker) November 18, 2022
With all game formats running non-stop, millions of dollars given away in promotions each month, and relatively soft competition across the stakes, GGPoker is the place to be in 2022.
Join GGPoker right, check out the new Bet & Go Format, and play on the world's fastest-growing and most entertaining online poker platform.