GGPoker Welcome Bonus – How to Get the Most Out of It?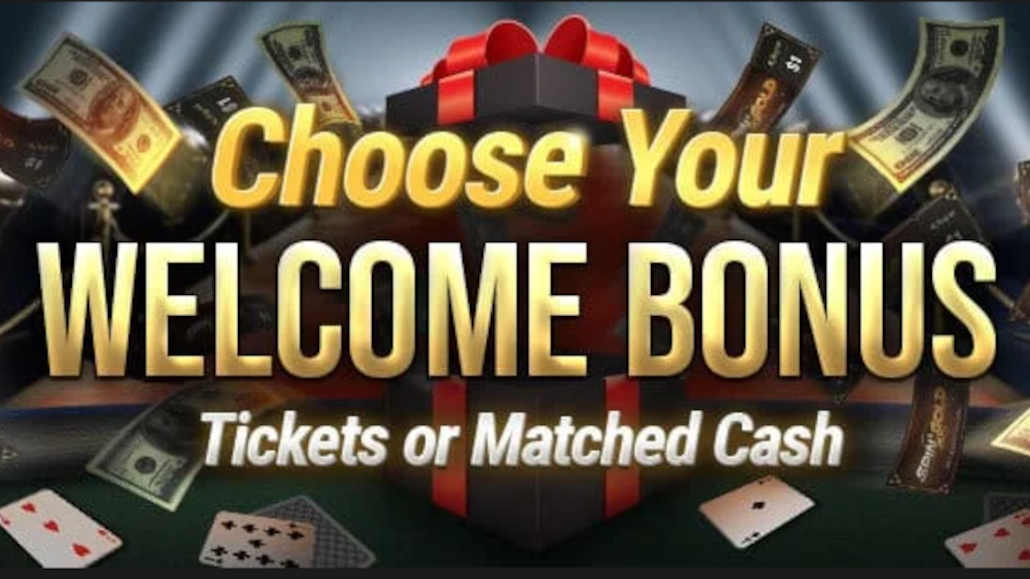 GGPoker has taken the title of the world's biggest online poker operator some time ago and now stands tall as the number one in the industry.
As such, it is only expected that the room would give an amazing welcome bonus to new players, and this is, in fact, the case.
Not only does GGPoker offer one of the best welcome bonus packages around, but new players get to pick between two different bonuses.
One is designed for recreational players and the other for those who take the game a bit more seriously.
If you are considering joining GGPoker, keep reading to get more familiar with the operator's welcome bonus and all the other perks that come with playing at the world's number one online poker room.
Choose Your Welcome Bonus
As already mentioned, GGPoker offers new players a choice when they first sign up and make their first deposit, allowing each player to pick between two online poker bonuses.
The first welcome bonus is worth $100 in total. You will receive it in the form of free All-In or Fold SNG Tickets and extra cash you can win by playing AoF cash games.
The other choice is a $600 match deposit bonus. This one is for players who like to play many tables and long hours and can clear this amount in a reasonable time.
Both bonuses come with their pros and cons. We are going to dissect them both, explain how they work, and figure out which bonus is best for you!
Recreational Welcome Bonus – $100 in Poker Rewards
If you are a recreational poker player who plays the game for fun, the $100 bonus is probably best for you. It will give you instant access to the rewards included in the package.
A deposit of just $20 will trigger this welcome bonus. You will receive the funds across your first six days of playing at GGPoker.
The first portion of the bonus is guaranteed and paid out in AoF SNG tickets as follows:
Day 1: 6 Tickets worth $11
Day 2: 5 Tickets worth $6.50
Day 3: 5 Tickets worth $6.50
Day 4: 5 Tickets worth $6.50
Day 5: 6 Tickets worth $9
Day 6: 6 Tickets worth $13
In total, you will receive 33 SNG tickets worth $52.50. You can take these to the tables and turn them into cold hard cash by winning the games with no strings attached.
It is worth noting that all tickets issued as part of this promotion will be voided in 24 hours. Thus, you should make sure to log in every day and play through the tickets awarded that day.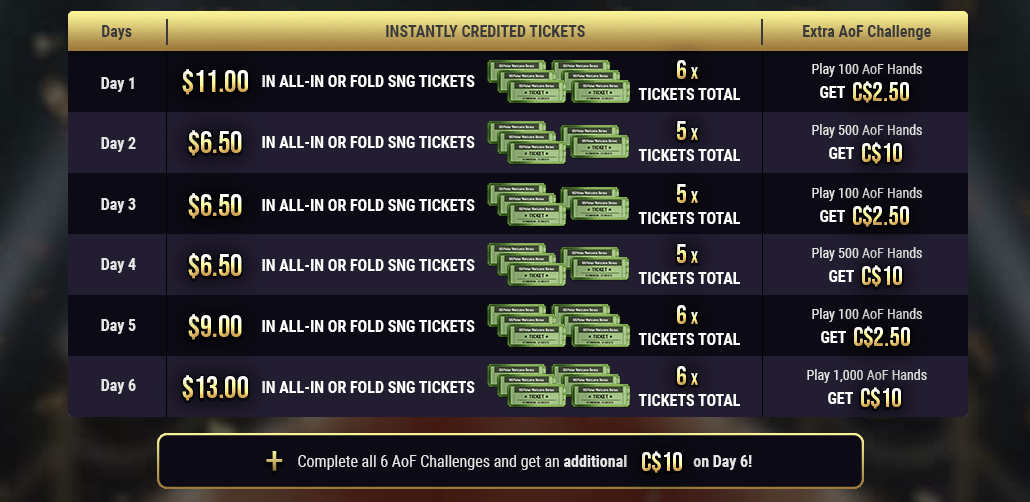 In addition to this, playing poker hands at the AoF cash game tables will release additional funds into your account. Since the amount of rake is not a requisite, you can stay on the tight side and just get those hands in.
Playing at the lowest stakes, you can receive the following rewards
Day 1: Play 100 AoF Hands for $2.50
Day 2: Play 500 AoF Hands for $10
Day 3: Paly 100 AoF Hands for $2.50
Day 4: Play 500 AoF Hands for $10
Day 5: Play 100 AoF Hands for $2.50
Day 6: Play 1,000 AoF Hands for $10
Day 6: Complete All Challenges for an Extra $10
This will amount to another $47.50 in cash. The money will be added to your account immediately upon completing the individual challenges.
In total, that's $100 in free rewards you can pick up just for signing up with GGPoker, making a minimal deposit, and playing the lowest stakes possible of the exciting AoF cash game poker.
Pro's Welcome Bonus: $600 Deposit Match
Players who play poker for a living, and even those who just enjoy the grind and the competition, often prefer to get every cent of the extra value they can.
For them, GGPoker has prepared a $600 deposit match bonus, which can be activated by making a minimal deposit of at least $20.

The operator will match the entire deposit amount, up to $600 in the form of a bonus. However, you can only release these funds through play.
If you have been playing online poker for a while, you probably know how these bonuses work, but let's explain it in a bit more detail.
When you make your first deposit, the extra money will show up in your cashier but will be locked as bonus money.
To release the bonus funds and get real cash, you will need to hit the tables and play some real money games.
For every $5 you pay in tournament fees or cash game rake, $1 will be released into your real money balance.
The more you play, the more money will be released from your bonus balance into your cash balance. With this, you will see your bankroll grow on top of the winnings you make at the tables.
Once triggered, the bonus will remain active in your account for 90 days. Hence, you have plenty of time to grind it out and make sure you get full value from this exciting offer.
Sign Up with GGPoker and Claim Your Bonus
GGPoker offers not only some of the best welcome bonus packages around but also some of the juiciest tournaments and cash games in 2023.
On top of the welcome bonuses you can claim, GGPoker also pays out over $10,000,000 in promotions each month. There are many freebies, leaderboards, freeroll tournaments, and other gifts for the players.
Join GGPoker today by following this link, make your first deposit to trigger either one of the welcome bonus options, and enjoy playing some of the best online poker games available anywhere in the world.