Hellmuth Wins Round One of High Stakes Duel vs. Negreanu
Hellmuth Wins Round One of High Stakes Duel vs. Negreanu
The first round of the long-anticipated PokerGO High Stakes Duel II featuring Daniel Negreanu and Phil Hellmuth is in the books. It was the Poker Brat who booked the win last night, coming back from a huge chip deficit.
On top of banking $100,000 for the win, the victory is very important for Hellmuth, who had a point to prove. In the weeks preceding the match, Daniel took a number of jabs at Phil on Twitter, to the point where the 15-time bracelet winner felt his entire legacy was under attack.
Although the first duel is in the books, this matter is still not concluded. After the last hand had been played, Negreanu immediately exercised his right to challenge the opponent to a rematch at double the stakes. So, there will be Hellmuth vs. Negreanu round 2, only this time both players will have to put up $100,000 each on the line.
Brief History of Hellmuth – Negreanu High Stakes Duel
Daniel Negreanu and Phil Hellmuth are both legends of the game, members of the Poker Hall of Fame, and two of the most influential characters in the poker industry. On a personal level, the two have also been friends for years.
However, when Negreanu lost the heads-up challenge against Doug Polk, Hellmuth openly stated that he wasn't happy with the way Daniel played.
Although the Poker Brat was in the camp Negreanu right from the get-go, once the match was over, he criticized the Canadian, although admitting that he barely watched any of the actual poker hands the two played over several months.
Daniel wasn't too happy about this and came after Phil pretty hard. He didn't just challenge him to a heads-up duel similar to the one he had just completed but also questioned Hellmuth's opinion of himself as the best poker player in the world, period.
If there is one thing that can get the Poker Brat going, that's when his poker accomplishments are being questioned. While Hellmuth is clearly one of the best tournament players, especially in large-field events, he remains firm in his belief that he is also one of the best in all other formats, including heads-up.
But, when openly challenged by Negreanu, Phil didn't actually jump at the opportunity to play a series of deep-stacked cash game sessions against the Canadian who spent months studying the GTO strategy.
In the end, the two did agree to play a match, but nothing nearly as comprehensive as the Polk – Negreanu feud. PokerGO set up a single heads-up tournament with a $50,000 buy-in, and that High Stakes Duel took place yesterday.
Hellmuth "Steals" the Win
After several weeks of preparation, the two finally sat down across from each other to play some cards. They both started with 50,000 in chips, with blinds beginning at 50/100 and escalating. It was a classic freezeout format with no rebuys or add-ons.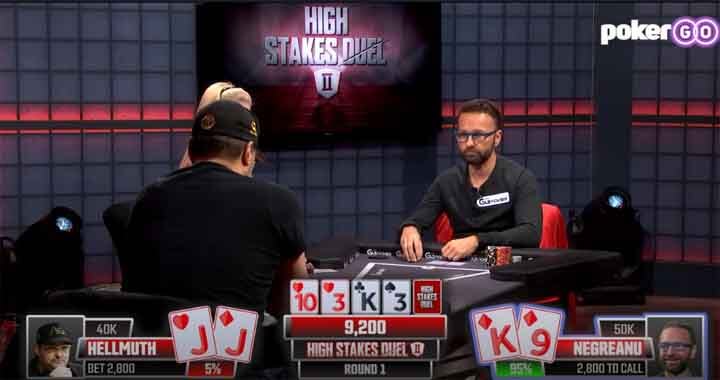 Negreanu got up to an early lead when he managed to out-flop Phil's pocket Jacks holding Kd9d. The flop came King-high, and Hellmuth lost a sizeable chunk of his stack in the hand.
This happened about one hour into the match, but things were far from over as the two continued to battle for another five hours!
About halfway through, the Canadian managed to get Hellmuth down to his last 7,000. Daniel flopped trip fours on an 8-high board against Phil's pocket 9s, and if he had moved all in on the river, he might have ended the match right then and there.
Instead, he left Phil with a few big blinds in his stack, and, as it turned out, this was enough for the Poker Brat to make an epic comeback.
It's worth mentioning that after losing the hand, Hellmuth went on quite a rant, insulting Negreanu and his play. At this point, he was visibly upset but still somehow managed to pull out a small miracle.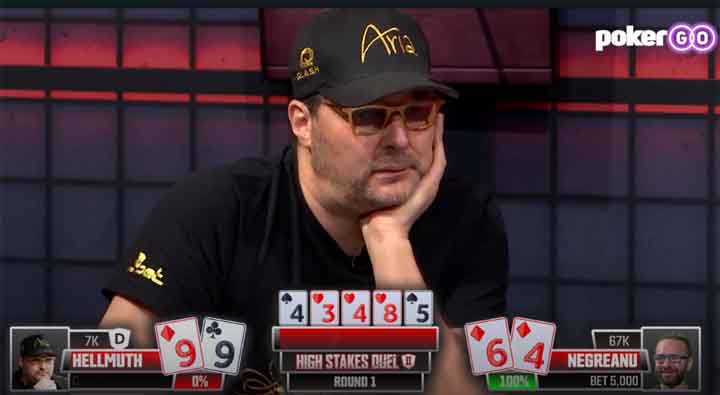 After some back and forth and Phil continuing to play very conservatively despite the chip deficit, he managed to find a double-up. He got his last 5,000 in with a queen-high flush draw against Negreanu's ten-high flush and open-ended straight draw and held up.
From this point onwards, things started going almost exclusively Poker Brat's way.
As Phil's stack improved, so did his mood, as he started laughing and joking again. Blinds kept on creeping up, slowly but surely reducing the effective stack, indicating that the marathon match was about to come to its conclusion.
In the meantime, Negreanu just couldn't get anything going, and his stack dwindled down.
The final hand saw Hellmuth limp-call Daniel's 16,000 (eight big blinds at this point) shove with pocket 9s. Kid Poker showed up with 6h7h but, despite flopping well, he couldn't get there by the river, and Phil took the last of his chips.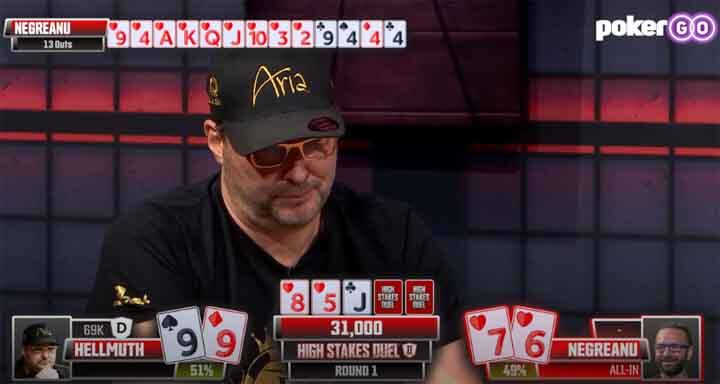 Negreanu Remains a Good Sport
After the final card was dealt, Negreanu shook Phil's hand, congratulated him on the win, and announced there would be a rematch. He then proceeded to extend his congratulations on Twitter as well.
Would Phil accept the loss in the same, graceful manner? Let's not speculate on that, but his actions when he was almost down to the felt suggest otherwise.
But, he is the Poker Brat, after all.
Did this match confirm Hellmuth is, actually, a better heads-up player, and all Daniel's work over the past month couldn't make up for Phil's experience and intuition?
It depends on who you ask. But one sit-and-go tournament certainly doesn't have the same weight as a few thousand hands of deep-stacked Texas Hold'em poker.
From the fans' point of view, we now have another interesting match to look forward to, and you can bet that Negreanu will be looking for a win. So, it should be a fun one to watch!