LAPT Montevideo Wraps Up with Main Event Trophy Headed to Venezuela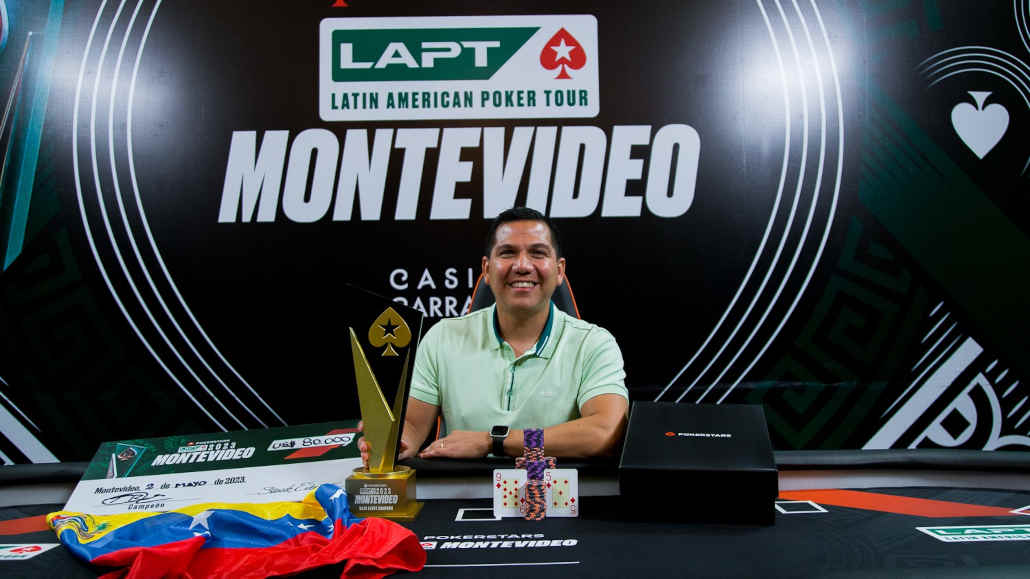 4 minutes
Last Updated: November 6, 2023
A week of epic poker action has come to an end in the Uruguayan capital, as players from all over South and Central America took to the tables and competed in another leg of the continent's most prestigious poker tour.
LAPT Montevideo was the second leg of this year's LAPT, as it followed the successful LAPT Rio de Janeiro which played out earlier in the year.
The festival kicked off with a Freeroll event for players who attended the earlier LAPT stop, with Murilo Figueredo winning a free EPT Barcelona package without even having to post a buy-in.
From there, hundreds of players took to the felt over numerous events, with buy-ins ranging from just $200 all the way up to $5,000 for the biggest High Roller of the festival.
When all was said and done, it was Venezuelan player Tullio Bertoli Juarez who took down the LAPT Main Event.
Argentinian players managed to dominate quite a few of the side events, Panama crusher Levy Herstel won the High Roller, and Bruna Unuzeta won a place for the ladies in the winners' circle.
With another successful leg of the LAPT under their belt, PokerStars will be looking forward to future, with the return of LAPT Panama already scheduled for August this year.
International Final Table in the Main Event
The entire LAPT Montevideo was a highly international affair, with the vast majority of players fairing from South and Central America and a few guests from across the pond getting in the mix as well.
The LAPT Montevideo Main Event saw a total of 346 entries for a prize pool of $441,150, with 47 players getting paid on the final day.
The international nature of the festival truly showed in the Main Event. Players from all Latin American countries were heavily involved and only a single local player managed to make the final table.
Uruguayan Brian Kaufman would also be the first player to go, leaving players 8-handed and without any Uruguayan representatives in the field.
The final table also had a European player in the mix, with Austrian player Erik Von Buxhoeveden coming in fifth place and taking home $25,000 for his efforts.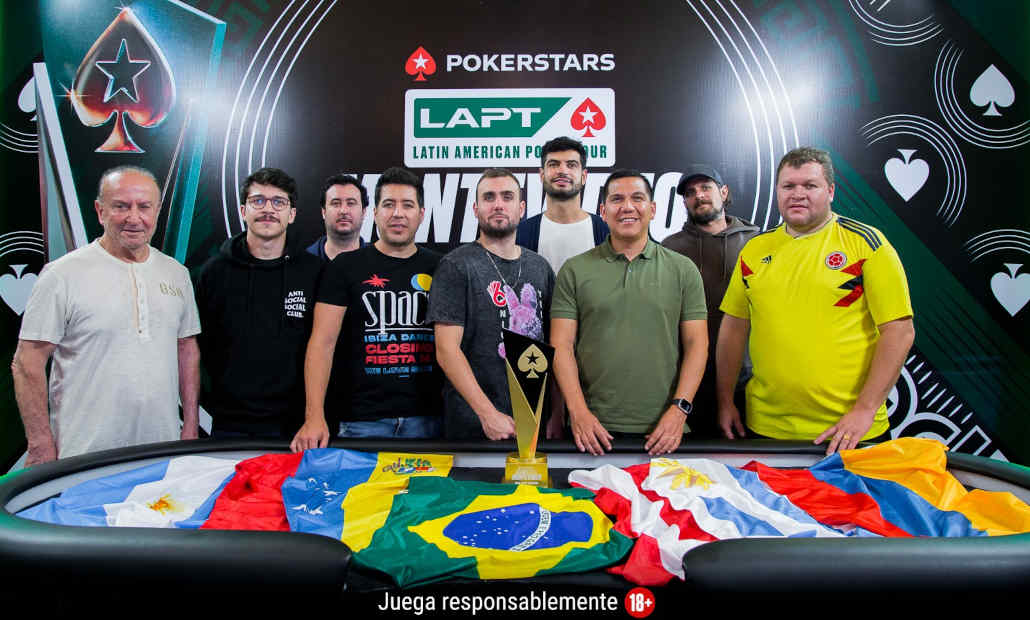 Two Brazilian players were left to battle it out with a single representative of Venezuela and Colombia each, but both would fall short of the ultimate prize.
The final battle came down to Brazilian Joao Ricardo Barbosa Magalhaes Duarte and Venezuelan Tullio Berloti Juarez, with the latter taking down the trophy and a cool $80,000 in cash, and the second place finisher winning $52,000 for his deep run.
For Berloti Juarez, this was a dream come true, as his previous deep runs in LAPT Main Events were cut short.
He has played the tour since 2010, previously cashing in Peru, Colombia, Brazil, and Panama. The last of those runs finished in a third place heartbreak, which netted him another $81,000.
What's also interesting is that the newly crowned champion won his Main Event seat via a $200 satellite, making it a massive return on his original investment.
We can expect to see more from this talented poker player and other final table finishers at the upcoming LAPT Panama later this year.
Argentinian Players Dominate Side Events
Regional poker tours sponsored by PokerStars typically see a massive turnout from local players with some visitors in the mix, but LAPT tends to be a truly international affair with no true favorites.
Argentinian players showed that in the LAPT Montevideo, as they not only made several final table appearances in the Main Event, but also took down three of the side events.
The first of those three wins came in the $1,000 6-Max Mystery Bounty, where Argentinian Dante Maino won the first place and $9,610 in cash prizes + bounties after defeating Brazilian Caio Hey in heads up battle.
The somewhat smaller but still significant $300 NLH Turbo Deepstack event went to another Argentinian player, with Flavio Gandelman coming out on top after a three-way chop.
Ellos fueron los últimos campeones del #LAPTMontevideo 🇺🇾. 🏆

🇵🇦 Levy Hertsel – 'US$5.000 High Roller' – US$51.920
🇦🇷 Dante Maino – 'NLH 6-Max Mystery KO' – US$9.610
🇦🇷 Gonzalo Peláez – 'Turbo High Roller PKO' – US$7.360
🇦🇷 Flavio Gandelman – 'NLH Turbo Deepstack' – US$7.230 pic.twitter.com/dDyx40TDlb

— PokerStars LATAM 🔥🦅 (@PokerStarsLatam) May 3, 2023
Finally, Gonzalo Pelaez took the third title for Argentina in the Turbo High Roller PKO, which attracted a small field, paid just three players, and won the champion $7,360 in cash.
LAPT Montevideo once again showed the strength of Argentinian players and their impact on regional poker. We expect to see quite a few more champions from this country in the near future.
High Roller Title Goes to Panama
The $5,000 LAPT High Roller was the highest buy-in tournament at the festival and it attracted a field of elite players from all over Latin America.
A total of 37 entries created a prize pool of $152,710, and players who made the final six were paid a minimum of $10,690.
Once again, Brazil had the numbers, with three players from the biggest country of Latin America making the money, but that was not enough to capture the title in the end.
Panama player Levy Hertsel defeated the far more experienced Brazilian Renan Bruschi heads up and took home the High Roller trophy along with $51,920 in winnings. His opponent had to settle for the $35,890 second-place prize.
LAPT Continues in Panama
It is only fitting that the last trophy of LAPT Montevideo ended with a player from Panama, as the Tour now takes a short break before traveling to this beautiful country linking South and North America.
LAPT Panama is on the schedule for August 4-8 as PokerStars prepares for another amazing poker festival to be hosted at the Crown Casino Panama in Panama City.
Until then, Latin American players will have plenty of opportunities to practice their skills in online tournaments at PokerStars, grab their poker bonuses, win their seats for LAPT Panama via the online qualifiers, and play in the smaller regional tours to keep their skills sharp ahead of the next major challenge.