Daniel Negreanu Reacts to Hellmuth's Criticism, Challenges Poker Brat to HU Duel
Daniel Negreanu Reacts to Hellmuth's Criticism, Challenges Poker Brat to HU Duel
The recently concluded grudge match between Daniel Negreanu and Doug Polk created a lot of stir in the poker community and gave everyone hours' worth of great, high stakes entertainment.
Polk came into the match as the favorite and walked away the winner after 25,000 hands, banking $1.2 million for his victory.
In the days following the conclusion of the HU challenge, many players shared their views of the match, among others Phil Hellmuth.
Hellmuth was supporting Negreanu from the get-go, but he wasn't too happy about the final result and in a recent interview, the Poker Brat openly stated he was disappointed by the Canadian's performance.
The short, two-minute segment, didn't go unnoticed by Negreanu, who responded by challenging Hellmuth to a heads up match under his terms.
DNegs Quick to Respond to Phil's Jab
Helllmuth's short statement about Negreanu's play also included not so thinly veiled brag about his own poker skills.
The way Phil explains it, Negreanu's coaching team was recommended by him as he recognized them as very good and capable players.
However, Phil sent them Daniel's way because they didn't have much to teach him?
It seems Hellmuth is trying to suggest that he already knows everything Negreanu has spent months trying to learn and Polk spent years studying.
Daniel wasted no time responding to Phil, challenging him to a heads up match under any terms he wanted: live or online and for whatever number of hands he wanted to play.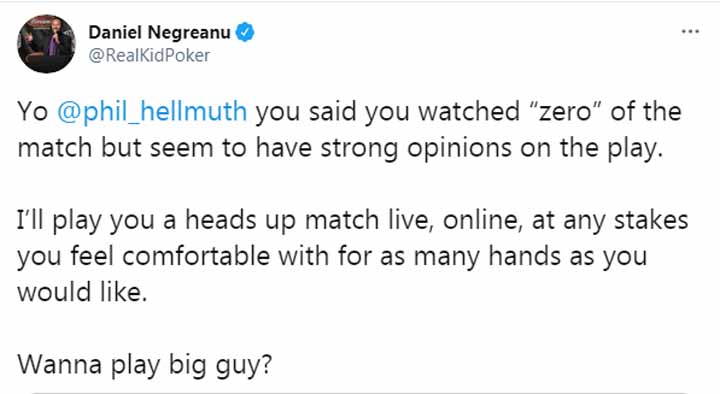 It goes without saying that the poker community was thrilled to see the Canadian's reaction, but will Hellmuth go for it?
Will There Be a Hellmuth vs. Negreanu HU Match?
Phil Hellmuth is known as an outspoken player who holds his own skills in very high regard. The whole Poker Brat attitude has been a part of his persona for years and helped him build a brand around his name.
But, facing an open challenge by Negreanu, what are the odds of Phil actually accepting?
Personally, I don't think they are very high at all.
While Hellmuth loves to talk the talk, he's not very likely to walk the walk in the situation where he must know he's a big underdog. Even if the two had equal skills before the Negreanu – Polk challenge, Daniel has put in countless hours studying HU play and GTO.
DNegs was going into the grudge match against the odds and for that alone, he earned some respect from the community and from Polk himself.
At this moment in time, the skill gap in the particular format between Negreanu and Hellmuth could be even wider than it was between DNegs and Polk when the grudge match was announced.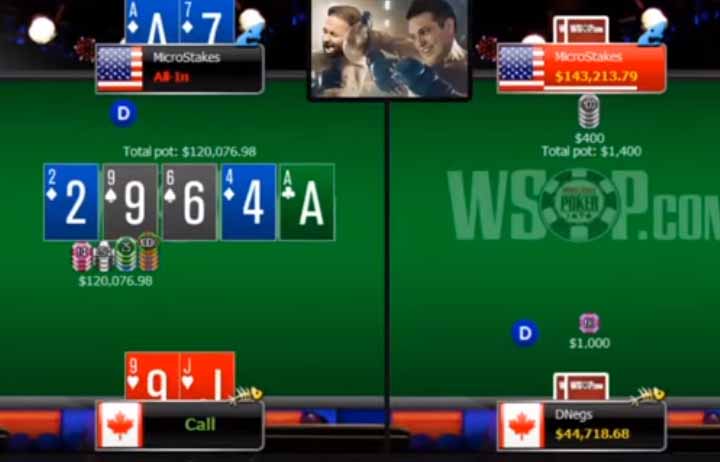 Even Polk said after the match that he wouldn't be as thrilled to play Negreanu again as he felt Daniel has improved a lot over the months of the challenge.
The Canadian would probably jump at the opportunity to play some one-on-one poker with the Poker Brat and put his newly found skills (that he paid dearly to acquire) to good use. Plus, the skirmish would likely be just as popular (if not more) as the original grudge match.
One Is Allowed to Dream
In the same video included earlier, Hellmuth boasted his heads-up skills, claiming he'd won 29 of his last 30 HU matches.
This is technically right, but these were all short battles, featuring no more than a few hundred poker hands.
In a prolonged match that would last 10,000+ hands, DNegs would have to be a clear favorite, just like Polk was against the Canadian.
And, to be completely honest, it seems really farfetched that the Poker Brat would accept to play Negreanu in this format. If anything, he might be up for a few hundred poker hands, which is far too small of a sample size to determine who the better player is.
One is allowed to hope, though.
If Hellmuth and Negreanu were somehow to come to an agreement for an actual, proper heads up match that would include the kind of coverage that we saw in the earlier challenge, it would be a real treat for the fans.
Both DNegs and Phil are in the group of the most popular poker players alive and their "grudge" match would attract hundreds of thousands of eyeballs.
Is it likely to happen? No, absolutely not – but we sure as hell root for it! And, if the match were to happen, who would you bet on and what odds do you think would be fair?