Grand Prix Summer – New MTT and Schedule at PartyPoker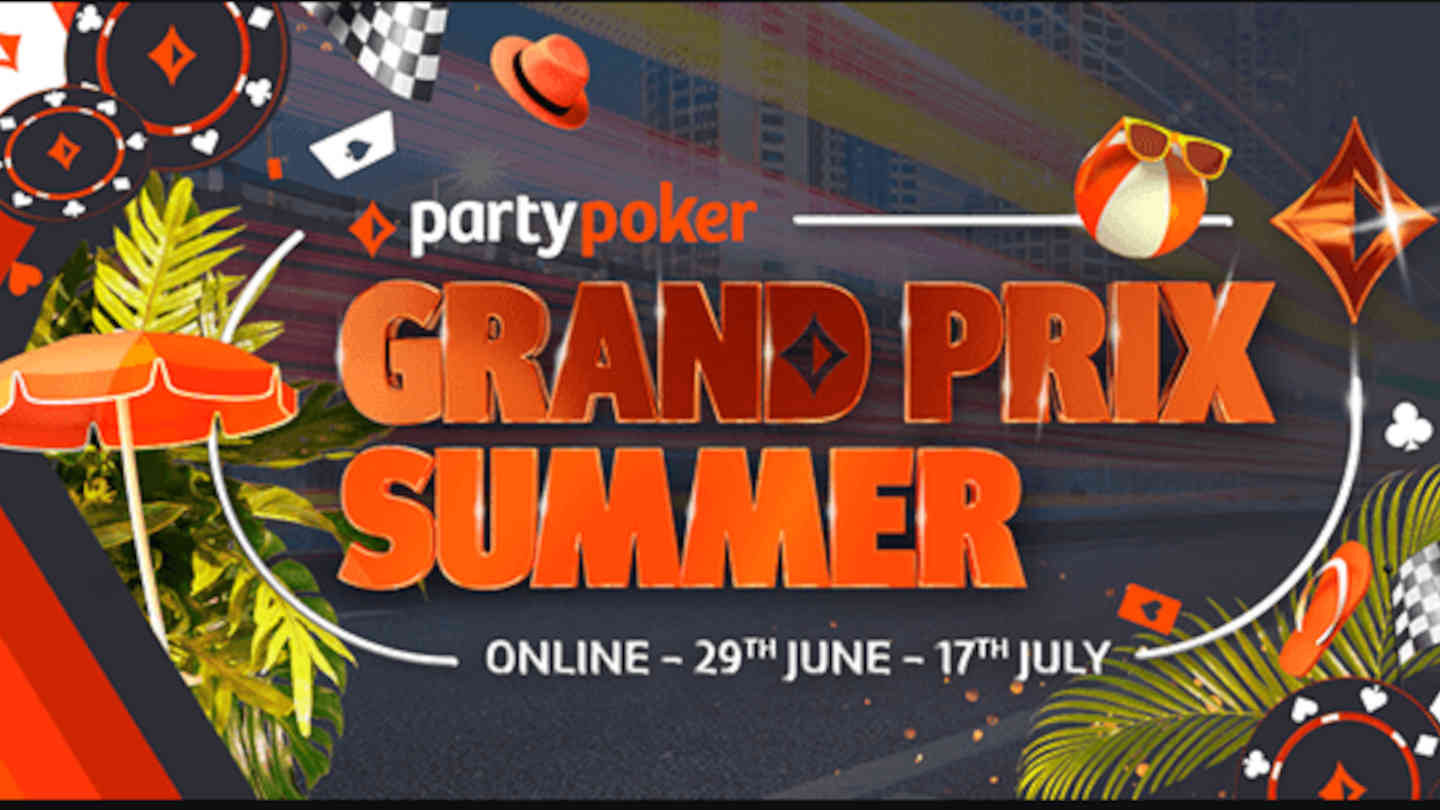 Summer is typically the time of year when people take their off days, but PartyPoker players will have to wait with their vacations for a few more weeks, as the operator is throwing one of the best low-to-mid stakes tournament series of the summer.
Starting on June 29, the Grand Prix Summer series will feature 12 unique multi-day events, along with dozens of amazing side events, offering hundreds of thousands of dollars in guaranteed prizes.
The numbers may not seem extreme compared to some other tournament series PartyPoker has thrown. However, the fact that the biggest buy-in for Grand Prix Summer will have a price tag of just $55 means this series will be extremely affordable for players across the board.
If you are looking to join Grand Prix Summer yourself, keep on reading to find out what events you can get into, what buy-ins and guarantees to expect, and how you can satellite your way into some of the bigger events.
What's even more, Mypokercoaching is giving away a FREE $109 Sunday Party ticket, which you can claim by signing up for PartyPoker via our link.
Join now to get your free shot at the biggest weekly tournament at PartyPoker and take part in the upcoming Grand Prix Summer edition.
Grand Prix Summer Edition Schedule & Highlights
Like most tournament series at PartyPoker, Grand Prix Summer will be made up of a series of numbered events, along with plenty of side events for extra value and more tables for all the grinders out there.
Starting June 29, you will have an opportunity to play in the numerous Day 1 flights of the twelve numbered real money poker events, with many of those offering quite a few Day 1 opportunities.
Buy-ins for the series will range between $1.10 and $55, while special Grand Prix Editions of Sunday Carnival and Sunday Party with boosted guarantees will also be available on Sundays.
Event #1, which kicks off on June 29, will be an appealing start to the series, featuring a $33 buy-in and a massive $50,000 guaranteed prize pool.
The $55 Main Event will offer as much as $150,000 in guarantee, while the $11 Mini Main Event will provide a more affordable chance to play for a $40,000 guarantee.
Pot Limit Omaha fans will get their opportunities in the $33, $5.50, and $1.10 PLO PKO Championship events on July 10, while the same buy-in PLO8 PKO Championships will kick off on July 3.
Full Grand Prix Summer Edition Schedule
| | | | | |
| --- | --- | --- | --- | --- |
| Event | Buy-in | Guarantee | Start | Final Day |
| #01 Opener PKO | $33 | $50,000 | Jun 29 | Jul 3 |
| #02 Mini Opener PKO | $5.50 | $10,000 | Jun 29 | Jul 3 |
| #03 Micro Opener PKO | $1.10 | $1,500 | Jun 29 | Jul 3 |
| #04 Main Event | $55 | $150,000 | Jun 29 | Jul 17 |
| #05 Mini Main Event | $11 | $40,000 | Jun 29 | Jul 17 |
| #06 Micro Main Event | $2.20 | $5,000 | Jun 29 | Jul 17 |
| #07 PLO8 PKO Championship | $33 | $15,000 | Jul 3 | Jul 10 |
| #08 Mini PLO8 PKO Championship | $5.50 | $5,000 | Jul 3 | Jul 10 |
| #09 Micro PLO8 PKO Championship | $1.10 | $1,000 | Jul 3 | Jul 10 |
| #10 PLO PKO Championship | $33 | $15,000 | Jul 10 | Jul 17 |
| #11 Mini PLO PKO Championship | $5.50 | $5,000 | Jul 10 | Jul 17 |
| #12 Micro PLO PKO Championship | $1.10 | $1,000 | Jul 10 | Jul 17 |
Keep in mind that the 12 events listed here are only the multi-day events, while each day of the festival will offer plenty of side events in the same price range and with significant prize pools.
It's safe to say that July will be an action-packed month at PartyPoker, making it an ideal opportunity to finally sign up and start playing at one of the world's top online poker sites.
Win Your Way into Grand Prix Summer Events
As usual, PartyPoker is offering plenty of opportunities for players to win their way into the Grand Prix Summer series.
Tickets to all major events are available through phased and direct satellites, and special Grand Prix Summer Edition SPINS.
For players with the smallest of bankrolls, PartyPoker has prepared a series of its famous centrolls, which cost just $0.01 to get into, and which feed into the $0.22 Phase 1 Satellites.
From here, you will get a chance to advance to the $1.10 Phase 2, where tickets to higher buy-in satellites can be won at premium discount.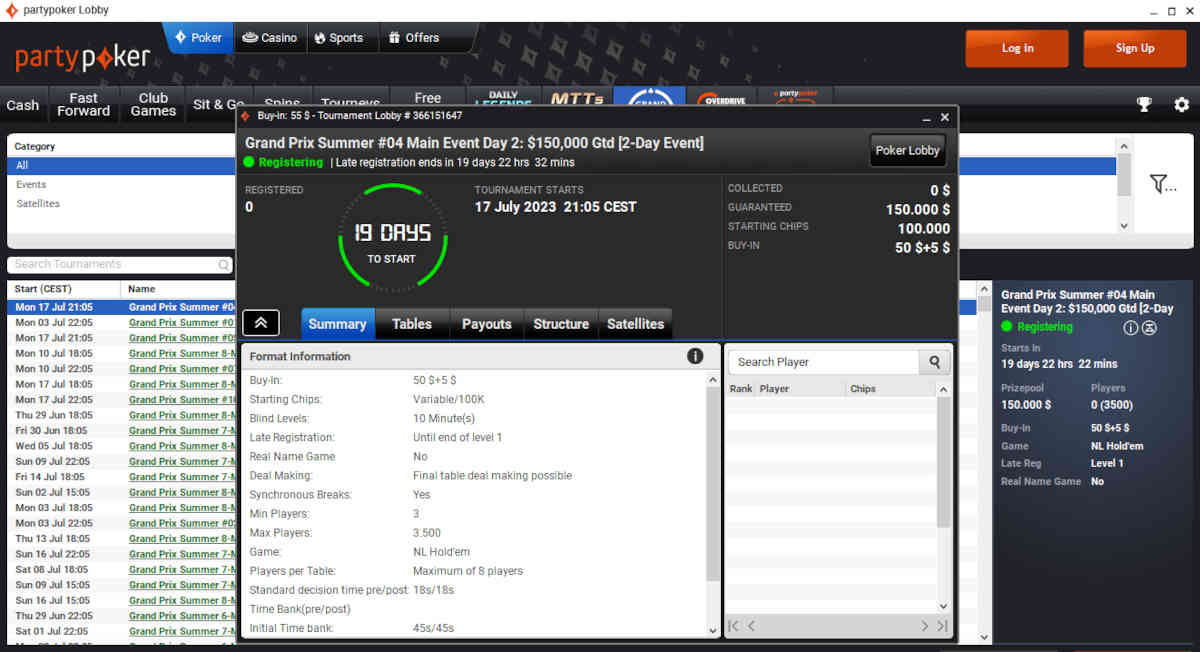 Of course, you can always enter any of the direct buy-in satellites as well and win your Main Event or side event tickets for just a fraction of the price.
Special Edition $2 SPINS will be available throughout the series, offering rewards of $4 in cash or GP Summer Edition tickets worth between $5.50 and $109.
Whichever option you choose to go for, there will be more than enough options to qualify for Grand Prix Summer and win your way to play for the juicy prize pools without breaking bank.
Join PartyPoker in Time for GP Summer Edition
Grand Prix Summer Edition is now upon us and it is high time you join PartyPoker and play some of the most lucrative online poker events you will find in this price range.
A limited bankroll will take you a long way with GP Sumer Edition this July, as plenty of events in the $1.10 to $55 range are on the agenda, each offering thousands of dollars in guaranteed prizes.
If you join PartyPoker right now following this link, we will throw in a FREE $109 tournament ticket, which you can use to play your very first Sunday Party, the best value poker tournament at PartyPoker.
Sign up today to get all this value, along with the juicy PartyPoker welcome bonus and play in the hottest low stakes tournament series around.