Win Up to $1 Million in PartyPoker SPINS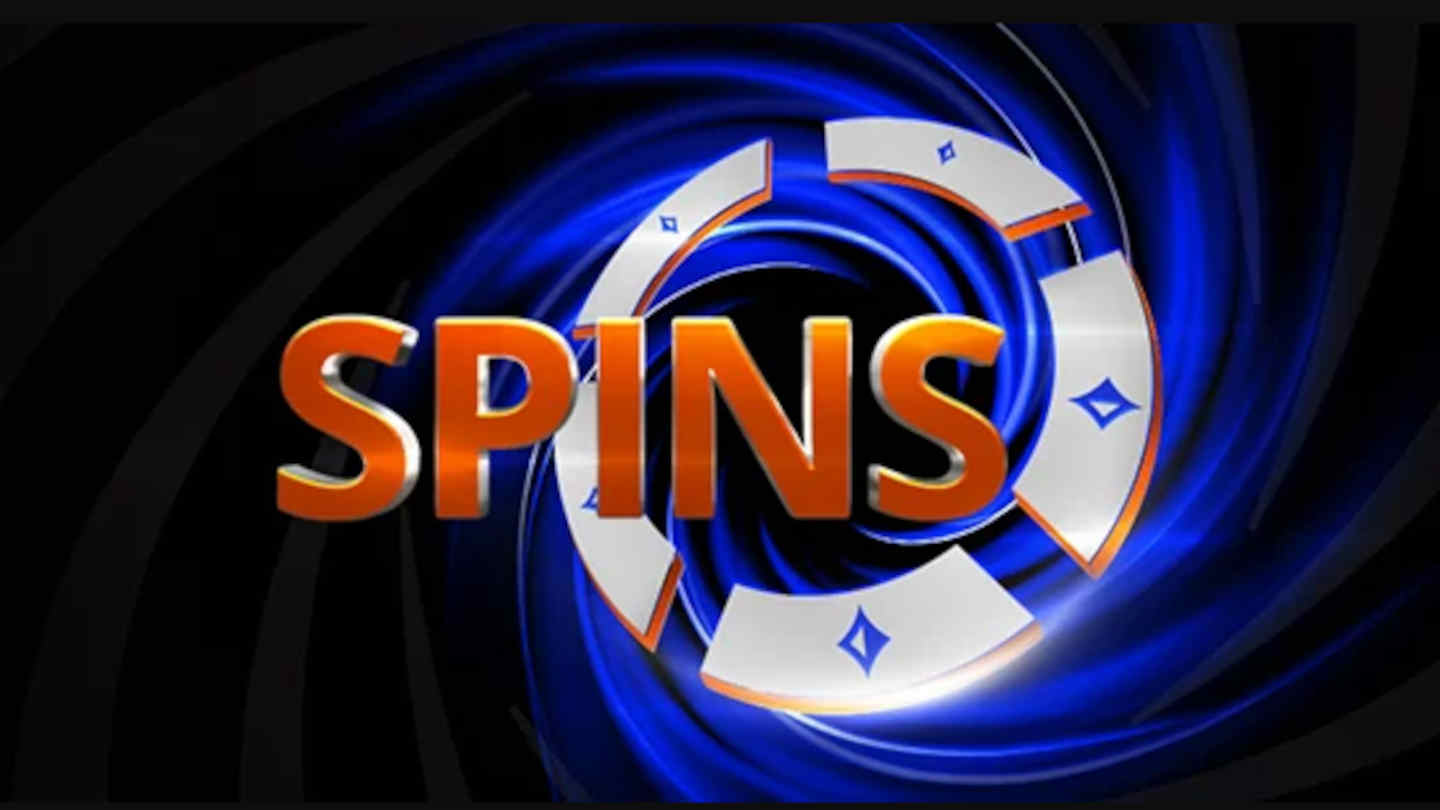 Winning a million dollars playing poker remains a pipe dream for the vast majority of players, even many successful ones.
However, PartyPoker now offers an opportunity to do so overnight and paying no more than a $5 buy-in.
PartyPoker SPINS are a unique tournament poker format that allows players to win massive prizes by defeating only two other opponents at a varying range of buy-ins, with a million dollar first place prize available for the lucky players at $5 games.
If you have been looking for a brand new format of poker to play and try to make it big in the game, SPINS might be exactly what you were looking for, and you can get started today.
Sign up with PartyPoker right now to play your first SPIN, claim a generous welcome bonus, and get a FREE $109 Sunday Party ticket from MyPokerCoaching as an extra perk.
Keep reading if you want to find out more about SPINS, how they work, and what chance you have of winning one million dollars playing these exciting PartyPoker tournaments.
What Are SPINS?
SPINS are PartyPoker's version of jackpot sit and goes, which means they are short-handed sit and go tournaments in which the prize is not directly affected by the number of players in the game and the value of the buy-in.
Instead, all money players pay to buy into SPINS is pooled into a single prize pool, while a random number generator decides which prize players will be playing for at the start of the game.
For example, if you buy into a $1 SPIN at PartyPoker, the most likely outcome is that you and two other players will be playing for a $2 prize, less than you would get in a regular sit and go.
However, there is a very small chance for the RNG to pick you for the jackpot game. In this case, the first place prize will be $10k, while second and third place will also receive prizes worth $1k each.
Apart from the jackpot prize, you can also get other prizes, which include $200, $100, $25, $10, and more at the $1 level.
As you move up the stakes, the possible prizes also increase, with the $5 buy-in level also offering the special and extra rare million dollar game.
If you get picked to play the million dollar game, you will be guaranteed a $100k prize, which is paid out to the second and third place, while the winner gets to take home a cool million bucks.
There is no better opportunity in live or online poker to win a million dollars while playing for a $5 buy-in. This makes SPINS a game every poker player should try, even if only for the off chance to get lucky and take home the game's biggest prize.
Here is the list of all the possible prizes you can win if you play $5 SPINS:
| | | |
| --- | --- | --- |
| 1st Place | 2nd Place | 3rd Place |
| $1,000,000 | $100,000 | $100,000 |
| $5,000 | $500 | $500 |
| $500 | $50 | $50 |
| $125 | N/A | N/A |
| $50 | N/A | N/A |
| $25 | N/A | N/A |
| $15 | N/A | N/A |
| $10 | N/A | N/A |
Win More with Daily SPINS Leaderboards
PartyPoker offers all SPINS players a chance to win even more money playing SPINS through the Daily SPINS Leaderboards promotion.
Each day, $12,000 is awarded in extra leaderboard prizes, with each buy-in you pay to play SPINS or ULTRA SPINS (6-handed SPINS) counting towards the particular daily leaderboard.
The higher you play, the bigger the prizes you are playing for, with players in SPINS over $20 playing for a $800 top daily prize, and those in the $0.25 games playing for up to $20 every day.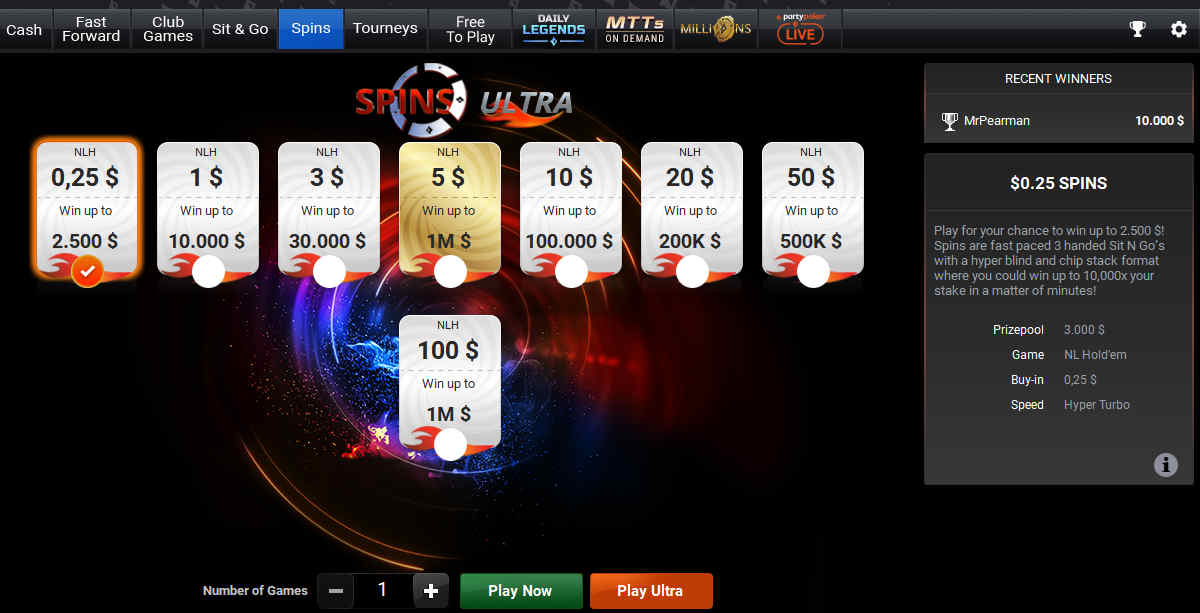 Your eventual standing on the leaderboard will depend on the number of games you play, but also the multipliers you are awarded by the RNG that given day, which means everyone has a reasonable chance of ranking high on the daily leaderboards.
If you start playing your first PartyPoker SPINS, you could join today's leaderboard and play for valuable rewards on top of the cash you stand to win in the games themselves.
Diamond Club for SPINS Regulars
Players who play SPINS on a daily basis have a lot to look forward to, as PartyPoker offers the best returns to jackpot sit and go players out there.
In order to enter the Diamond Club, you will need to pay $1,000 in SPINS rake in any calendar week and then email [email protected] with a personal request to join the Diamond Club.
Once you have been approved, you will start to receive a minimum of 30% cashback every week, with an option to increase this by playing even more SPINS.
If you can reach $50,000 in rake paid within a year, you will receive a cool $5k into your account instantly, along with a cashback increase to 40% weekly.
If you can reach $100,000 in rake paid within a year, you will receive an extra $10k into your balance, and your cashback will increase to 50% every week.
Finally, reaching the $200,000 rake milestone will take you up to the maximum 60% cashback, and will pay another $20k in cash, paying back for all the hard work and commitment you put in.
Diamond Club works best for the hardest of grinders out there, but anyone who can rake $1k in a week will be in for at least a 30% guaranteed return on their rake from that point on.
Your Best Shot at a Million Bucks
PartyPoker SPINS are some of the softest and most recreational-heavy games in all of online poker, making them a great opportunity for casual players and grinders alike.
There is no better opportunity to play for a million dollars in all of poker than SPINS, so sign up today and take your shot.
If you were considering playing similar games with other operators, make sure to take into account that PartyPoker also offers daily leaderboards and guaranteed extra cashback through the Diamond Club, which easily makes it the best place to play jackpot sit and goes anywhere in the world.