Best Deal of the Year: Save Thousands on PokerCoaching Premium Membership for a Limited Time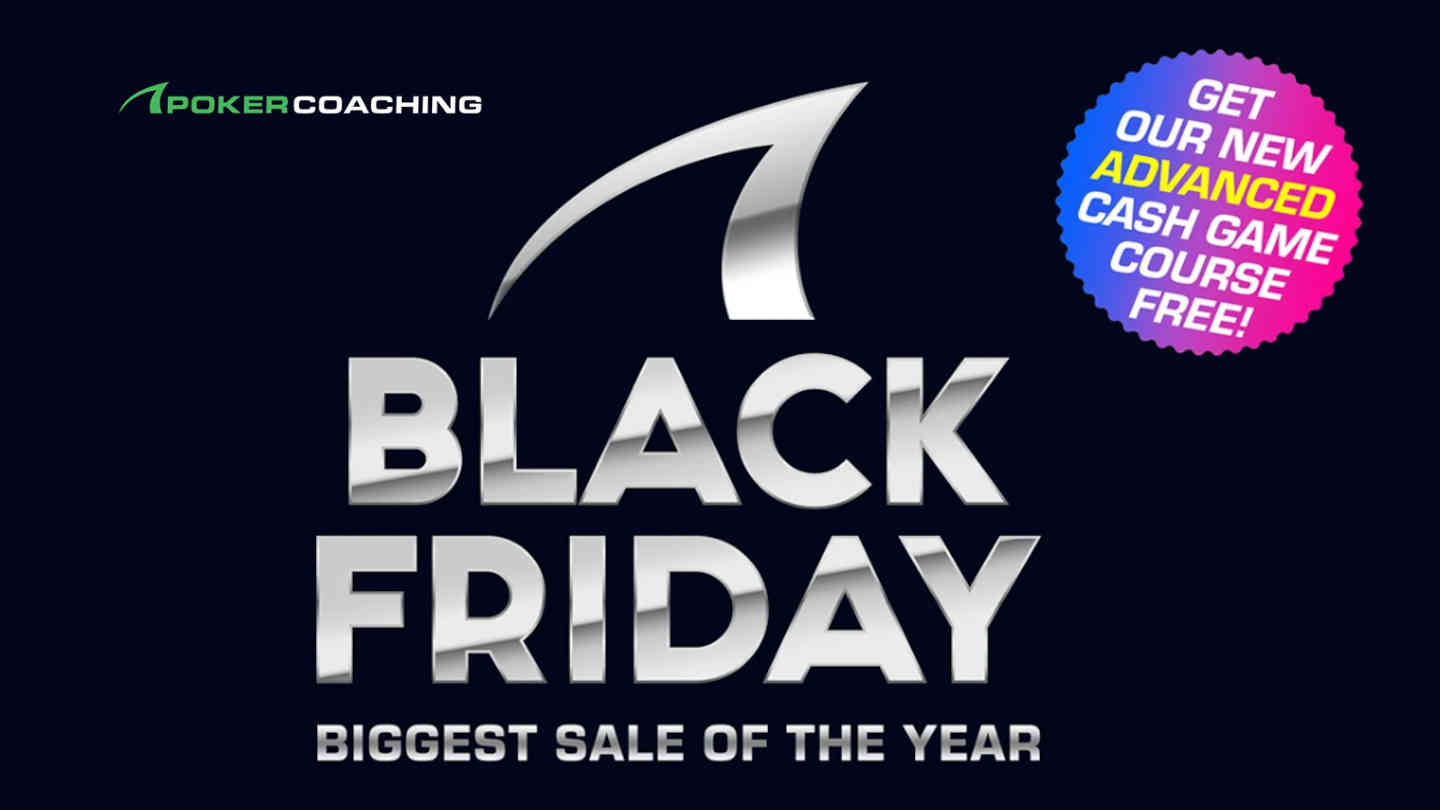 5 minutes
Last Updated: November 17, 2023
Holidays are coming and Black Friday sales have started! PokerCoaching.com, one of the leading poker training sites in the world, is offering the biggest sale of the year, allowing you to save up to 71% on PokerCoaching Premium, giving you access to the full plethora of their products.
Available for another 10 days, the Black Friday Sale gives you a chance to save thousands of dollars by signing up today for a 12 or 24 month subscription for PokerCoaching Premium.
Purchase the PokerCoaching Premium subscription today and you will get:
FREE Access to NEW Advanced Cash Game Course (with Chris Brewer)
FREE Access to Advanced Tournament Course
FREE Access to Jonathan Little's Inner Circle Videos
FREE 1-Year PokerGO Subscription
Other Poker Coaching Resources
Once you subscribe to PokerCoaching Premium, you won't need to buy another coaching course or video again, as you will get instant free access to hundreds of hours of premium coaching.
With all courses and videos created by top-level poker coaches with more than $90 Million in tournament winnings between them, you know you are in good hands.
Check out the PokerCoaching Premium package and subscribe today to save the max, or keep reading to find out exactly what you get if you get your Premium package right now!
NEW Advanced Cash Game Course with Chris Brewer
If you have been playing poker over the last few years, you have probably heard the name Chris Brewer on more than a few occasions, and that's because he's been absolutely crushing it!
Chris has been at it for far longer than that, however, as his tournament exploits were preceded by a long career at the cash game tables where he crushed stakes as high as $1k/$2k for years.
Brewer is considered one of the best all-around poker players these days, and he has joined forces with PokerCoaching to create the best and most up-to-date course on crushing cash game poker today.
Chris Brewer joins the likes of Jonathan Little, Brad Wilson, Justin Saliba, and Rampage Poker in this course, bringing together some of the very best minds in the poker world today.
If you want to learn from the very best, Advanced Cash Game Course from PokerCoaching is the best resource to have, and you can have it for FREE for as long as you are a Premium member of the site.
From explaining preflop play in live and online cash games to finding exploits on different streets and targeting particular player weaknesses, and analysis of particular super high stakes poker hands played by the likes of Rampage, this course has it all.
You even get a chance to finally get some detailed strategy for modern poker variants like 2-7 Game and Stand Up Game, often played in live cash games around the world.
If you want to become a true cash game grinder in 2024, the ultimate learning resource is waiting for you at one of the best poker training sites.
Dominate Tournaments with Advanced Tournament Course
With more than 30 hours of video content aimed at mastering your tournament play, the Advanced Tournament Course is one of the best tools for aspiring tournament poker players out there.
The course, normally priced at $997, can now be yours for FREE if you sign up for PokerCoaching Premium membership during the Black Friday Sale.
Master playing with deep stacks and in multi-way pots, get into the weeds on different bet sizes, and become a true expert of ICM with Advanced Tournament Course.
More than 30 hours of video materials from world's best tournament poker coaches is yours when you subscribe, and get to use it anytime during your subscription period.
More Free Coaching Courses
The PokerCoaching training library has been growing over the years and now includes thousands of videos spread across dozens of full poker coaching programs.
With your PokerCoaching Premium subscription, you will also get access to the following courses:
Jonathan Little's Cash Game Masterclass
Jonathan Little's Tournament Masterclass
Crush Cash Games with Jonathan Jaffe & Jay Nguyen
Crushing Tough Cash Games with Jonathan Jaffe
Aram Zobian's Exploitative Tournament Series
Crushing High Stakes Poker with Brock Wilson
And MUCH MORE!
All these courses and many others are just a part of the deal you get when you subscribe for PokerCoaching Premium. Another 240+ hours of 1-on-1 coaching with Jonathan Little, valued at $1,997 is also yours for FREE!
Each of the courses mentioned here is created by some of the very best poker coaches in the world, and they have all helped propel some of the best new players in the world through the ranks, and you could be next.
Beta Access to GTO Preflop Trainer + PokerGO Subscription
GTO poker is all the rage these days, but for most up and coming players it is incredibly difficult to grasp and actually master.
Thanks to the efforts of PokerCoaching, getting into the weeds of GTO poker has become a lot easier, as the new GTO Preflop Trainer allows you to quickly learn about different preflop spots in your games from a GTO standpoint.
The app allows you to quickly input your hands, stack sizes, and other data using an intuitive visual interface, and get the answers you have been looking for without employing the burdensome and complicated solver apps.
The app is fairly new, but as a new PokerCoaching Premium member you will get beta access to it, which will extend throughout your membership as the app gets improved over time.
Joining today will also give you full access to PokerGO, the world's leading poker media platform, where you can watch all the best poker players ply their trade at poker tournaments and cash games across the world.
All of this, and more, can be yours for a price of $649 for a 1-year or just $999 for a 2-year membership, making it by far the best price in the industry.
Join PokerCoaching today and get your special Black Friday discount and propel your game to the next level in 2024!