PLO Games on PokerStars – What Cash Games & MTTs Can I Play?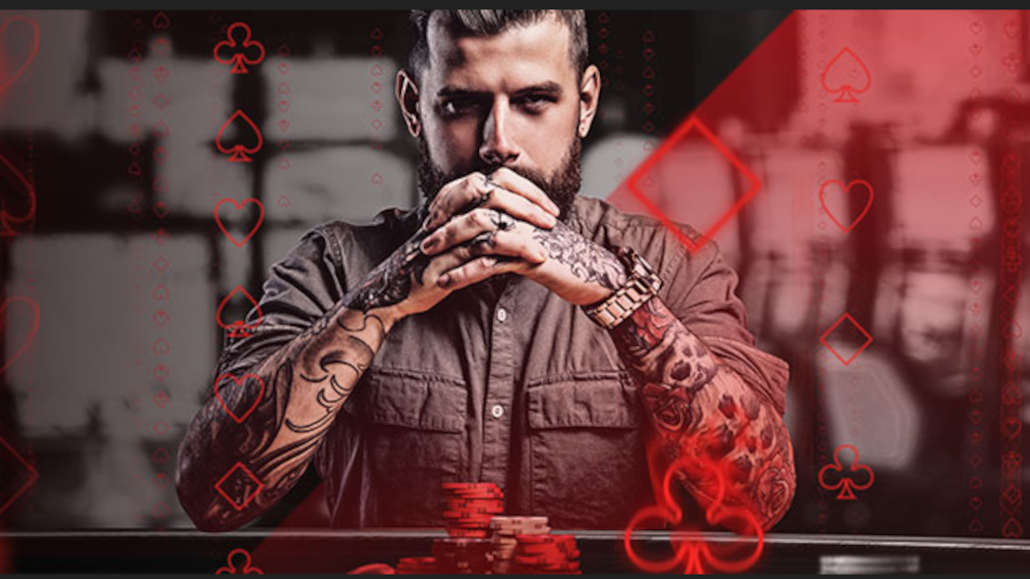 4 minutes
Last Updated: November 6, 2023
PokerStars has been home to some of the best online poker games for well over a decade, and has hosted Pot Limit Omaha games since the earliest of days.
Today, PokerStars is a true haven for PLO players across all buy-in ranges, with cash games and tournaments of all shapes and sizes running on the platform daily.
While a few other platforms have managed to compete with PokerStars in this regard in recent years, the site remains one of the best places to play the great game of PLO on the internet in 2023.
You can sign up for PokerStars right now and be sure to get into PLO action instantly, or keep reading if you want to find out more about PLO games at PokerStars and all the different types and formats you can enjoy.
PLO Cash Games at PokerStars
PokerStars is easily one of the top poker sites online with the most PLO action at the cash game tables, with dozens of games running at any time of day, especially during the European peak hours.
The PLO cash game stakes at PokerStars start at just $0.01/0.02, which means you could be playing everyone's favorite four-card poker variation on one of the premium poker platforms with buy-ins as low as a single dollar.
Other PLO stakes available at PokerStars include $0.02/0.05, $0.05/0.10, $0.10/0.25, $0.25/0.50, $0.50/1, $1/2, $2.50/5, $5/10, $10/20, $25/50, $50/100, $100/200, and $200/400.
Games at stakes up to $1/2 run practically around the clock. Higher games come together occasionally and often revolve around a group of regular higher stakes players.
All PLO cash game tables at PokerStars are 6-max, with a max buy-in of 100bb at lower stakes, and deeper stack games available at the highest stakes.
Ante games are available from micro stakes upwards for those looking to spice up the action.
PLO cash game tables at PokerStars offer non-stop hectic action, with players of all calibers and different playing styles sitting down across the stakes and waiting for you to join them.
It is also worth noting that PokerStars offers 5 Card PLO and 6 Card PLO cash games with stakes ranging from $0.05/10 to $200/400, for all the fans of these novelty PLO variations.
The action for these games may be a bit sporadic at times, but you are almost guaranteed to find some at the lower stakes at any time of day or night.
The game is Pot-limit Omaha, would you want to be the hero in this spot or one of the villains? pic.twitter.com/de7sM0WImP

— PokerStars (@PokerStars) February 16, 2023
Zoom PLO Cash Games at PokerStars
Zoom is PokerStars' version of fast fold poker, and the operator is one of the few to offer fast fold PLO games.
At PokerStars, you will find PLO Zoom games with stakes ranging from $0.01/0.02 to $10/20, although the action at the higher levels can be pretty scarce.
Yet, you will find plenty of people playing at the Zoom games of lower stakes, which means you will get instant access to PLO hands you can throw into the muck and move on to the next hand.
Zoom PLO is incredibly fun to play and it is a great solution if you generally find yourself playing too many hands because you can't be bothered to wait for the next round.
In the PLO Zoom lobby, you will also find the PLO heads up games, as PokerStars also offers one-on-one games in the Zoom format, where you play against a different opponent every hand.
Heads up PLO games are not very popular on the platform these days, but you should be able to find some games at stakes like $0.25/0.50 or $0.50/1 most of the time.
Rake at PokerStars PLO Tables
Another interesting thing to discuss when it comes to PokerStars PLO games is the rake you will be paying when playing cash games.
PokerStars charges between 3.30% and 4.50% rake in PLO games, depending on the stakes.
The rake cap can change depending on the total number of players at the table, with shorthanded games generally raked less than those with 5 or more players.
The lowest stakes PLO games at PokerStars, with blinds of $0.01/0.02 are raked at 3.30%, with a rake cap of $0.30, which is fairly significant considering the stakes.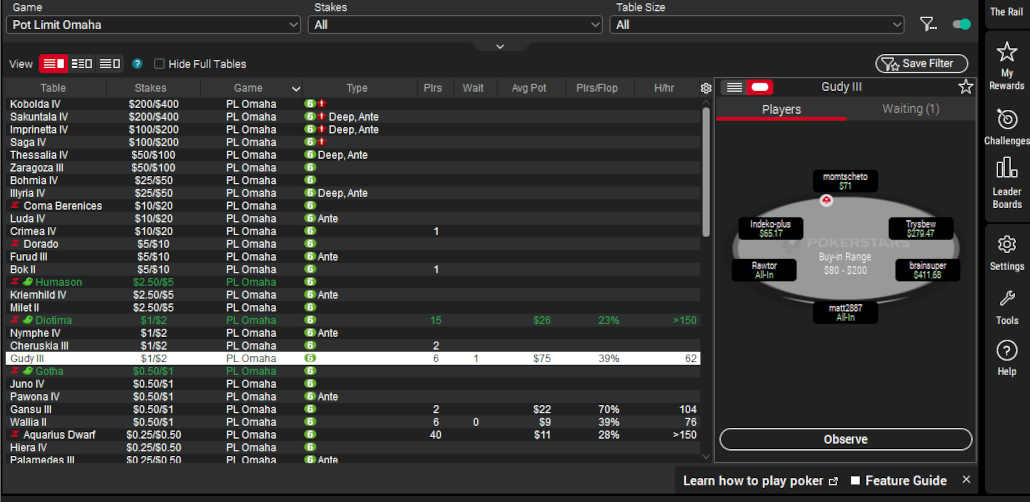 The rake percentage does go up to 4.25% at $0.10/0.25, but the rake cap goes down to $2, which is a maximum of 8bb per pot, compared to the 15bb at the lower stakes.
When it comes to high stakes PLO games, rake is capped at $3 in games $25/50 and lower, and $5 in games $50/100 and higher. This means you will be paying a fraction of a big blind per hand even when you end up in big all in pots, as is common in all online high stakes poker games.
PLO Tournaments at PokerStars
When it comes to PLO tournament action, PokerStars is the number one place to look, as the operator features dozens of PLO events every single day.
Not only are there plenty of PLO tournaments on the schedule, but you will also be playing for significant guarantees at all times, with weekend editions of the big PLO events being especially juicy.
PLO tournaments featuring the popular PKO format are also available daily at PokerStars across the stakes, and they offer some of the best action around.
You will also find plenty of PLO and PLO8 events during all major tournament series at PokerStars, such as WCOOP and SCOOP, which gives PLO specialists and mix game pros a great chance to compete in their favorite games.
Join PokerStars for Ultimate PLO Action
If you consider yourself a PLO specialist, PokerStars is the one poker site you don't want to avoid and that you have to be registered with.
Compared to most competitors, PokerStars features more games and juicier action across the stakes and provides plenty of reasons for PLO players to join up.
Sign up for a free PokerStars account today, claim your welcome bonus, and join the hundreds of PLO cash game and tournament tables of different shapes and sizes that the operator runs around the clock.