Blast Leaderboards at 888poker – Best Value for Your Favorite Games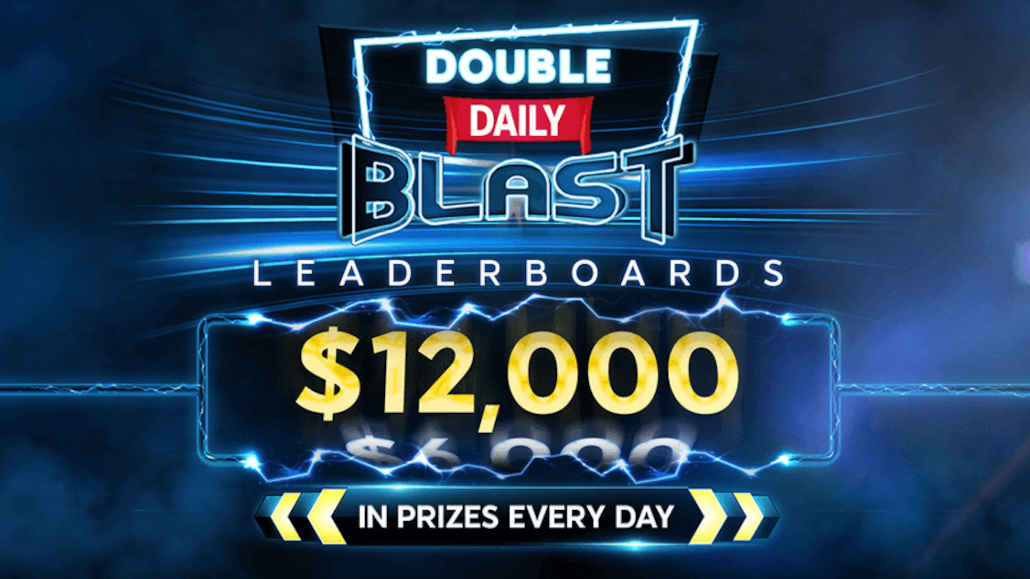 3 minutes
Last Updated: November 6, 2023
The jackpot sit and go format has been growing in popularity across all major poker sites. 888poker is no different, with Blast games getting more action than most other game formats in recent months.
If you love the jackpot sit and go format, 888poker is one of the best places to play right now, as Daily Blast Leaderboards add an extra $6,000 in value each day, on top of the regular prizes.
When playing Blast games, you will not only be in with a chance at winning 10,000x your buy-in, but will also compete for the daily $6k prize pool reserved for the top ranked players of the day.
Head on over to 888poker to check out today's Blast Leaderboard and sign up to get into the action, or keep reading if you want more details about this ongoing promotion.
What is Blast Poker?
Blast is 888poker's jackpot sit and go format, which allows players to win up to 10,000x their buy-in in a single three-person sit and go.
The format is simple and fast to play, and allows players to get some quick online poker action without committing the hours needed to play in multi-table tournaments.
If you are new to the concept of jackpot sit and goes, let's quickly explain how this format works and what makes it unique.
Once three players buy into a Blast game on any buy-in level, the game will start. The random number generator will choose a prize between 2x and 10,000x the initial buy-in.
The vast majority of all Blast games will end up with three players playing for a prize pool worth just two buy-ins, but multipliers such as 10x, 25x, or more will pop up once in a while.
The luckiest players will get drawn to play the 10,000x Blast game, where second and third place will also get consolation prizes for their participation in the jackpot game.
How Blast Leaderboards at 888poker Work
While Blast players are eligible for all the regular promotions, cashback, and bonuses offered by 888poker, the one promotion exclusive for these players are the Daily Blast Leaderboards.
Each day of the week, you will get to join one of two leaderboards, with a choice between 10 and 30 games leaderboard available.
If you choose the 10 game leaderboard, only your first 10 Blast games will count, while choosing the 30 game leaderboard will make your first 30 Blast games count towards the ranking.
Each of your qualifying games will be ranked based on the Blast multiplier of the game and your final position in the tournament.
First, the winner of each Blast game gets two base points, while the second and third placed players get one point each.
Then, the points won are multiplied by the Blast multiplier, which is determined randomly by the random number generator.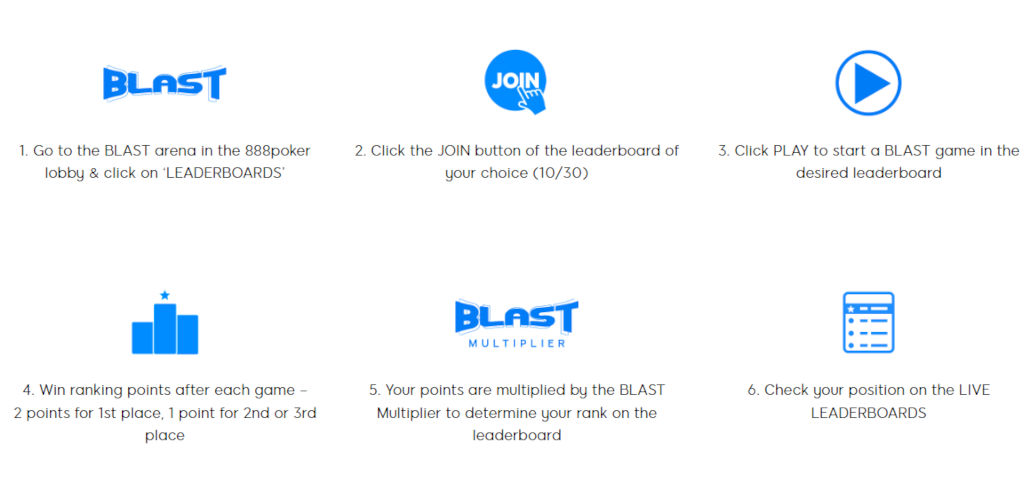 If you get lucky to be picked for several higher multiplier games in a row, you will get a huge multiplier applied to your Blast Leaderboard points as well.
The more points you have, the higher you will rank on the Daily Blast Leaderboard, and the more valuable your prizes will be.
You will be able to check your current standing at any time of day by checking the live Daily Blast Leaderboards.
All prizes won via Leaderboards are paid as cash, bonuses, tournament tickets, casino free play, or free sportsbook bets, with all prizes but the cash ones coming with some wagering requirements attached, depending on the game you choose to wager them on.
Join the Best Value Jackpot Sit and Goes Around
The popularity of the jackpot sit and go format is not diminishing as time passes, It actually seems these games are only gaining more traction with each new day.
Blast games at 888poker now offer $6,000 in extra value each and every day, and regular Blast players are almost guaranteed to get among the winners occasionally and get some extra value.
Join 888poker today to jump into the best jackpot sit and go action and earn extra bonuses from the Daily Blast Leaderboards every day.