888poker LIVE Madrid Closes Out – Spain's Abel Gongore Takes Home the Trophy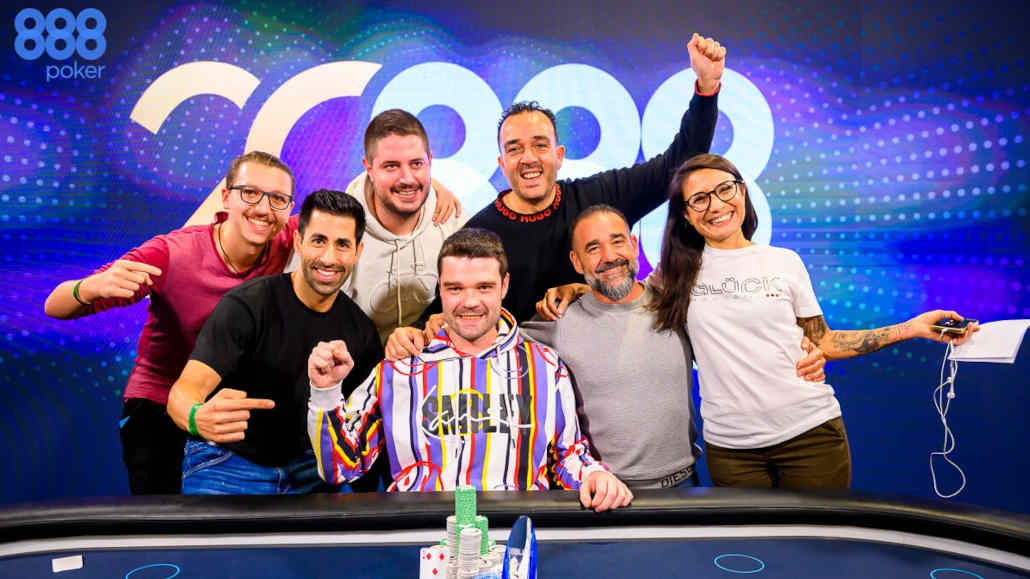 The highly anticipated 888poker LIVE Madrid festival, which the operator organized in partnership with the Circuito Nacional de Poker (CNP), has come to a successful close.
The 888poker series, which started on November 10, featured several exciting events, including the flagship €1,100 888Live 20th Anniversary Edition Main Event, which crowned its winner on Thursday, November 17.
The €550 CNP888 Main Event was also played out, along with a €2,000 High Roller event and several other smaller tournaments, such as the €250 Mini CNP888.
With all action at the Casino Gran Madrid now closed out, we bring you a full report of the events that took place and the big winners who will never forget the week in the Spanish capital.
The Main Event Title Stays in Spain
A total of 374 players ponied up the €1,100 to enter the series' Main Event, creating a significant prize pool of €349,241, with the event paying the top 39 players.
This was the exact number of players who would return to play poker on the final day of the event, with everyone left standing guaranteed a payout of at least €2,100.
¡Nuevo récord 🚀en el Main Event ♣️ #CNP888!

🔵 1️⃣.5️⃣5️⃣3️⃣Entradas 🔥🔥🔥

Nuestro especial reconocimiento al equipo del @CNP_POKER, al staff de @CasinoGranMad y, sobre todo, a TODOS 😍 VOSOTROS por hacerlo posible pic.twitter.com/Hd792TRU4a

— 888poker España (@888pokerSpain) November 19, 2022
Of course, all the participants, including a significant number of Team888 members, were hoping to make a lot more than that and reach the final table of this prestigious event.
By the time the final table was actually formed, seven of the remaining players were locals, while only a single visitor from Portugal and Italy each would find a final table seat.
Italy's Antonio Dacezano managed a fourth-place finish for a €28,000 payout, while Portugal's Paulo Castelo finished in third for €36,000, both managing a significant result.
The final battle in the 888poker LIVE Madrid Main Event came down to two Spaniards, with Abel Gongora coming up victorious in a heads-up battle against Bernat Carreras.
These results represented the biggest ever live win for both players, with Gongora taking home a cool €70,000 and Carreras winning €50,000, significantly boosting their poker bankrolls.
Here is a full list of final table payouts that went into the pockets of the last nine players standing:
| | | |
| --- | --- | --- |
| Place | Player Name | Prize Money |
| 1st | Abel Gongora | €70,000 |
| 2nd | Bernat Carreras | €50,000 |
| 3rd | Paulo Castelo | €36,000 |
| 4th | Antonio Dascenzo | €28,000 |
| 5th | Miguel Mora | €22,000 |
| 6th | Jose Puente | €17,500 |
| 7th | Palma Ferro | €13,400 |
| 8th | Bienvenido Sanchez | €10,000 |
| 9th | Sebastian Moreno | €7,841 |
Team888 Out in Force Along with New Reinforcement
Team888, made up of 888poker's ambassadors and StreamTeam, were highly active throughout the festival, participating in both the Main Event and the side events of the series.
A number of 888 pros made day two of the event, including the likes of Chris Eubank Jr, Jack Dean, and Ian Simpson.
The operator's team of lady ambassadors, which was made up of Kara Scott, Vivian Saliba, and the newest 888poker ambassador Lucia Navaro, all busted out on Day 1B but managed to leave some great impressions.
Empezamos el día 2 del @CNP_POKER @888pokerSpain gl me! 🍀🚀 pic.twitter.com/d9baJ0IU6Z

— Lucia Navarro Poker (@lucia13Navarro) November 19, 2022
Navaro joined 888poker just days ago as the latest in a series of signings aimed at promoting poker among a variety of poker player groups in Spain and beyond.
The two-time CNP title winner will now be yet another sponsored regular at 888poker live and online poker tournaments, making the lineup of 888 pros even tougher than before.
More 888poker LIVE Events to Look Forward To
After taking a break from throwing live tournaments in 2021, 888poker came back in force in 2022, with 888poker LIVE London, Barcelona, and Madrid stops all being a massive success.
We can expect the operator to come back with even more amazing events in the coming year, with the schedule for such events yet to be announced.
In the meantime, poker players from around the world have a lot to look forward to, as the month of December promises some amazing live poker action at the WPT World Championship in Las Vegas, as well as EPT Prague in the Czech capital.
Stay tuned for more updates on these upcoming live poker festivals, and get ready for some holiday season poker action over at 888poker and beyond!