Borgata Poker Room Review – A Premier Destination In Atlantic City
Borgata Poker Room Review – A Premier Destination In Atlantic City
Images from theborgata.com
Thought of by many as the premier poker room in Atlantic City and the entire East Coast, the Borgata Poker room is a must-visit destination for poker enthusiasts whether you are a local or a tourist.
Many reviews that I have written often mention that poker rooms across the US have gotten smaller and feature fewer tables, but that will not be an issue for you as the poker room at Borgata is an absolute behemoth compared to its competitors.
The poker room itself is over 21,000 square feet, is home to over 80 poker tables, and offers features such as:
Auto-shufflers
Jackpots
Cocktail service
Massages
Phone in list
Tableside dining
TV's
WiFi
Overall, Borgata provides a top-quality experience for players of all shapes and sizes. Whether you're a serious player or someone just looking to have a bit of fun and put in a few hours of action, you'll find what you're looking for.
Borgata Poker Room Review
The main Borgata poker room features 58 cash game tables offering various games at various limits. There's a high limit room which holds 18 tables.
Furthermore, there's a separate tournament area with nine tables, including bleacher seating, where you can watch tournaments play out in their entirety should you be unlucky enough not to make the final table.
Due to COVID-19, the number of tables on offer has been reduced to 35, but under normal circumstances, the above is what you should expect when everything goes back to normal.
Many of you will be pleased to know that you'll likely not be disturbed by the hustle and bustle from the likes of slot machines and other casino games, which is always great news.
For those who like to get in the zone when playing, this is your bit of heaven. Obviously, the room is more spacious now than usual but even when at full capacity, Borgata still offers players a comfortable venue to play some poker.
The chairs are of decent quality as well, which is always a plus, and most come with their USB charging units too.
The poker room is also non-smoking, which is always great to hear as there's nothing worse than the waft of stale cigarettes distracting you while you're thinking whether to call off your entire stack with a bottom pair.
Borgata Poker Room Cash Games
Texas Hold'em is obviously the main game played at the Borgata poker room, but those who get bored of playing the same variation will be able to jump into games such as Pot Limit Omaha, 7 Card Stud, and various mixed games tables.
Whatever your bankroll might be, you will be able to find a game that suits it.
Whether you are just starting off in the low stakes such as $1/$3 or think you can tango with the high rollers, Borgata is the right place for you.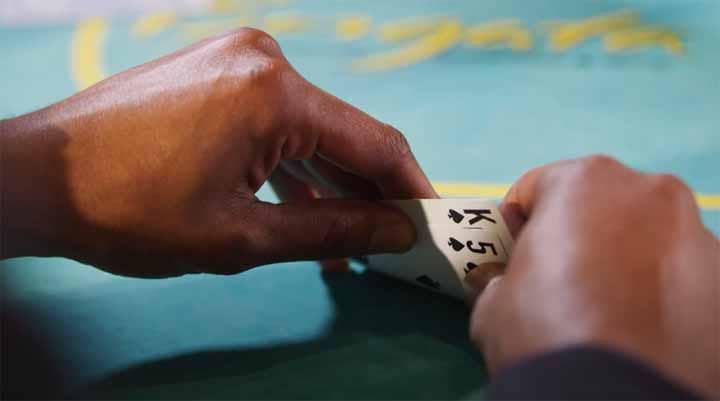 The cash games that are on offer include:
No Limit Hold'em
$1/$3 – Min buy-in $100, max buy-in $400
$2/$5 – Min buy-in $200, max buy-in $1,000
$5/$10 – Min buy-in $500, max buy-in $2,500
$10/$25 – Min buy-in $2,500
$25/$50 – Min buy-in $5,000
$2/$2 – Min buy-in $200, max buy-in £500
$5/$5 – Min buy-in $500, max buy-in $1,500
$20/$40 – Min buy-in $200
$75/$150 – Min buy-in $750
Limit Hold'em games
$3/$6 – Min buy-in $30
$10/$20 – Min buy-in $100
$10/$20 – Min buy-in $200 (Limit Omaha 8 or better)
$20/$40 – Min buy-in $200
Mixed Games
Mixed games start at the stakes of $50/$100 and play all the way up to $500/$1,000 and are usually on offer during busier hours.
Borgata Poker Room Promotions
As Borgata is an MGM-owned establishment, players can earn rewards through the M Life program when playing poker or any other casino games like slots or blackjack.
These points can then be spent on various items such as food, drinks, rooms, experiences, etc.
There is also a bad beat jackpot in the poker room, which at the time of writing stands at $100,000.
If you were to lose with quad tens or better, you'd take home a massive payday. The loser in the hand takes 40% of the BBJ, the winner takes a modest 20%, and the remaining 40% is shared amongst everyone else at the table.
Borgata Poker Room Tournaments
If cash games aren't to your liking, do not worry, as the Borgata poker room hosts a series of daily freezeout and knockout tournaments.
With the tournament action taking place Tuesday through Sunday, you'll be sure to find a game to hop into.
Buy-ins can vary greatly throughout the week, with buy-ins starting at $100 and going up to $400 if the Saturday series is running.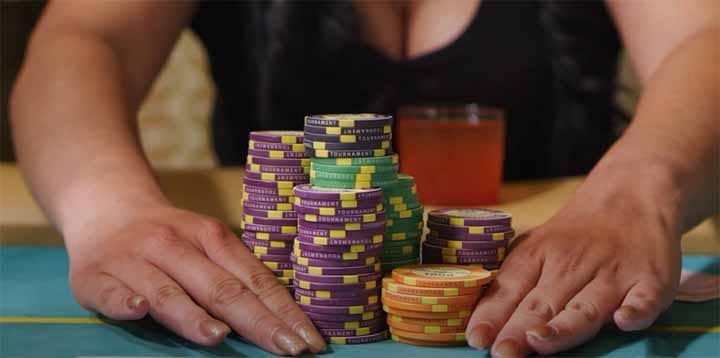 A usual weekly poker tournament schedule looks something like this:
Tuesday
11am: $100 buy-in (includes $25 bounty), 20,000 starting stack, 20 minute blinds and no guarantee
7pm: $100 buy-in (includes $25 bounty), 25,000 starting stack, 20 minute blinds and no guarantee
Wednesday
5pm: $100 buy-in, 20,000 starting stack, 20 minute blinds and $3,000 guarantee
Thursday
11am: $100 buy-in (includes $25 bounty), 20,000 starting stack, 20 minute blinds and no guarantee
7pm: $220 buy-in (includes $100 bounty), 20,000 starting stack, 20 minute blinds and no guarantee
Friday
6pm: $100 buy-in (includes $25 bounty), 20,000 starting stack, 20 minute blinds and no guarantee
Saturday
6pm: $180 buy-in, 25,000 starting stack, 20 minute blinds and $1,500 payouts (Approx. 1 in 10 players will be awarded $1,500.
Sunday
11am: $100 buy-in (includes $25 bounty), 20,000 starting stack, 15 minute blinds and no guarantee
Borgata Poker Room Tournaments Series
The poker tournament action doesn't stop with the above. Throughout the year, the Borgata poker room plays host to their Winter, Spring, Summer, and Fall series.
These events have more expensive entries, but this also means better prize pools, attracting some of the biggest names in poker.
So if you think you have got what it takes to get your name on the Main Event trophy, then what are you waiting for?
Borgata Poker Room Staff
As many argue that this is one of the finest poker rooms in the northeast, it is no surprise that the poker staff ranks highly amongst poker players.
Dealers are proficient and well-skilled, and the floor staff help keep the tournaments flowing nicely. The service staff is known for being prompt, and the customer service is of the highest quality.
Parking at Borgata Poker Room
One of the modern banes of casinos is having to fork out some cash for parking, and if you want to play at Borgata, you're going to have to put your hand in your pocket.
Luckily, parking is fairly priced here. Valet parking is $10 for each visit, and self-parking is only $5.
There are some exceptions to this if you are signed up to the M Life Reward Programme. You can get free complimentary valet parking if you have MVP, Gold, Platinum, and Noir statuses, and those of the above status and Pearl M life members can also self-park for free.
Borgata Casino Games
For those of you who enjoy a trip to the pit prior to or after a poker session, you will be glad that there are a plethora of slots and table games to sink your teeth into.
Slots
If you like your slots, Borgata Casino is an ideal destination for you. With hundreds of slot machines to choose from, including many classics and modern video slots, you'll be in your own slot machine-filled nirvana.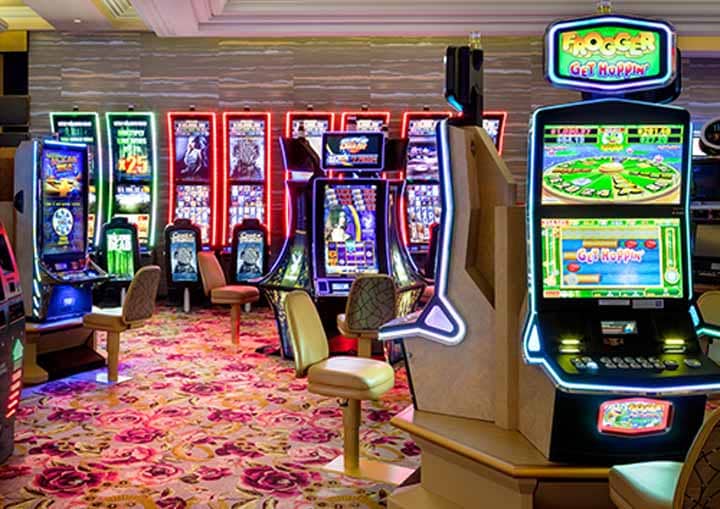 Featured slots at Borgata Casino include:
Lick It Link Huff N' Puff
5 Dragons Rising Jackpots
Monopoly Big Wheel Railroads
Table Games
Whether a casino novice or table game veteran, there's a vast list of games for you to find a seat at. If you see a game that you have always wanted to play but are unfamiliar with, helpful team members are on hand to guide you through the rules and even offer helpful tips.
Games you can find on the casino floor include:
Blackjack
Craps
Baccarat
Mini Baccarat
Pai Gow Tiles
Let it Ride
Four Card Poker
Flop Poker
Caribbean Stud Poker
Spanish 21
Big Six

Race & Sports Betting
If you like to make a wager on horses, then Borgata is the place for you in Atlantic City as it is the only spot in town where you can bet on horseracing.
The venue here has over 100 individual seats and monitors to keep you comfortable while races go ahead.
This is also a non-smoking area, and you've got the Boot & Whip as well, which will allow you to get a cold beer while you sit back and relax.

Borgata Resort and Casino – What to Expect & Things to Do
It is worth noting that the rooms and suites at Borgata are just as good as their casino. Each room is elegantly styled, and you will have no problems with comfort after a day of action-packed adventure.
Each room offers a bit of sanctuary regardless if you are in a standard room or a high-profile suite.
If you like to have a swim or cool off from the sun, then you are in luck, with plenty of pools and spas to choose from. You can see any anxieties or worries drift away with a session in the immersion spa, for example.

Other amenities at the hotel include a plethora of restaurants. Everyone's favorite seems to be the Bobby Flay Steakhouse.
You can also shop till you drop in several boutiques where you can get some clothing items from the world's biggest names.
And, if you fancy a night off from the casino floor, there's plenty of nightlife for you to indulge in. Whether you fancy some live music, comedy, or a cheeky boogie on the dance floor, the Borgata has you covered in spades.

Borgata Poker Room – Keeping You Safe Against Covid-19
To keep players safe against COVID-19, the Borgata follows the same 7 point plan as all MGM-owned establishments, which looks something like this:
Upon arrival, you will have a screening and temperature checks
Mandatory mask wearing for team members and guests
Physical distancing
Hand sanitization stations
Fresh air circulation
Response Protocols in place
Digital Innovations
Final Thoughts on Borgata Poker and Casino
Borgata scores highly across all areas, just as you would expect from a premier casino. A fantastic poker room that accommodates all kinds of players and the tournament series are a must if you want to play against some of the best poker players.
The casino offers a great choice of slots and table games as well as one of the better sportsbooks you'll find in the area.
Add all that to great rooms and non-gambling experiences you get to enjoy as a guest, and it's clear you've got a pretty sweet trip on your hands!