Best Poker Players – The Most Famous Names You Should Know
48 minutes
Last Updated: September 21, 2021
Some of the best poker players managed to stand out through their winnings, their unique personalities, or because of their contributions to the popularity of the game.
And the best of the best usually combine all of these three factors, which guarantees their name will remain a part of poker history for years to come.
Making a list of the best poker players is not an easy task.
No matter how you go about it, there'll always be valid arguments about some players who should be included but aren't there.
So the goal of this article isn't to establish an absolute list of the most famous poker players to have ever lived. It's simply an impossible task.
It's more of a shout out to some of the biggest names in poker aimed at giving you some exciting information about their private and professional lives.
The argument about whether someone should or shouldn't be included in one of these lists will always be there, but I tried to be as objective as possible.
Famous Best Poker Players #10: Antonio Esfandiari Magic Rise to Poker Greatness
Not including Antonio Esfandiari in this list of top poker players just wouldn't feel right. The man who's won the hearts of poker fans not only with his play but with his colorful personality has definitely helped the game's popularity.
There are very few players you'd rather have on your show than Antonio.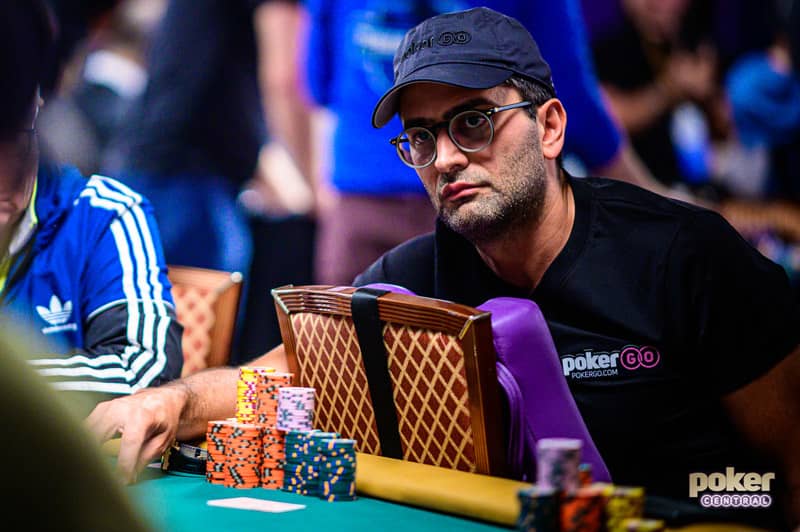 Source: pokercentral.com
Amir Esfandiari was born in 1978 in Iran. When he was nine, his family moved to the US, and he grew up in California. When he was 19, he decided to legally change his name to Antonio as he wanted to pursue a career as a professional magician. Esfandiari figured that "Antonio the Magician" had a more mystical sound to it.
Antonio Esfandiari was a devoted student of magic, spending up to 12 hours every day sharpening his skills. It wasn't long before he managed to build a name for himself in Las Vegas and gather a substantial fan-base.
It was through his magic performances that Esfandiari got involved with poker. He met some of the players and started playing. Like so many before and so many after him, Antonio quickly fell in love with the game and decided to take it more seriously.
It was during the early days of his poker career that Antonio met Phil Laak, the man who would become one of his best friends for life.
Later on, the duo appeared on many TV shows, and having them both at the table at the same time was always great. Friendly banter, teasing, and never-ending jokes helped make the atmosphere fun and light even everyone was card dead and just waiting for the next hand.
As for Esfandiari, he started to dabble with poker while still performing magic. He was trying to decide if this was the kind of career he wanted and if he was ready to switch to poker full time, having invested so much time into becoming a good magician.
Things finally started to fall in place for 'The Magician' in 2004. In February, he claimed his very first WPT title and a cool $1.4 million first prize to go with it. Not long after, in May, Antonio also claimed his first WSOP bracelet and another $185,000.
In the years to follow, Esfandiari had many deep runs claiming many six-figure wins. Slowly but surely, his bankroll was growing.
By the time 2012 rolled in, Antonio was already one of the best poker players around. He was known and liked by his peers and by poker fans who enjoyed his antics.
Antonio was always full of energy at the tables, and he is the one who introduced the 'Loden Thinks' game to poker circles. It was quickly picked up by the pros as something to do between the hands or during hands they weren't involved in.
However, that 2012 was a huge one for Antonio.
2012 was the year of the very first $1,000,000 Big One for One Drop tournament, and Esfandiari managed to claim the title.
After defeating the UK pro Sam Trickett in the heads up battle, 'The Magician' added $18.3 million to his bottom line.
As of today, Antonio Esfandiari's net worth is estimated at around $27.8 million, according to the Hendon Mob.
'The Magician' is still very much active in the poker world. He regularly plays in tournaments and high stakes cash games, and he's been featured in many recent shows such as Poker Night in America.
The game may change, players can come and go, but Antonio remains one of the most colorful and fun-to-watch characters around, period.
Famous Best Poker Players #9: Doug Polk Fun Facts
Doug Polk is definitely one of the best-known and wealthiest poker players around. Although he decided to pretty much give up on the game and focus on pursuing other interests, it's hard not to mention him on a list of the best poker players.
The man was considered the best online heads-up player for a while, and that's not a small thing by any stretch of the imagination.
Polk was born in 1988 in California. He developed his passion for strategy games at a very early age through chess. He started playing with his father when he was just five, and by the time he was nine, the student had become better than the master.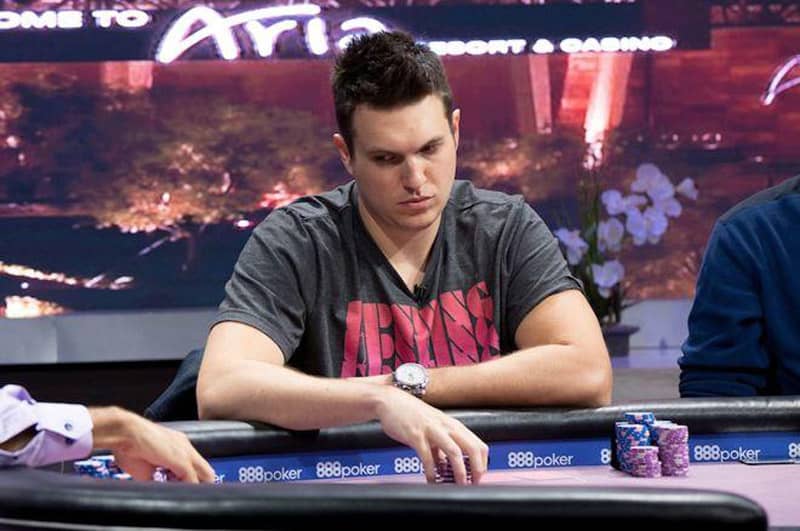 Source: pokernews.com
This early education would shape Polk's future life.
When he was 15, he started playing World of Warcraft 3, and it wasn't long before he became a very successful player. During his Worldcraft years, Doug participated in several World Cyber Games tournaments, which would later serve as the inspiration for his poker alias – WCGRider.
Like many other young men, Doug Polk enrolled at the university after graduating from high school, and his pick was the University of North Carolina.
He wouldn't stay there for long as he realized that formal education just couldn't keep his interest. He dropped out and set his sights on poker.
Polk's poker journey wasn't easy.
He started playing online, building his bankroll from $20, starting at the lowest stakes PokerStars had to offer.
He went from $0.01/$0.02 to $1/$2 full-ring games and managed to build a decent bankroll. But, as he explains, he wasn't a particularly good player – more of a break-even rakeback pro.
He was able to make a decent amount of money playing this way but then came 2009, and it brought with the worst downswing Polk has had up to that point. He was running 80 buy-ins under his EV, which took a toll on his bankroll but also his mental state.
You could say that Doug was stuck in a rut at that point, and he was looking for a way out. He gave 6-max a go, but it just wasn't his game.
Then, in late 2009, things started to fall in place as he discovered heads up tables. As it turned out, he was a natural talent for HU games, and he went quickly from playing $2/$4 to battling it out in $50/$100 games.
But then he hit another roadblock in 2010 and 2011 and going bust started to look like a real threat. At this point, Polk was at the crossroads. Does he give it up and go back to the "real world" or focus on poker, give it his all, and do it right.
He took the latter option, and it turned out to be the right choice.
He was able to build his bankroll from NL100 games and once again moved up the ranks. This time around, he spent much more time studying the game than his opponents, and by the time he was done, he would become one of the best and most feared opponents in the world of heads up poker.
For the next couple of years, 'WCGRider' was a force to be reckoned with. Good players started avoiding him as they just couldn't beat Polk on his turf.
In addition to the money he made online, Doug Polk has also had some decent live results. He's obtained three WSOP bracelets and accumulated live tournament winnings in excess of $9.4 million. Doug's also appeared on many TV shows, most notably Poker Night in America.
In addition to his success on the live and virtual felt, Polk also launched the Upswing Poker training site, gathering some of the best players around and offering their insights.
Quickly, Upswing has become one of the leading sites of this kind, providing high-level content targeted at more experienced players looking to take their game to the next level.
Upswing banner
Although he was already well-known in the poker community, Doug started to pick up fans once he launched his YouTube channel. Providing all sorts of strategy videos, hand breakdowns, news, and live play content, he quickly gathered an impressive following.
Despite all this, Polk has recently announced he was done with poker. He has already stopped playing, but he also decided to stop producing content for his poker YT channel as well. 
These decisions came as a surprise to many, but Doug explained that he simply no longer enjoys the game and that he wanted to explore his other interests.
If you're wondering what Doug Polk is up to now, he has a new YouTube channel, but it focuses more on general news from the US and the world. As an example of things that occupy his mind lately, he's recently started an initiative to recall the current Las Vegas Mayor.
Famous Best Poker Players #8: Patrik Antonius Poker Career
If there were a competition for the sexiest man in poker, Patrik Antonius would be one of the top contenders for the title.
Capturing the hearts of the audience with his good looks, always calm and composed demeanor, and viciously good plays, the Finn is one of the best-known poker players around.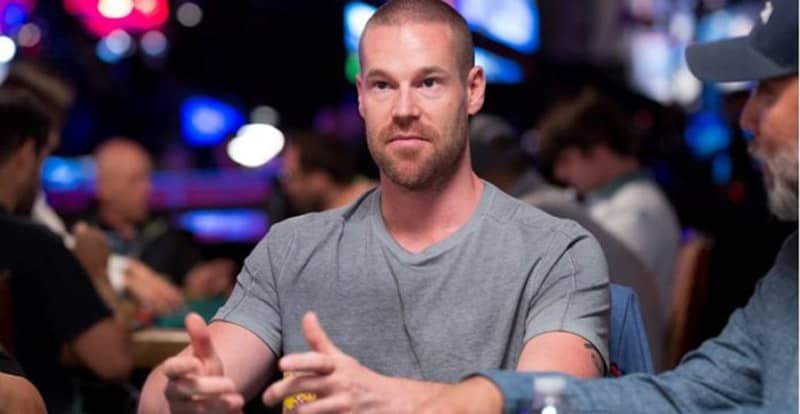 Source: highstakesdb.com
Patrik was born in 1980 in Helsinki, Finland.
He is another player that didn't start off with poker, and for a while, he was a professional tennis player and a coach.
According to those in the know, Antonius had a bright career in tennis ahead of him. However, a back injury put during his teens a stop on these dreams. After that, he turned to work as a model for a while, allowing him to earn enough money to kick-start his poker bankroll.
The Finn was no stranger to the game as he was introduced to poker when he was 12.
However, his professional journey started when he turned 18 as he got involved with the poker scene in Helsinki. This is where he honed his skills, getting ready for what was coming ahead.
His first big breakthrough came in 2005. In September of that year, Antonius finished third in the EPT Barcelona Main Event, winning $145,000.
The next month, he managed to improve his performance in the EPT Basel, going all the way to claim the title and the prize over $340,000. He wrapped up the year with the runner-up finish in the Five Diamond World Poker Classic, winning more than $1,000,000.
The Finn has become one of the most feared players on the high stakes tables, dominating his opponents on both Texas Hold'em and PLO tables. According to Hendon Mob, he made over $11,000,000 profit playing on Full Tilt from 2008 to 2010.
Although Patrik has had some impressive live results over the years, it was the online scene where he truly left his mark.
In 2008, Antonius became a member of the Team Full Tilt, which also increased his exposure to the media. He appeared on numerous TV shows, and his name became much better known around the world.
Although the Finn was never the one to talk too much at the tables, his presence would never go unnoticed. Silent and calculated, Patrik Antonius is always on the lookout for his opponents' next mistake.
Despite his great success at online tables, Antonius eventually decided to give up internet poker. In some of the interviews, he explained the reasons behind this decision.
With the new generations of players relying heavily on various poker software solutions, he felt it was a completely different game – and not the one he enjoyed playing.
Instead, he turned to greener pastures. While online poker might have changed, there was still plenty of live action out there, and for the player of Patrik's caliber, thriving in these games was hardly a challenge.
Like many high rollers, Antonius started spending a lot of his time in Macau, rubbing elbows with rich Asian businessmen. It's impossible to say how much money he's been able to win in these games, but knowing the kind of player he is, it's safe to assume it isn't peanuts.
As for the results that are available, Patrik Antonius won $3.1 million in the Super High Roller Bowl in Macau in 2018 after finishing the runner-up in the event. This brought his official tournament winnings over $12,000,000.
Antonius may not have been present in the media as much lately, which is a shame given the vast number of his fans who enjoy watching him play.
However, even away from shiny lights and TV cameras, he continues to do what he does best – playing great poker and raking in enormous pots along the way.
Famous Best Poker Players #7: Tom Dwan Story
Of all the top poker players listed thus far, Tom 'durrrr' Dwan is the first representative of what could be dubbed the "new generation" of players. While the likes of Ivey, Negreanu, and honed their skills in live casinos, Dwan made his first steps into the world of poker playing online.
His incredible journey started with him sitting in front of a computer screen, playing with virtual chips and cards.
Dwan was born in 1986 in New Jersey. Growing up, he was very active in various school activities. Outside of school, he enjoyed playing card games with his friends, including Magic: The Gathering and, of course, poker.
Source: calvinayre.com
Tom was a talented poker player, and when he turned 17, his friends convinced him to put $50 he got as the birthday gift from his parents on Paradise Poker, one of the earliest online poker sites.
Onine poker rooms table??
Dwan was reluctant at first but gave in and decided to give it a go. He picked 'durrrr' as his screen name, a phrase his friends used when one of them would say something stupid, thinking the nickname would annoy his opponents.
Dwan was right about annoying his opponents, he just didn't know the extent of it at that time.
He started playing sit and go tournaments with moderate success. After a while, he turned to cash games, and this is where he found his real niche.
After playing just for a few months, 'durrrr' has already built a five-figure bankroll, and he'd never look back.
He made enough playing poker to pay his college. Dwan enrolled at Boston University and had a good first year there. However, he decided not to pursue an academic career and devote his time to playing poker full time instead.
During his first few years of poker career, Tom Dwan was limited in terms of live tournaments as he could only play in Europe.
He had to wait until he was 21 to try his luck in the States. However, this wasn't too big of an obstacle for the young phenom as online poker was always his focus. Live tournaments have never been his first choice.
Dwan soon became one of the most feared players at online nosebleed tables, especially at Full Tilt, the site that was the home of the best poker players and high roller punters alike.
Having built his skills and his bankroll, 'durrrr' regularly took a seat in the biggest games around and went up against the likes of Phil Ivey, Patrik Antonius, and many other famous names.
In 2009, Full Tilt approached Dwan and signed him up as one of their pro members.
This was an important recognition for Tom as he was invited into a very exclusive club. At the time, Full Tilt gathered some of the biggest names in the industry, and to be a part of that team meant a lot.
Dwan's online career continued in the next couple of years. Simultaneously, he appeared on a number of popular TV shows such as Poker After Dark.
Thanks to these public appearances, 'durrrr' became known to an even wider audience of poker fans. His fearless and imaginative approach to the game captured hearts of the fans from all over the globe, etching's his name in poker history.
In 2011, the Black Friday hit, shutting down all major sites in the US, including Full Tilt and PokerStars.
This put an abrupt end to Dwan's online career.
It is hard to say how much he was able to win up to that point, but 'durrrr' certainly had a good run at high stakes, holding his own even against the best.
As for his live results, Hendon Mob puts his tournament winnings at $3.4 million.
After Black Friday, Dwan disappeared from the public eye for a while. There have been numerous rumors going on about his whereabouts with some people coming up with wild and crazy stories about 'durrrr.'
Eventually, it came to light he found a new home in Macau, which was hardly a surprise. Hosting some of the biggest cash games around, Macau is the kind of place where Dwan would want to be.
In the last couple of years, he's become one of the ambassadors for Triton Poker Tour created bu Paul Phua, a wealthy businessman and a passionate poker player who's also one of the regulars in Macau games.
Famous Best Poker Players #6: Fedor Holz Rise to Greatness
Born in 1993, Fedor Holz must be one of the youngest players to make it to the list of the best poker players and became a well-known figure worldwide.
If you want to learn more, you can read my interview with Fedor Holz, where he shares his story and strategy tips.
His rise to stardom was one of the fastest and most impressive the poker community has ever seen. In just a few years, Holz managed to top the All-Time Money List and even "retire" from poker at only 22.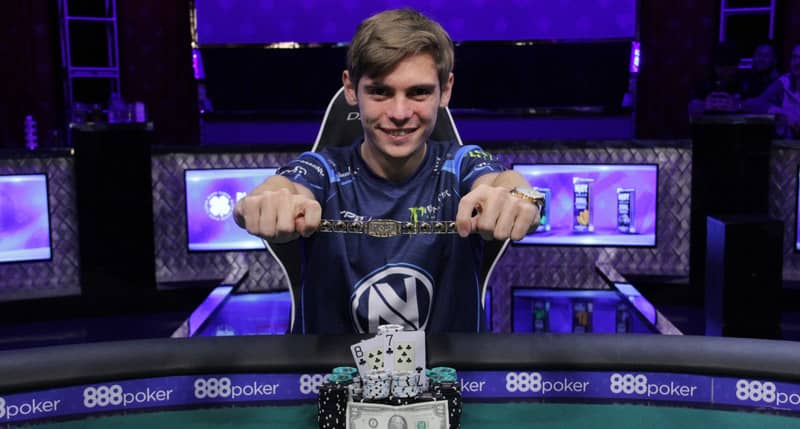 Source: cardplayer.com
Although he now lives in Austria, Fedor was born in Germany. Raised by just his mother, Holz and his two sisters grew up in a loving family, but they had to face many challenges along the way.
The biggest one was poverty and all the problems that come with it.
Fedor was a smart kid with a very high IQ, but he would often skip school because he didn't want to endure bullying from his peers.
He first came in contact with poker when he was 17. At this time, he started studying informatics, but formal education just didn't appeal to Fedor.
Simultaneously, he spent a lot of time playing poker with his friends, who were all better than him at the time.
Despite this, he was intrigued and motivated by the fact that some of them were able to make decent money playing the game every month. Instead of giving up, Holz continued to study and hone his skills.
As soon as he turned 18 in 2011, Fedor Holz turned to online poker. Playing under his now-legendary nickname 'CrownUpGuy,' he was able to pull in a few hundred each month initially.
But as time passed and he kept working on his game, Holz was becoming better and better at poker. Without the vast offer of poker training sites at that time, he had to put a lot of work himself.
He always said that he had the full support of his family during these times, which helped him tremendously.
It wasn't long before Holz was recognized as a big talent, and a well-known MTT player took him under his wing. He didn't just stake Fedor but also kept working with him, helping him improve his game around the clock.
During the next couple of years, 'CrownUpGuy' played online, and his career was going in the right direction. But it wasn't before 2013 that Fedor's poker journey took off.
It was in this year that he decided to devote himself to poker fully. He started to tour the live circuit and found a new home in Vienna, Austria.
During the first couple of years, Holz had some smaller cashes along the way, but none of them were in the six-figure range.
Someone else would maybe give up in face adversity but not Fedor. He had the conviction the success would come if he continued working on his game and kept grinding away.
In 2015, Holz started playing high rollers. These tournaments came with a big buy-in, but he managed to cash in a couple of them, keeping the ball rolling. And then, eventually, things started to fall in place.
December of 2015 would mark the start of one of the craziest heaters to date.
First, Fedor took the first place in the $100,000 WPT8 Alpha event as the year was drawing to an end, pocketing just shy of $1.6 million. Then, not even a month later, he triumphed in the $200k Triton Super High Roller tournament for another $3,000,000 and change.
Following a few smaller scores in the next few months, all eyes were on Fedor Holz once again in May of 2016 as he went head to head with Rainer Kempe in the $300k Super High Roller Bowl.
Holz fell short of claiming the title but still walked away with $3.5 million. A few days later, he got to improve the impression as he claimed the win in the $50,000 Aria Super High Roller for another $637,000.
By this point, the poker community was already whispering about Holz – but the young German was just getting started.
During the summer of 2016, Fedor had a number of excellent results but one stood out in particular. It was his triumph in the WSOP $111,111 High Roller for One Drop, which brought him the biggest cash of his career up to that point – $4,981,755. Was it the end, though?
Nope.
In the following months, Holz kept adding more winnings to his tally, culminating with his performance in 2018 $1,000,000 Big One for One Drop. Although the German couldn't quite get all the way across the finish line, his runner up finish was good for $6,000,000 – the biggest single win of his career.
Total damage: $32.5 million in tournament winnings, all acquired in a span of a few years.
But already in 2016, after his win in the High Roller for One Drop event, Holz announced his plans to retire from poker. With his first and only bracelet in hand, he explained he had other plans for his future, which didn't involve as much playing.
Of course, he still continues to play here and there, especially in super-exclusive events like the Big One for Drop (good time to come of the retirement, right?), but Fedor definitely isn't as focused on playing.
He has turned to other interests, primarily to his poker training site called Pokercode. In his videos, Holz shares his secrets and strategies, explaining how he got to the top. So, if you're looking to become the next poker super start, maybe you should check it out?
Poker code banner
Famous Best Poker Players #5: Phil Hellmuth Career & Winnings
If there is one famous poker player that almost every fan knows about, it must be Phil Hellmuth.
Known as 'The Poker Brat,' Hellmuth definitely has an impressive poker resume, but he is much better known for his antics at the table.
Phil is not a good loser, and he's become infamous for his long rants berating other players and liberally calling them donkeys and other colorful names.
Phil Hellmuth Jr., as is his full name, was born in 1964 in Wisconsin. He grew up in a family with four other siblings. Being the eldest, he always felt the pressure to be the best in various games, and he explained later that this was a significant influence on him, helping him develop a very competitive character.
Although Hellmuth played cards during his early years, it wasn't until college that he discovered poker and took a liking to it.
He brushed up his skills playing in local cash games while studying at the University of Wisconsin. After three years, having built a big enough bankroll, he dropped out of college and move to Las Vegas to give a professional poker career a chance.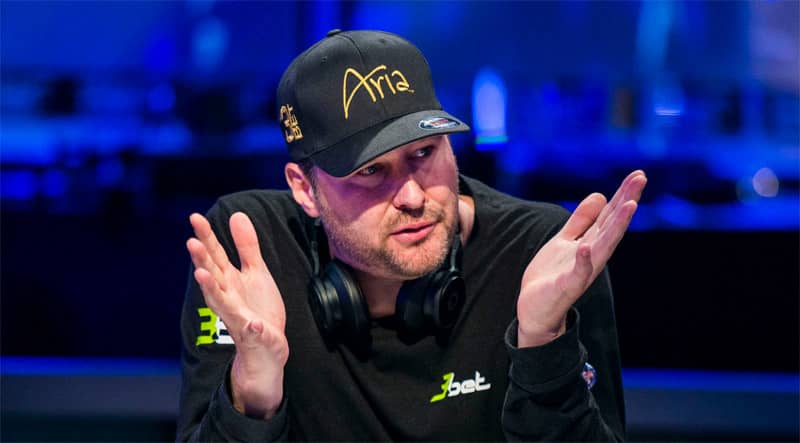 Source: pocketfives.com
He started playing in Vegas in 1988, and it wasn't long before he began to leave his mark in the poker world.
Already in 1989, Hellmuth went on to win the Main Event, becoming the youngest-ever WSOP Main Event winner at the time.
Phil was only 24 when he defeated Johnny Chan, already a legend at the time, to snag his first WSOP trinket and the $755,000 first-place prize.
It was just the beginning of what would turn out to be one of the most successful professional poker careers in the history of the game. In the years to follow, he would go on to surprise the poker community, claiming titles left and right.
He is currently holding the record for most WSOP bracelets won, and other players have a lot of catching up to do.
Hellmuth has no fewer than 15 bracelets to his name, and since he is still playing, it's entirely possible he'll get a few more in the years to come.
His lifetime tournament winnings are currently at almost $23.5 million, with his single-biggest cash coming from the 4th place finish in the $1,000,000 Big One for One Drop event in 2016.
Phil Hellmuth's net worth and his poker achievements are undoubtedly admirable, but it is his public persona that got him a huge amount of popularity with the fans.
While his poker skills are certainly great, his ego is much greater.
He's become famous for his poker quote: "if luck weren't involved, I'd win every tournament," indicating that his opponents could never outplay him – they could only get lucky.
Of course, this isn't true, and even Phil knows it. He often explained that his public persona isn't really who he is. He accepted the image of 'The Poker Brat' and built a very successful brand around it, which opened many doors for him and helped him develop other successful businesses.
The Brat may be annoying at times, but he's putting up a show for a good reason.
Although Hellmuth hasn't been as active in the poker world as of late, he certainly isn't ready to throw in the towel just yet.
He's been playing fewer tournaments and focusing on his family, but there is nothing that can keep Phil away from the felt. As long as there are bracelets up for grabs, he'll be coming after them, making sure anyone who tries to break his record has a serious mountain to climb.
Famous Best Poker Players #4: Stu Ungar Legend
Although he lived and played before the poker boom, Stu 'The Kid' Ungar is one of the most colorful and iconic players to have ever lived.
With a natural talent for card games and a strong passion for being the best in every game he tried, Ungar was on the path to becoming one of poker's best.
However, haunted by his own demons, Stu never achieved the greatness many believed he was destined for.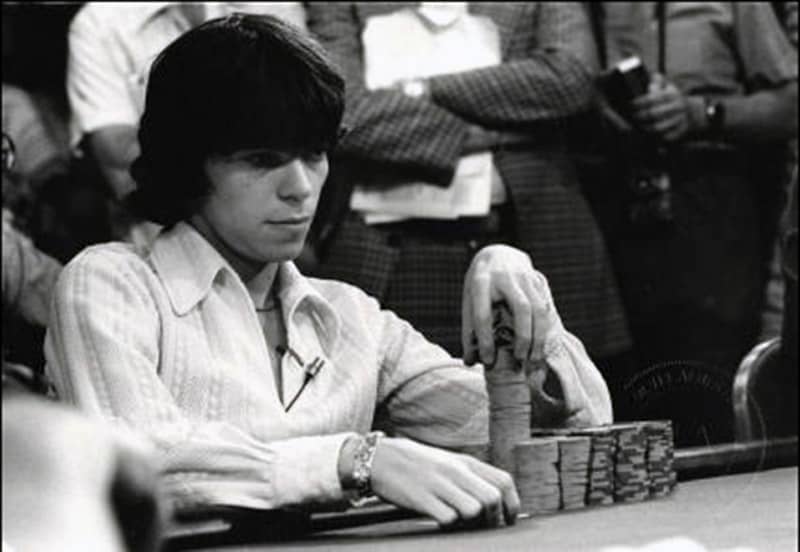 Source: pinterest.at
Ungar was born in New York in 1952. He was exposed to gambling at a very early age and was a rapid learner. According to some stories, he even won a local gin tournament when he was only 10.
Gin rummy was actually Stu's game of choice during the early period of his career as a professional gambler.
He became one of the best, if not the best, gin players around, always ready to take up anyone who was up for a challenge. It worked for a while, and Ungar was able to make a fair bit of money crushing the competition.
However, words travel fast in gambling circles.
After a few years, Stuey (as he was often called) became so notorious that he could no longer find an opponent. Even the proudest of gin players accepted the fact Ungar was the best there was and weren't willing to throw good money after bad.
With gin action drying up, Stu started to look for new venues to make money, and he discovered another game where one's skill could put him miles ahead of the competition – poker.
In 1977, he moved to Las Vegas, and this was the start of his career as a poker player.
In 1980, Stu Ungar took the poker world by surprise when he took down the World Series of Poker Main Event.
This was only the second-ever poker tournament in his life, but the natural talent for card games and his ability to read his opponents helped him become the youngest Main Event winner at the time.
At the age of 26, he defeated the absolute legend of the game, Doyle Brunson, in the heads up battle, claiming $365,000.
One win could be a fluke but two in a row? Hardly.
In 1981, Ungar went back to back and won the Main Event again! T
his time around, he won $375,000 but also etched his name in poker's history, becoming one of just four players to go back-to-back in Main Events.
The world was looking in awe as young Ungar conquered poker with almost no effort. Appearing out of nowhere, 'The Kid' took over Las Vegas, demonstrating the knowledge of Texas Holdem strategy that has never been seen before.
Despite all of his success at the tables, Stu was haunted by his demons, which would eventually spell his doom. In 1979, shortly after arriving in Las Vegas, he started abusing cocaine.
At first, he only used drugs recreationally to stay awake and alert during long poker sessions, but this eventually turned into an addiction.
On top of that, poker wasn't the only game Stu loved. He was also a keen gambler, regularly playing blackjack and betting on sports, losing more money than he could make playing poker despite his skills.
By 1990, Ungar was already seriously struggling. He entered the Main Event that year but was unable to finish it as he was found unconscious in his room on the third day of the tournament.
Even with that, he managed to finish in the 9th place that year thanks to a massive chip lead he accumulated in the previous days.
In 1997, Ungar was nearing the end of his path. According to his friends, his health had deteriorated by this point, and he accumulated a lot of debt over the years. Still, he managed to enter the Main Event thanks to $10,000 given to him by Billy Baxter and encouragement from Mike Sexton.
And, even though he was really struggling to keep things together, Stu did it again – winning his third Main Event bracelet! This time around, he claimed a cool million, which he split with Baxter.
Although some saw this as the big comeback of 'The Kid,' it turned out that Main Event was Ungar's swan song. In 1998, although Baxter offered to front him the money for the Main Event again, Stu refused.
By this point, Ungar was starting to unravel, and he was afraid he couldn't keep it together at the tables and would embarrass himself.
A few months later, in November, a maid found Stu Ungar's body at Las Vegas Oasis Motel. His body, weakened by the years of substance abuse, just couldn't take it anymore. At the age of 45, 'The Kid' had passed away.
During his poker career, Stu Ungar accumulated close to $3.7 million in tournament winnings, which was a really substantial amount for that period in poker history. He also claimed five WSOP bracelets, three of which came from winning the Main Event.
Had there not been for his demons, who knows where Ungar's career could have taken him. To this day, many of those who knew him claim he was the best poker player they'd ever seen.
Would he continue crushing the competition and winning titles? Would he be able to keep pace with new generations of players?
These questions will remain unanswered, but the legend of Stu Ungar keeps on living. If you'd like to know more about the story, check out poker movie about him. It's well worth your time, I promise.
Famous Best Poker Players #3: Phil Ivey Fun Facts
Often dubbed 'Tiger Woods of Poker,' Phil Ivey is definitely one of the most iconic poker players around.
Recognized by the poker fans and his peers as one of the best poker players, Ivey has always had an aura of mystery around him.
Calm and composed at the tables and taking things in strides, he's one of those guys who always seem to have an ace up their sleeve.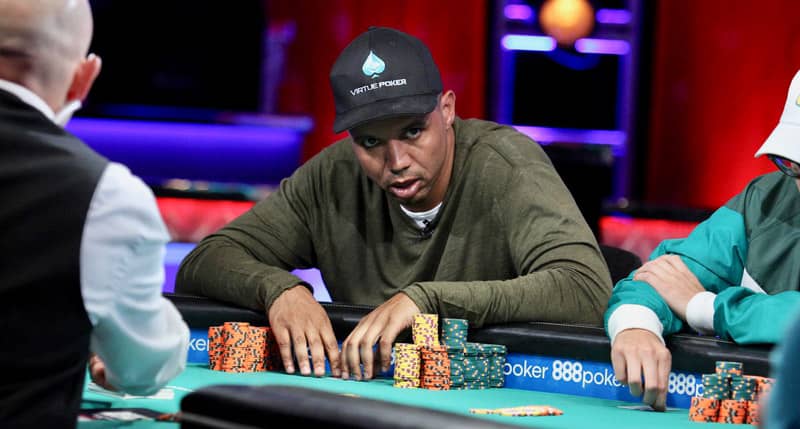 Source: cardplayer.com
Ivey was born in 1977 in California, but his family moved to New Jersey shortly after. He was introduced to poker very early during his childhood by his grandfather, a detail which would probably play an important role in his future life and career.
As the years went by, his love for poker only grew stronger. Ivey became one of the regulars in Atlantic City casinos long before he turned 21.
He acquired a fake ID, which allowed him to enter poker rooms all over the city, and he regularly put in long sessions.
It was during this period that he got the nickname 'No Home Jerome.'
The time Phil Ivey spent at the tables and his passion for winning would pay dividends. He honed his skills and got better by the day. However, he still had a long way to go before becoming one of the most feared players on the circuit.
Once Ivey turned 21, he was finally able to start playing under his real name, which encouraged him to give tournaments a go. Up to that point, he was only playing in cash games as he knew that he would probably have problems cashing out any big tournament scores with a fake ID.
Phil quickly fell in love with the tournament circuit, and in 2000, he entered his very first World Series of Poker.
Poker gods clearly had big plans for Ivey as his first swing at the WSOP was a very successful one. He cashed in several events and went on to claim his first (of many) bracelets that year.
Ivey claimed the victory in the $2,500 PLO event, defeating legendary Amarillo Slim Preston in the heads up skirmish and pocketing $195,000 for his efforts.
This was just the beginning of one of the greatest professional histories in all of poker. In the years to follow, Phil would go on to win countless tournaments and amass huge winnings.
Phil Ivey's net worth from tournaments alone is over $30,000,000 at the moment, and it's impossible to tell how much he won over the years of dominating the highest stakes cash games around the globe, but probably much more than that.
In 2017, he was inducted into the prestigious Poker Hall of Fame, receiving official recognition for his tremendous success.
When it comes to the World Series of Poker, Ivey has cashed in 70 different events and has 10 WSOP bracelets to his name.
Despite all his achievements as a poker player, Ivey's presence in the media in recent years was more related to the infamous baccarat edge-sorting scandal.
Ivey was accused of taking advantage of two separate casinos at high stakes baccarat tables using the technique known as "edge sorting" to win millions.
Although Phil was quite forthcoming about the events and steadfast in his conviction that he did nothing wrong, things didn't quite go his way.
He lost court cases in the UK and the US. In the UK, he was denied his winnings, but in the US, Borgata is seeking to claim back its losses to the tune of $10,000,000.
Because Borgata was able to secure a court verdict in its favor, it was given legal tools to access the high roller's bank accounts in the States. During the 2019 WSOP, his winnings from one of the events were actually blocked before he was able to cash out.
Because of these developments, Ivey hasn't been around poker as much lately, at the disappointment of his many fans around the globe.
The rumor has it he's been staying in Macau, rubbing his elbows with wealthy Asian businessmen and other high rollers, playing for obscene amounts of money. But, since these games are very private, there is very little verifiable information to rely on.
Famous Best Poker Players #2: Doyle Brunson Story of Poker Greatness
Known as 'The Godfather of Poker,' Doyle Brunson is one of the biggest legends in the poker world. The man who's seen it all, from illegal games in backrooms of dodgy bars to high stakes tables at the fanciest casinos, Brunson has experienced every imaginable side of poker.
In addition to being a great player, he's also authored "Super System," the poker book that's often described as poker's Bible.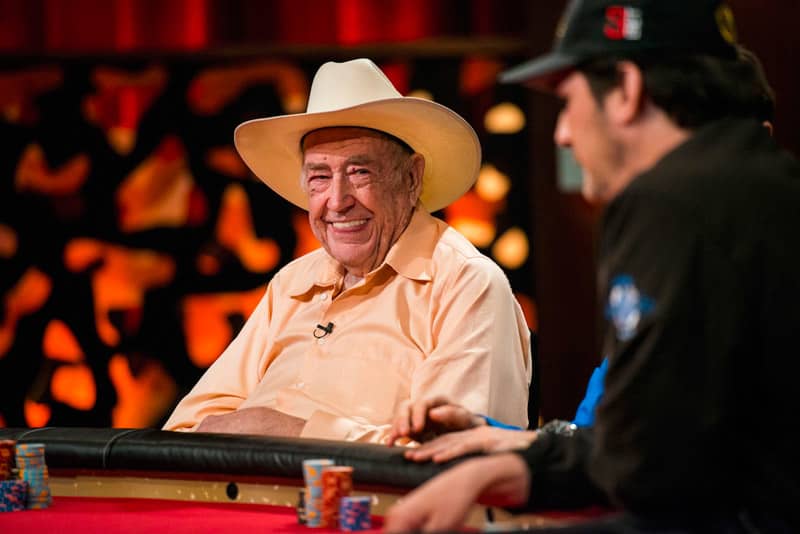 Source: pokercentral.com
Brunson was born in 1933 in Longworth, Texas, which is why he is also known as "Texas Dolly."
During his youth, he was an active and successful athlete, competing in long-distance running and showing a lot of promise as a basketball player.
However, Doyle's hopes for a career in sports were brought to an abrupt end due to a severe knee injury.
The injury may have killed Doyle's chances to become a professional basketball player, but it didn't hurt his competitive spirit. In fact, he became even more determined to succeed, even if he couldn't pursue his youth dreams.
Somewhere along the way, Brunson discovered poker.
It was a game that one could beat using their brains, and he took a liking to it. Of course, during those early days, the poker scene looked much different from what it is today. Doyle honed his skills in many illegal games in Texas and other parts of the US.
Later in his career, Doyle would sometimes recount these old days, sharing stories with his fellow players and fans alike.
Being a professional poker player back then wasn't always smooth sailing, as Brunson often had to deal with cheaters and players who didn't like losing too much. But through all the hardships, he persevered, becoming one of the poker's greatest players.
It was during the mid-1970s that Brunson started playing in Las Vegas casinos, becoming a more modern version of a professional poker player.
He substituted dodgy card joints with much safer and regulated poker rooms in Las Vegas, but the skills he developed over the years came in very handy.
Brunson won the WSOP Main Event in 1976 and 1977, going back to back. Although the fields were quite small back then, this was still an achievement.
However, Doyle didn't just go on to win the Main Event two years in a row – he actually managed to do it with the same hand, 10-2 off-suit.
After that, the poker hand name was named after him, and 'Texas Dolly' would often play it for fun in televised cash games despite it being one of the worst starting hands in Hold'em.
Over his long and successful career, Brunson won as many as 10 WSOP bracelets and cashed for a total of $6.1 million in tournaments.
Of course, no one knows what Doyle Brunson's net worth is as he's been a regular fixture in legendary high stakes games at Bobby's Room for decades and, according to those in the know, he's done quite well for himself over the years.
Brunson's contribution to poker goes beyond his personal achievements, though. In 1976, he published his Super System, which was the first book to really outlay strategies for Texas Hold'em and give players access to knowledge that wasn't available to them before.
In many ways, Doyle Brunson changed the game of poker forever, bringing it closer to the masses. Although he is no longer as active on the circuit, he continues to play in cash games whenever he can.
'Texas Dolly' is also very active on his Twitter, so if you want to know what he's been up to, give him a follow (if you aren't already).
Famous Best Poker Players #1: Daniel Negreanu Life & Career
The Canadian-born superstar, Daniel Negreanu, is easily one of the best poker players around. His results speak for themselves in terms of competence, but 'Kid Poker' has also done a lot for the game away from the felt.
Although he's often been involved with many controversies, there is no denying Negreanu is one of the best-known faces in poker.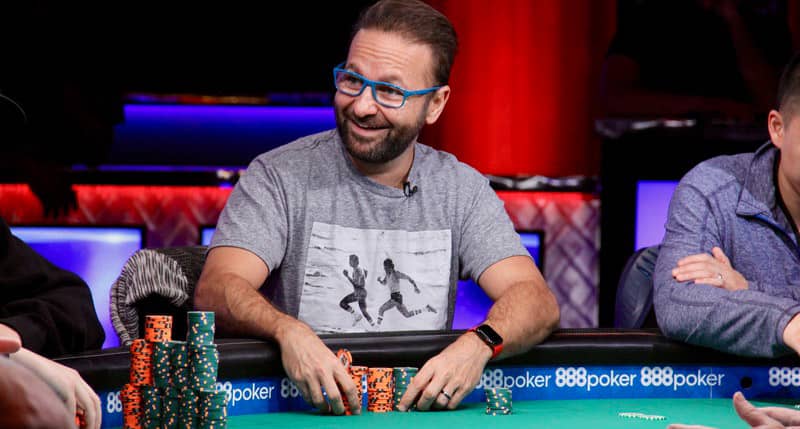 Source: cardplayer.com
Born in Toronto in 1974, Negreanu discovered his affinity for gambling during his teen years. Hustling at the pool tables and brushing up his poker skills at charity gambling halls of his home town, he slowly and steadily built his bankroll and paved the way for his future career.
When he turned 21, Daniel Negreanu decided to pack up his stuff and move to Las Vegas to give the career of a professional poker player a decent chance.
By this time, he was already a consistent winner in the games back home, so he was filled with confidence he had what it takes to succeed on the "big stage."
As it turned out, confidence alone was not enough.
Negreanu soon discovered that Vegas games were much tougher than the ones spread in charity casinos in Toronto. Despite his best efforts, he lost his bankroll and had to move back home. However, determined to succeed, he kept playing and working on his game.
All the hard work paid off eventually.
In 1998, Daniel entered his very first (of many to follow) World Series of Poker.
This was the beginning of his rise to stardom. Negreanu managed to take down a $2,000 Pot-Limit Hold'em tournament, winning his very first bracelet.
Being only 23 years old, he became the youngest player ever to claim the prestigious achievement at the time, which earned him the nickname 'Kid Poker.' Apparently, the Canadian took a liking to it as he continued using it on social media and as his online alias.
From that point onwards, there was no looking back.
Daniel would continue to dominate the live tournament scene for the years to come. As of right now, Hendon Mob puts Daniel Negreanu's net worth at over $42,000,000. This puts him in the third spot of the All-Time Money List.
It is hard to name all the important titles 'Kid Poker' has claimed during his rich career. To date, he's claimed six WSOP bracelets and one WSOP Circuit ring. This number could have been much higher as well since Daniel had quite a few runner-up finishes in bracelet events.
In terms of winnings, Negreanu's biggest score came in 2014 when he finished the runner-up in the $1,000,000 Big One for One Drop tournament.
This finish brought him $8.2 million. In 2018, he once again came short of claiming the win in the $300,000 Super High Roller Bowl, but finishing second was still good for $3,000,000.
Of course, he's had quite a few more seven-figure scores as well as dozens of six-figure wins scattered across his lengthy and extremely successful career.
Beyond the green felt, Daniel Negreanu is also known as the face of PokerStars. Although he is no longer involved with the company, he was the site's leading ambassador for many years. 'Kid Poker' has undoubtedly helped PokerStars maintain its leading position in the online poker market.
These days, Negreanu splits his time between playing poker, creating coaching videos for his MasterClass course, and working in his new role as an ambassador for GGPoker.
He is very active on his Twitter and Instagram profiles as well, where he has thousands of followers. And, while poker may be his main preoccupation, 'Kid Poker' has always been very vocal about other social and political issues, stirring up many debates over the years.
Masterclass banner
Famous Recreational Poker Players And Honorable Mentions
The ten players mentioned thus far are definitely some of the greatest names in poker. However, there are so many others who also stand out in different ways.
While it's impossible to mention all of them, here are a few more names that I felt should be included in this kind of article.
Dan Bilzerian Poker Story
Okay, Bilzerian isn't a poker player in the strictest sense of the word. He's probably not even close to being one of the best, either (although he'd probably disagree). But Bilzerian has been around the poker scene for a long time now, and he is one of the richest poker players around, even if his wealth has nothing to do with the game.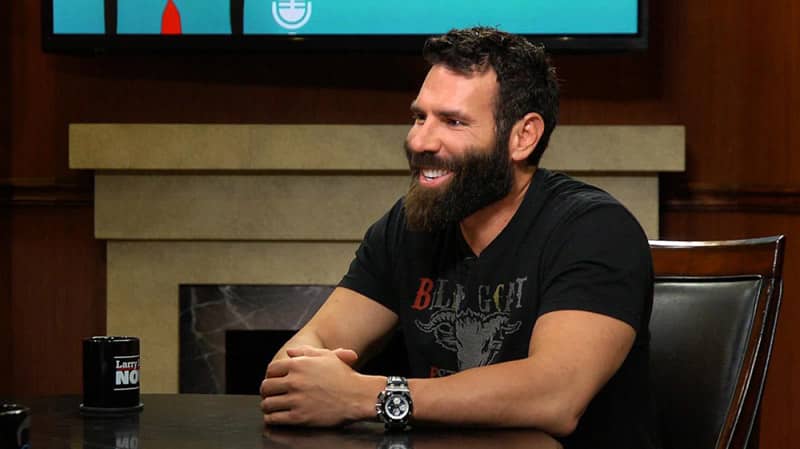 Source: ora.tv
When Dan was still a kid, his father was sent to prison for stock and tax fraud.
Because of this, young Bilzerian had to face many problems growing up, although things changed for the better once his family moved, and he got into a different school.
After school, Dan wanted to become a navy seal. Although he was able to complete the necessary training and come close to achieving his goal, he was discharged just a few weeks before graduation.
The rumor has it he got in a fight with one of his officers, and that was it for Bilzerian's hopes of becoming a military man.
Although Dan's father was sent to prison, he was able to set up a trust fund for his son. Bilzerian was given access to this fund when he turned 25, and this is when his lavish lifestyle started.
No one knows exactly how much money he got, but he sure loves to spend it. Dan built a huge Instagram following, posting photos with sexy girls, expensive cars, and all sorts of guns. 
A very controversial figure, Bilzerian enjoys the attention of both his loyal fans and those on the other side of the fence.
As for his poker endeavors, there is barely any tangible evidence to confirm he's actually a good player. Bilzerian started playing poker and gambling when he got his hands on the trust money, but so far, his official results are very slim.
Hendon Mob has his live tournament earnings at just $36,000, all of which came from his relatively deep run in the 2009 WSOP Main Event.
But, if you ask Bilzerian, you'll hear a different story.
He claims he makes most of his money playing in high stakes private games.
He once tweeted he won $10,000,000 in a single session, but since it was all in a private game, there is no one to confirm or deny it.
It's not hard to believe he'd have access to some pretty sweet private games given the fact he knows many celebrities (being one himself). But whether he is the big winner in these games is another matter entirely.
Either way, Bilzerian is a colorful character that some love and some can't stand. He doesn't seem to mind either way. He may not be the greatest poker player to have ever lived, but he probably got some people into poker with his social media posts, so it's not all bad.
Rick Salomon Poker Story and Winnings
Rick Salomon has almost $10,000,000 in live tournament earnings. He's a well-known high roller who has several seven-figure scores and has been playing in high stakes cash games for years. But none of this is really what you'll think of first when you hear the name.
If controversy were to take up a human form, Salomon would be one of the top candidates on the list.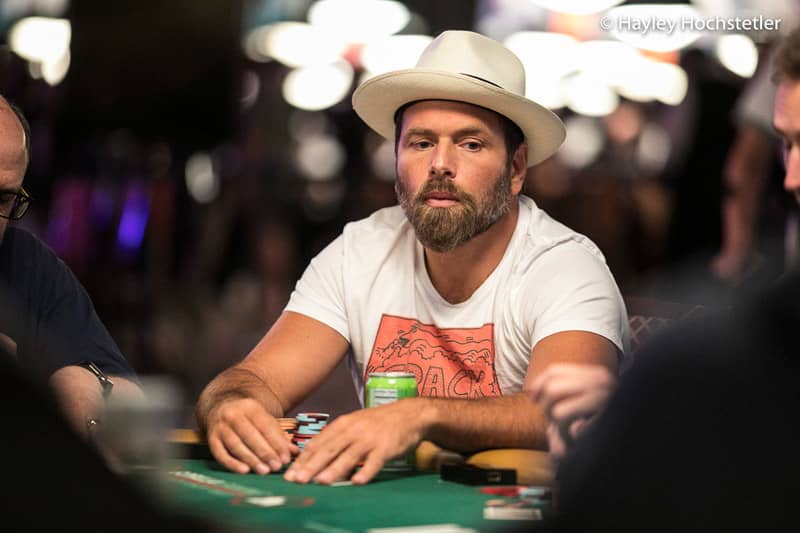 Source: pokernews.com
The man was married to Pamela Anderson and Paris Hilton (and Shannen Dorothy). He was also involved in a big drama over a sex tape he had with Hilton that was leaked in 2003.
Not surprisingly, a bunch of lawsuits followed all over the place, with both Hilton and Salomon suing the company that released the tape, the Hilton family suing Rick, etc.
After all the drama and when the dust settled a bit, Rick Salomon started distributing the tape himself under a romantic name "1 Night in Paris" (well played, Mr. Salomon). That's just the kind of guy he is. He's not afraid of controversy and drama seems to follow him wherever he goes.
As for his poker endeavors, Rick Salomon had several big scores. The biggest one coming from his third-place finish in the One Drop Extravaganza in Monte Carlo, which brought him $3.3 million.
He also finished 4th in two $1,000,000 Big One for One Drop events in 2014 and 2018, cashing for $2.8 million both times.
But even in the poker world, Salomon couldn't stay away from controversy.
In 2014, Salomon was involved in a high stakes private game with a certain Raad al-Khereiji. According to Rick, al-Khereiji accrued a debt of $2.8 million during the 48-hour session, which he promised to pay once he was back home in Saudi Arabia.
However, several months later, al-Khereiji's lawyer informed Salomon that his client claims there was no debt at all, as it was all just a game among friends not played for real money.
Salomon decided to take the matter to the French court. His lawyer tried to invoke an old law to force the payment of the gambling debt. However, the judge didn't see things Solomon's way and concluded there was no way to enforce a gambling debt.
While this was a significant loss for Salomon, the whole case provided an interesting glimpse behind the scenes of high stakes private games.
According to many rumors, Rick has won obscene amounts of money playing in these games. No one knows for sure, but if someone can lose almost $3,000,000 in just two days in one of these games, these rumors become much more believable.
Bill Perkins Venture into the Poker World
Bill Perkins may not be a professional player by the strict definition of the phrase, but he's been very involved with the high roller scene in recent years.
Perkins made his money outside of poker, primarily working as a stock trader. However, he fell in love with the game and has been doing a lot to become a better player, talking about best poker tips, and learning from the best.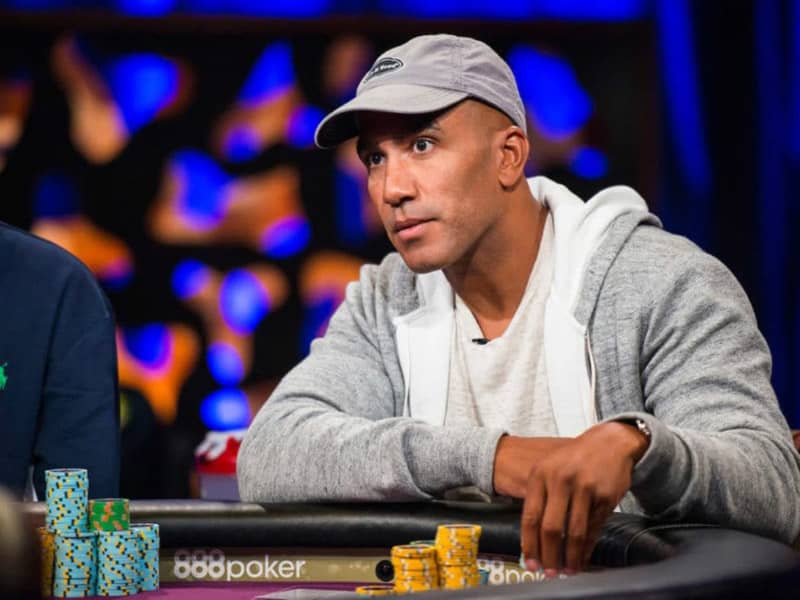 Source: upswingpoker.com
Perkins started his trading career when he was 22. He was very quick on his feet and knew how to navigate the investment world.
In 1997, he launched his own company named Small Ventures USA. In 2013, he launched his hedge fund Skylar Capital.
Bill Perkin's net worth was already significant when he came into the poker scene in 2012. Already a millionaire, he was able to jump straight into high stakes tournament action.
A smart guy, Perkins knew he was an underdog in these lineups, but he wanted the challenge. He had the bankroll to pay for this type of "education," and it is quite clear he enjoys his time spent at the tables.
Over the next few years, he continued to learn and eventually became a rather solid player, especially given the strength of the opponents he is usually up against in these events. To date, he's amassed $5.4 million in live tournament earnings.
In addition to his business acumen and his love for poker, 'Perky' is also known for his love for prop bets.
He enjoys betting his money on the craziest of propositions, and he seems to be more interested in having fun than making money.
One such bet saw him put $600,000 against Dan Bilzerian, who claimed he could get from LA to Las Vegas on his bicycle. Perkins thought there was no way Dan could do it, but the controversial playboy proved him wrong, happily taking his money.
Although Perkins doesn't need poker money, he definitely takes the game very seriously. He has the competitive drive that attracted him to poker in the first place, and he wants to beat the game. So, 'Perky' will likely be around for the years to come.
Phil Laak Bio & Poker Winnings
Phil Laak was already mentioned in this article on the best poker players as one of Esfandiari's best friends. But Laak has achieved a lot in the poker world in his own right, both as a player and as a character that many fans just love seeing on TV.
Rocking his unique style with a hoodie and often oversized sunglasses, he earned his famous nickname 'The Unabomber'.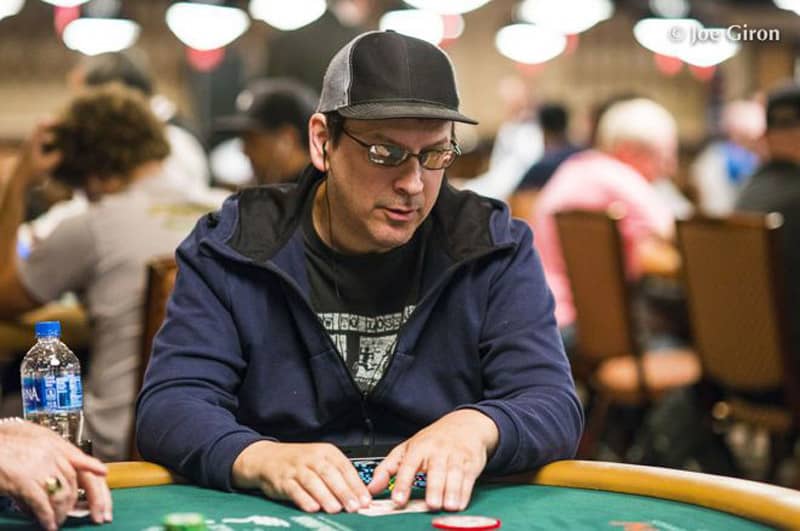 Source: pokernews.com
Laak spent some of his early youth looking for his perfect career. A restless spirit, he's tried his hand at many different jobs but just couldn't find what he was looking for.
After playing poker for a while, he was ready to give up on that as well, but it was Antonio who convinced him to give it one more try before giving it up for good to become another Wall Street guy.
He moved to California, and that's where his poker career really took off. He spent his time between LA and Las Vegas, playing in cash games and tournaments, building his bankroll, sharpening his skill, and enjoying every moment of it.
Laak's live tournament earnings stand at $3,8 million at the moment, but that's probably not the real indicator of his net worth.
He's been a regular feature in many cash games, and his unusual but effective style has helped him do well over the years.
He's not only known for his poker skills, though. Phil Laak has long been in a relationship with actress Jennifer Tilly. Phil introduced Tilly to poker as well, and she has been one of the more active female poker players at the tables ever since.
Maybe Laak isn't the wealthiest poker player out there, but he is definitely one of the most remarkable ones around. He manages to put on quite a show every time he plays, and both fans and his fellow players seem to enjoy his antics.
Chris Ferguson Rise and Fall
Chris Ferguson is another highly controversial figure of the poker world. Once a fans' favorite, Ferguson fell out of grace after the Black Friday and the Full Tilt fiasco, which wiped many players' bankrolls in one clean swoop, leaving them in an awful spot.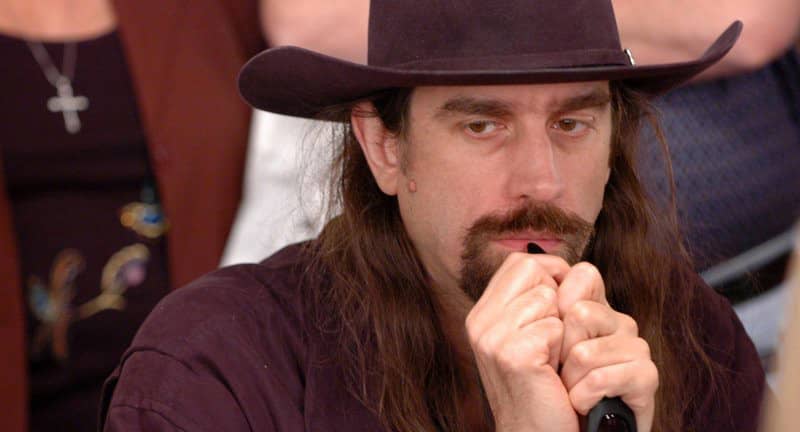 Source: cardplayer.com
Ferguson was born in 1963 in California. He was introduced to the game theory of poker very early in his life, which would help him later in his poker career. Later on, he acquired a PhD in computer sciences and further developed his understanding of numbers, stats, and poker odds.
When it comes to poker, Chris learned to play when he was just ten and would go on trips to Las Vegas with his friends as young as 17.
Despite not being of legal gambling age, he managed to get into games, and he has always been an excellent player.
To date, he's won close to $9.5 million, and he has six WSOP bracelets to his name. This collection includes the one from the 2000 Main Event, which he took down for $1.5 million.
Despite his success as a player, he is much better known as one of the directors of Full Tilt Poker. Ferguson was one of the best-known faces of the brand, and for several years he's been one of the favorites of poker fans across the globe, appearing on High Stakes Poker and Poker After Dark.
However, when the Black Friday happened in 2011, many unsettling details came to light about happenings behind the scenes of Full Tilt Poker. It turned out the room didn't have all the players' money, and the whole operation was run, to some degree, as a Ponzi scheme.
As one of the leading people at Full Tilt, Ferguson faced legal trouble that he managed to settle eventually. However, the community never forgave his involvement in the scandal and, more importantly, his refusal to offer any kind of sincere apology. He pretty much disappeared from the public eye for the next few years.
Eventually, PokerStars took over Full Tilt and made all players whole.
Sometime after, Chris Ferguson resurfaced again. He first appeared at the 2017 World Series of Poker. Not surprisingly, he wasn't welcomed by the players, many of whom had to go through a lot of hardship because of their money being stuck in the limbo.
But Ferguson was unfazed. He clearly expected the backlash and decided to take it without ever really talking about Full Tilt or trying to defend himself.
Initially, many voices were requesting Ferguson to be banned from the WSOP, but that never materialized. After a while, his presence at the World Series became a non-news. Somehow, Chris Ferguson came back, and he is once again on the grind.
Who else would you add to the list?