Best Female Poker Players – The Top 10 List and Honorable Mentions
Back in the day, poker used to be a game only played by men, and female poker players were a rare and unusual sight throughout the history of poker.
Luckily, things have changed considerably, and poker has become an activity enjoyed by millions of people around the globe, women and men alike.
Although the game still attracts predominantly male players, there is a growing number of women who are taking a liking to it. This change has happened mostly thanks to several successful female players who have proven they can play just as well as their male counterparts.
This article is devoted to the best female poker players, i.e., those whose results clearly show they've got the game.
It is also about those women whose efforts have contributed to bringing more exposure to poker. With more or less tangible success, all of these female players have helped bust the myth that poker is a man game only.

Top Female Poker Players: #10 Joanne Liu
Joanne Liu, or JJ Liu, as she's better known in the community, had a long and successful career. Born in 1965 in Taiwan, Liu moved to the US to study at Bradley University.
It wasn't until she had gotten her master's degree in computer engineering and moved to Silicon Valley for work that JJ discovered poker.
JJ Liu's poker career started with her playing tournaments in the Los Angeles area and Las Vegas.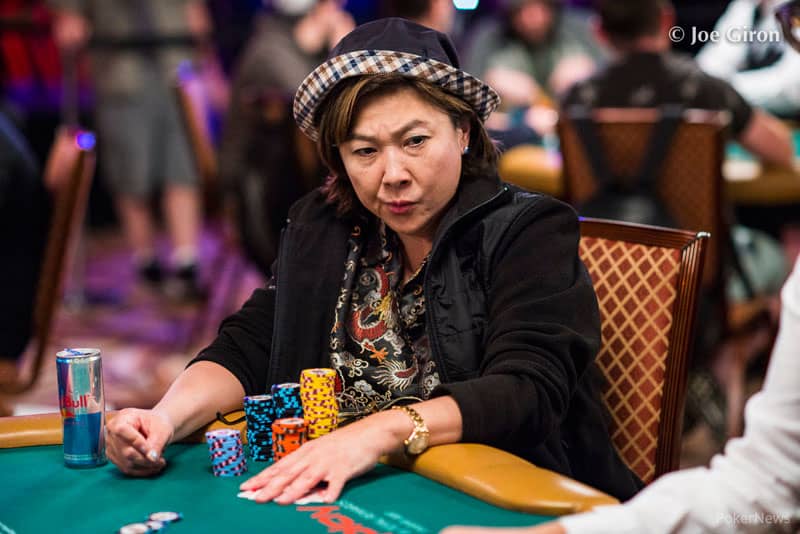 Source: pokernews.com
She's been an active player since 1996, making her one of the most experienced female players around. Firmly and quietly, Liu has been building a successful career in poker, constantly adjusting to the always-evolving poker world.
Her first notable result came as early as 1996. Liu finished 4th in a $3,000 WSOP Limit Hold'em event, pocketing $32,500 for her efforts.
This may not seem like a lot, but back then, fields were much smaller, and prize pools weren't nearly as inflated.
In 2005, JJ Liu net worth grew by $362,000 as she got another 4th place finish in the Five Diamond World Poker Classic Main Event.
This was followed by the runner-up finish in the 2007 WPT Bay 101 event, which brought here another $600,000. Joanne Liu came close to claiming her WPT title in this one but was stopped at the last moment by none other than Ted Forrest.
At the moment of writing this, Joanne Liu net worth exceeds $3.3 million, according to Hendon Mob.
This number is likely to grow, though, as JJ is still very active and plays in many tournaments. With her skills, experience, and (likely) a decent bankroll to take the swings, Liu will probably be around for many years to come.
Top Female Poker Players: #9 Maria Constanza Lampropulos
Of all the female poker players in the top 10 of the money list, Maria Constanza Lampropulos is probably the least-known name.
Unlike many other successful players, Lampropulos discovered the game when she had already built a successful professional career unrelated to poker.
Maria Constanza Lampropulos poker adventure started when she met her boyfriend, Ivan Luca. Luca is currently sitting on top of the Argentinian All-Time Money list with more than $6.5 million in winnings and is a very successful player in his own right.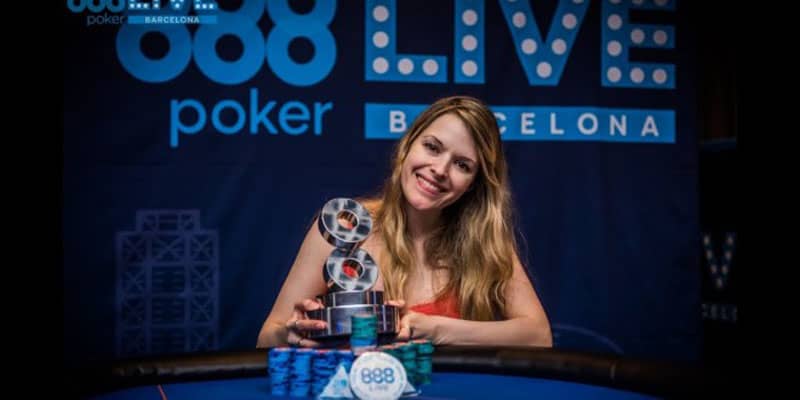 Source: youtube.com
Lampropulos developed an interest in the game mostly by following Luca's career. She started playing herself, mainly sticking to small stakes games online. While she didn't have much success online, Luca saw in her a hidden talent and suggested she try her hand in live tournaments.
Funnily enough, her first major score came from a €1,000 live tournament in Rozvadov, where both she and Luca participated.
Not only that but, as fate would have it, the couple ended up in the heads up skirmish. In the end, more experienced Luca claimed the victory, but Maria's second-place finish was good for over €95,000.
This was an important step for Maria Constanza Lampropulos poker career and the sign of things to come.
In 2017, she bought into the £5,300 PartyPoker Millions event taking place at Nottingham's Dusk Till Dawn. The tournament attracted a huge field of 1,204 players and many well-known names like Jake Cody, Igor Kurganov, and David Peters.
When it was all said and done, it was Maria Constanza Lampropulos net worth growing by a cool £1,000,000.
She managed to outlast every single player in £5,300 event and snatch the unlikely win away from the players who had far more experience than she did.
The hot run continued for Lampropulos in the following months. In January of 2018, she went on to claim the victory in the hugely popular PCA Main Event. Once again, Maria outlasted the field of almost 600 players to add another $1,081,000 to her tally.
Lampropulos has always contributed a lot of her success to help from Ivan Luca. In all of the interviews she did after her big wins, she explained how Luca taught her everything she knows about poker, and she was grateful for the opportunities.
And, while help from such an experienced player was undoubtedly significant, there is no denying Lampropulos has a natural talent for poker.
She is still quite active on the tournament circuit, so don't be surprised to see her claim another seven-figure prize in the near future.
Top Female Poker Players: #8 Vanessa Rousso
Vanessa Rousso is easily one of the best-known female poker players around. Although her lifetime winnings of $3.5 million place her on the 8th spot of the Women's All-Time Money List, she's always been in the public eye and has done a lot to attract more women to the green felt, proving time and time again she's got what it takes to compete with the big boys (and girls).
Rousso has appeared in many poker shows, including Poker After Dark and PokerStars The Big Game.
Beautiful, intelligent, and with a deep understanding of the game, she managed to build an admirable career in the highly competitive environment.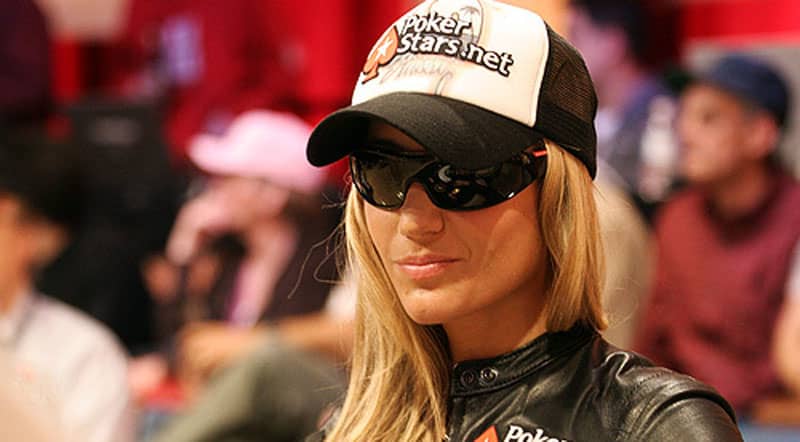 Source: cardplayer.com
Vanessa Rousso's poker journey started during her high school days. She began playing online under the moniker "Lady Maverick."
She used the advantages of the virtual poker felt to gain a lot of experience on her own terms, also slowly building the bankroll in the process.
In 2003, Vanessa earned her BA degree in Economics. She then moved on to the Miami School of Law.
Although Rousso eventually got her law degree and passed the Florida Bar exam, it only happened in 2018. The years in between she spent pursuing her poker career.
Vanessa joined the live tournament circuit in 2005.
She move to Las Vegas and devoted her time to playing in the events she could afford and growing her bankroll. As poker gods would have it, she didn't have to wait long for big scores to start rolling in.
In April of 2006, she managed her first six-figure score placing 7th in the $25,000 WPT Championship event in Las Vegas added $263,000 to Vanessa Rousso's net worth, giving her bankroll a serious boost she very much needed.
Only a few months later, Rousso claimed her first WPT title by taking down the WPT Borgata event, which was good for another $285,000.
In 2009, Rousso had the biggest win of her poker career. She took down the €25,000 EPT Monte Carlo Grand Final tournament, pocketing €532,500 for her efforts.
It was a small field of just 79 players, but that doesn't take away anything from her win. Events such as this attract the best of the best, and going all the way was a huge achievement.
Although Vanessa doesn't have any major titles to her name and she's still lacking a WSOP bracelet, she's one of the most notable people in the poker industry.
Her involvement with the Poker Players Alliance helped further cement her legacy. Rousso was one of the leading representatives of this organization, and she was involved in discussions with the US Government to overturn the infamous UIGEA.
Having completed her law degree, Vanessa Rousso has also turned to other things as of late. Her last recorded tournament result dates back to April 2017, which is definitely a disappointment for armies of her fans who enjoy watching Vanessa doing her magic at the tables.
Top Female Poker Players: #7 Liv Boeree
Olivia Boeree, known to pretty much everyone as Liv Boeree, is one of the more colorful personalities in the poker world in general. With the degree in Astrophysics from the University of Manchester, Boeree probably wasn't planning for a career as a professional poker player.
However, she's always been a free spirit of sorts. In her youth, she was a keen guitar player, specializing in the heavy metal genre. In her early twenties, Liv modeled for a number of different magazines and found quite a bit of success in this area as well.
As for the Liv Boeree poker journey, it officially started in 2005 as she was one of five contestants in the Ultimatepoker Showdown TV show.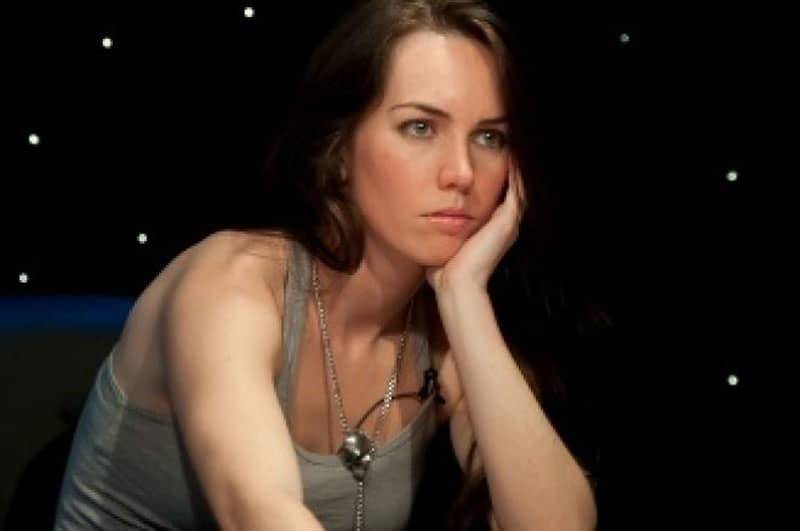 Source: pokernews.com
During the show, she was taught poker by some of the game's best, including Phil Hellmuth, Dave "Devilfish" Ulliott, and Annie Duke. Soon after, she started playing regularly at London's Gutshot Club.
As she became more active in the poker circles, Boeree used her other skills to become involved with the poker industry at a larger scale. She got involved with the live coverage of the European Poker Tour and worked as a reporter for WSOP Europe.
Boeree's first major poker success came in 2010.
That year, in April, Liv triumphed in the €5,300 EPT San Remo Main Event, scoring her most significant career cash of €1,250,000.
After this, she had to wait a while for her second six-figure score, which came in 2015. Once again, it was an EPT event, but this time in Barcelona, where the 3rd place finish in a High Roller event was good for €391,000.
It is also worth mentioning that she is known for an aggressive style and poker hands selection that sometimes could look a bit strange at first.
As of today, Liv Boeree's net worth stands at over $3.8 million, at least as far as her live tournament winnings are concerned. However, she's been involved in many poker-related projects off the felt, which certainly helped her create a stable financial situation.
When it comes to the World Series of Poker, Boeree has 25 cashes to date and one WSOP bracelet to her name.
Her bracelet came in 2017 when she managed to triumph in the $10,000 tag time event with her partner Igor Kurganov. Kurganov and Boeree are also partners in real life, which may have helped them secure this title.
The Liv Boeree poker biography is a truly rich one. She was also a member of the PokerStars Team Pro for a while. This partnership ended in 2019 when Liv, like so many others, decided to explore other opportunities in life.
Although she announced that she might still jump into an "occasional tournament here and there," Boeree is keen on looking beyond poker, and with her education and skills, she certainly has a good starting point to do that.
Despite not actively playing as much, she is still involved with the Raising for Effective Giving (REG) charity foundation. This is a charity that gathers primarily poker players who give up a percentage of their earnings to help various organizations and causes all over the globe.
Top Female Poker Players: #6 Annette Obrestad
Born in 1988, Annette Obrestad made her claim to poker fame very early in her career.
Obrestad managed to take down the inaugural WSOP Europe Main Event in 2007, just one day before her 19th birthday.
By doing this, she became not only the youngest player to win a WSOP bracelet at the time but also broke Annie Duke's record for the biggest single prize won by a female poker player.
Annette pocketed a cool £1,000,000 for this victory, which was slightly more than Duke's $2,000,000 cash according to the exchange rate at the time.
Obrestad learned to play poker as a very young girl. Her father taught her several different poker variations when she was just a kid, and Annette liked it.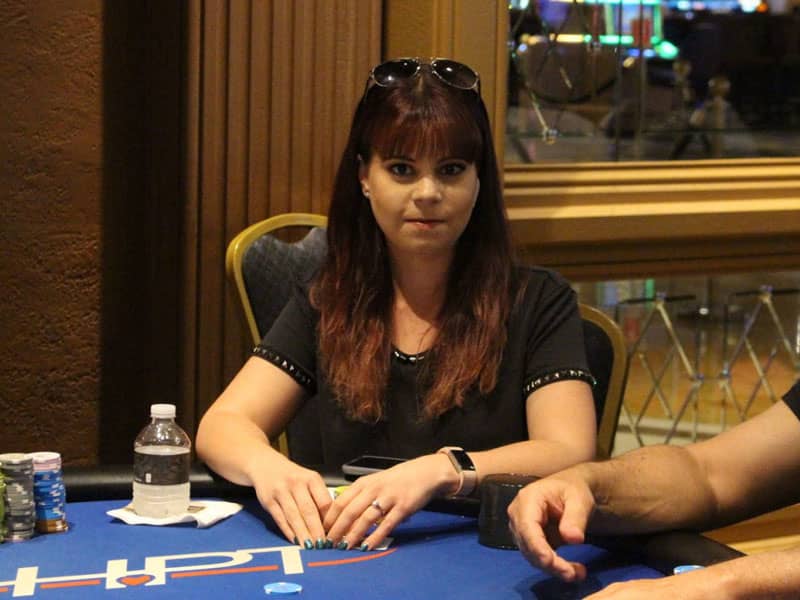 Source: upswingpoker.com
It wasn't long before she found her way to online tables where she started playing under the alias "Annette_15". Although she was still underage at the time and her mother didn't want her to play for real money, Obrestad continued playing for free, sharpening her skills.
Annette Obrestad's poker career started when she was just 15. Over the next few years, she managed to build a substantial bankroll without ever making a single deposit, starting with poker freerolls.
She had to wait until she turned 18 to be able to withdraw any of that money, but the experience she gathered was perhaps even more important.
One of her most famous "stunts" was when she managed to win a $4 buy-in and 180 players tournament on PokerStars without looking at her cards.
Annette relied on her position and the actions of her opponents to make her decisions.
Over the years, Obrestad built quite an image for herself in the poker community. Always calm and composed at the tables, she was usually one of the most aggressive players in any lineup.
Annette wasn't the one to shy away from big bluffs and bold moves that often brought her the advantage she sought.
According to Hendon Mob, the current Annette Obrestad net worth is $3.9 million. She had several more big cashes after her WSOP Europe triumph, including runner-up finishes in the 2007 EPT Dublin event and the 2011 Wynn Classic in Las Vegas.
In 2018, Obrestad more or less disappeared from the live scene.
She decided to devote her time to other passions, one of which is apparently is a makeup. She set up Annette's Makeup Corner on YouTube, and her channel quickly gained a lot of traction. As or right now, she has 36,000 subscribers and is very active, posting a new video almost every day.
Will we see her at the tables again? Who knows? Either way, Annette Obrestad will remain one of the best female poker players who managed to do in a span of few years what many players, male and female alike, don't achieve in their entire careers.
Top Female Poker Players: #5 Maria Ho
Born in Taiwan, Maria Ho moved with her family to the US when she was just four. She is easily one of the best-known and most recognized female poker players out there.
Although Maria Ho's net worth is estimated at just over $4 million by Hendon Mob, which places here in the 5th spot on the money list, her contributions to poker are quite significant.
Maria Ho poker involvement extends well beyond her success at the green felt.
She's also become known as a TV host, playing an important role as a commentator in numerous poker shows, tournament coverage, and much more.
Thanks to all this, Ho has become and remains to this day one of the best-known faces in poker and enjoys great respect from her fellow players, men and women alike.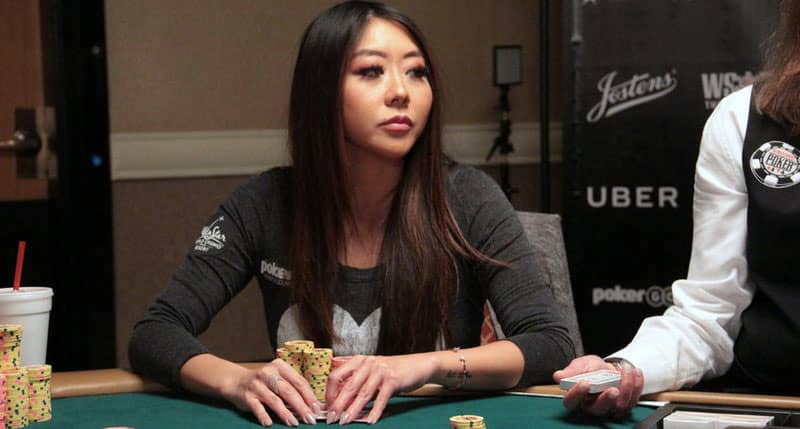 Source: cardplayer.com
She was also inducted into the Women in Poker Hall of Fame in 2018.
Like so many others, Maria discovered poker during her college days. Although hardly anyone expected her to follow the unusual path of a professional poker player, Ho quickly fell in love with the game.
She started playing relatively low stakes Limit Hold'em games but quickly graduated to higher stakes and stared the climb to poker stardom.
Her first notable achievement came in 2007 when she was the last woman standing in the WSOP Main Event. She finished in 38th place that year, an impressive result considering the fact the event attracted the field of 6,358 players.
This was the first but certainly not the last time Maria was the final remaining female player in Main Event fields. In fact, she went on and did it three more times, setting a record. She also did it both in the US and Europe Main Events.
Although Maria doesn't have any WSOP bracelets to her name as of yet, she's managed to gather an impressive number of cashes in WSOP events – 57 at the time of writing this.
Her biggest career win came in 2011, and it was in a $5,000 World Series tournament where she came very close to capturing the coveted gold. However, she was denied the title and finished runner-up, pocketing more than $500,000 for her efforts.
It is probably fair to say that Maria Ho poker's results don't show the caliber of player she is. Tournament poker can be quite volatile, and sometimes even the best players struggle to claim a huge win. She certainly came close many times, but poker gods had other plans.
Speaking greatly to her credit as a poker player is the fact she was the first woman in history to be hired as the leading strategic commentator for a poker TV show.
Ho was contracted by the Heartland Poker Tour in 2013 and remained with the show for two seasons. After this, Maria has been involved with many other poker shows, including the WSOP coverage.
Ho is still very active in the poker scene, and with her knowledge, experience, and passion for the game, it wouldn't come as much of a surprise to anyone if she actually managed to climb to the top of the Women's All-Time Money List.
Top Female Poker Players: #4 Annie Duke
Annie Duke is probably one of the most controversial female poker players out there. Although she's achieved a lot of success on the felt and sits high on the Women's All-Time Money List, Duke is often mentioned in other contexts, primarily as a sister of infamous Howard Lederer.
Lederer was one of the key figures behind Full Tilt Poker, and many blame him for the fiasco that took place after the Black Friday. Since Duke is a part of the poker world herself, this relationship didn't do wonders for her reputation.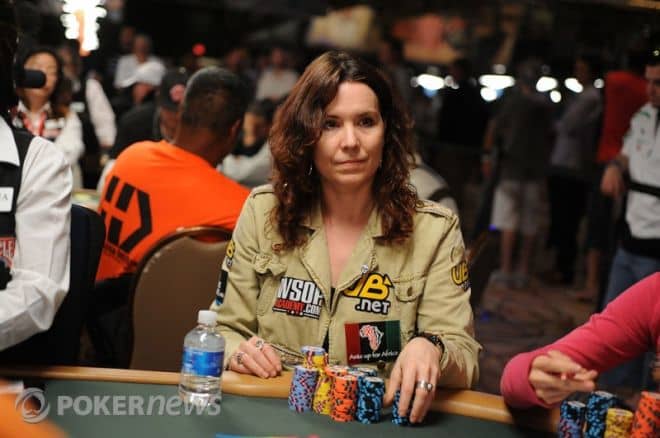 Source: pokernews.com
However, this article will try to focus more on the poker side of things and less on the gossip and scandals (which aren't hard to come by in the poker world).
Annie Duke's poker career started when she was 22. She began playing at a local casino and took a liking to the game with her brother's encouragement. Howard was already a successful player at that point and helped his sister get the ball rolling by providing her with poker books and the initial bankroll.
In 1994, Annie Duke came to Las Vegas to play in her first World Series of Poker.
Thanks to a mix of skill and a good run, she managed to win around $70,000 in a month. This was all she needed to make a firm decision to give poker a serious try.
In the 2000 WSOP Main Event, Duke finished 10th, earning just over $50,000 for her efforts. However, this was an essential moment in her career as that was the best Main Event finish any female poker player managed up to that point. To make this run even more impressive, she was nine months pregnant at the time.
2004 saw Duke win her first WSOP bracelet. Outlasting the field of 234 players, she managed to secure the top finish in an Omaha Hi-Lo event, earning $137,860 for her efforts.
The same year, she was victorious in the WSOP Tournament of Champions.
This was an exclusive event that gathered only WSOP bracelet winners and only paid the winner. Outlasting the likes of Daniel Negreanu, Phil Hellmuth, Johnny Chan, and even her brother, Duke went all the way and pocketed $2,000,000. Hellmuth, who was her last obstacle, walked away with nothing.
According to Hendon Mob, today's Annie Duke net worth is $4,270,000, at least as far as poker winnings are concerned. This number would likely be much higher if she continued actively playing.
However, her last recorded score is from 2011. For a while now, Duke hasn't been very involved with the poker scene.
Today, she is more involved with other activities, writing books, and holding seminars all over the world. She still holds on to her poker background, which helped her develop a particular set of skills that she managed to find applications for in other areas of life.
Top Female Poker Players: #3 Kristen Bicknell
Hailing from Canada, Kristen Bicknell sits in the third spot of the Women's All-Time Money List. While she was never that present in the media, it didn't stop her from quietly building a successful poker career.
As of today, Kristen Bicknell's net worth stands just around $5.1 million, according to the Hendon Mob.
Born in 1986, Kristen Bicknell poker career started online. She discovered the game a bit late, or at least later than some of her fellow players.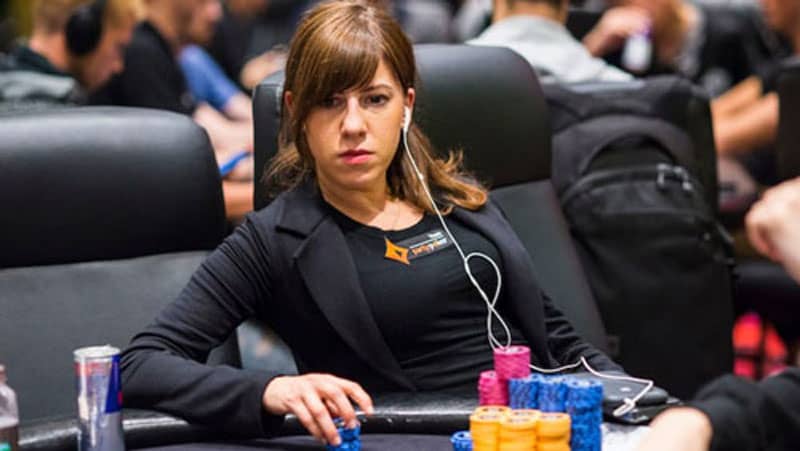 Source: calvinayre.com
Bicknell started playing seriously in 2011, but already in 2013, she managed to achieve the coveted Supernova Elite status at PokerStars. This was an achievement reserved only for the most dedicated of players, clearly showing she had a bright future ahead.
However, her online successes weren't the start of her career. Bicknell started dabbling with poker as early as 2006, during her college days. Her earliest recorded results date back to 2006 as well, although her initial years went by without significant scores.
This didn't discourage Bicknell from pursuing poker success – a decision which would pay off quite handsomely.
In 2013, the young player added the first six-figure score to the Kristen Bicknell net worth, winning the $1,000 Ladies Championship event. In addition to the cool $174,000 prize, Bicknell also claimed her very first WSOP bracelet.
In 2016, Kristen claimed another WSOP gold.
This time, it happened in an open event. Bicknell managed to outlast a massive field of 2,158 players in a $1,500 No-Limit Hold'em Bounty event, earning $290,768 for her impressive performance.
While WSOP trinkets were undoubtedly nice, Bicknell's two biggest scores came in 2019.
First, she finished 11th in the $25,000 PokerStars Players Championship event to the tune of $328,500. This was followed by even bigger cash that resulted from her victory in the 2019 Las Vegas Poker Masters. This achievement padded Kristen's bankroll with another $408,000.
Without much pomp or extravaganza, Kristen Bicknell has built an impressive poker career that is likely to continue for many years to come.
She topped GPI rankings for female poker players in 2018 and 2019 and has also appeared in several poker TV shows.
Not much is known about her personal life as she never sought the media attention and did her best to stay out of the limelight. However, she was involved in a minor "scandal," where she was accused of soft playing her boyfriend, Alex Foxen during the three-handed play in a $5,000 tournament.
While these accusations did create a bit of friction in the community, Bicknell's reputation wasn't seriously damaged, and she is a regular face on the tournament circuit.
Top Female Poker Players: #2 Kathy Liebert
US-born and raised Kathy Liebert has never been the one to seek fame and media attention. However, this didn't prevent her from becoming one of the most successful female poker players to have ever lived.
With live tournament winnings exceeding $6.3 million, she sits firmly in the 2nd spot on the Women's All-Time Money List.
Kathy Liebert poker career started in Colorado, where she made her first professional steps as a prop player. Spending many hours at the tables almost every day, Liebert learned secrets of the trade the old-fashioned way.
She may not have used fancy software to crunch numbers, but she had the natural knack for the game and the ability to learn on the fly.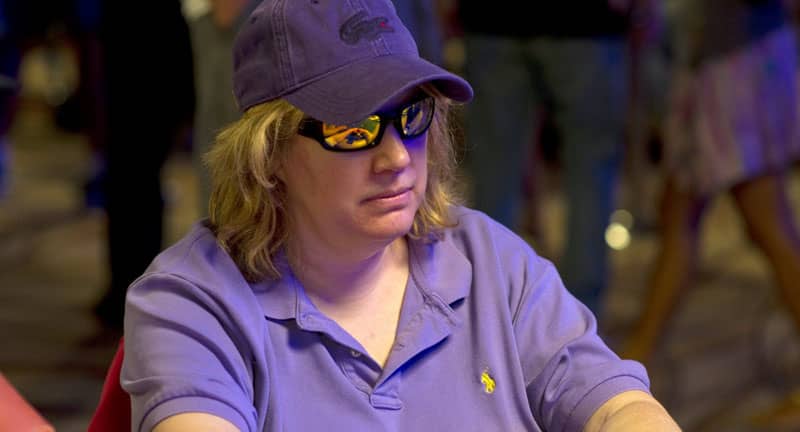 Source: cardplayer.com
According to Hendon Mob, Liebert has been actively playing tournaments since 1994, but her major scores started to roll in in the 2000s.
This may not give the full picture of Kathy Liebert's net worth, though, as she was predominantly playing cash games as a pro player.
The biggest score of Kathy Liebert poker career came in 2002 when she took down the Party Poker Million Limit Hold'em Event.
This was the first Limit Hold'em tournament to feature a $1,000,000 prize for the winner, and Liebert was the last woman and the last player standing when it was all said and done.
She pocketed a cool million, leaving behind the likes of Phil Hellmuth, who had to be happy with the third-place finish in this one.
In 2008, Liebert claimed her first and only WSOP bracelet in a $1,000 Pot-Limit Hold'em event.
In addition to winning the prized jewelry, she also added more than $308,000 to her career poker winnings.
She still actively playing in various tournaments. Although her most recent six-figure score happened quite a while ago, when she finished as the runner-up in the 2009 $10,000 WPT Bay 1010 Shooting Star event and pocketed $550,000 for her efforts, the next big win could be just around the corner.
The successful and lengthy Kathy Liebert poker career is a great encouragement to all female players out there.
She was a successful woman in poker long before it was "cool," so she must have seen it all.
Top Female Poker Player: #1 Vanessa Selbst
Sitting at the top of the best female poker players is Vanessa Selbst, one of the best-known and most respected players in general. Looking at her live tournament winnings alone, Vanessa Selbst's net worth is around $11.9 million.
Selbst has left a significant mark in the poker world and is one of the best poker players around, period.
Even though she hasn't been actively playing for a while now, Vanessa still sits firmly among the top 100 tournament winners in the world.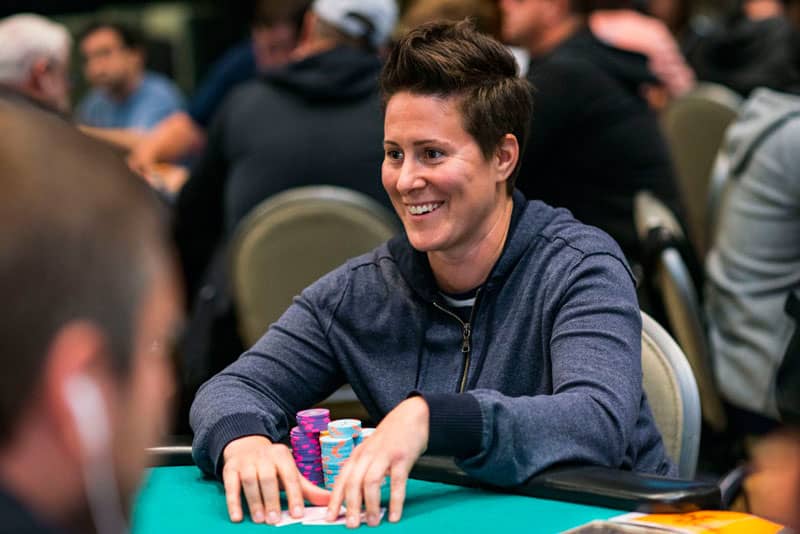 Source: cardplayer.com
Vanessa Selbst's poker journey started during her college days at Yale University, where she was studying political sciences. This was during the mid-2000s, and like many, she caught the poker bug during the Moneymaker boom.
Her first steps were made in small-stakes home games, but she quickly graduated to online games.
Selbst was a natural talent for the game, and she found a lot of success on the virtual felt. Although she graduated from college and found a well-paying job, she admitted in an interview for the New York Times that she was making three times more money playing poker part-time.
After carefully examining her options, she decided to give poker a go as a profession. Thanks to her online success, she had a proper bankroll to jump right into the mix, and already in 2006, she was playing at a final table of a WSOP event.
Selbst's live poker career had its own challenges.
It took her a while to get used to the live scene and make her first major score. But, she was determined to succeed and weathered the storms as they came her way.
The first huge win came in 2010 when Vanessa took down the NAPT Main Event for $750,000.
The very next year, she triumphed in the same event, this time for a smaller but still very respectable score of $450,000.
However, the biggest win in her poker career came between these two events when she went on to take down the 2010 Partouche Poker Tour Main Event in Cannes.
The win in this tournament added more than $1.8 million to Vanessa Selbst's net worth. Her second biggest score of the career came in 2013 with the win in the PCA High Roller Event, which netted her another $1.4 million.
Selbst didn't become known in the poker community for her results alone. She managed to build quite an image over the years as a bold and sometimes reckless player who isn't afraid to put her opponents in tough spots.
Some of her bluffs have become classics as successful or not, they've shown time and time again that Vanessa is capable of thinking outside of the box – a true mark of a great poker player.
With her poker career still going strong, Selbst didn't put her education on the backburner. She managed to acquire a law degree from Yale, ensuring she'd always have an out.
In 2018, Vanessa Selbst announced her decision to retire from poker. While this didn't come as a huge surprise as she was hinting at the possibility for some time, the poker community was still confused. But Selbst was firmly decided to give something new a try.
At the time of writing this, Vanessa Selbst works at a hedge fund. Her love for odds, math, stats, and numbers are definitely quite useful in such an environment.
Whether this is something permanent or she will find her way back to the green felt, it's hard to say. But whatever happens, the fact remains Selbst is the most successful female poker player to date – at least until someone else comes along to claim the title.
Famous Women Poker Players – Honorable Mentions
In poker, one's earnings are an important indicator of their success, but it certainly isn't the only one. There are many great female poker players who aren't currently in the top ten of the Women's All-Time Money List.
In fact, quite a few names that most poker fans are familiar with aren't on the list.
Some simply didn't have the luck to hit significant scores, others have achieved success in games that aren't officially tracked, and others yet may not even be that skillful, but had a different impact to the game.
Many female players have helped make poker popular among women and deserve to be mentioned in an article such as this just the same.
Kara Scott
Canada-born Kara Scott is one of the best-known female poker personalities out there.
Her results on the felt may not be as impressive as those of some others listed in this article, but that doesn't take away anything from her importance for the poker world at large.
Nobody's denying Kara Scott poker skills.
She's had some excellent results along the way, winning more than $660,000 in live tournaments. A big chunk of that came from her second-place finish in the 2009 Paddy Power Irish Poker Open Main Event. Many would love to be able to report such results.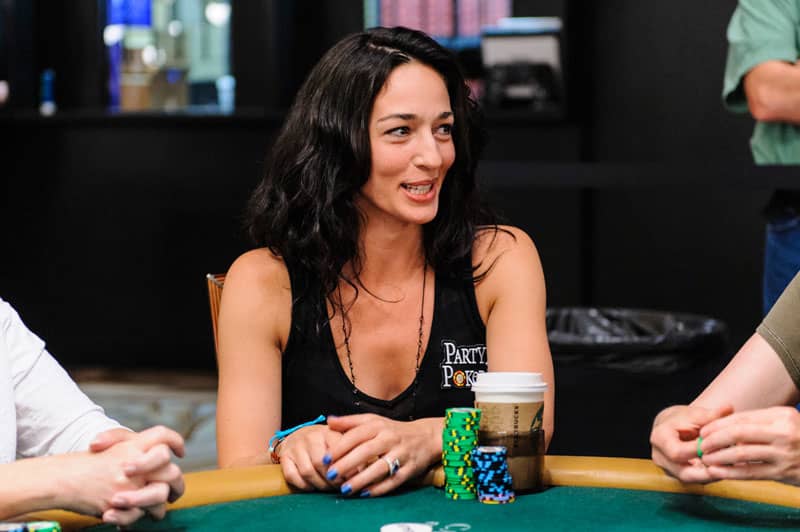 Source: PokerNews
Kara Scott has made a considerable mark in the poker world primarily through her engagement as a journalist and a reporter.
In 1999, Kara moved to London to work as a teacher, which was her official career. However, during her stay in the UK, she stumbled upon her true calling.
Kara Scott's involvement with the media began with her coverage for the World Series of Backgammon. This was just a stepping stone that led her to the Texas Holdem world.
In the years to come, Kara would become one of the most recognizable faces in the poker community. There is hardly an important poker event or show that she hasn't been a part of.
Scott was involved with WPT, EPT, Poker After Dark, High Stakes Poker, NBC's Heads Up Championship, and more.
Her love for the game and her job as a reporter helped her build a hugely successful career in poker, both on and off the felt.
Jennifer Harman
Jen Harman is a member of the unofficial old-school poker club. Unlike many who discovered the game after the Moneymaker boom, Harman has been around for a long time, earning money and the respect of her (mostly male) peers.
According to Hendon Mob, Jennifer Harman's net worth is $2.7 million, but this number doesn't tell the whole story.
Jen has been playing poker for decades, and she's been known to take a seat in many high stakes cash games, playing with the likes of Phil Ivey, Doyle Brunson, and many others.
These games aren't tracked anywhere, but according to the world out in the streets, Harman has done quite well for herself in them.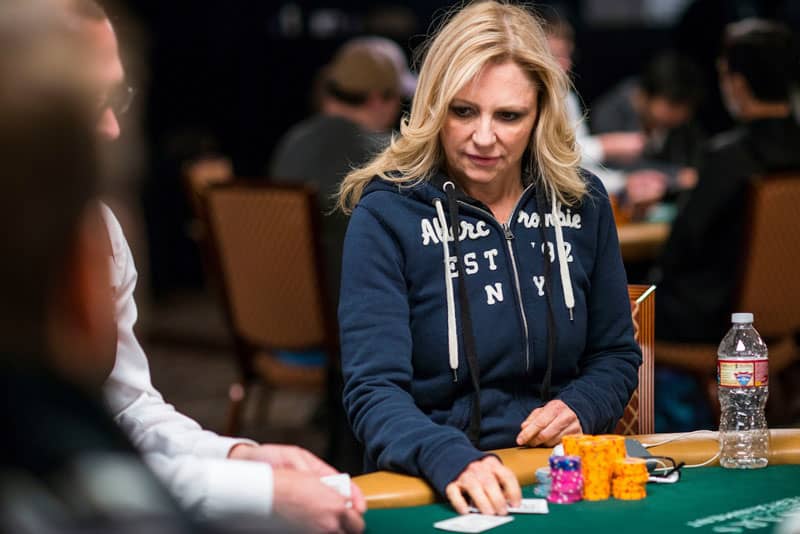 Source: pokercentral.com
Born in 1964 in Reno, Nevada, Jen developed the love for poker at a very early age watching her father play with his friends. She begged him to teach her how to play poker, and eventually, he gave in. As it turned out, she had a natural talent for the game.
Jennifer Harman's poker career officially started when she was just 17. She made a fake ID and used it to enter local casinos.
Despite being a regular fixture in many games, she somehow managed never to get caught.
Although Harman obtained her BA degree in biology, she wasn't thrilled about the idea of working a regular 9 to 5 job. Instead, she turned to poker and decided to try her hand as a professional poker player.
Back in the day, this wasn't nearly as socially acceptable as it is today, especially for a woman. Because of her decision, Jen lost contact with her father, and the relationship was restored only years later.
Jen went on to build a very successful career in poker.
Over the years, she claimed two WSOP bracelets, and many significant tournament wins.
Her biggest win, at least money-wise, came from a runner-up finish in a WSOPc event, adding $383,000 to her bankroll.
As mentioned, though, Harman was always more focused on the cash games, and over the years, she forged friendly relations with many of the game's best, including Daniel Negreanu, which opened doors for her and gave her access to many juicy games.
As for the Jennifer Harman poker stardom, she became famous through her involvement TV shows, most notably High Stakes Poker and Poker After Dark. Both of these were hugely popular with the fans, and Jen was a regular figure.
Although she's not playing as much as before, Harman is still quite active in the poker world, duking it out on the green felt and pursuing her passion.
Jennifer Tilly
One of the most colorful and entertaining female poker players out there, Jennifer Tilly is definitely one of the fans' favorites.
Although Tilly has made her claim to fame primarily as an actress, she's also been very active in the poker world.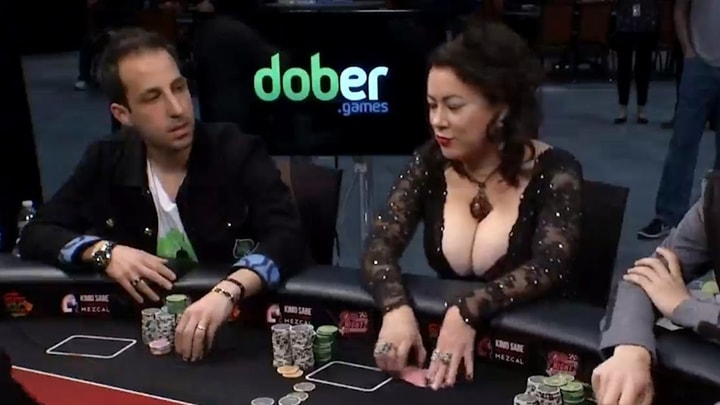 Source: youtube.com
Jennifer Tilly's poker results aren't bad at all, with more than $1,000,000 in live tournament winnings. Given the fact she isn't really a professional poker player, this is a fairly impressive number.
Born in 1958 in California, Tilly has built a successful career as an actress. She played many roles in different movies and TV shows, giving her the status of a proper celebrity long before she discovered poker.
Jennifer Tilly's poker involvement started right around the time when she began her relationship with Phil Laak. Laak's passion for poker is beyond any doubt, and he clearly transferred some of that passion to Tilly.
Over the years, Jen appeared on countless TV shows such as The Big Game, Poker Night in America, and many more.
She's also been on many featured tables of various tournaments.
If there is one thing that is obvious when watching Tilly play poker is that she is having fun. Although sometimes, she's outclassed playing in games with hardened professionals who devoted their entire lives to poker, she doesn't seem fazed. For her, it is about having fun and doing what she can to win.
Poker is definitely one of her interests and it seems fans have nothing to worry about. Jen Tilly will be around the green felt for the years to come.
Jamie Kerstetter
Jamie Kerstetter's poker career started online. She was working as a young attorney when her company decided to lay off newer attorneys, leaving her without a job and a lot of time on her hands.
Since she had dabbled with poker when she was younger, Kerstetter decided to give it another go.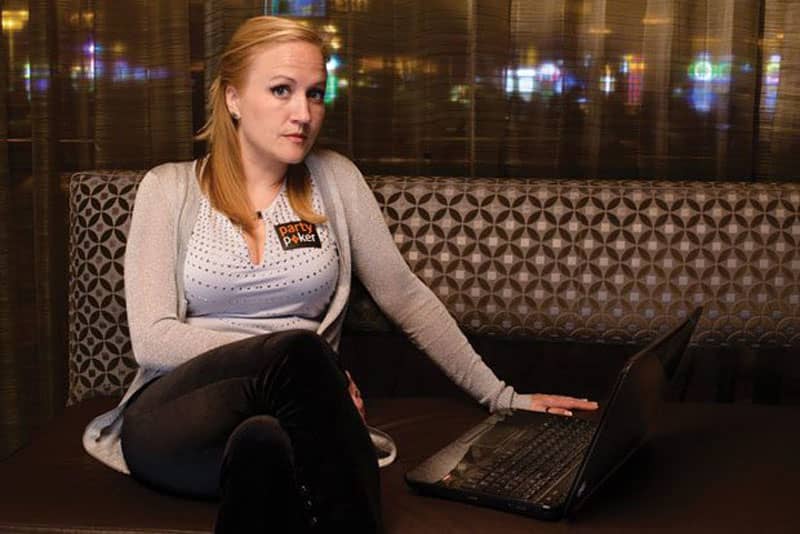 Source: njmonthly.com
In the following months, she managed to build up quite a bankroll, giving rise to her hopes of becoming a professional poker player. However, Black Friday happened out of the blue, leaving $40,000 of her money locked on Full Tilt.
Because of this, Jamie Kerstetter's poker career came to an abrupt halt, and she was faced with a tough decision.
Since she could no longer play online from the States, she had to move to Mexico after Black Friday.
Not wanting to give up on her dreams, Kerstetter took the plunge and left New Jersey for the time being.
She continued playing until New Jersey launched regulated poker once again. At this point, she came back home and even landed a position as a PartyPoker brand ambassador. For once, things were going in the right direction for her.
As for Jamie Kerstetter net worth, Hendon Mob has live winnings at $682,000, but she also had quite a bit of success online. In fact, her online winnings exceed those from live events.
But Kerstetter managed to do well for herself away from the felt as well. She's also become involved with the poker media, hosting Poker Night in America and working with the Heartland Poker Tour and WPT Deepstacks.
The crown of her media career so far was when she commented on the first two days of the WSOP Main Event. Witty, funny, and entertaining, she always seems to know what to say.
Kelly Minkin
Kelly Minkin may not be a professional poker player, but her impressive winnings of $1.5 million could certainly fool you.
Minkin came in touch with poker when she was very young as her family used to play at home, but it was during her college days that her love for the game blossomed.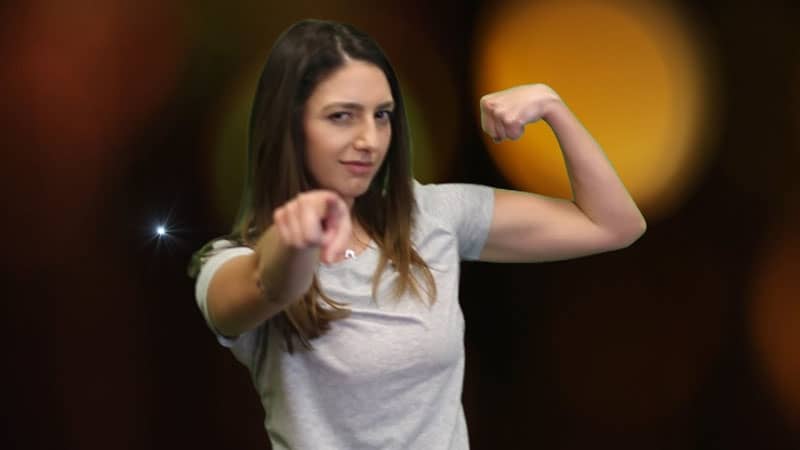 Source: youtube.com
Minkin started visiting a local poker room with her boyfriend at the time, and she took a liking to the game.
Although she was focusing mostly on the cash games during the early days of her poker career, Minkin entered the $1,000 Arizona State Poker Championship at her father's insistence.
As she later explained, she wasn't quite sure what she was doing there, as cash games were her bread and butter at the time.
However, it turned out her skills were quite enough, as she managed to reach the heads up in the event and win $152,000 for her efforts.
After this initial success, Minkin decided to get more involved with the tournaments. However, unlike many others, she didn't want to pursue poker as a professional career.
She maintains her job as a lawyer while playing poker recreationally, albeit with a lot of success.
In 2015, Minkin had her biggest score to date. She cashed out just shy of $293,000 after finishing third in the WPT Lucky Hearts Poker Open.
Later that same year, Kelly Minkin became well known in the poker media after making a very deep run in the WSOP Main Event. In the end, she finished in the 50th place, good for almost $212,000.
While this was her second-biggest score of the career, she felt the pain of busting out so close to the coveted final table.
Despite her success, Minkin tries to keep her personal life away from the eyes of the public. Although she is happy to talk about poker and about balancing her daily job with her poker obligations, she doesn't reveal many intimate details her fans would like to know more about.
Kelly Winterhalter
A successful young businesswoman, Kelly Winterhalter poker journey started by accident.
Feeling bored one night, she jumped into a local $3/$6 Limit Hold'em game to give it a try, and she was instantly hooked.
After playing only a few hands, Winterhalter knew that poker would play an important role in her life moving forward.
In the years to follow, Kelly Winterhalter devoted a lot of her time to learning poker strategies and building her bankroll playing in smaller stakes cash games. Once she felt ready, she started playing in live tournaments and even took a shot at the WSOP Main Event.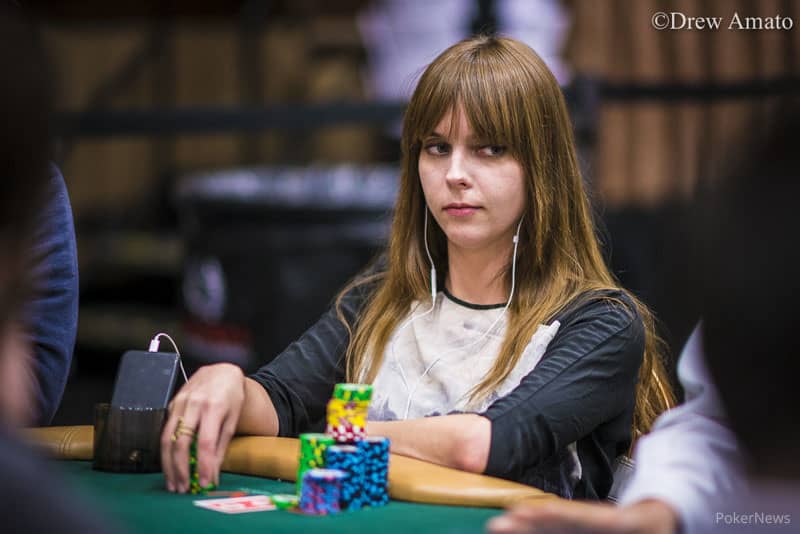 Source: pokernews.com
Kelly hasn't been playing for that long, but she's already appeared on TV, featured in several episodes of Poker Night in America.
While she is still learning the game, it is clear from just watching her that Winterhalter is one of those female poker players with a bright future ahead if she decides to pursue her passion.
Once those cards are in the air, Kelly isn't afraid to do what it takes to win the pot, and she isn't easily intimidated. As she garners more experience and continues to develop her skills, she will likely become a force to be reckoned with at the tables.
Samantha Abernathy
Described by many in the poker media as a star in the making, Samantha Abernathy could easily become one of the best, if not the best, female poker players around.
With a natural talent for the game, a great passion for it, and the decisiveness to succeed, Abernathy has all the required ingredients.
Sam Abernathy's poker career started almost by accident. She was hanging about the Hard Rock Casino in Florida and decided to give a poker tournament a try.
It was her very first live tournament, and in her admission, she didn't really know what to expect. But, as it turned out, she loved every moment of it.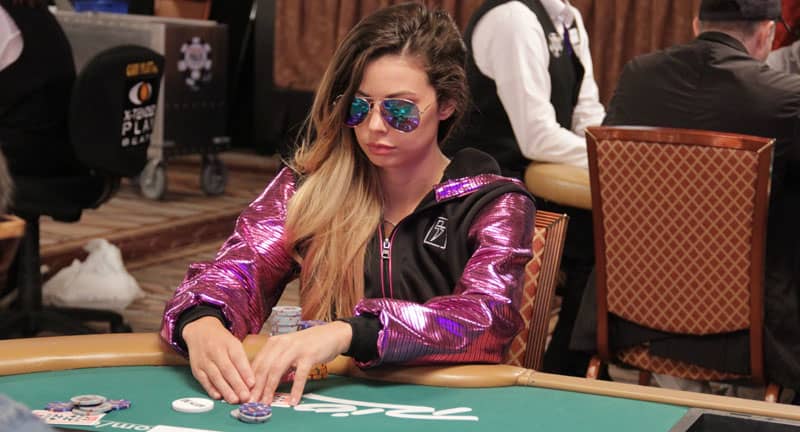 Source: cardplayer.com
Only a week later, she packed her bags and went to Prague to try her hand in some WPT events. It was a whimsical decision, but Sam was determined to follow her passion and see where that path takes her.
Once she was back in the States, she decided to move to Las Vegas and give the professional poker career a proper shot.
This was in 2014, and her first year as a poker player didn't bring her any huge scores. However, she did manage to gather quite a few cashes in the events she played, keeping her bankroll healthy, and her dream alive.
The real breakthrough came in 2016.
She entered the Aussie Millions Main Event in Melbourne and managed to finish in third place. This added $437,000 to the Sam Abernathy net worth and gave her bankroll a serious boost that was much needed.
To date, this remains her only six-figure cash, but Sam isn't showing any signs of slowing down.
Abernathy understands poker, with all its good and bad sides, both GTO poker strategy and exploitative plays. She realizes that, if she is to succeed, she needs to keep working on herself and always stay ahead of the curve.
Conclusion: Female Poker Players On Thr Rise
There are many great female poker players out there. Some of them have already made a name for themselves. Some of them are still building their bankrolls and making their way to the top.
But, the fact of the matter is, the number of successful women in poker is on the rise.
Players named in this article, as well as many others, show that poker isn't just a "men's game" – whether someone likes it or not!