3 Card Poker Strategy – How to Play Three Card Poker and Win More Often
These days, you'll find a great number of housed poker variations in land-based and online casinos alike.
These tend to be quite popular because they contain poker elements but are simpler and quicker than actual games played against other players.
In this large group of games with Ultimate Texas Holdem, Pai Gow Poker, and others, 3 card poker has a very special place.
Because 3 card poker rules are very simple and easy to learn, players all over the globe seem to enjoy the game very much.
You get to play quite a few hands in a short period of time, and with a bit of good luck, it's possible to go on a nice winning streak.
There is a tiny element of skill attached to the game as well, although the basic three card poker strategy can be learned in a matter of seconds. If you want to learn how to play 3 card poker, you've come to the right place.
This article will provide you with all the information you need to not only play this game but play it in the best possible way. Again, rules and strategies may be simple, but you ought to know them before you sit down to play for real money.
3 Card Poker Rules: Learning The Basics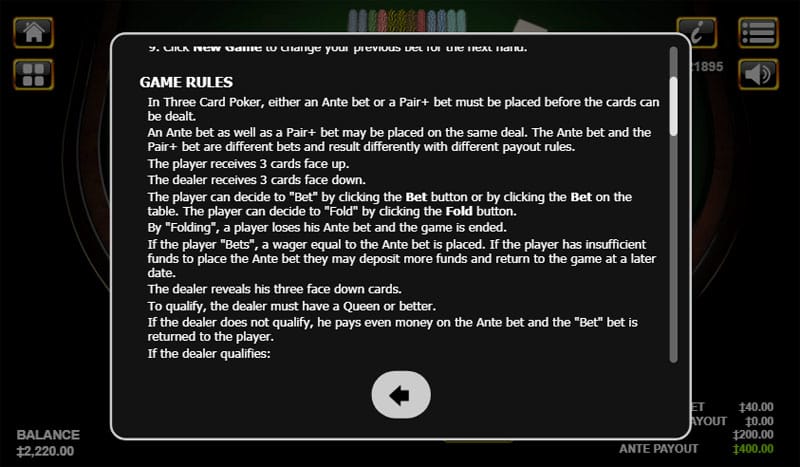 As the name suggests, three card poker is played with three cards. A hand begins with the player placing an ante in the designated box and receiving three cards.
Based on the hand they're dealt, the player makes one of two options:
Play – continuing in a hand by matching their ante bet
Fold – giving up their ante bet without risking any more money
If you decide to 'Play,' you'll match the ante bet, so if the ante was $5, you'd bet another $5 for the total of $10.
The dealer then reveals their hand, and the two are compared.
If your hand beats the dealers, you'll get paid 1 to 1 on your "ante" bet, and if the dealer has a Queen-high or better, you'll also be paid 1 to 1 on your "play" bet.
Otherwise, you play bet will just be returned to you, and you only bank your winnings on the ante.
So, like in almost all other casino poker games, the dealer needs to qualify for your 'Play' bet to come into effect.
As long as their hand contains a Queen, they will qualify. However, if it's a Jack-high or lower, you'll only get paid on the ante bet.
On top of these regular payouts, you can also win bonuses on your ante play for very strong hands.
If you get dealt three of a kind, you'll be paid 4 to 1 on your money while getting a straight flush will net you 5 to 1 on your ante bet.
Hand Rankings in Three Card Poker
If you're familiar with any form of poker like Hold'em or Five Card Draw, you'll have a pretty good idea of how poker hands rankings work in 3 card poker.
However, due to only three cards being dealt to the dealer and the players and no help from any community cards, hand strengths are somewhat different.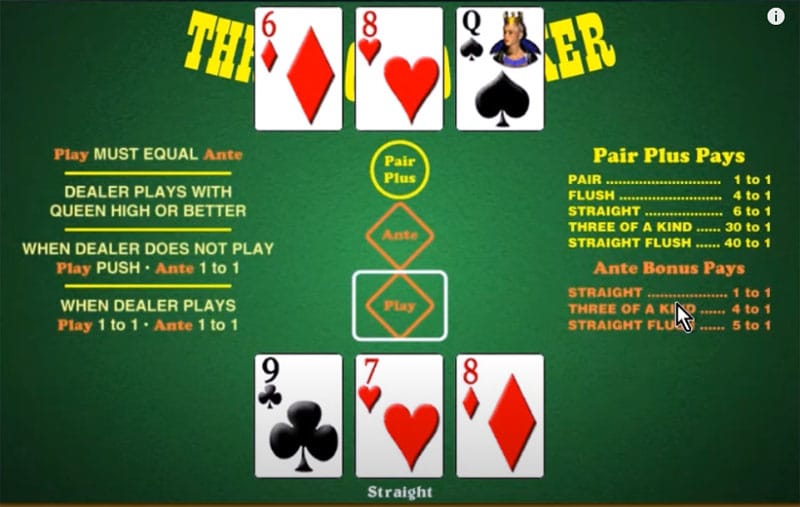 Here's the order, from the lowest to the highest:
High card
One pair
Flush (three cards of the same suit)
Straight (three cards of consecutive rankings, i.e., 5, 6, 7)
Three of a kind
Straight flush (three consecutive cards of the same suit)
If both the dealer and the player have the same higher ranking hand like a flush or a straight, the one with the highest card in the combination wins.
For example, a 7, 8, 9 straight beats a 5, 6, 7 straight, and a King-high flush always beats a Queen-high flush. Suits are never used to determine the winner in three card poker games.
Special 3 Card Poker Bets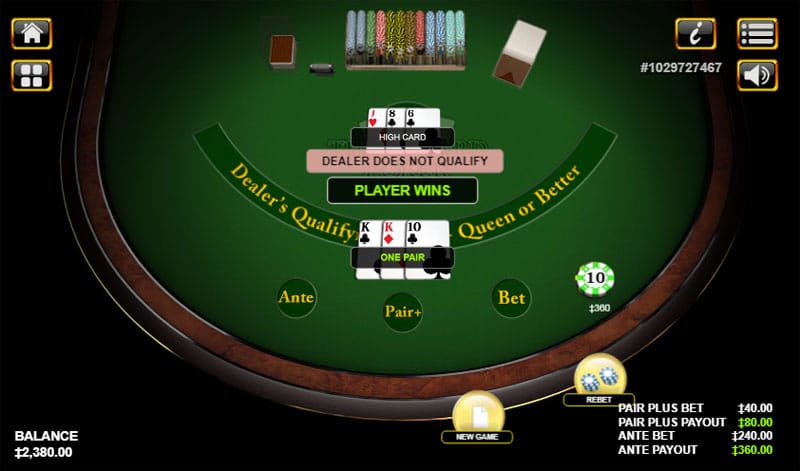 In addition to the two standard wagers, i.e., ante and play, there are a couple of more bets you can place at the start of each hand.
These aren't mandatory but add some color to the game and can be a lot of fun.
The first such bet is the 'Pair Plus.'
You're betting an additional amount that your hand will contain one pair or better.
It doesn't matter if the dealer qualifies or not for this bonus bet. If you get dealt a pair or better, you'll be paid on your bonus bet according to the separate paytable, which usually looks like this (although it may vary from one casino to another)
One pair: 1 to 1
Flush: 4 to 1
Straight: 5 to 1
Trips: 30 to 1
Any straight flush: 40 to 1
Mini Royal Flush (Ace, King, Queen of the same suit): 200 to 1
The 'Pair Plus' bet is placed at the start of the hand before any cards are dealt, and you can't withdraw it or increase it once the play starts.
Another special type of bet available in 3 card poker is the 6-Card Bonus.
As you might have guessed, this is a bonus bet that includes six cards, i.e., your three cards and the dealer's three cards, and it can result in some big payouts if you get lucky.
Pay tables for this particular bet vary from one place to another and may not always be offered.
Winnings usually start at three of a kind (combining any three of the six cards to make trips) and go up to the royal flush (usually paying 1,000 to 1 on your bet).
In some casinos, 3 card poker rules also account for the special combination that contains all cards 9 through Ace of the same suit, offering really big payouts.
3 Card Poker Strategy: How to Play Three Card Poker Optimally?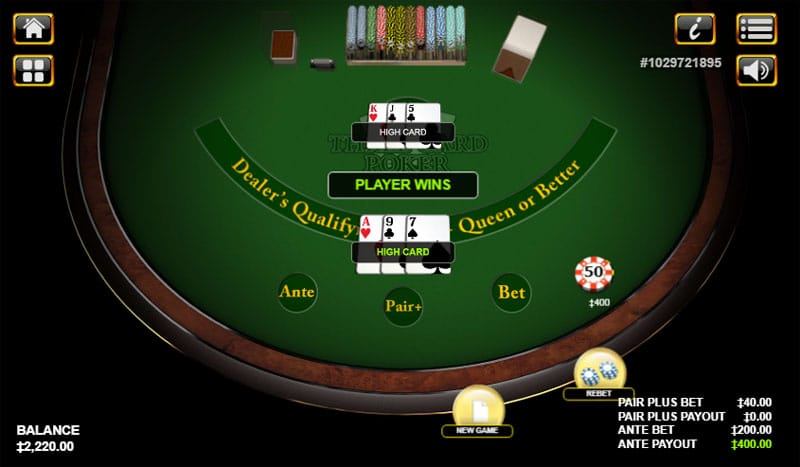 Unlike some other casino games that involved complicated decisions at several different stages, the 3 card poker strategy is easy to learn.
All you need to remember is what hands you should and shouldn't be playing.
You should place the 'Play' bet and continue with your hand if you're dealt a hand containing Q 6 4 (a Queen, a six, and a four) or better.
Any combination that's worse than this, you should discard immediately and wait for the next hand.
As much as I'd like to give you some more secret tips on how to play 3 card poker, the game is too simple and straightforward to allow for any elaborate strategies. Just follow proper math and make decisions based on statistics.
As long as you stick to the correct selection of starting hands, you shouldn't be losing more than the statistical house edge dictates.
Cheatsheet banner
3 Card Poker Odds: The House Edge in Three Card Poker
Every table game you'll find in a casino favors the house – that's just how it is. Unlike actual poker games played against other players where your skills can turn the edge in your favor, this is usually not possible with banked casino games.
When it comes to 3 card poker odds, they're set at around 96.7%.
So the house edge for the game is just around the 3.7% mark. This isn't too bad, but it's not that great, either.
The good news is that you can shift the 3 card poker odds slightly more to your favor by sticking to the basic three card poker strategy explained in the previous section.
Namely, the house edge against the 'Play' bet made with the Q-6-4 or better is only 2%.
The 'Pair Plus' wager also favors the house, so if you're playing the optimal strategy, but with 'Pair Plus' bets, the house edge will be at around 2.3%.
So, when all things are considered, three card poker is one of the best casino poker variations you can play as far as the odds are concerned.
If you're playing the best strategy, the house edge remains around 2% on your 'Play' bets. Luckily, the optimal play is way easier to learn than let's say Texas Holdem strategy, and you will know everything you need after reading this article.
Finding an Edge: Can You "Cheat" in 3 Card Poker?
Without going into the area of illegal activities and using actual cheating techniques that could land you in prison, is there a legitimate way to improve your edge in three card poker?
Well, the only thing you could do at live tables is to look at other player's hands.
This will help you to determine if you might want to play your hand even if the basic strategy dictates it should be folded.
For example, if there are many high cards out there, you might want to place the 'Play' bet just the same as the dealer is less likely to have a strong hand.
Some casinos will let you do this, and some won't. It really depends on the house rules, and it usually won't get you in trouble.
If you start looking at other player's cards, the dealer will warn you if it's not allowed. If they don't say anything, you're okay.
Keep in mind that there isn't an exact 3 card poker strategy that you can use in these situations.
It's more the "feel" thing, and I'd say that it's a zero-sum game as you'll rarely see all aces and kings are out. If they are, go ahead and make that 'Play' bet even if your hand is weak, but this won't happen very often.
Three Card Poker Live Play Etiquette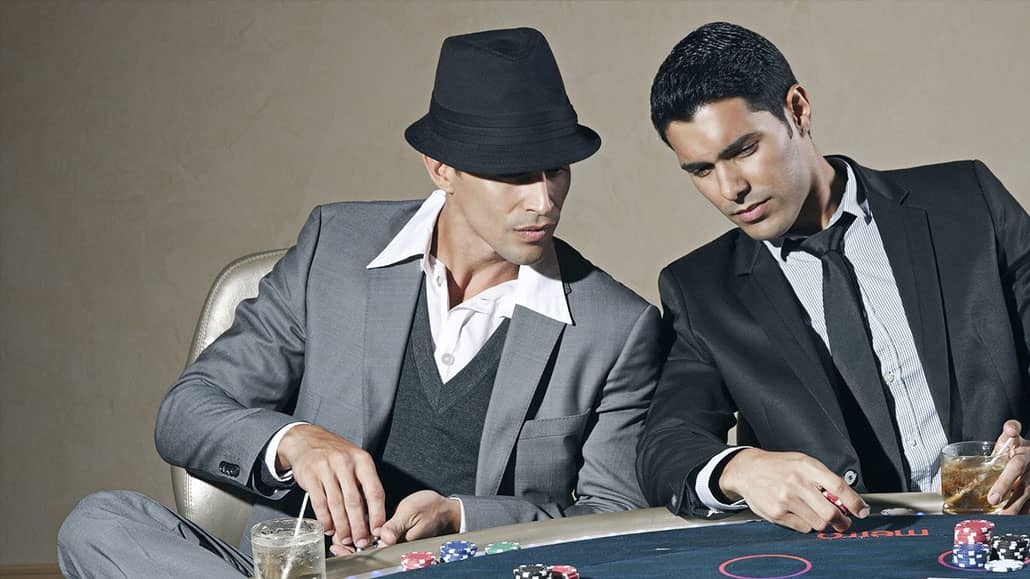 These days, you can find three card poker games at many online casinos, but you'll need to observe certain rules when you're playing live. These are in place to ensure the game runs smoothly, and everyone's happy.
When folding your hand, there are several ways to go about it.
You can simply announce your intention and let the dealer know.
Otherwise, you can slide your cards to the front and place them under your ante chip.
This will let the dealer know you're out.
Whatever you do, don't start throwing your cards at the dealer or across the table. This may be somewhat acceptable in Texas Hold'em game, but it won't fly in house-banked games.
The casino needs to avoid any kind of a mess to limit cheating possibilities and ensure a pleasant atmosphere for all players, so try to play nice.
If you're on a hot streak, it's nice to tip the dealer as well.
This may not feel like the most optimal decision in monetary terms, but it's well worth it, especially in a casino you're regularly frequenting.
If you treat the staff right, you can usually expect the same courtesy, and those few bucks you give up in tips can be quite valuable.
Finally, if you're told something isn't allowed, just accept it and don't try it anymore.
For example, if you can't look at other players' cards and the dealer warns you about it a couple of times, just stop doing it.
Remember that every casino has the right to make up their own house rules, and if you don't follow them, you'll eventually be asked to leave.
3 Card Poker In A Nutshell: Is It a Good Game?
Now that you know how to play 3 card poker and have an understanding of basic strategies, the question is, is this game any good?
Is this the game you should be playing when you go to a casino, or are there better options?
I guess the answer to this question depends on your personal preferences. Rules of three card poker are really easy to learn, and 3 card poker odds aren't bad at all when compared to other choices, so the game definitely has that going for it.
There isn't any special reason to avoid three card poker. It's at least as good as any other table game out there, and in terms of odds, it's better than most of them.
There isn't a winning strategy for 3 card poker, either, so you'll be losing some money in the long run, but again, the same is true for pretty much all casino games.
So, give it a go and see how you like it. As long as you enjoy it and follow the simple strategy tips from this article, you'll be just fine.