Drive HUD Review – How To Take Full Advantage Of Your Database
There's nothing more valuable to an online poker player than a great poker HUD.
If you don't currently have a database, you're missing out on tons of valuable information that you can use to progress as a player and make better decisions.
Just the ability alone to track your sessions, review your play, and identify potential mistakes is invaluable. Add in the concept of a HUD overlay on your tables displaying all poker stats, and you have the tools you'll need to carve up the virtual felt.
There are quite a few options of poker tracking software and HUDs, but you might want give DriveHUD a try.
With it's easy to use interface and tons of built-in features, it could be a great weapon when used correctly, and today I want to make a comprehensive Drive HUD review so that you could see what you are getting with this option.
To start, there are several great built-in tools right at your disposal, which makes playing and reviewing your hands just a breeze. There's also no need for costly add-on tools to play on sites like Ignition / Bovada poker, Betonline, and other websites.
Here's a breakdown of what I'd consider essential parts of a poker HUD every poker player should consider before investing in it.
Drive HUD User Interface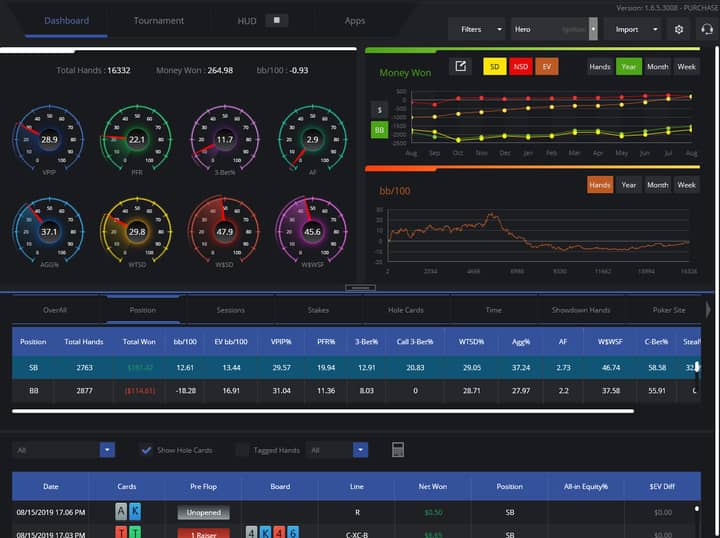 DriveHUD has one of the easiest and most intuitive poker interface on the market today. Some poker databases can be quite tedious to get around in, and considering the complexity of everything a poker database needs to do, DriveHUD did an amazing job here.
Clean and clear data, and all of the left and right-click navigation is easy to figure out without ever having looked at a manual. That's what good poker software should look like.
Drive Poker HUD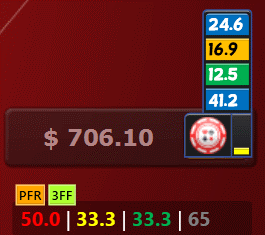 This is another area that DriveHUD excels, and even the default out of the box HUDs are well designed and ready for action.
There are several options to choose from, and also additional free ones that are in the integrated store in DriveHUD.
Everything is basically drag and drop, which makes it much easier to customize it in any way that you like. However, understanding how each of the panels fit together to get an ideal HUD pop-up menu wasn't completely clear. But once you're past the initial learning curve, it's quite simple.
There's also a search function to locate any specific stat you're looking for. Whatever stats you want for any panel you just click on that panel, and then drag and drop the stat into the selected stats box. It's that simple.
You can also make each stat display as a bar graph, or just plain text. This is a nice option to mix up how you want your pop-up data to be displayed.
On top of that, there are some other cool options you can add to your HUD display, like heat maps. You can drag and drop the heat map onto any stat you want a player card heat map to display, which is quite handy.
Overall, the HUD itself and design options in DriveHUD are really nice. You can get into building some in-depth HUDs, but you'll also love the out of the box feel so you can just start the software up and be playing in minutes.
DriveHUD Review: Graphics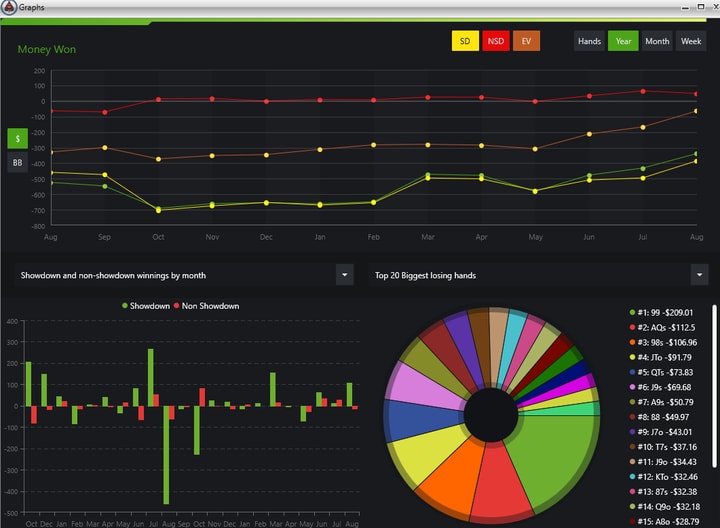 A cool thing that stands out right away when you load up DriveHUD is that your main information graphs are loaded directly into the main interface.
There's a lot of the standard graphing lines you'd want, winrate, total bbs won, non-showdown winnings, showdown winnings, all-in EV, ITM%, ROI%, total $'s won.
While the tournament graphing needs some more options, the overall interface is adequate and quite visually appealing.
Drive HUD Filters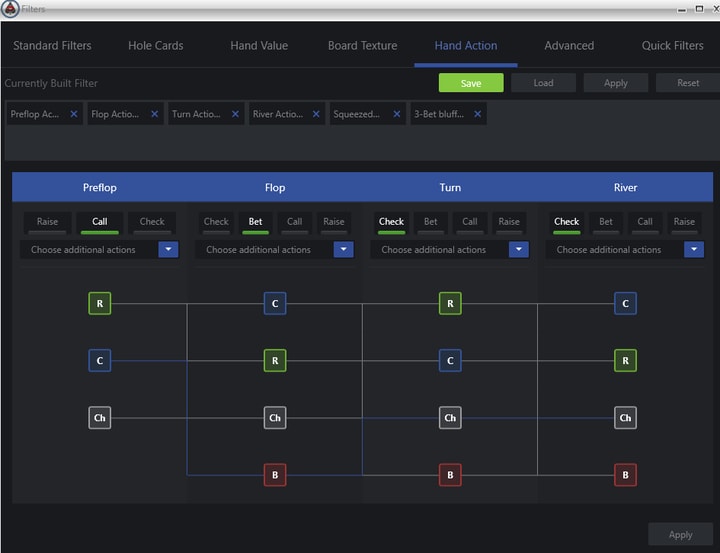 To analyze your Texas Holdem strategy and identify some mistakes, filters are essential. If you've used any major poker database that's on the market, then the filtering process in DriveHUD is the easiest that you'll come across.
Any situation that you want to take a look at, you can set up a filter and see your data. If you've struggled with other databases for hours trying to build a filter or two, then you'll be impressed with the setup here.
Also, you have a diverse array of one-click filters in the quick filters tab of the filter creation screens. A lot of the common situations most poker players want to take a look at is right there. With one click, you can examine your hands and re-play some tricky spots.
The other cool thing is that you can make a filter set as true with one click (and it turns green), or set as false with two clicks (and it turns red). This is very handy when you want to look at the inverse of any situation as well.
DriveHUD Database Reports

The reports look and feel are pretty standard looking. There's not a ton you can do with mounds of data. It's presented clearly, and it's nice having all of the stats you need right in the middle of your screen.
You can see all of your stats combined, break them down by stakes, hand values, stack sizing, M-ratio (for tournaments), position, sessions, hole cards, and so on.
On top of that, you can just right-click on any column in any report, and add the stats you want. You can then drag and drop them into any position you in the report and play around until you get what you need.
There are no current features for creating custom report titles, but you can add any data point into any existing report, so it's not a huge deal.
The reports are exportable into Xls and google sheet files. And you can easily export all of your hand data by right-clicking on a data point in the report and selecting export hands to 3rd party apps.
Hand Replayer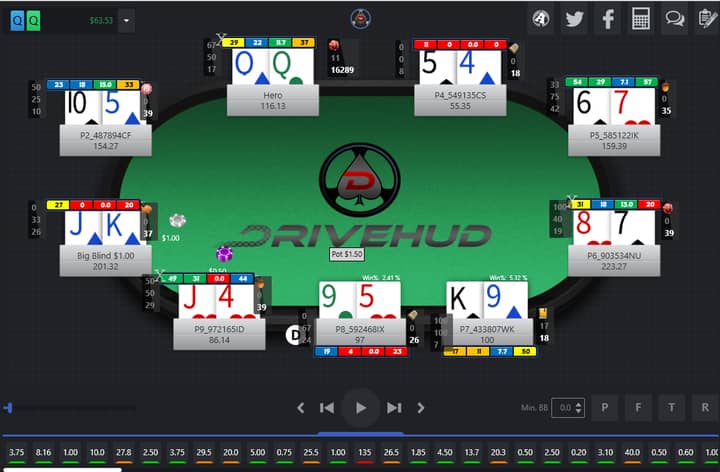 You'll also love the built-in hand re-player. While it does not offer any extra functionality compared to other tracking software, it is very intuitive and easy to use.
There's a cool feature that loads up all of your biggest pots you played for your session, and color codes them based on the pot size of the hand. It will also save previous hands you re-played in a pull-down menu so you can quickly go back to a hand you already viewed for that session.
You can launch the equity calculator in DriveHUD from the replayer, and analyze the equity and hand groupings of your opponent's or your range. It makes reviewing very fluid and easy.
Drive HUD Built-In Software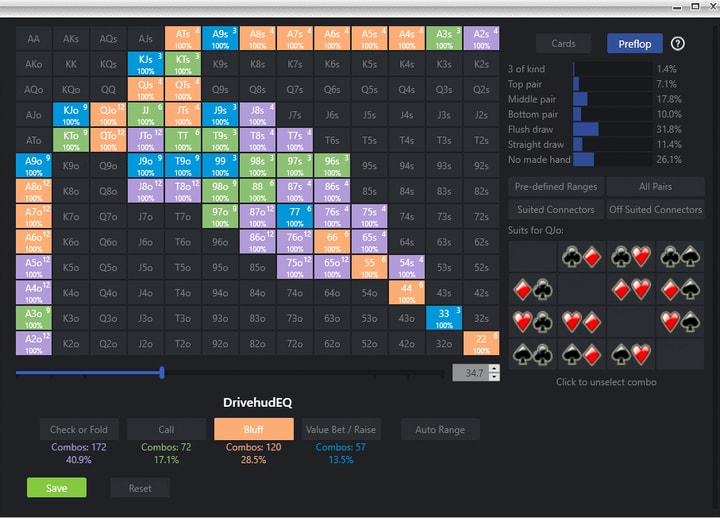 Another bonus with DriveHUD is there's some cool built-in software you have to pay additionally for with other databases. The badge system that's included in DriveHUD was quite useful, and nothing had to be configured for colored boxes to show up on your HUD while playing.
The built-in equity calculator they have called DrivhudEQ is useful as well. From within the hand replayer, or by right-clicking on a hand in the hand history grid, you'll be able to launch an internal equity calculator and run some EV calculations.
One of the coolest things you'll have fun playing around with is the hand groupings in DrivehudEQ.
You could break down someone's hand range into four categories (and your own) and know how balanced you are in a given poker situation. Did you have enough bluff combos versus value combos, and so on.
DrivehudEQ will automatically create this range for you, and you can play around and adjust it to determine just how many bluff combos you'd need in a particular hand.
Drive HUD Review Summary
It will be interesting to see how DriveHUD does on the suddenly crowded poker hud market. A lot of poker players are creatures of habit.
Some of the more established HUDs have been on the market for almost 20 years now, helping poker players to train their skills and understand the math of the game, so there is a fierce competition.
If you're someone who already owns a HUD, but you are looking for something better out there, DriveHUD is the poker hud to try.
If you don't already own a poker hud, then it's a no brainer to at least give 30-day trial a try. The features and price point is going to win over a large percentage of the newer generation entering the online poker field.
To checkout DriveHUD's free 30-day trial, click HERE.